What Type of Business Do You Have?
Best LLC Small Business Loans For Good & Bad Credit
As a small business owner, loans and lines of credit might become an essential part of your financing process. Whether you have recurring or cyclical expenses, new expansions or equipment purchases in mind, it might not be possible to pay for everything out of pocket. However, if you have below-average credit, finding a low-cost loan with affordable terms can present a major challenge.
How To Get a Business Loan With Bad Credit
Bad credit can make finding a small business loan with excellent terms a difficult process. It may even seem out of reach after a few rejected applications. However, that doesn't mean you can't find a loan that fits your needs. There are three basic steps you can take to obtain funding for your small business.
1. Know your credit score
The biggest defining factor in any loan application is your credit score. Having both your personal and business scores handy helps lenders figure out if they want to offer you a loan, and the rate that they offer you.
2. Explore your options based on your financial qualifications
Each lender has a specific set of requirements that you'll have to fulfill in order to be eligible for their product. Most lenders base their approval on three major factors: personal credit score; yearly revenue; the age of the business.
Before starting the application process, take a look at the requirements for each type of loan you're considering in order to figure out which lenders will give you the highest chances of approval.
3. Make a decision
Once you have figured out which forms of financing you're likely to be eligible for, it's time to make a decision. You can determine which products you want to apply for by considering the eligibility requirements, the overall cost of the loan, and the transparency and reputation of the lender.
Improve Your Chances of Obtaining a Bad Credit Business Loan

Even if your credit is bad, there are still two things you can do before applying to improve your chances of approval.
Sign with Collateral
If a bank sees you as a high-risk borrower, they may ask you to provide some of your company or personal assets as collateral. This can help your application if the lender believes that there is a high possibility that you may not be able to repay the loan.
One option for this type of funding is invoice financing, in which the lender will advance a certain portion of each unpaid invoice that you might have. If you're looking for a loan to purchase new materials or machinery, you can also look into equipment financing, where your equipment becomes the collateral for the loan.
Co-Sign
You can also find a co-signer, or a person with better credit and financial standing who is willing to assume responsibility for the loan payments in case the primary borrower defaults on the loan.
Top Options For Business Loans With Bad Credit
There are some hurdles to obtaining a traditional loan for your small business if your credit score is below a 629. However, there are several alternative financing options that might be easier to obtain approval for:
Short-term loans usually have loan terms between three and 18 months and are paid back on a weekly or daily basis. The downside to these is that they may also come with a much higher rate than a traditional loan.
Short-term lines of credit typically have higher annual percentage rates than many other financing options and lower credit limits. However, they may offer more funding than a short-term loan can.
Using your unpaid invoices as collateral allows the lender to give you advances on a percentage of them for a fee. Once the client repays the invoice, you'll get the rest of the money back minus the fees charged for the advance.
If you're looking for cash to fund new equipment, you can use your new purchase as the collateral for the loan. In this case, if you can't repay the loan, the lender will simply take the equipment.
Merchant cash advances are one of the most expensive forms of financing. With this option, the lender will advance you a specific amount. You'll then repay the amount, along with the associated fees, from a percentage of your daily credit card sales.
Business credit cards can provide you with a small credit line to fund basic expenses. This form of financing can also help you build your business' credit so that you can eventually access larger lines and cheaper funding.
Best Bad Credit Business Loans
While some lenders have no minimum credit score requirement, many require a minimum score of 500-600. Here are some lenders you can take a look at if your credit falls within this range.
Best for business owners with a credit score of at least 500:
Kabbage - Kabbage offers loans ranging between $2,000 and $250,000, with APRs starting at 24% with a maximum of 99%. To qualify with this lender, you should have a minimum credit score of 560 and annual revenue of $50,000 or more.
Fundbox - Fundbox offers lines of credit ranging between $1,000 and $100,000, with APRs starting at 10.1% and going up to 79.8%. This lender does not have a minimum credit score requirement.
QuarterSpot - QuarterSpot's loans start at $5,000 with a maximum of $250,000, with APRs ranging between 30% and 70%. They require a minimum credit score of 550 and at least $200,000 in annual revenue.
OnDeck - OnDeck requires a minimum credit score of 500 for its loans, and a minimum score of 600 for its lines of credit. This lender offers loans between $5,000 and $500,000, with APRs ranging between 9.99% and 99%.
Best for business owners with a credit score of at least 600:
BlueVine - BlueVine offers lines of credit starting at $5,000, with a maximum of $200,000, and APRs ranging between 15% and 78%. Your business should have at least $120,000 in annual revenue if you're going for a six-month line of credit or $500,000 for a 12-month line.
StreetShares - StreetShares offers loans between $2,000 and $250,000, with APRs starting at 24% with a maximum of 99%.
Best for businesses with unpaid customer invoices:
FundBox - Unlike many of its competitors, FundBox doesn't have a minimum personal credit score to apply. This lender's financing ranges between $1,000 and $100,000, with APRs between 16.4% and 76.5%
BlueVine - If you have a credit score above 530, your business might be eligible for Blue Vine's invoice factoring service. Their financing starts at $20,000 with a maximum of $5 million and APRs range between 15% and 68%.
What Documents Will I Need To Apply For Bad Credit Business Loans?
If you have already evaluated all of your options based on your finances and credit score, you might be ready to apply for the types of funding that fit your needs. Before you apply, however, you should have the following documents handy:
Credit Card Processing Statements
PrimeRates provides access to personalized business loan offers through our simple and quick pre-qualification application. Once you're pre-qualified, you can select the best offer for you and finalize the business loan application with the lender.
Apply in minutes

Our simple application takes less than 5-7 minutes to complete.

Select your business loan offer

Choose the offer that best fits your needs by comparing loan amounts and terms.

Receive funds quickly

Finalize your loan offer with the lender you selected to receive your funds.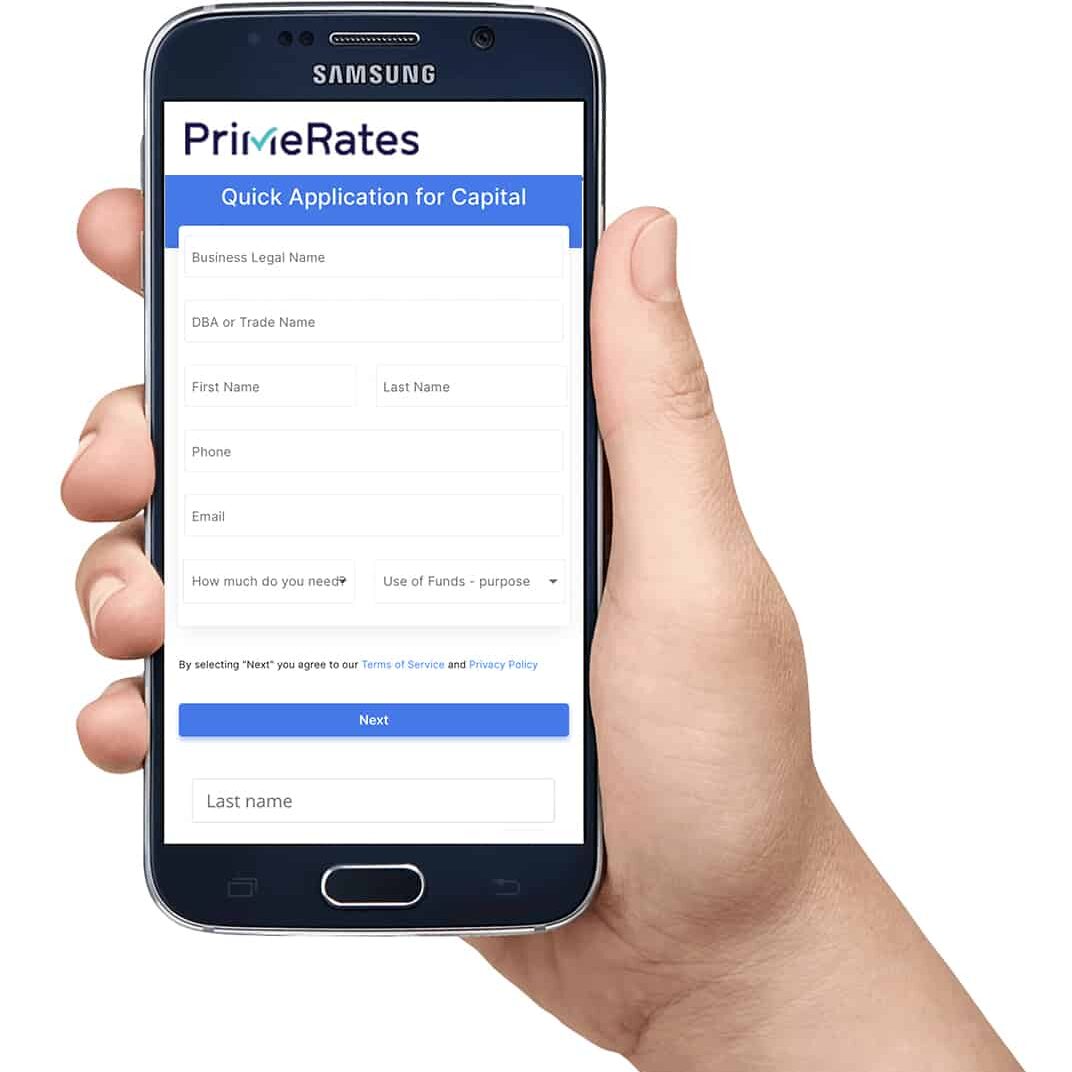 Business Loans By Industry
More Business Loan Options