Convenience Store Financing & Loans
While many people head to the supermarket to buy their groceries for the week, the need for convenience stores will never go away. While the big stores like Walmart may have everything, popping in to grab an ingredient you forgot just isn't practical. That's when you head to the c store.
Like any business, properly financing a C store may only be possible with extra funding in the form of a loan, and luckily there are a number of options available to any aspiring convenience store owner.
How do you start a convenience store?
There are a number of steps that need to be taken in order to start a convenience store:
Set out a clear business plan

. This will not only help you to stay on track, it is also needed in order to apply for C store financing.

Form a legal entity

. This will likely be an LLC, but you

can find out more here

if you need more guidance.

Register for taxes

. This includes both state and federal taxes.

Acquire a business bank account with a business credit card

. This is essential to protect your personal assets should your convenience store be faced with a lawsuit.

 

Set up proper business accounting

. You need to effectively record income and expenses in order to keep track of how your C store is performing financially, and it will make tax filing a lot simpler.

Get appropriate permits and licenses

. Including a tobacco vendor license, a liquor license, and a lottery retailer's license if applicable. Other permits and licenses that may be required will vary by state.

Obtain business insurance

.
Of course, there are a huge number of other steps, such as buying or leasing premises and obtaining stock, but these are the main legal steps you need to take.
Is running a convenience store profitable?
Convenience stores can be profitable and have steady growth potential. C stores now account for around one-third of retail outlets in America, having doubled over the last 30 years. With a successful convenience store, it is likely that you will eventually be able to expand your business into a number of locations. Because they are essential, they also are much more likely to stand the test of time, unlike so many other retail businesses that have to compete with the likes of Amazon.
What are the reasons a C store would need financing?
There are a number of reasons why a C store may need to look for financing. These include:
covering costs of expansion into other services, such as freshly made foods and coffee

renovations and updating

inventory financing

growth capital to offer a wider range of products and services

working capital

covering payroll – this accounts for a large percentage of expenses

marketing
What types of loans can I get for a convenience store?
There are various types of loans that are available to you as a convenience store owner depending on your exact needs.
Conventional Loans
Conventional loans are those that are typically offered by banks. As they are not guaranteed the bank is more at risk and so they usually require a higher credit score to gain approval. Therefore, these are a great option if you have good to great credit with a well-established convenience store and steady revenue.
Conventional loans typically offer interest rates ranging from 5% to 10% with terms anywhere between 1 and 25 years.
SBA Loans
SBA loans are the most desirable type of loan for many small business owners. With this type of loan, the Small Business Administration guarantees a large percentage of the loan, usually 75-85%, so that lenders are at less risk if the borrower defaults on loan repayments. However, because of this, SBA loans come with particularly strict qualification requirements and the application process can take a relatively long time.
SBA loans offer competitive interest rates ranging from 6% to 8% with repayment terms ranging from 7 to 25 years.
Asset-Based Lines of Credit
Another option available for C store financing is asset-based lines of credit. These can either be revolving or term loans and, as the name suggests, are secured by assets, for instance, real estate, accounts receivable, equipment, or inventory.
This type of convenience store financing has interest rates anywhere from 8% to 25% with terms ranging from as little as 6 months right up to 3 years.
Merchant Cash Advance
A merchant cash advance is a type of financing where a merchant cash provider will advance funds to a convenience store owner based on the financial history of their business, particularly credit card sales.
This type of financing allows a business to secure short-term financing quickly, but it should only be considered as a last resort or if you have particularly bad credit. This is because of the particularly high-interest rates, ranging from 16% to a huge 100% with terms of 4 months to 2 years.
Seller Carry Financing
This final type of financing is an option for you if you wish to purchase an existing convenience store. With seller carry financing, you are able to negotiate a payment plan with the seller themselves, including the interest rate and terms, although sellers will typically want the total payment made to them within 3 to 5 years. In the best cases, they should even be able to give you the training to ensure that the C store remains a success.
How much capital do you need to start a convenience store?
In order to start a convenience store from scratch, expect initial costs to be around $50,000. This includes the price of leasing the business space, any branding and renovations that need to be completed, and the set-up of a payment system and other technologies. If there is any other equipment you need to purchase for extra services, such as payphones or photocopiers, this may add to the initial cost. You also need to have the capital for the most important part of a C store, the stock. This should be what the majority of your starting capital is put towards.
The exact cost, however, will depend largely on where your store is located, its size, the inventory you want to stock, and the amount you will pay your employees (including yourself).
What does it take to run a convenience store?
Having experience with working in this type of store, preferably in a managerial role, will help when it comes to running a successful convenience store. Alternatively, experience running another type of business or retail store will be beneficial.
It can also put you a step ahead if you build up a solid relationship with members of the community where your C store is located as a good reputation and word of mouth can account for a lot.
How do you finance the business equipment for a convenience store?
If you need funding to acquire business equipment your best option is convenience store equipment financing. With this type of funding, an equipment financing company will pay a majority of the price of your required equipment, leaving you to cover the rest, typically 10-20%. In some cases, they may even cover the total price. You will then make repayments like you would a traditional loan, with interest, until the equipment is fully paid for.
Equipment financing also holds the benefit that the equipment itself serves as collateral so, if you default on repayments for whatever reason, the equipment financing company will simply seize and liquidate the equipment to get their money back. With this security, equipment financing generally comes with desirable rates and can be easier to qualify for than other finance options.
What do convenience stores sell the most of?
As the most popular items, convenience stores tend to sell a lot of tobacco products, alcoholic beverages, soft drinks, personal hygiene items and toiletries, and snacks such as chips and candy. Lottery tickets are also very popular when sold in C stores, as well as food staples like bread and milk.
How to increase convenience store sales?
As long as you are in a convenient location, C stores will always be popular for consumers, however, in order to increase sales and stand out from the competition, it is beneficial to offer anything that will save your customers time and offer further conveniences, such as a drive-through service for food and drink and an in-store ATM.
What is a good profit margin for a convenience store?
Typically, profitable convenience stores have an average profit margin of $450,000 plus. With profit margins like these, it is more likely that you will gain the opportunity to expand your business to other locations and further increase your profits.
How do you apply for convenience store financing?
Exactly how you apply for convenience store financing will depend primarily on the type of loan you choose and the amount of funding you are hoping to secure. That being said, all loans typically require:
a solid business plan

financial records (both business and personal)

tax records (both business and personal)

a detailed plan of how the loan will be used

expected earnings projection

business resumes

a list of all business assets

a list of potential suppliers and vendors
Closing Thoughts: Why is a convenience store a good business?
A convenience store is a good business to own as there will always be a need for them, especially with convenience becoming more of a priority for younger generations. With good knowledge and a drive to achieve success, a C store can be a very profitable venture, especially with the right financing.
At PrimeRates, we can help you quickly find the loan offers that are the best for you and your business so that you can easily compare lenders, loan amounts, interest rates, and terms. A major part of finding the best form of financing for you is ensuring it's affordable and won't eat into your profits – so to find the best business loans for c store financing, click here to compare potential business loans today.
. 
PrimeRates provides access to personalized business loan offers through our simple and quick pre-qualification application. Once you're pre-qualified, you can select the best offer for you and finalize the business loan application with the lender.
Apply in minutes

Our simple application takes less than 5-7 minutes to complete.

Select your business loan offer

Choose the offer that best fits your needs by comparing loan amounts and terms.

Receive funds quickly

Finalize your loan offer with the lender you selected to receive your funds.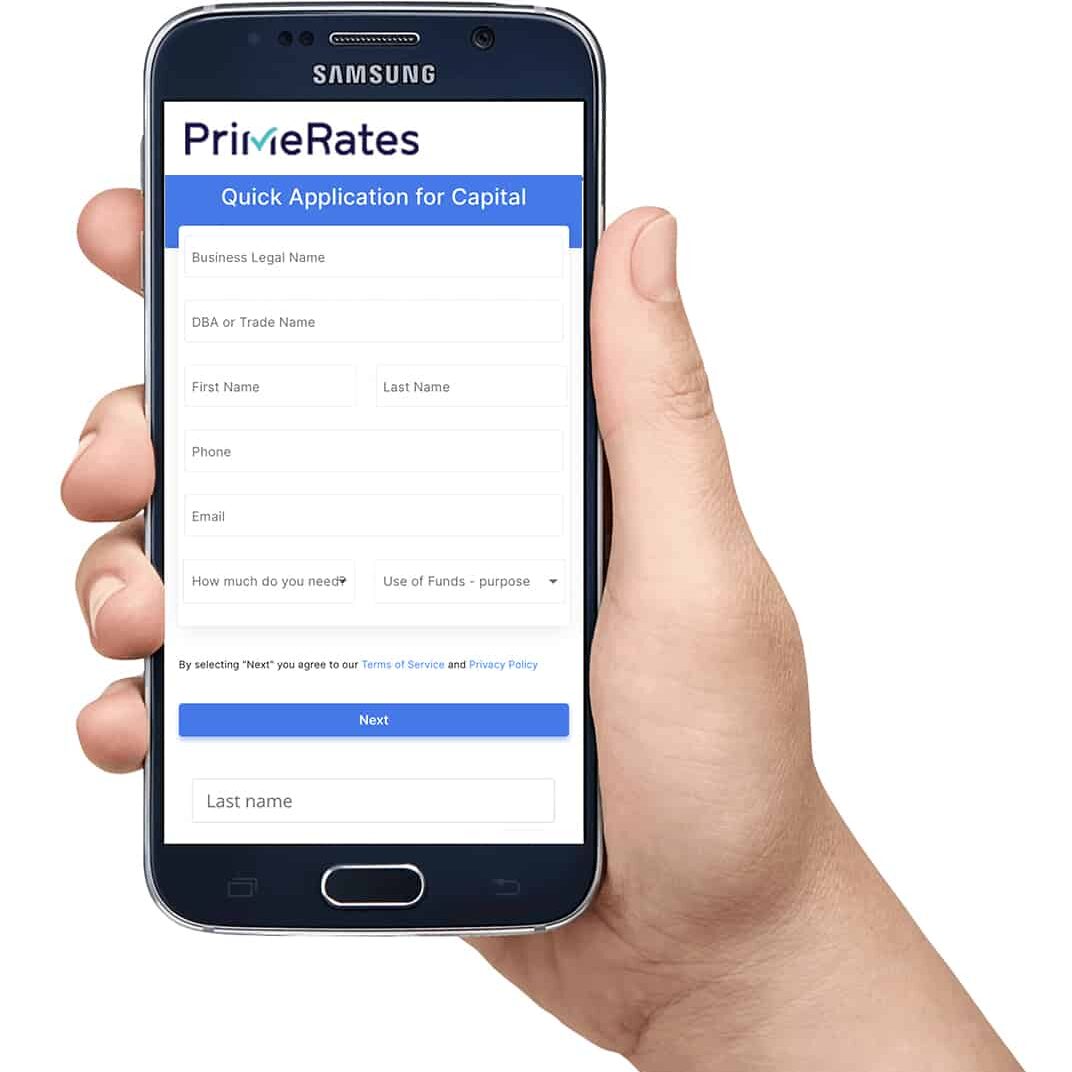 Top Business Loan Articles