PrimeRates provides access to personalized loan offers through our simple and quick pre-qualification application. Once you're pre-qualified, you can select the best offer for you and finalize the loan application with the lender.
Apply in minutes

Simple pre-qual application in less than 1 minute. 

Select your loan offer

Choose the offer that best fits your needs.

Receive funds quickly

Finalize your loan offer, get approved, and receive funds.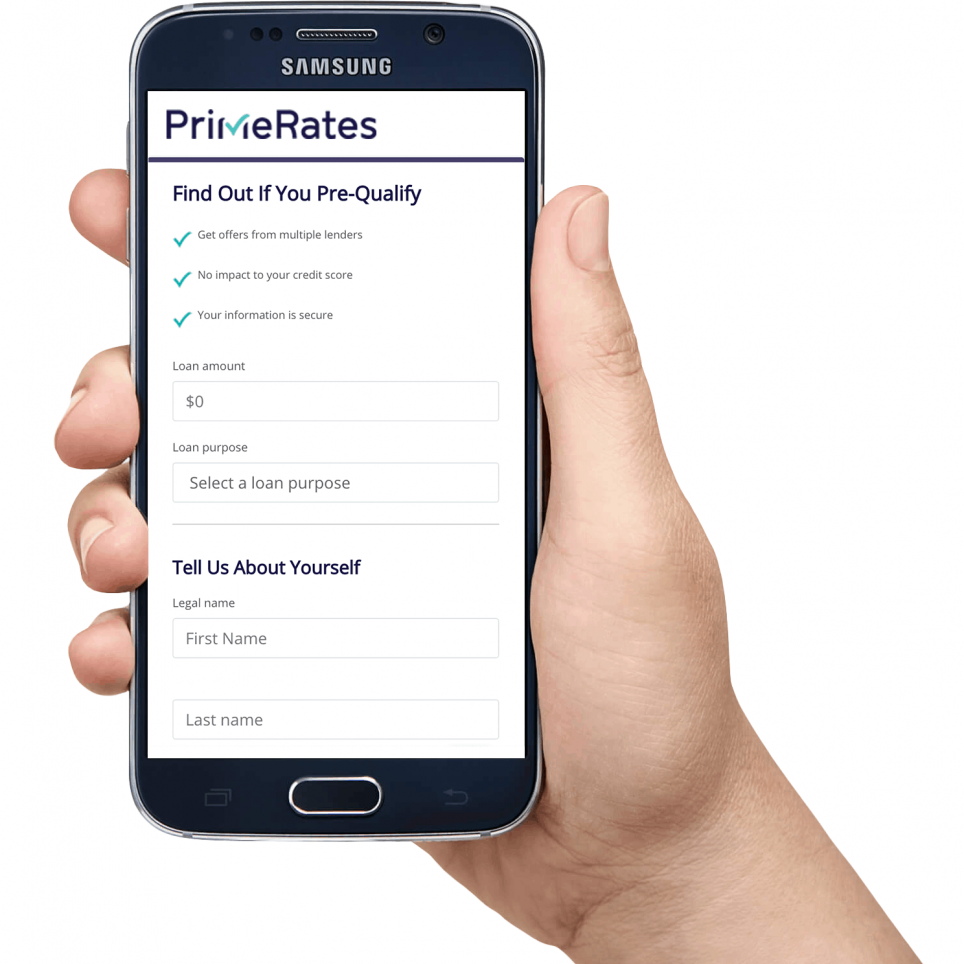 Other Personal Loan Types
Lenders That Accept Personal Loan Co-Signers
It could be for a variety of reasons, but you might not qualify for a personal loan on your own. Perhaps it's because you haven't always been a responsible borrower, or maybe you just don't have any credit history to speak of. Fortunately, there's a way for people in your position to get the funds you seek while also strengthening your overall credit report. If you'd like to learn more about bad credit personal loans with cosigners, here's everything you need to know.
What Are Bad Credit Loans with Cosigners?
Generally speaking, personal loans with cosigners are designed for people with less-than-desirable credit scores and those who lack a substantial enough online credit history to appease lenders. As the name implies, cosigned loans involve having someone else — usually a friend or family member — also sign a loan application on your behalf.
How Can a Cosigner Help?
By adding a cosigner's income and credit history to your loan application, you'll drastically increase your odds of qualifying for attractive terms. This is because, when you have someone else sign a loan application with you, the cosigner essentially agrees to take on responsibility for any outstanding balance if you neglect to pay the bill on time. In this way, the cosigner is leveraging their good credit to help you strengthen your own reputation as a borrower. But that's not all you need to know about cosigned loans.
Pros and Cons of Cosigned Loans
While cosigned loans can seem pretty attractive to inexperienced borrowers, there's more to the story than meets the eye when it comes to benefits and drawbacks of this type of financial arrangement. Here's a deeper dive into the pros and cons of cosigned loans.
Pros

You can get a loan even if you have a poor credit score or little credit history.
If your cosigner has amazing credit, you could qualify for unbeatable terms.
By paying down a cosigned loan on time, your credit score will undoubtedly increase.

Cons

If your cosigner's credit history isn't strong enough, you'll likely still be rejected.
You could damage your cosigner's credit — and your relationship —  if you miss a payment.
It can be difficult to remove your cosigner's name from a loan should you ever choose to do so
Online lenders that allow co-signers
Of all the lenders that offer personal loans for cosigners, Lightstream and FreedomPlus are two of our favorites. Here's a quick look at each of their standout features and how these two institutions compare to one another when it comes to cosigned loans.
Lightstream: A division of Suntrust Bank, Lightstream is a lender that has a reputation for only approving cosigners with above-average credit. When reviewing joint applications, Lightstream considers factors including combined income and current debt, and your cosigner must have a minimum credit score of 660. Interest rates with Lightstream range from 3.99% to 16.79% (varies by loan purpose) with loan amounts from $5,000 to $100,000. Repayment terms span from two to 12 years (depending on the loan amount and loan purpose), and funding can be provided the same day it's approved in many cases.
LightStream
APR:
4.99 — 16.79% with AutoPay
Loan Terms:
2 to 7 years
Loan Amount:
$5,000 — $100,000
Time to Fund:
As soon as same day
Minimum Credit Score:
660+
Income:
N/A
Soft Credit Check?
In some instances
LightStream
Read Our Review
Click "Check Rates" to apply to LightStream
FreedomPlus: With roughly 40% of their borrowers using cosigners, joint loans are nothing new to FreedomPlus. This lender grants customers reduced interest rates if they add a cosigner with solid credit. FreedomPlus offers fixed-rate APRs ranging from 4.99% to 29.99% on two- to five-year loans for amounts from $7,500 to $40,000. FreedomPlus will occasionally approve cosigners with scores starting at 640, but borrowers are far more likely to get approved with a credit score of 700 or higher. Funding takes as little as two days, and, depending upon your cosigner's credit and the amount of the loan, an origination fee of up to 5% might be required.
FreedomPlus
APR:
4.99% — 29.99%
Loan Terms:
2 to 5 years
Loan Amount:
$10,000 — $35,000
Time to Fund:
As little as 2 days
Minimum Credit Score:
640+
Income:
$30,000+
Soft Credit Check?
Yes
FreedomPlus
Read Our Review
Click "Check Rates" to apply to FreedomPlus
Cosigned Loans for People with Bad Credit
If your credit history and your credit score leave a lot to be desired, you still have options when it comes to cosigned loans. Among the best ways for people with bad credit to secure a cosigned loan is to apply for one with OneMain Financial. OneMain specializes in working with individuals who want to rebuild their credit reputation with the help of a cosigner. This institution issues loans from $1,500 to $25,000 with repayment terms ranging from one to five years. APRs span from 16.05% to 35.99%, and while OneMain doesn't require a minimum credit score for cosigners, they almost always insist that applicants visit one of their many branches prior to approval.
» MORE: Loans For People With Bad Credit
A Closer Look at Lenders' Conditions for Cosigners
Not all lenders were created equal, and each has their own set of guidelines when it comes to cosigned loans. In a nutshell, here's what you need to know about today's top lenders.
ChaseN/AOnly co-signed auto loans
Company
APR Range
Loan Amounts
LendingClub
5.99%-35.89%
$1,000-$40,000
OneMain
18.00%-35.99%
$1,500-$20,000
FreedomPlus
4.99%-29.99%
$10,000-$35,000
Bank of America
N/A
Only co-signed loans for auto refinancing
Wells Fargo
5.50%-13.79%
$3,000-$250,000
Click to compare estimated rates on PrimeRates.
LendingClub: No restrictions on what loans can and can't be used for. LendingClub considers credit scores, income, debt, and credit history when approving loans. Both signers are equally responsible for repayment.
OneMain Financial: Specializes in secured and unsecured personal loans. Primary applicants must report their source of income, and if they depend on someone else for money, that individual must also assume the responsibility of a cosigner.
FreedomPlus: No restrictions on what loans can and can't be used for. Both cosigners apply for a joint credit account based on combined income, debt, and assessed creditworthiness.
Bank of America: Only approves cosigned loans for auto refinancing. Both you and your cosigner are required to provide W-2s, tax returns, recent pay stubs, and bank statements.
Chase: Only approves cosigned auto loans. Both cosigners must provide the same documentation during the application process. The cosigner assumes equal responsibilities for repayment
Wells Fargo: Specializes in auto and home-equity finance loans. Cosigners share equal responsibility for a loan.
Conclusion
If you're ready to apply for a personal loan with a cosigner, one of our featured lenders might be a perfect fit for you. Take your time while weighing your options, and apply with the institution most likely to meet your needs.
Top Personal Loan Articles