PrimeRates provides access to personalized loan offers through our simple and quick pre-qualification application. Once you're pre-qualified, you can select the best offer for you and finalize the loan application with the lender.
Apply in minutes

Simple pre-qual application in less than 1 minute. 

Select your loan offer

Choose the offer that best fits your needs.

Receive funds quickly

Finalize your loan offer, get approved, and receive funds.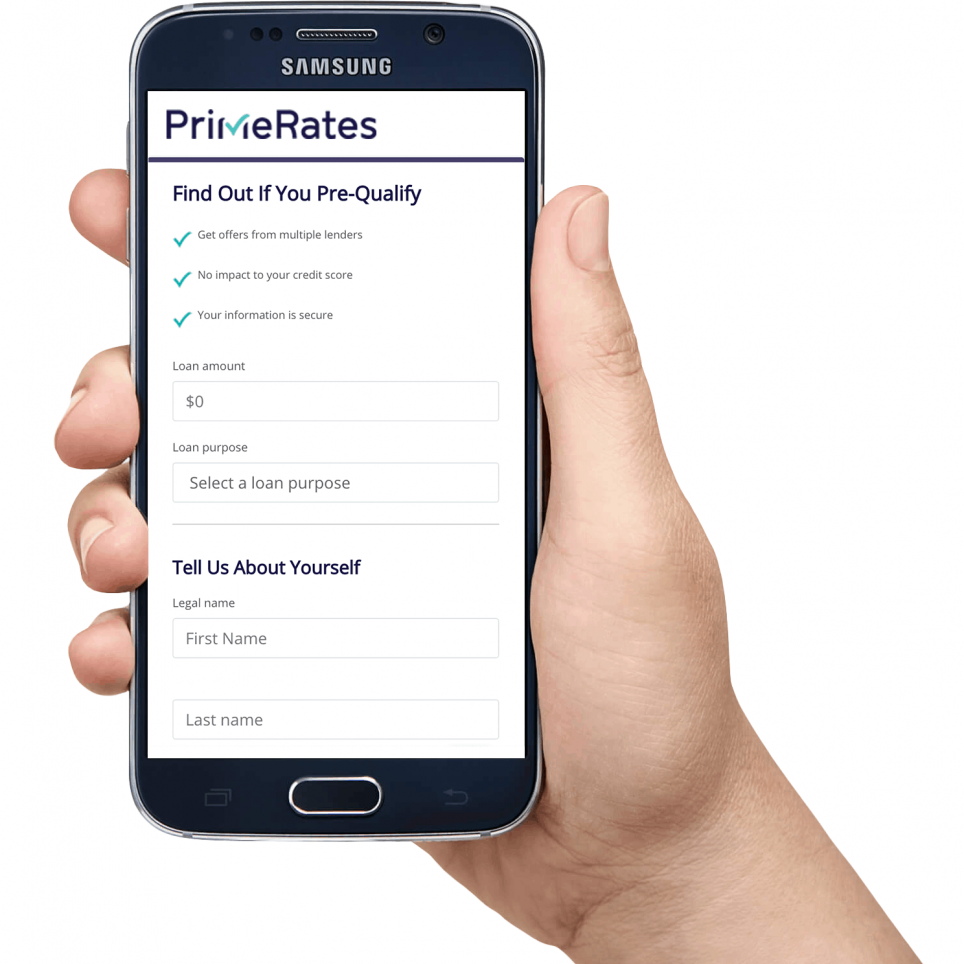 Hot Tub Loans For Good & Bad Credit
Dreaming of relaxing in the backyard in your very own hot tub? A hot tub is that "I've made" it item; it's what all your neighbors will be peeking over the fences to get a look at. There's no better way to relax at the end of a hard day, and it's the perfect reward for all those long hours put in at work. The good news is that your dream can likely become a reality. Hot tub technology is better than ever and, like all technology, the price point has started to come down, too. With a little help from some hot tub financing, you'll be soaking it up in no time!
Whether you're looking to increase the value of your home before you sell it, or simply want a new way to relax, you might be looking at purchasing a hot tub. Hot tubs can help you jazz up a summertime garden party or help you turn your home around for a higher price. Either way, this can be a big expense and may be difficult to finance out of pocket.
What should I consider before seeking hot tub financing?
Before you start thinking about financing your project, it's a good idea to have an accurate view of how much the purchase and installation will cost you. Here are a few questions to answer before you move forward:
Is there a suitable area ready for a hot tub? If you don't already have an area near the house with suitable concrete or decking, you'll need to talk to a contractor about how much installing an above-ground hot tub. If you want it to be sunken, then it's best to talk to your hot tub dealer, as they'll almost certainly include the cost of installation as a part of their package.
Will the electrics and plumbing be easy to hook up? Again, the closer to the house, the better here, as you'll need to hire an electrician and plumber to install the correct elements for your hot tub.
Do I need permission from an HOA or any permits? Ensure you are certain of what you can and can't do without applying for a permit in your area.
Am I comfortable with the increased utility bills? Remember that your hot tub will require maintenance, water, and power, so you need to be prepared for an increased utility bill and pay for maintenance.
Above-ground hot tubs typically cost between $4,000 - $20,000, not including installation. You could save money by looking at inflatable models. In-ground models typically start at $15,000 and increase, though you can talk to a dealer about the costs since they'll likely offer a complete package with all necessary elements included.
Can you finance a hot tub?
The great news is that if you don't have enough money to fund a hot tub, there are many ways to finance one. Personal term loans are one of the most popular options for doing this and are accessible to borrowers across a range of financial qualifications. Other than standard term loans, you can also consider getting a line of credit or using home equity or home improvement loans. 
Can you make payments on a hot tub?
Many hot tub distributors offer monthly payment plans, so you may be able to finance your hot tub without borrowing from a separate lender.
How much does a hot tub cost per month?
Most hot tubs cost somewhere between $3,500 and $12,000, with lenders typically offering repayment periods of up to five years. For example, if you purchase a hot tub for $5,000, with a 9% APR and two-year repayment term, your minimum monthly payment will be $228.42.
How much does a new hot tub cost?
A new hot tub can run you anywhere from $3,500 for the most basic model, all the way up to $20,000 for the largest and most luxurious tubs. Most, however, won't cost more than $12,000. 
Does it matter if my hot tub is above-ground or in-ground?
Deciding to purchase an in-ground hot tub can greatly increase the cost of the project because it will require excavation, landscaping and professional excavation. It can also cost more to heat an in-ground hot tub. If you're looking for a low cost and efficient option, an above-ground hot tub is the better choice. 
Can I get hot tub financing with bad credit?
You may be able to get hot tub financing with bad credit if your income is high enough that you'll be able to cover your payments easily. Your interest will likely be high, so ensure you calculate how much more you'll pay for your hot tub financing over what the hot tub retails for and that it still makes sense as an investment for you.
Can I get hot tub financing with no credit check?
It's highly unlikely you'll be able to find hot tub financing without a credit check first since hot tubs are typically expensive.
Is there hot tub zero percent financing?
Yes, you can find some 0% hot tub financing deals if you shop around or look for a hot tub when sales are typically on, such as around the 4th of July, Black Friday, and New Year. Purchasing in the winter may also help you get a better deal since fewer people are thinking about purchasing a new hot tub.
What are my options for hot tub financing?
If you're planning on making the upgrade, you have a few options available to you:
Use a credit card
Use a personal loan
Use savings
Use a home equity loan
Each of these has its own pros and cons, so let's explore them in more detail.
Home Equity Loans
Home equity loans are where you borrow money against the value of your home, agreeing that if you fail to make payments, the lender can take legal action to have your home sold to reclaim their losses. For a luxury purchase like a hot tub, this kind of loan is often too risky. The benefit of this kind of loan is that you typically get a much lower interest rate because the lender knows they'll get their investment back. This kind of loan is often used for home improvements, such as remodeling and renovations. Of course, what's best depends entirely on you and your financial circumstances.
Pros:
Credit score may not be as large of a factor in the approval process than with a traditional loan

May be easier to qualify for than a traditional personal loan

Interest rates may be lower than with an online personal loan

Borrowers may have access to larger amounts or more flexible repayment terms
Cons:
May perpetuate a cycle of debt

Home may be at risk if the borrower does not make timely payments

Borrower may be at greater financial risk if the loan amount exceeds the value of the home

Not tax deductible
Figure
APR range
Starting at 4.99%
Available loan terms
Up to 30 years
Loan amounts
Borrow up to $150,000
Fees
Low origination fee
Credit needed
Minimum credit score 600
Best for
Major Purchases, Home Improvements or Consolidating Debt
Click "Check Rates" to apply to Figure
» MORE: Figure.com home equity review
Personal Loans
Personal loans are typically unsecured, which means the company lends you money based on your trustworthiness. The better your credit score, the lower the interest rate you'll be offered and the more money you'll be able to secure. Personal loans are typically a better option than credit cards because you can ask for the exact amount you need, and you have to pay the loan back over a predetermined period.
For example, if you borrow for 5 years, you will have paid off the loan by the end of that 5 years by paying the same amount each month. When you finance with credit cards, you have to be disciplined and mindful of paying it off, otherwise you can get into financial difficulty.
Pros:
Won't put your home at risk in case of late payments

Timely payments can help credit score

Higher interest than equity financing

Loans can fund in as little as one business day

Wider variety of lenders and funding options for borrowers across all income and credit brackets
Cons:
Late payments can negatively impact credit score

Rates can be very high

Can be difficult to qualify for a low-interest loan with bad or average credit 
Pros:
Home improvements can increase a property's value

Allows homeowners to fund major repairs and projects that can't be paid for out of pocket

Can come with longer repayment terms
Cons:
The cost of the loan and interest rates can surpass the value that the improvement adds to the property

Bad work can cause property to lose value

Can come with high interest rates if your financial qualifications are not up to snuff
Earnest
APR
Starting at 6.99%
Loan amounts
$5,000-$75,000
Time to fund
As Early As 48 hours
Credit needed
680
Best for
Borrowers With Good Credit
Click "Check Rates" to pre-qualify and receive a personalized rate.
» MORE: Earnest personal loan review
Pros:
Amounts of up to $75,000

No late payment fee

Rates as low as 6.99%, with a maximum of 18.24%

Easy, online application

Repayment terms of three to five years
Cons:
No option to pay creditors directly

Difficult for new borrowers or borrowers with bad credit to qualify, with a minimum credit score requirement of 680

Not available in all US states
LightStream
» MORE: LightStream Personal Loans Review
Pros:
Rates as low as 3.99%

Accepts co-signers

Access to amounts of up to $100,000

Longer repayment terms than many other online lenders

No origination, late or prepayment fees

Loans can fund as soon as the same day
Cons:
Rates may be higher than with a traditional bank or lender

May be difficult for new borrowers to qualify, with a minimum credit score requirement of 660

Hard credit pull on loan applications
SoFi
APR range:
5.99% to 16.99% APR (with AutoPay)
Available loan terms:
24-84 months
Loan amounts:
$5,000—$100,000
Time to fund:
Typically 7 days
Origination fee:
None
Credit needed:
680+
Income needed:
$50,000+
Soft Credit Check?
Yes
Best for:
Young professionals and graduates, good credit
Click "Check Rates" to apply to SoFi
» MORE: SoFi Personal Loans Review
Pros:
APR as low as 5.99%

No origination, late or overdraft fees

Flexible repayment terms ranging between two and seven years

Autopay option

Loans of up to $100,000
Cons:
Loans can take up to three days to fund, while many other online lenders offer funding times as short as one to two business days

Difficult for borrowers with low or average credit to qualify, with a minimum credit score requirement of 680
Credit Card Financing
This may be a good option for you if you have a great credit score and can get—or have—a 0% interest rate for 6 months or more. The problem here is that credit cards usually have a high-interest rate, especially once the introductory period ends, so you need to be strict about paying it off within that period or maintaining your credit score so you can move it to another 0% card. Another consideration is very few credit cards tell you how much credit you'll receive before you apply, which may mean you damage your credit score by applying and still not have enough to cover your hot tub purchase and installation.
Pros:
Timely payments can boost credit score 

More convenient and regular access to funds than with personal loans 

Borrowers only pay on what they use
Cons:
Can perpetuate overspending habits

Rates can be much higher than standard personal loans

May come with more fees than personal loans

More susceptible to fraud than a personal loan
» MORE: Compare Credit Cards
Savings
If you've got the cash to purchase your hot tub, this is generally going to be the best option. You won't have to worry about securing financing or paying it back; you'll simply own the hot tub outright. The only downside is that you will deplete your savings. If the hot tub costs almost as much as your savings, then you may decide to keep your savings as your emergency fund and finance your hot tub purchase anyway.
Looking for Hot Tub Financing? PrimeRates Can Help
If you're ready to explore your hot tub financing options, we're here to help. Simply fill in your details, and we'll compare hundreds of lenders to get you the best deal. To get started and see what you can get toward your hot tub purchase, click here.
Conclusion
A hot tub can be a great investment to help you relax or get a greater return on the sale of your home. Personal and home equity loans are some of the most popular ways to fund this addition to your home. No matter whether you're going for the most luxurious and top-of-the-line tub on the market or are just going for a basic above-ground installation, make sure that you know exactly how much you want to borrow so that you don't end up taking out more cash than you need to. 
Other Personal Loan Types
Home Improvement Financing Articles