PrimeRates provides access to personalized business loan offers through our simple and quick pre-qualification application. Once you're pre-qualified, you can select the best offer for you and finalize the business loan application with the lender.
Apply in minutes

Our simple application takes less than 5-7 minutes to complete.

Select your business loan offer

Choose the offer that best fits your needs by comparing loan amounts and terms.

Receive funds quickly

Finalize your loan offer with the lender you selected to receive your funds.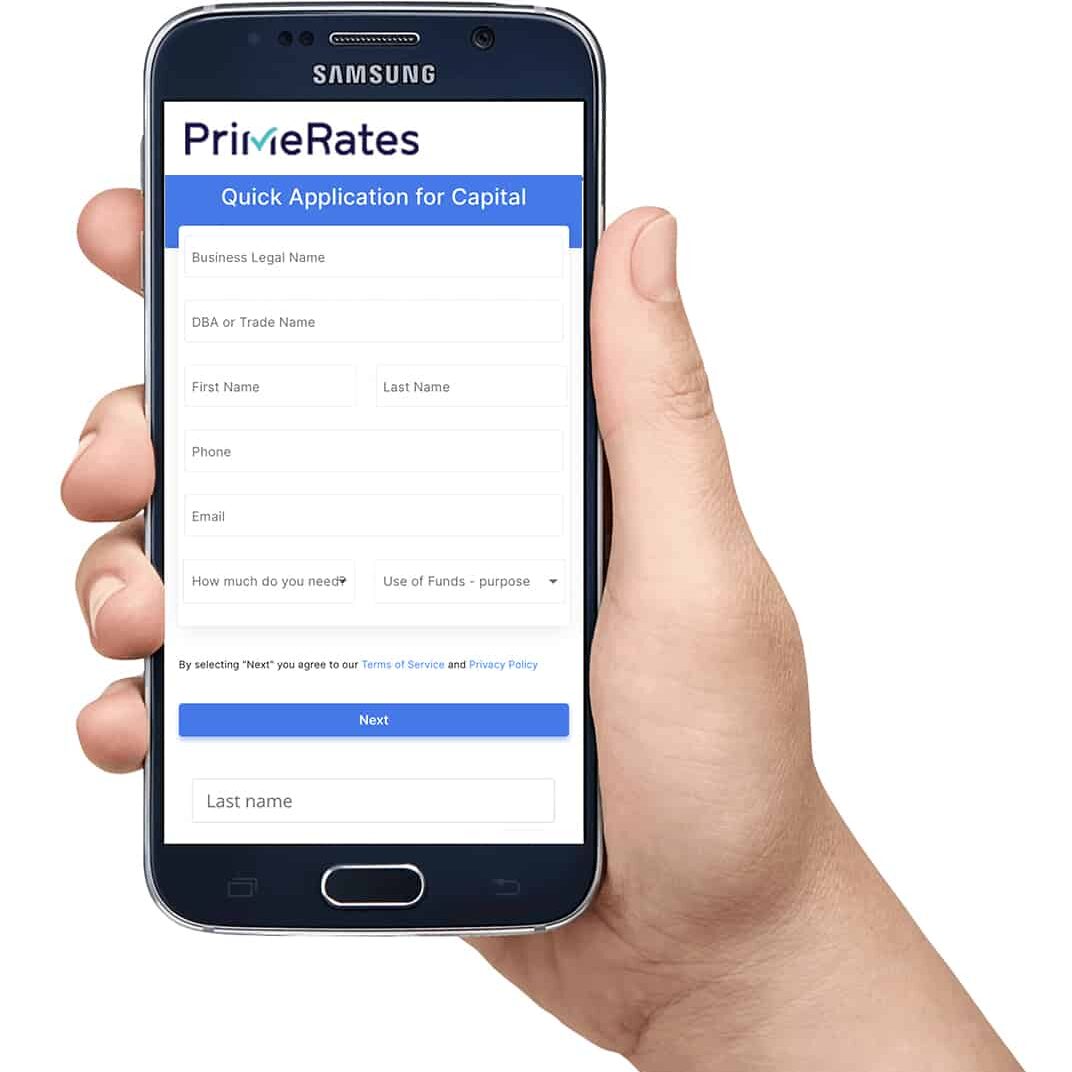 Dental Practice Financing Options
What is a dental practice loan?
A dental practice loan is a type of funding provided to purchase and cover dental practice related expenses. In most cases, the money will need to be paid back with interest and other fees may apply. There are many different types of dental practice loans to choose from and each differs in terms of requirements, interest rates, loan terms, and other factors.
How do dental practice business loans work?
Dental practice loans work differently depending on the type of loan you are applying for but there are some basic elements that should apply to all loans. These include:
Qualifying: The first step is qualifying for the loan. Most lenders will want to see a good credit score and business history, but others will accept collateral in the form of inventory or equipment. In some cases, you may need to take out a personal loan if you do not qualify for a business loan.
Purpose of the loan: In most instances, a business loan for dental practice can be used for any business-related expense. But in some cases, it will need to be used for a specific expense such as inventory or equipment.
Loan repayment: The loan will need to be repaid with interest on a daily, weekly, or monthly basis. Terms can vary so as you shop loans, make sure to find one with the most favorable repayment terms.
Pros and cons of dental practice loans
Dental loans come with their share of pros and cons. Here are some to consider.
PROS
Access funds to grow your business: Starting and growing a dental practice comes with plenty of expenses and investment requirements. Financing can help you grow your business in a cost effective manner so you can achieve all of your goals.
Maintain equity in your business: Most dental practice loans will not require you to give up equity in your business.
Improve cash flow: Business loans can help improve cash flow. For example, if you need to purchase new equipment or make renovations it may put you in a pinch for cash. Paying for these necessities with financing can help reserve cash for daily business expenses.
CONS
Interest rates and fees: Dental practice financing needs to be paid back with interest, so you end up spending more money. Interest rates will be higher if you can't show a high credit score and reliable business history. They will also compound if you can't make timely payments.
Must qualify: Most lenders will want to see a good credit score and business history before approving your loan. This makes it difficult for some people to qualify.
Common uses for dental practice financing
Dental practice financing can be used to cover any and all of the following expenses:
Office rent or mortgage payments: The rent or mortgage payments on your facility can be quite expensive. You can use a business loan for dental practice to cover these costs.
Equipment costs: Equipment costs for a dental office can include expenses for purchasing dental chairs, desks and chairs for staff, billing equipment, teeth cleaners, mirrors, lights, x-ray machines and more.
Marketing: Every business needs a strong marketing campaign. This will require the purchase of marketing material and marketing software. You may also consider hiring a marketing team.
Payroll: Payroll can be a business's biggest expense. Dental practice financing may be required to cover these costs.
Acquisition of another dental practice: You may be building your practice from the ground up or you may be taking over an existing practice. If you are acquiring an existing practice, you will need to pay off the other owner. Remodeling will also be necessary.
Dental practice expansion: In time, you may decide to expand your dental practice. This may entail remodeling your location, opening a new location, hiring additional staff and other expenses.
Technology investment: Technology will come into play in terms of your billing software, your POS system, your marketing software, state of the art dental equipment and more.
How profitable is a dental practice?
The profitability of a dental practice can vary depending on how well run the business is, but most practices will see a range of about 30-40% of revenues.
What credit score is required to qualify for dental practice financing?
To qualify for a business loan you should have a credit score 640 or better. However, it's a good idea to aim even higher. The higher your credit score is, the lower your interest rates should be. It's ideal to have a score of 700 or above.
If your score is below 640, you may still be able to qualify, but you will find it difficult to get anything other than a short-term loan that comes with high interest rates.
If your score is below 550, you may want to look into other lending options or apply with a co-applicant.
Do I need to have good credit to obtain a dental practice loan?
It will be harder to get a low interest, long term loan if you don't have a good credit score. However, if your credit score isn't too bad, you may be more appealing to lenders if you can back it up with a solid business plan.
Your business plan should prove that you have been in business for at least two years as well as a profitable and steady stream of income. It should also show the purpose of your loan, how much you want to borrow, proof of insurance and no past defaults.
The plan should include:
The mission of your dental practice
Financial projections
Dental experience
Competing practices
Marketing strategies
Your target market
The Different Types of Business Loans for Dentists
SBA Loans
SBA Loans are seen to be the best business loan on the market as they have flexible terms, often with high loan amounts. These loans are backed by the government to provide funds for small business owners, often to those who cannot get approval for other loans. The most appropriate SBA loan for a dental practice is the SBA 7(a) loan, but we will talk about this later. These loans can be difficult to get and take time to fund.
Equipment Loans
Having the right equipment is a huge part of having a successful dental practice, but equipment, especially that which is so specialized, can be expensive. This is where an Equipment Loan comes in. These loans are tied to the equipment you want to purchase, so are a "secured" loan. Because the lender can simply take the equipment from you if you don't cover your payments, you can even get this type of loan if you have relatively bad credit.
Term Loans
Another option for dental practice loans are Term loans. Term loans provide fast financing (sometimes within just 24-hours), after a short application process, but are generally more expensive than the other business loan options. Term loans also offer shorter repayment periods (of as little as 3 months), though is often 3-10 years for most lenders. Term Loans allow you to borrow amounts anywhere from $2,500 to $250,000 but often come with relatively high-interest rates, starting at around 10%.
Business Lines of Credit
If you are not sure what amount of financing you will need, or when you will need it, a Business Line of Credit will be the best loan for you.
Lines of credit are essentially like a credit card – your lender agrees a limit you can borrow, and you are then supplied with an account you can dip into when needed. You only have to pay interest on the money you actually withdraw from the Business Line of Credit, and once you repay the amount you withdrew, you can re-use those same the funds again and again.
Business Lines of Credit allow you to borrow from amounts of $10,000 to $1 million, with approval in as little as one working day. Repayment terms range from 6 months to 5 years, and interest rates vary hugely, depending on the amount you are borrowing and the lender, but you can expect them to be from around 7% to 25%. This is a brilliant dental office loan to give you comfort in the knowledge that financial aid is there when you need it.
Compare Business Line of Credit
SBA Loans for Dental Practices
The best SBA loan for dental practices is the SBA 7(a), due to its flexibility. They offer loan amounts from $5,000 to $5 million, with repayment terms of 5 to 25 years. SBA loan interest rates are some of the lowest on the business loan market, starting at only 7.75%. The main problem with these sorts of dental practice loans is that they can take up to several months for approval, with the shortest time of 3 weeks, which can severely delay business plans. You will also need to provide a lot of evidence and documentation regarding your business during the application process, so even the application itself can take a few hours to complete.
What Are The Best SBA Loans for Dentists?
There are a few lenders we recommend for SBA loans for dental practices:
SmartBiz – SmartBiz offers loan amounts of $30,000 to $350,000, with interest rates starting from 9.7%, and a maximum loan term of 10 years. Although they can take a few weeks to provide funding, they may be able to fund you within a week. You will need a personal credit score of at least 675 and annual revenue of $50,000 to qualify for an SBA loan with SmartBiz.
Loan Amount:
$30,000 – $350,000
APR Range:
9.7% – 11.04%
Time To Fund:
Typically take several weeks to fund, but can fund as quickly as within seven days.
Loan Term:
Maximum loan term is 10 years.
Origination Fee:
4.00%
How To Qualify:
675+ Personal credit score
$50,000+ Annual revenue
Great Option For:
Borrowers with good credit
SBA loans
Funding real estate purchases
Refinancing debt
Credit Check?
Soft credit check and hard pull
Co-Applicants Accepted?
No cosigners
Direct Pay-Off To Creditors?
No
Click "Check Rates" to apply to SmartBiz
Lendio – Lendio offers loan amounts of $1,000 to $2 million, with interest rates anywhere up to 30%, depending on the amount you are borrowing. This SBA loan is great if you are looking for quick funding, as Lendio may be able to fund you in just one day, providing loan terms from 1 to 25 years. To qualify for an SBA loan with Lendio, you will need a personal credit score of at least 550 and annual revenue of $12,000, so this is a great option for a dental practice loan if you are less established.
Dental Equipment Financing and Loans
As we talked about above, Dental Equipment Financing or Loans can be the perfect loan choice for you if you are simply looking to fund the purchase of new equipment, such as x-ray machines, dental chairs, office computers, or dental instruments. Equipment Loans generally offer repayment terms between 6 months and 5 years, with interest rates starting at 6%. You may even get funding in as little as one business day, depending on the lender you choose.
Be aware that some lenders will require a down payment of 10% or 20%, so you will need to be in a good enough financial position to cover this.
As outlined above, the SBA 7(a) loans offered by SmartBiz are great for dental equipment financing as they have low interest rates and long repayment terms. However, this is not suitable for new businesses as you need to have been in business for at least 2 years and be able to prove that your revenue is high enough in order to comfortably repay your loan to have your loan accepted.
OnDeck offers Equipment Finance Agreements (EFAs) up to $500,000 with terms from 2 to 5 years. You can receive funding in as little as 1-2 days, and repayments are made monthly. They also offer short-term business loans, which can be beneficial if you are looking to fund a smaller purchase, with terms of 3 months to 3 years.
Another option for dental equipment financing is StreetShares. They connect you with business investors who offer loan amounts ranging from $2,000 to $250,000, and you will receive funding in less than a week, possibly even only one day. Interest rates range from 9% to 40% with repayment terms of up to 3 years. You will need to have a credit score above 600 to qualify for dental equipment loans with StreetShares.
What Are the Best Term Loans for Dentists?
Short-term business loans for dentists are good if you do not yet have a long financial history. Their terms are usually between 3 and 18 months and need to be repaid daily or weekly, depending on the lender. Short-term loans are convenient if you need quick funding, but they should not be used for large or continual financial expenses due to their high-interest rates of 8.5% to 80% (or even higher). These loans are best for smaller operational costs, temporary cash flow issues, or emergencies.
On the other hand, a Term Loan that typically lasts 2-10 years is much more suitable. This is the perfect business loan for a dental practice owner with good credit (more than 650) and whose practice is well established. Long term loans have repayment terms ranging from just 1 year to as many as 25 years, with interest rates between 4% and 30%. These loans are best for any recurring expenses, long-term investments, or large purchases, such as property or specialized equipment.
Again, SmartBiz is a great option for a long-term loan. They have long repayment terms of 10 years, low-interest rates, and their application process is easy to complete.
Funding Circle is another good option for a long-term loan, although their repayment terms are smaller than that of SmartBiz, at 1 to 5 years. They offer loan amounts of $25,000 to $500,000, also with low-interest rates. You will need a personal credit score of at least 660 to qualify along with time in business of at least 2 years.
What are the Best Loans to Start a Dental Practice?
How to Qualify for Small Business Loans for Dentists
To qualify for dental office loans, you need a credit score of 650 or more if you want a wide range of options. If your credit score is below this, you may only be able to qualify for a short-term online loan, which may not be suitable for your needs. Aim to have a personal credit score of 680+, as this will show lenders that you are trustworthy.
The SBA has specific requirements that you need to meet to qualify for an SBA business loan. This includes at least 2 years in business, a clear purpose for your loan, how much you want to borrow, some proof of insurance, no past defaults, and a strong business plan.
This business plan should include:
The address of your dental practice
Your target market
Any competing practices
Financial projections
Marketing strategies
Your dental experience – the larger the loan, the more experience you should have
If you have any outstanding student debt, as many dentists do, make sure you include in your business plan how you will afford the repayments of your student loan as well as the business loan you are applying for.
As previously stated, SBA Loans, specifically SBA 7(a) which is offered by SmartBiz, are a particularly strong fit for small business loans for dentists as they provide great dental practice loan terms and flexibility; you just need to ensure you meet all the requirements to successfully qualify.
What Are the Best Loans for Buying a Dental Practice?
If you are looking for a loan to buy a dental practice, you should look to the Bank of America. They offer dental practice start-up loans of up to $5 million with repayment terms up to 25 years so you can get the working capital you need to start a new dental practice in only 2 to 6 weeks.
Interest rates start at only 7%, you just need to complete their application and have business and financial documents ready to complete the application process. Bear in mind that the particular dental practice loan terms will depend on the size of your loan and what your financial situation is.
If you're ready to compare loans, we're here to help. We'll compare the best loans available to you so you get the lowest interest rates from the very best lenders.
What is the cost of a dental practice loan?
The cost of starting a dental practice varies depending on the size of your practice, the services you are offering and other factors. But in most cases, you can expect to spend between $350,000 and $550,000.
To determine the cost of a dental practice loan, you will need to consider how much of this you will need to borrow and what your interest rates will be.
Do I need to put money down to obtain a dental practice business loan?
Most business loans do not require a down payment. However, there are some that do. This includes the SBA 7(a) loan which requires a 10%- 20% down payment.
Loans that require a down payment can be beneficial as they usually come with lower interest rates.
Is a dental practice loan right for you?
A dental loan comes with its share of advantages and disadvantages. The biggest advantage is that it gets you the money you need to get your business started and the biggest disadvantage is the cost. You will want to explore your options and define your needs. There are many options for business loans, some more cost-effective than others. When you compare loans you will want to consider the cost as well as repayment terms and other pros and cons. Taking advantage of online platforms that allow you to compare offers is a time-saving way to do your due diligence.
How to get a dental practice business loan
The first step to getting a dental practice loan is to decide on the loan and lender that's right for you. Once you choose the best option, you will need to meet or contact the lender, and they will tell you the steps you need to take to qualify. It's likely you will need to show paperwork such as financial statements, income tax returns and a credit score, but this can vary depending on requirements. PrimeRates can help expedite the process by allowing you to check offers in just minutes.
More Business Loan Options