Fundera Small Business Loans Review
If you're looking for a way to finance your business goals and you're not sure where to apply, sending an application to Fundera could be a good place to start. This online loan-matching platform provides access to a wide variety of loan types and amounts, and also gives borrowers the online resources and customer service to help them make the decision that's right for their business. Let's take a look at how this platform works.
Fundera Business Loan Rates & Terms
Loan Amounts
$5,000 to $500,000
APR Range
Term Loans: 7% - 30%
Startup Loans: 7.9% - 19.9%
Repayment Terms
Term Loans: Up to 10 Years
SBA Loans: Up to 25 Years
Time to Funding
Varies
Click "Check Rates" to apply to Fundera
» MORE: Compare Business Loans For Fast Cash
APR range: Fundera's loans come with APRs ranging between 7% and 36%. However, this range depends on the particular product that is on offer. Their term loans come with APRs ranging between 7% and 30%, while their small business startup loans range between 7.9% and 19.9%.
Available loan terms: Most of Fundera's loan terms range between six months and 10 years, while their SBA loans can come with repayment terms of up to 25 years.
Loan amounts: Fundera connects borrowers to loans ranging from a few thousand dollars to $5 million on SBA loans.
Time to fund: Because Fundera works with such a wide variety of lenders, their funding times vary widely. While their SBA loans could take more than four weeks to fund, many of their partner's term loans fund within just a few business days.
Origination fee: Because Fundera connects borrowers to loans, they do not charge an origination fee. That fee will depend on the type of loan as well as the individual lender.
Credit needed: Fundera offers a variety of loans to borrowers across a range of credit scores.
Income needed: Fundera does not have a minimum income to qualify.
Soft Credit Check? All of your information on the initial application with Fundera is self-reported.  Once you take the next step and apply to specific lenders a soft pull of your credit will be required.
Best for: Because Fundera connects borrowers to such a wide variety of lenders, it's really a great place to start for anyone who is not sure what loans they will be eligible for and which lenders might offer the lowest rate. It's a good place to generally compare multiple products against each other, based on your own financial qualifications.
How Does Fundera Work & Are They Legit?
Fundera is an online loan-matching platform that connects borrowers with a wide range of products, including SBA loans, merchant cash advances, business term loans and small business startup loans.
Advantages
Access to several lenders and loan types

Access to a wide range of loan amounts

Excellent customer service team and a wide array of online resources

Exclusively online process
Disadvantages
More limited selection of lenders than other online loan-matching services

Applicants only get access to online lenders, whereas they may be able to obtain a lower rate with a traditional bank

Potential for high-interest rates

Potential for extra fees
How To Apply for a Fundera Business Loan
You'll start your application with Fundera by entering some basic information about yourself, including your business' annual revenue, your personal credit score, and your industry. This self-reported information will be processed and used to evaluate which loans you might be eligible for. Afterward, a Fundera representative will get in touch with you to chat about the next steps and request more information.
You'll then submit all of the necessary information and send your next application to Fundera, which will give you access to offers from Fundera's partner lenders.
What You Need To Apply
Before applying you'll need to have a few things handy, including:
Balance sheets

Profit and loss statements

Verification from your landlord if you rent office space

Tax returns, bank statements and credit card statements
Is Fundera Legit?
Fundera is a legitimate service and has a great reputation across the web. Fundera has been accredited by the Better Business Bureau (BBB) since 2016 and has an A+ rating with it. Additionally, only one borrower has made an official complaint on the BBB's website, which is a great sign for an online lender or matching service.
How Does Fundera Fund Their Loans?
Because Fundera matches borrowers to lenders, the method of funding depends on the individual lender.
How Does Fundera Compare Against Other Business Loan Lenders?
Fundera vs Lendio
Like Fundera, Lendio is also an online loan-matching platform. Lendio connects applicants with products from over 75 different lenders, so has a wider range of options for its applicants. As it's cost-free to apply to Lendio if you're not satisfied with your offers from Fundera you may also want to look to this platform.
Fundera vs BlueVine
Like Fundera, BlueVine also offers a variety of products, particularly lines of credit and invoice factoring. The difference is that BlueVIne is a direct provider instead of a loan-matching service. Through BlueVine, borrowers can get access to fast cash, in amounts of up to $250,000 for their lines of credit and $5 million for their invoice factoring.
Fundera vs Rapid Advance
Rapid Advance is an alternative small business lender offering merchant cash advance of up to $500,000 and short-term business loans of up to $1 million. This lender also offers an easy, online application, and its products can fund within as little as three business days.  
Conclusion
Whether you're looking for a few thousand dollars to fund a minor repair or you're looking for your first Small Business Administration loan to pay for major equipment or property purchase, it's possible that Fundera's loan-matching service can be a great tool for you to start with.
This service allows borrowers to compare multiple offers before making a final decision on a loan, and also provides the necessary informational and customer service resources to answer any lingering questions a Fundera applicant might have. If you do apply with Fundera and are not satisfied with the offers that they give you, however, it's important to remember that other loan-matching platforms could give you access to a different set of lenders that might better suit your financial needs.
What Type of Business Do You Have?
PrimeRates provides access to personalized business loan offers through our simple and quick pre-qualification application. Once you're pre-qualified, you can select the best offer for you and finalize the business loan application with the lender.
Apply in minutes

Our simple application takes less than 5-7 minutes to complete.

Select your business loan offer

Choose the offer that best fits your needs by comparing loan amounts and terms.

Receive funds quickly

Finalize your loan offer with the lender you selected to receive your funds.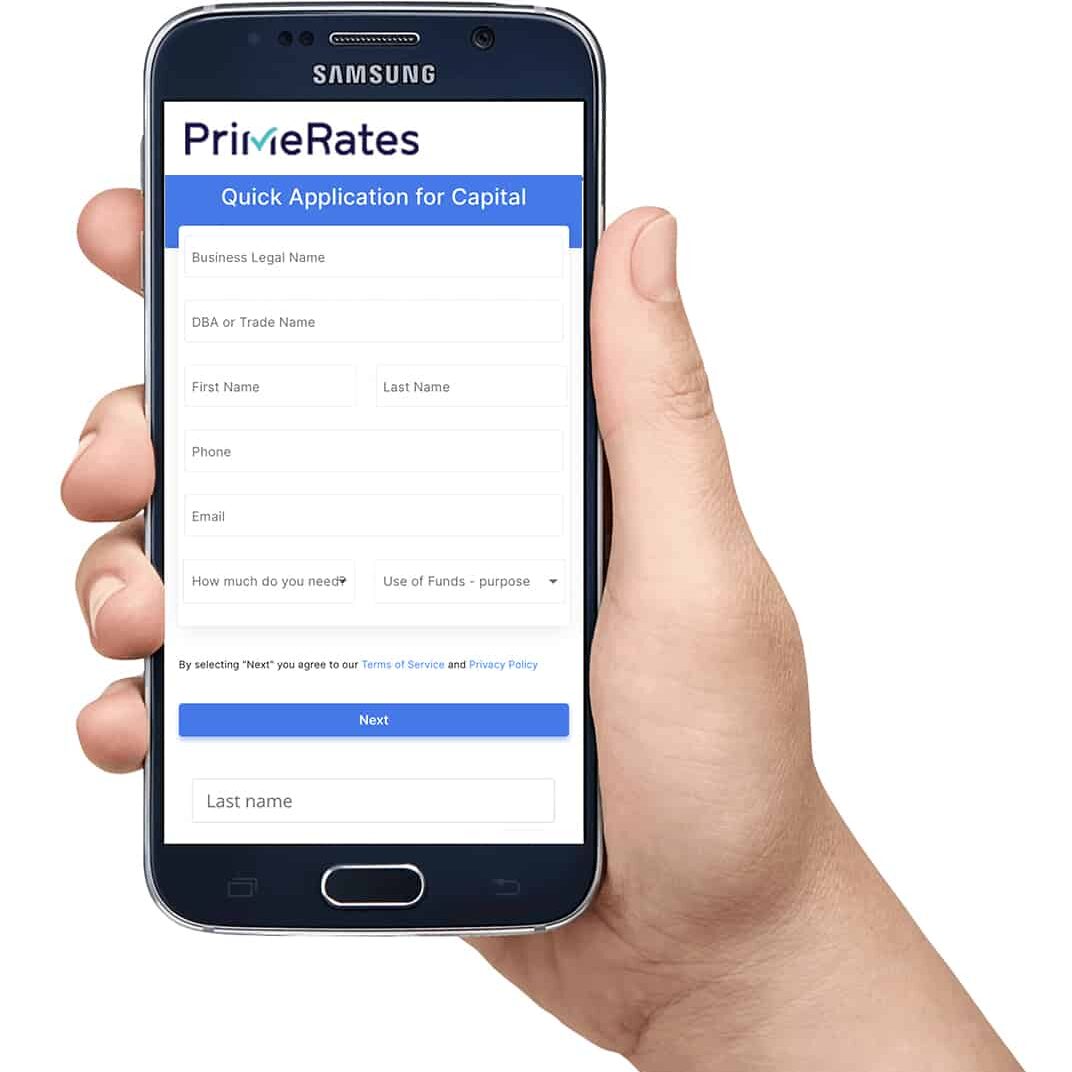 More Business Loan Options