PrimeRates provides access to personalized business loan offers through our simple and quick pre-qualification application. Once you're pre-qualified, you can select the best offer for you and finalize the business loan application with the lender.
Apply in minutes

Our simple application takes less than 5-7 minutes to complete.

Select your business loan offer

Choose the offer that best fits your needs by comparing loan amounts and terms.

Receive funds quickly

Finalize your loan offer with the lender you selected to receive your funds.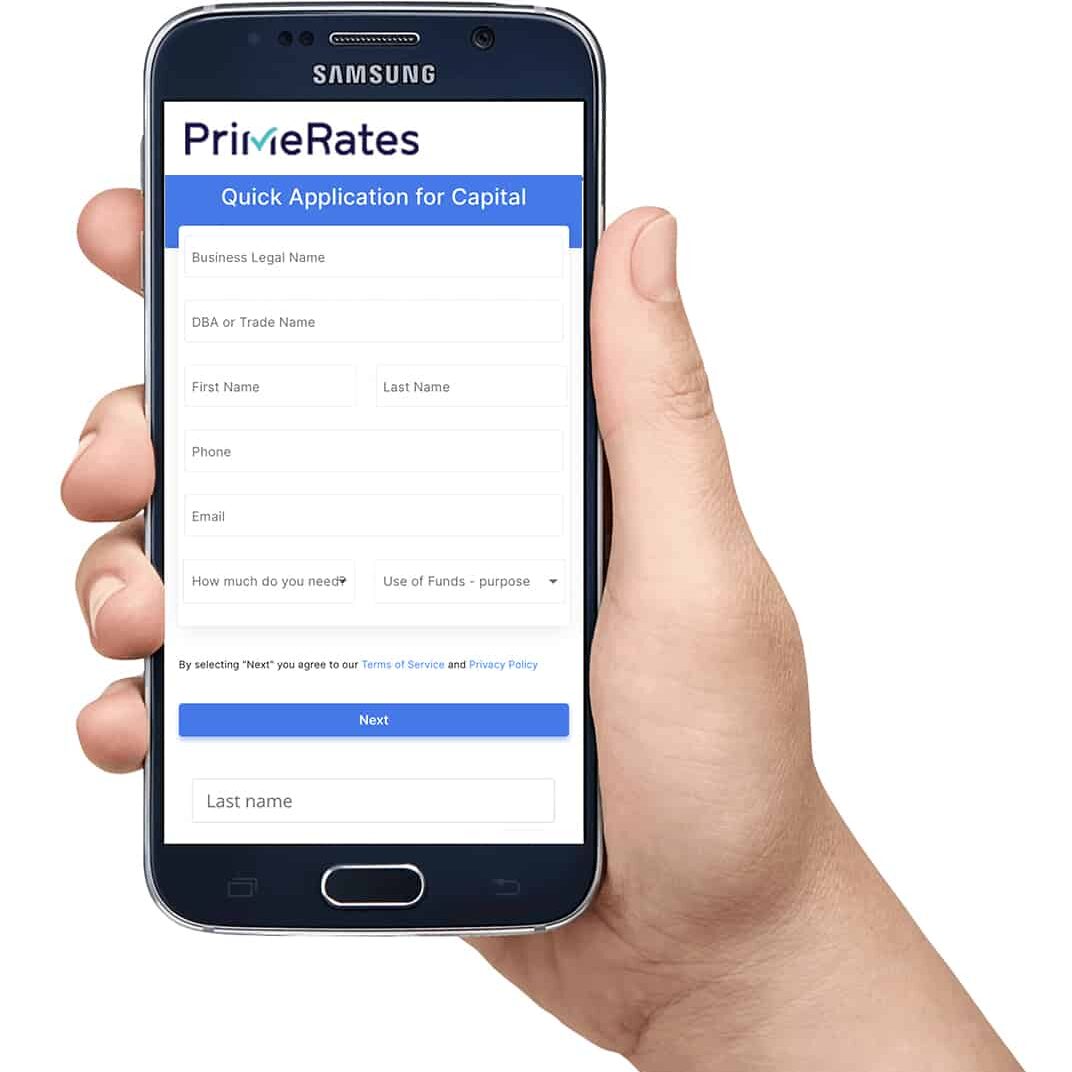 What Is SmartBiz?
SmartBiz is an online service that connects business owners to Small Business Administration term and commercial real estate loans. SmartBiz simplifies the borrowing process by taking the need to go to a traditional bank out of the SBA loan application process.
SmartBiz might be a good fit if:
A SmartBiz loan is ideal for established business owners looking to expand their companies, refinance debts or finance real estate purchases. Additionally, while some SBA loans require at least a few months to fund, SmartBiz loans usually fund within just a few weeks.
SmartBiz Review
Loan Amount:
$30,000 - $350,000
APR Range:
9.7% - 11.04%
Time To Fund:
As soon as 7 days
Loan Term:
10 Years
How To Qualify:
675+ Personal Credit Score
$100,000+ Annual Revenue
Great Option For:
Borrowers With Good Credit
SBA Loans
Click "Check Rates" to apply to SmartBiz
» MORE: Learn more about SBA loans
» MORE: Small business loans with low interest
Interest Rates: SmartBiz offers SBA loans with annual percentage rates ranging between 9.7% and 11.04% for regular term loans and rates starting at 7.38% with a maximum of 7.42% for commercial real estate loans.
Cost: If you want to cut costs, borrowing directly from a traditional bank could be a better option than taking out a SmartBiz loan. When you borrow with SmartBiz, they'll take a 4% cut from the amount of the loan for what they call "referral and packaging fees". You'll also have to cover the bank closing costs, which can add around $317 to the total cost of the loan. For loans above $150,000, you'll also be charged a 2.5% SBA guaranty fee.
How To Qualify For SmartBiz: You'll need to have a credit score above 680 to qualify with this lender. Your business will also need to have more than 24 months of operation under its belt and an annual revenue above $120,000 for loans smaller than $150,000, and revenue above $300,000 for loans larger than $150,000. You should also be a U.S. citizen or permanent resident.
Loan Example: If you take out a regular term loan of $250,000, with an APR of 10.2% and an eight-year repayment term, your minimum monthly payments will come out to 3,820.05.
Requirements: In addition to meeting the minimum requirements to qualify with SmartBiz, your business will need to meet the full list of SBA requirements and get SBA approval.
SmartBiz Pros and Cons
Pros
Inexpensive Financing: SmartBiz offers loans with some of the lowest interest rates in the industry, with rates as low as 7.38% for commercial real estate loans and 9.7% for regular term loans. Additionally, there are few hidden or extra fees associated with their products.
Manageable Financing For Growth: With flexible repayment terms of up to 10 years for regular term loans, borrowing an SBA loan from SmartBiz can be a great option to help you build your company. The flexibility of these loans can also help you refinance other, higher-interest debts.
Low-Cost Financing For Buying Commercial Real Estate: This lender's repayment terms for commercial real estate loans provide borrowers with a lot of flexibility, with terms lasting as long as 25 years. Their rates also start at 7.38%, giving borrowers the ability to slowly repay their debts without having to worry about extremely high rates.
Marketplace matches borrowers to lenders: Because SmartBiz is partnered with eight different affiliate companies, potential borrowers are able to compare a variety of SBA loan offers by filling out just one application.
Cons
Not For Businesses With Bad Financing: Although SmartBiz offers extremely low rates, its credit and time in business requirements are higher than many of its competitors. If your business doesn't have extensive financial or operational history, you may be less likely to get approved.
Revenue Requirements: SmartBiz's revenue requirements are also more extensive than other business lending platforms or banks. To borrow $150,000 or less with this lender, you should have annual revenue above $120,000. For a loan above $150,000, your business' revenue should exceed $300,000.
Higher Fees: While SmartBiz helps borrowers by providing them with access to several lenders through just one application, this service does come with some fees. If you do decide to take out a SmartBiz SBA loan, the lender will take 4% of the loan for "referral and repackaging fees," and you'll also be responsible for all of the closing costs.
Still need SBA approval: It's not easy to qualify for a SmartBiz loan. In addition to fulfilling the lender's requirements, you'll also have to meet SBA's list of requirements and get SBA approval.
Hard to Qualify For SBA Loan: SBA's low rates also come with a much more stringent set of requirements. To qualify for an SBA loan, you should have a credit score above 680, and no recent bankruptcies, foreclosures or tax liens.
Longer Applications & Documentation: While many online lenders offer easy applications, you'll need to have several different documents ready when you apply for a loan with SmartBiz, so the application will likely take a few hours to complete.
What You Need To Apply:
Balance sheet for the past year
Articles of Organization
P&L statement for the past year
Three most recent personal tax returns
Three recent business tax returns
Insurance general liability
Business license
Operating agreement and by-laws
Certificate of good standing
Insurance business personal property
Lease agreement
Copy of your driver's license
Voided business check
SmartBiz For Bad Credit
Because borrowers have to meet both SmartBiz and SBA requirements, individuals with bad credit scores should seek other financing options. If you have bad credit and are looking for a loan for your business, you might want to consider alternative lenders like Kabbage or FundBox.
» MORE: Compare Poor Credit Business Loans
How Does SmartBiz Compare - Do they have competitors?
While there are no other online services that connect borrowers exclusively to SBA loans, there are several other lenders that offer large business loans. Companies like LendingClub, Wise Business Loans, and OnDeck can help you find the financing that's right for your business.
Compare all business loans
If you're weighing your business financing options and want more information, PrimeRates offers comprehensive reviews of several other business loan types and lenders. It's important to take the time to compare all of your financing options before making a final decision. Even if you don't meet all of the requirements to borrow an SBA loan, it still might be possible to find a business loan with low rates and flexible repayment terms. Take the time to understand all of your financing options before deciding on the loan that's right for you.
What Type of Business Do You Have?
More Business Loan Options