PrimeRates provides access to personalized loan offers through our simple and quick pre-qualification application. Once you're pre-qualified, you can select the best offer for you and finalize the loan application with the lender.
Apply in minutes

Simple pre-qual application in less than 1 minute. 

Select your loan offer

Choose the offer that best fits your needs.

Receive funds quickly

Finalize your loan offer, get approved, and receive funds.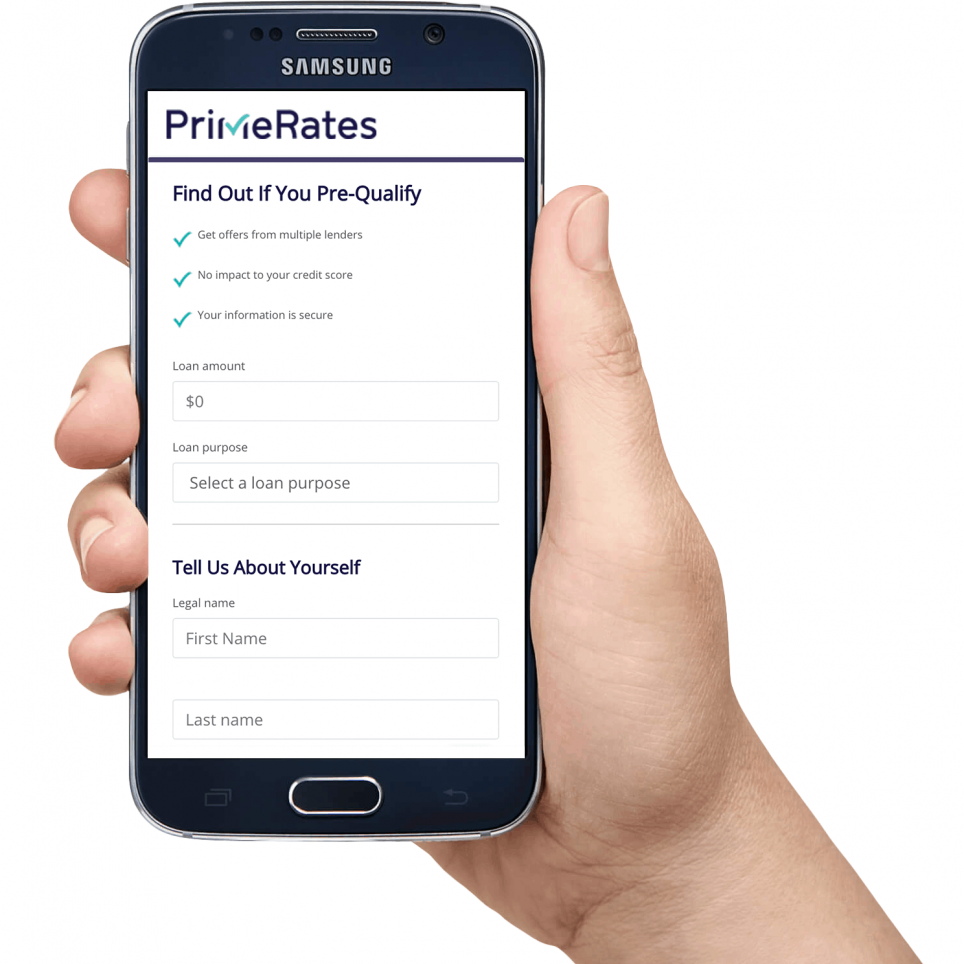 Funeral Loan Options For Expenses, Services, Emergencies, Burial & More
What are funeral loans?
Funeral loans are personal loans acquired to pay for a funeral with cremation or burial. Personal loans can be obtained from the funeral home, a bank, credit union, or through online lending resources. 
These personal loans can provide the funds you need for costs you can expect, including casket, funeral home services, and burial. You can also use these personal loans for additional expenses like travel and hotel for yourself or loved ones. 
How does a Funeral Loan work?
A funeral loan is financing used to cover the costs of a funeral, typically a personal loan. The amount borrowed is lent out in a lump sum, which is then repaid in monthly installments by the borrower.
Funeral loans are available through banks, credit unions, and alternative lenders, each with its own terms and requirements.
You will find that some lenders will send the loan amount directly to the funeral home to be used for all funeral service expenses, and some lenders will send the loan amount to the borrower to be used at their discretion. However the loan is given out, it is the borrower's responsibility to make repayments as agreed in the terms set out by the lender.
What is the average cost of a funeral?
The average cost of a funeral typically ranges from $6,000 to $9,000, depending on the services required and type of burial. For example, a funeral consisting of a viewing and cremation will fall at the lower end of this range, whereas a funeral consisting of a viewing and burial with a vault will fall at the higher end of this range.
It is important to note that funeral costs vary greatly depending on the location, services you choose, the number of funeral guests, and any memorial events. You may also incur higher costs if you need to arrange travel and accommodation for yourselves and/or other guests.
What are the pros and cons of a funeral loan?
As with any type of financing, funeral loans come with pros and cons:
Pros
Convenient, quick access to financial help

. Once approved, you will find some lenders can transfer the loan amount to you on the same day as applying. This is particularly beneficial as the majority of funerals take place as soon as possible. With a tool like PrimeRates, finding a funeral loan is convenient and fast.

Repayments can be made over time

. A funeral loan means that you don't need to find a large amount of money all at once. Many personal loan terms extent to 12 months or more, giving you plenty of time to pay back the loan, often with predictable monthly payments.

(Typically) No collateral means no penalty for paying back early

. As funeral loans are personal loans that usually don't require any collateral, you should be able to pay back the loan early without any penalty fees meaning you will have less expense from the added interest.

Helps to build credit

. With a relatively small loan, such as a funeral loan, it is a good opportunity to build up your credit score by making repayments in full and on time.

No need to plunge into your savings

. Trying to pay for funeral costs with your own money often means that those hard-earned dollars you've taken years to save up will be gone in a flash. With a funeral loan, you can leave those savings where they are.
Cons
They often have high-interest rates as they are unsecured

. Without collateral, most lenders will increase their interest rates, so they are still getting a good return on investment.

You need a good to excellent credit score for the best terms and rates

. If you have poor credit, you may not be able to find approval from a lender.

Not always the cheapest option

.

Risk of overspending

. If you are approved for a higher amount than you need, this may seem beneficial, but it could, in fact, lead to spending more than you planned, getting yourself into larger debt.
Types of Funeral Home Expenses 
Funeral home expenses include:
       

basic service fee

       

funeral ceremony

       

casket

       

use of facilities and staff

       

memorial package

       

gravesite/headstone

       

transporting deceased to funeral home

       

embalming

       

preparing the body for viewing

       

hearse/service car
How can a Funeral Loan help in your time of need?
If the deceased did not have an efficient estate or didn't have a will prepared, the closest living relative will be required to pay for any funeral costs. If this relative is unable to cover these costs, the deceased will be unable to have a funeral, which is extremely upsetting for all loved ones.
With a funeral loan, you can rest assured knowing that your loved one will be able to get the funeral that they deserve and allow their friends and family to honor them and pay their respects at the funeral and in the future.
How to Keep Funeral Costs Affordable
To keep funeral costs affordable, the first thing you should do is be sure to look around at the prices offered by different funeral homes rather than looking at location alone. At the very least, this will enable you to narrow down which funeral homes you would like to contact for quotes.
If a funeral home is advertising specific packages, don't feel obliged to go with one of these. Contact the funeral home directly and ask them to provide you with a custom funeral with the services you require, based on your budget. If a funeral home doesn't allow you to do this, look elsewhere.
If you are really looking to cut down on costs, you could consider having a direct burial or cremation paired with a more modest memorial service. This means that you won't have to pay for embalming, an expensive casket, hearse, or body preparation, but you can still honor their memory simply without the body present.
At some point in our lifetime, we will deal with the planning of, and possibly even paying for a loved one's funeral expenses. Planning our end-of-life requests and leaving our families at least a small budget for them to take care of handling the funeral expenses is advised, but some of us never do. When a loved one dies unexpectedly leaving little to no money for a funeral, you may find you need a funeral loan.
Who is responsible for paying funeral expenses?
When someone dies, the responsibility for paying for the funeral, cremation or burial expenses falls to the executor of the deceased person's estate as outlined in their will, or next of kin if there is no will. Funeral expenses are prioritized and generally get paid before all other debts.
What happens when a family can't afford a funeral?
The passing of a loved one can bring difficult times as one deals with both the emotions of grief and loss and the business of a funeral. What happens when someone dies who did not have a will, or does not have any money in their estate to cover the costs of a funeral, cremation or burial? 
According to federal law, If the estate of the deceased or the relatives lacks the funds needed to pay for the funeral expenses, the person handling the death can sign a release at the coroner's office. This declares their inability to afford to bury or cremate the deceased family member. Once signed, the body is released for the coroner to handle, but it also means there will be no funeral.
Rather than forfeiting your right to memorialize and celebrate your loved one with a funeral, you might want to consider looking into funeral financing options.
Can you finance a funeral?
Borrowing money for funeral expenses is not generally considered a good idea. However, funerals can be financed. As you begin researching your financing options, be sure to check with the funeral home you are considering to see what they offer. Several specialized lending companies provide funeral financing directly through the funeral home, and they may be one of your best options. Funding through your funeral home allows you to easily apply while you are at the funeral home, taking care of other arrangements. That's one less thing to do. 
Applying for a personal loan for funeral financing using an online lending engine allows you to apply one time and receive multiple competing offers for you to compare.
How much should you borrow for a funeral?
The amount of money you borrow for a funeral should cover the total known funeral expenses (handling of remains, casket, cremation/burial, flowers, and printing). It would be best if you also request a small amount beyond what you think you need for any unforeseen costs. Keep in mind there may be travel, hotel, and catering expenses for you or other loved ones you may want to add into the total amount requested.
Best Funeral Loan Options
When shopping for funeral loans, there are several things you will want to compare:

Do they offer competitive interest rates?

Are there any additional fees?

Do the loan terms fit your needs?

Do you meet their eligibility requirements?

Do they offer convenient account management?

Do they offer a short application process and quick funding?
Let's compare some of the options you'll find for personal loan lenders.
LightStream
» MORE: LightStream Personal Loans Review
Avant
APR range
9.95% — 35.99%
Available loan terms
24 — 60 months
Loan amounts
$2,000 — $35,000
Time to fund
As soon as the next business day*
Administration fees
Up to 4.75%
Credit score needed
580; typical credit score is 600 — 700
Income needed
No set income requirement stated
Soft Credit Check?
Yes
Best for
People with poor or bad credit, debt consolidation
Click "Check Rates" to apply to Avant
Avant - Offers up to $35,0000.00 in personal loan financing primarily for debt consolidation AND emergencies, making it an excellent resource for anyone looking for funeral financing, especially if the borrower has a lower credit score.
Pros
You can apply online, or over the phone, applying does not affect your credit score

No minimum credit score or income requirements to apply

Rates you qualify for are displayed right on your computer during the application process

The online form lets you know if you are pre-approved and gives you some options

Avant connects with your bank directly to get most of the information they need for approval - minimizing paperwork you'll need to apply

24/7 customer support via phone

The Avant platform charges 4.75% in origination fees, but there are no additional fees if you pay off your loan early

Mobile and online account management
 Cons 
Because Avant finances higher risk personal loans for people with poor to average credit, the finance rates are higher than for people with better credit.

Lacks online calculator - handy for figuring out your payments and how much interest you'll pay for the life of the loan
Upgrade
APR range
6.94% — 35.97%
Available loan terms:
36 and 60 months
Loan amounts:
$1,000 — $50,000
Time to fund:
One day
Origination fee:
1.5% – 6%
Credit score needed:
620
Income needed:
n/a
Soft Credit Check?
Yes
Best for:
Those with a steady income
Click "Check Rates" to apply to Upgrade
Upgrade - This is another great lending resource to consider if a credit score is less than perfect and the borrower needs the money quickly.
Pros
Apply and receive funding in as little as 4 days

Competitive interest rates

Lower credit scores okay, 620 minimum

Can borrow up to $50,000.00

Free credit monitoring with a summary credit report from TransUnion you can use to improve your score
Cons
Upgrade charges a loan origination fee - ranging from 1.50% to 6.00% of your loan amount, remember to factor this into your budget.

Personal loans through the Upgrade platform are not available in all states

Upgrade loans are short term loans and may not be the right fit if you need more time to repay your debt
SoFi
APR range:
5.99% to 16.99% APR (with AutoPay)
Available loan terms:
24-84 months
Loan amounts:
$5,000—$100,000
Time to fund:
Typically 7 days
Origination fee:
None
Credit needed:
680+
Income needed:
$50,000+
Soft Credit Check?
Yes
Best for:
Young professionals and graduates, good credit
Click "Check Rates" to apply to SoFi
SoFi - The borrower best suited for funding a funeral with a personal loan through SoFi has good to excellent credit, and income history.
Pros 
NO Origination Fee

Longer loan term options, 24 - 84 months

Borrow up to $100,000.00

Competitive low interest rate range - you can choose variable or fixed APR

Pre-qualify without a hard inquiry on your credit history

No collateral necessary

Forbearance for up to 12 months with career counseling if you lose your job
Cons
Must have good credit history and income

Funding can take time - the application process takes just a few minutes, but SoFi can take up to a week to fund the loan due to their underwriting process
When reviewing the terms and conditions of your funeral loan, pay attention to grace periods in case of late payments. It's important to understand your options in case of financial hardship.
Do funeral homes give loans?
As mentioned earlier on, another financing option you can consider is a funeral loan or personal loan you can apply for directly through the funeral home. These personal loans also provide:
Easy application with same-day or next-day approval. 

Competitive, fixed interest rates and fixed monthly payments you can afford

Short repayment terms, anywhere from 1-5 years

They are unsecured loans - meaning no need for collateral or equity to obtain

The repayment terms (finance rate, monthly payment, and repayment period) are based on your personal credit history and eligibility criteria.
Alternatives to funeral loans
Financing a funeral is a big decision for anyone going through a difficult time. Personal loans may not be an option for you if your credit and income history are less than stellar, or you cannot commit to making monthly payments, so what are the alternatives?
Consider asking family members to split the costs of the funeral. You can also have an in-home or church service to cut facility and staffing costs. Be sure you understand and can afford the costs of a funeral home handling the body for transport, burial or cremation.
How to Apply for a Funeral Loan
Once you have an estimate for how much a funeral is likely to cost, it is easier to find lenders who will be able to provide you with just the amount you need, with a little extra for any unforeseen expenses.
Each lender will have different terms, interest rates, qualification requirements, and various documentation they will require as part of their application, such as financial records, Social Security number, and proof of employment.
With PrimeRates, you can easily compare personal loans and streamline the application process in a few simple clicks. You can find the best funeral loan for you without affecting your credit score. Click here to find the funding you need today.
Conclusion
You can arrange the funeral you envisioned for your deceased loved one. If you have funds available through their estate, use them, that's what they were set aside for. However, if the person you cared for was not able to plan ahead or provide the funds for handling their end-of-life funeral requests, there is personal financing available through funeral homes, banks, credit unions and online lenders.
Other Personal Loan Types
Top Personal Loan Articles