What Type of Business Do You Have?
PrimeRates provides access to personalized business loan offers through our simple and quick pre-qualification application. Once you're pre-qualified, you can select the best offer for you and finalize the business loan application with the lender.
Apply in minutes

Our simple application takes less than 5-7 minutes to complete.

Select your business loan offer

Choose the offer that best fits your needs by comparing loan amounts and terms.

Receive funds quickly

Finalize your loan offer with the lender you selected to receive your funds.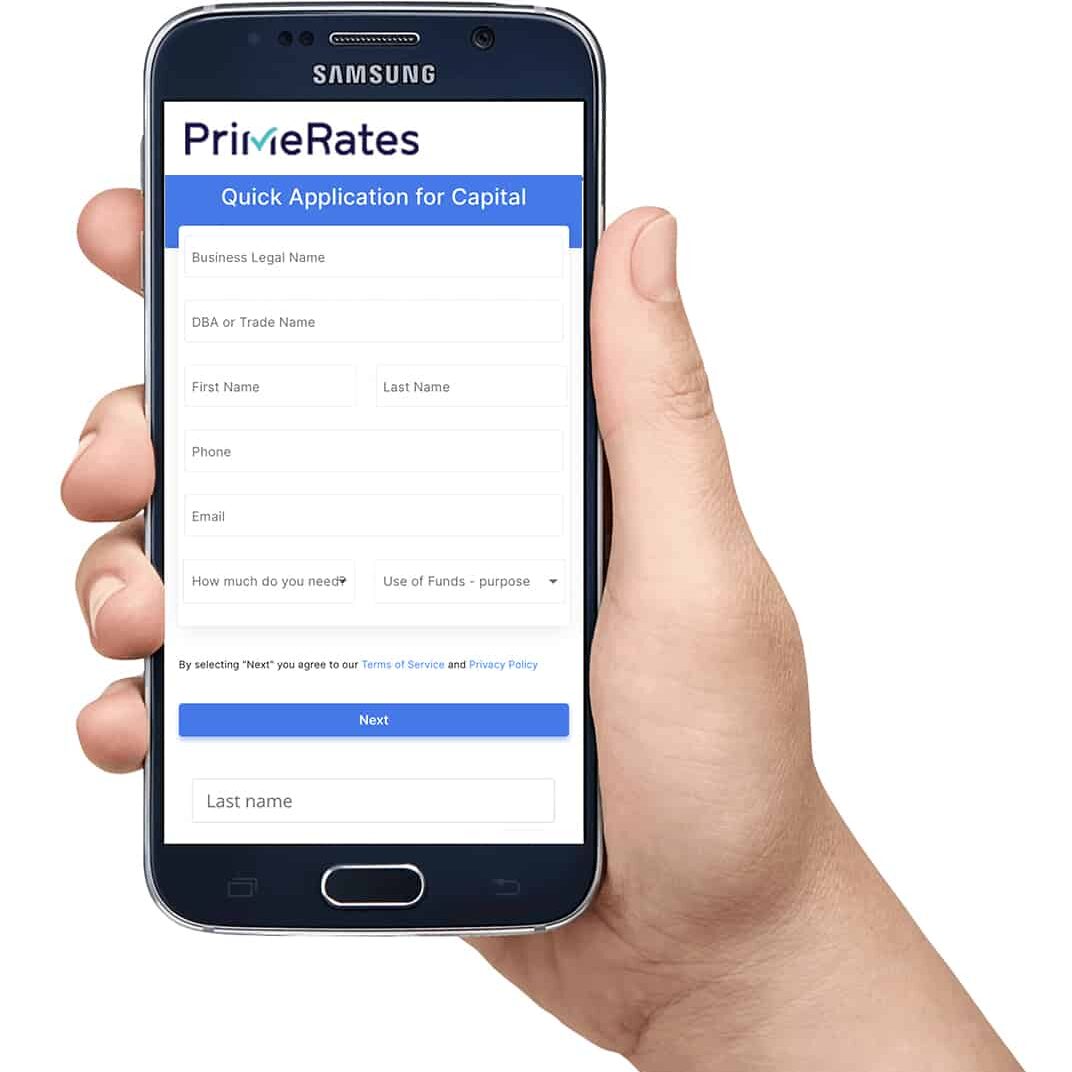 Business Loans for Women with Poor Credit: For Startups & More
Being a woman owner of a small business can be difficult, especially if you have bad credit. Although as a woman you're a part of a minority in the business ownership world, this shouldn't affect your ability to find loans and business financing. In fact, registering as a woman-owned business in your city or region can help you secure access to loans and grants that are specific to women.
However, it can still be quite difficult to find the right loan for your business if you have bad credit or negative remarks on your credit report. This doesn't mean that you should settle for financing with an exorbitantly high APR. With a variety of online lenders and financing options at your fingertips, finding affordable funding can still be a realistic goal.
What Is Considered "Bad Credit"?
Having bad credit is defined by FICO, as having a score between 300 and 629. As many online and traditional lenders require a score above 640 to be considered for a loan, having bad credit can make finding affordable financing seem like a daunting task for any business owner.
How To Get A Small Business Loan For Women With Poor Credit
You might be wondering what you need to do before applying for a bad credit small business loan. The first thing that you should do is have all of the documents pertaining to your personal and business financial history available before starting the application process.
You should also take a look at your credit report and make sure that all of the remarks are accurate; if one of them seems incorrect, it could be worth taking the time to dispute it because even a small boost to your credit score can increase your chances of being approved for a lower rate.
You should also evaluate the amount that you are looking for, as well as the purpose of the loan, and draw up a sound business plan to pitch to potential lenders. Even if you have a low credit score, lenders who take a holistic approach to the application evaluation process may weigh a pitch as heavily as your annual revenue and financial history.
Once you have figured out how much and which type of funding you'd like to go for, start applying to lenders who you think you'll qualify with. Make sure to evaluate at least a few offers before making a final decision.  
What If You Have No Credit?
Being a woman business owner with no credit can be difficult. As many lenders have both a minimum time in business and minimum credit history requirement, not having any credit takes some traditional options off the table. However, many online lenders will also take your annual revenue, statement of purpose and other factors into account when evaluating your application. In addition to looking into lenders that don't have a minimum credit score requirement, you should also consider less credit-based options like grants, crowdfunding and invoice factoring.
Non-Credit Considerations for Lenders
Revenue
If you have a high enough annual revenue, it may be possible to secure a large amount of funding at a low rate, despite having a bad credit score.  
Profitability
Another factor, similar to annual revenue, is your business' profitability. Profitability takes your annual revenue and compares that with your regular expenses, to see how much your business actually makes after all of the bills are paid.
Time in Business
The amount of time that you've been in business can have a huge impact on your ability to get approved. Even with average or poor credit, if you can prove a consistent track record of more than a few years for your business, lenders might be more willing to work with you or offer a lower rate.
Outstanding Debts
The amount of outstanding debt that you have helps a lender determine how likely you are to repay a loan in a timely matter. If you have a lot of outstanding debt, it might be an indication that you have trouble repaying your loans. However, if you have successfully repaid loans in the past and don't have much at the moment, it can tell a lender that you're a reliable borrower and are likely to pay the debt back.
Best Small Business Loan Options For Women With Bad Credit
For Poor or No Credit
Fundbox - No Minimum Credit Score
Invoice Financing and Lines of Credit: Between $1,000 and $100,000. This lender's invoice financing rates start at 10.1%, with a maximum rate of 78.6%, depending on your financial qualifications as well as the repayment term that you select. This lender focuses primarily on your annual revenue and time in business when evaluating your application for funding.
Pros:
Easy, online application

Potential for rates as low as 10.1% with their invoice financing product and 11.4% for lines of credit

Access to 100% of the value of unpaid invoices

Next-day funding
Cons:
Maximum line of credit amount of $100,000

Potential for interest rates as high as 78.6%
» MORE: FundBox business loans for poor credit
For Average Credit
Kabbage - 560+ Credit Score For Line of Credit 
Pros:
Holistic application evaluation makes it easier for borrowers with average credit to get approved

Provides fast access to cash, with loans funding in as little as a few minutes

High maximum loan amount, at $250,000

Easy, online application
Cons:
Complex repayment structure

Short repayment periods

Potential for high annual percentage rates, with a maximum rate of 99%
» MORE: Kabbage business loans for line of credit options
OnDeck - 500+ Credit Score For Term Loans
Pros:
Low minimum credit score requirement of 500

Online application takes as little as ten minutes

Just one year in business required

Rewards for repeat borrowers
Cons:
Potential for high APR, with a maximum rate of 99%

Daily or weekly repayment

Lien and personal guarantee required

No benefit for early repayments
» MORE: OnDeck business loans for line of credit options
For Credit Scores Over 600
Prosper - 640+ Credit Score
Pros:
Access to wide variety of lenders

Repayment terms of up to five years

Potential for APR as low as 6.95%
Cons:
High minimum credit score requirement of 640

More difficult to qualify for than with other lenders

Late and insufficient funds fees

Origination fees as high as 5%
» MORE: Prosper loans for good credit
StreetShares - 540+ Credit Score For Term Loans & Line of Credit
Pros:
Unique, community-based approach to lending

No prepayment fee

Accessible to new businesses
Cons:
Can only qualify for up to 20% of annual revenue

Will not lend to residents of several states

Certain industry limitations

Weekly repayments
» MORE: StreetShares for fast funding and poor credit
Alternative Financing Options
LendingClub
Pros:
Potential for rates as low as 9.8%

Easy, online application

Funding within as little as two days
Cons:
Rates as high as 35.7% for borrowers with poor credit

UCC-1 lien requirement for loans over $100,000

Personal guarantee required for all loans
» MORE: LendingClub business loans  - p2p lending
Invoice Factoring Options
BlueVine - 530+ Credit Score
Pros:
Fast application process, with approval taking just 12 hours

Access to up to $5 million

Access to funds within just 24 hours

Easy for borrowers with average credit to get approved, with a minimum credit score of  530
Cons:
Potential for high APR, with a maximum rate of 68%

Late fee of 3%

Penalties for unpaid invoices
» MORE: BlueVine business loans for line of credit
Conclusion
Although finding business loans for women with bad credit can be difficult, it's not an impossible task. While looking for the loan or form of financing that is right for you, make sure to submit multiple applications. Additionally, even if you have bad credit, before signing on with any lender, remember to make sure to compare multiple offers from multiple banks.
Top Business Loan Articles