PrimeRates provides access to personalized business loan offers through our simple and quick pre-qualification application. Once you're pre-qualified, you can select the best offer for you and finalize the business loan application with the lender.
Apply in minutes

Our simple application takes less than 5-7 minutes to complete.

Select your business loan offer

Choose the offer that best fits your needs by comparing loan amounts and terms.

Receive funds quickly

Finalize your loan offer with the lender you selected to receive your funds.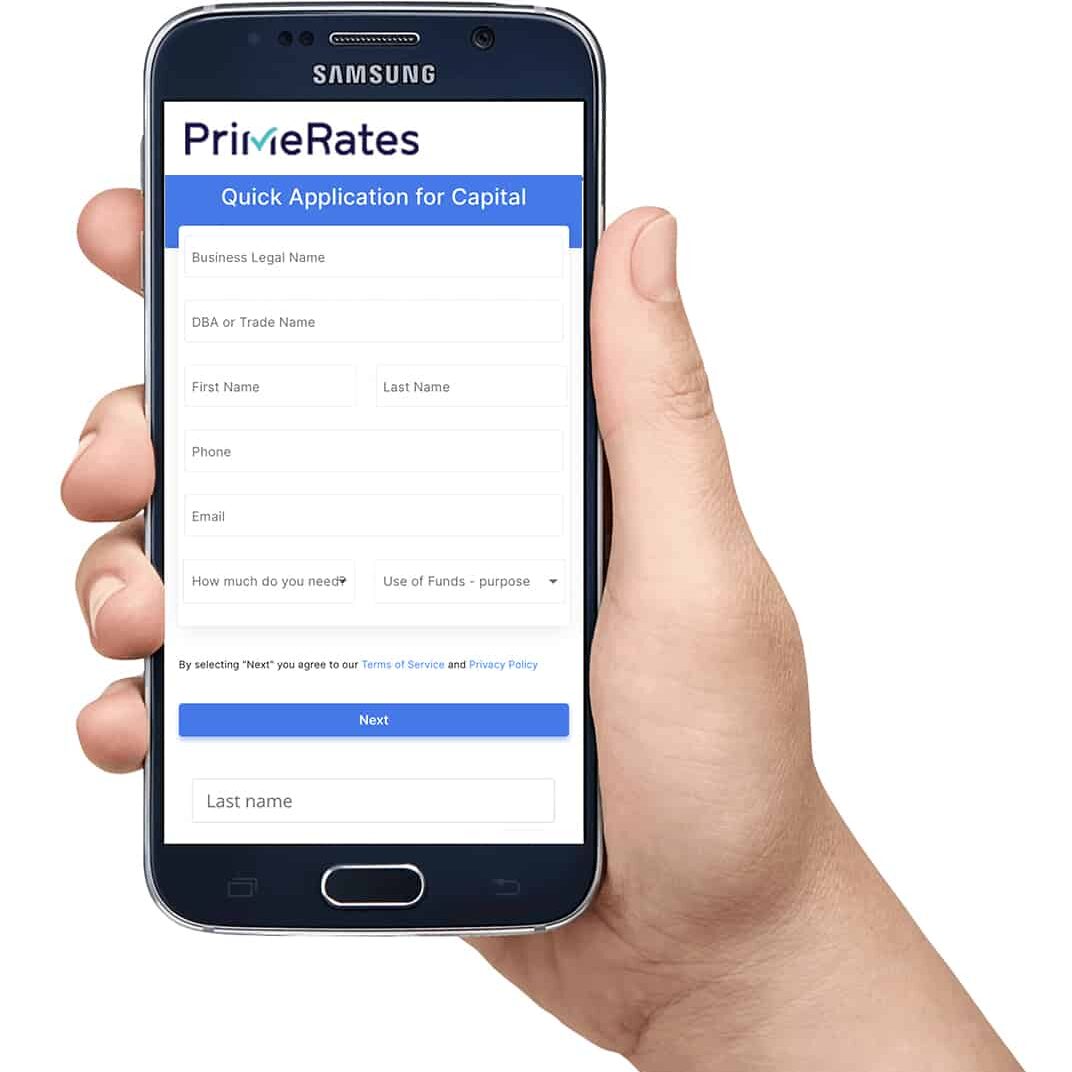 How To Get a $500K Business Loan
Important Notice: For SBA Paycheck Protection Loans consider Fundera
Loan Amounts
$5,000 to $500,000
APR Range
Term Loans: 7% - 30%
Startup Loans: 7.9% - 19.9%
Repayment Terms
Term Loans: Up to 10 Years
SBA Loans: Up to 25 Years
Time to Funding
Varies
Click "Check Rates" to apply to Fundera
This article will take you through how to get a $500K business loan, looking at what is required and your options.
How To Get a $500K Business Loan
If you have a strong annual revenue, you will have the option of getting a $500K business loan for large expenses, purchasing real estate, or buying equipment for your business. Borrowing $500,000 can be the fuel that helps take your business to the next level, propelling it toward success.
There are several factors you need to be aware of if you're considering applying for a $500,000 business loan:
Small Business Loan Requirements
If your business is just getting started, you may find it difficult to qualify for a business loan as large as $500K, as lenders need to know your business is solid enough to keep up with repayments. Some lenders will require you to have been in business for at least 1 year, although many prefer your business to be 3 years old or older.
You will also need to have good personal credit, as online lenders look at this more than your business credit score. Often when credit requirements of a loan are low, the lender will want to have a personal guarantee from the borrower, so they have the right to seize assets if a business is unable to repay its loan for any reason.
For example, the business loan lender OnDeck requires a credit score of at least 500, but you will be more likely to be approved for a business loan of up to $500K if your score is above 750. The minimum credit requirement for the lender Funding Circle is 660, but when applying for any loan, the higher your personal credit score, the better.
You will also need to meet the minimum annual revenue as stated by the lender, but this generally starts from $100,000 and goes into the millions. This is to prove that your business brings in enough cash flow to be able to repay the loan without any problems, and with a loan as big as $500,000, you will find it easier to be accepted if you have good revenue.
$500K Business Line of Credit vs. Business Loan
If you're considering a business loan, you may also be considering a line of credit. These two financial products offer very different things, so it's important to understand the difference before you move forward.
$500K Business Line of Credit
If you do not need a traditional small-business loan and want something more flexible, you could opt for a business line of credit instead. A $500K business line of credit allows you to borrow up to that limit but only pay interest on the money you withdraw and use. As long as you don't exceed your $500K credit limit, you can use and repay that line of credit as much as you need to. Most lenders will even let you repay the full balance of your loan early, so you don't incur high-interest costs.
Although business lines of credit work similarly to business credit cards, they do have several key differences. A business line of credit allows you to have a much larger line of credit and allows you to put cash into your bank account when you choose to make a withdrawal. A business credit card charges extra fees for this. You will also be charged a higher annual percentage rate if you want to use your business credit card to draw cash, which often comes with annual fees.
You will find that a business credit card works if you are just using it for everyday expenses or if you are just starting as a new business, but if you are a more established business or need money for larger, regular expenses, you will want a business line of credit.
$500K Business Loan
A business is where the lender gives you the full sum upfront, which you then pay back incrementally with interest added. Typically, they are paid back over a predetermined amount of time. These terms vary depending on the loan, lender, and circumstances.
What Are the Best Lenders for $500K Business Loans?
There are two lenders we recommend to those looking for a $500K business loan:
Loan Amount:
$30,000 - $350,000
APR Range:
9.7% - 11.04%
Time To Fund:
Typically take several weeks to fund, but can fund as quickly as within seven days.
Loan Term:
Maximum loan term is 10 years.
Origination Fee:
4.00%
How To Qualify:
675+ Personal credit score
$50,000+ Annual revenue
Great Option For:
Borrowers with good credit
SBA loans
Funding real estate purchases
Refinancing debt
Credit Check?
Soft credit check and hard pull
Co-Applicants Accepted?
No cosigners
Direct Pay-Off To Creditors?
No
Click "Check Rates" to apply to SmartBiz
OnDeck
OnDeck offers loan amounts of $5,000 to $500,000 in as little as 24-hours. One of their main advantages is that you only need to have been in business for a year in order to qualify as long as your annual revenue is at least $100,000. With a quick and easy application process, applicants can apply either online or by phone and it may only take 10 minutes. The downside is their interest rates are generally high compared to their competitors.
Loan Amounts
$5,000 to $500,000
APR Range
As low as 9.99%
Repayment Terms
Term loans up to 3 years
Time to Funding
As fast as 1 day
Click "Check Rates" to apply to OnDeck
Funding Circle
Funding Circle is a service that connects potential borrowers to investors who want to act as lenders, offering loan amounts of $25,000 to $500,000. This is a better option for established businesses, as your business needs to have been in operation for over two years to be eligible, with at least ten employees and annual revenue of at least $2 million.
Their minimum credit score requirement is 660, but if your score is closer to 700 not only will your chances of being approved increase, you may be offered a lower annual percentage rate. You should be aware that their application process can take considerably more time than other lenders, and you won't receive funding for at least 10 days after your application has been accepted.
SBA Loans for $500K
Small Business Administration (SBA) loans offer high loan amounts to small businesses that find it difficult to qualify for other types of loans. SBA loans come with many more specific requirements than other loans, so they are notoriously difficult to qualify for themselves.
To qualify for an SBA loan, you must meet the SBA's list of requirements, as well as that of the lender. You need to have a personal credit score of at least 680, over two years in business, and have evidence that you have cash flow sufficient enough to cover the cost of your loan without trouble. You also need to have less than 500 employees or be making less than $7.5 million in annual revenue.
If you are using the $500K SBA loan for commercial real estate, it must be at least 51% owner-occupied, or if you are using the $500K business loan to purchase a new business, you must be able to make a down payment of at least 10%.
Each lender will offer different repayment terms and interest rates, so it is a case of comparing your options with those that offer business loans up to $500K to determine which will be the best SBA loan for you.
What Are Loan Terms For Business Loans Up to $500K?
Business loans of $500K generally come with loan terms of at least 2 years. OnDeck provides terms up to 3 years, whereas Funding Circle can give terms as short as 1 year or up to 5 years. As with all loans, terms will vary depending on both the type of loan you choose and the lender you decide to go with.
What Is The Interest Rate on Loans Up To $500K?
Interest rates with OnDeck start from 9.99% for term loans. Bear in mind that these low rates are only available to you if you have strong creditworthiness and strong cash flow as a business. You are also more likely to get low annual percentage rates with OnDeck if you have purchased other loan products from them and have an excellent repayment track record.
Interest rates with Funding Circle for business loans up to $500K range from 10.91% to 35.5%, so they are a good option if you are looking for low-interest rates.
Generally, sums of money as large as a $500K business loan are only offered to you if you have a good personal credit rate and have an established or fast-growing business. Lenders will not give you a loan if they are concerned about your ability to pay them back on time, so you will need a credit score of at least 500, if not much better. Whether you choose a $500K business loan or a $500K business line of credit, it is important to take the time to compare lenders before making a decision.
If you're ready to gather together your information and compare potential business loans, we're here to help. $500K is a substantial amount of money, so even low-interest rates will have relatively high costs. To ensure you pay the least for your loan over time, compare potential loans through us, here.
What Type of Business Do You Have?
More Business Loan Options
Business Loans By Industry