PrimeRates provides access to personalized business loan offers through our simple and quick pre-qualification application. Once you're pre-qualified, you can select the best offer for you and finalize the business loan application with the lender.
Apply in minutes

Our simple application takes less than 5-7 minutes to complete.

Select your business loan offer

Choose the offer that best fits your needs by comparing loan amounts and terms.

Receive funds quickly

Finalize your loan offer with the lender you selected to receive your funds.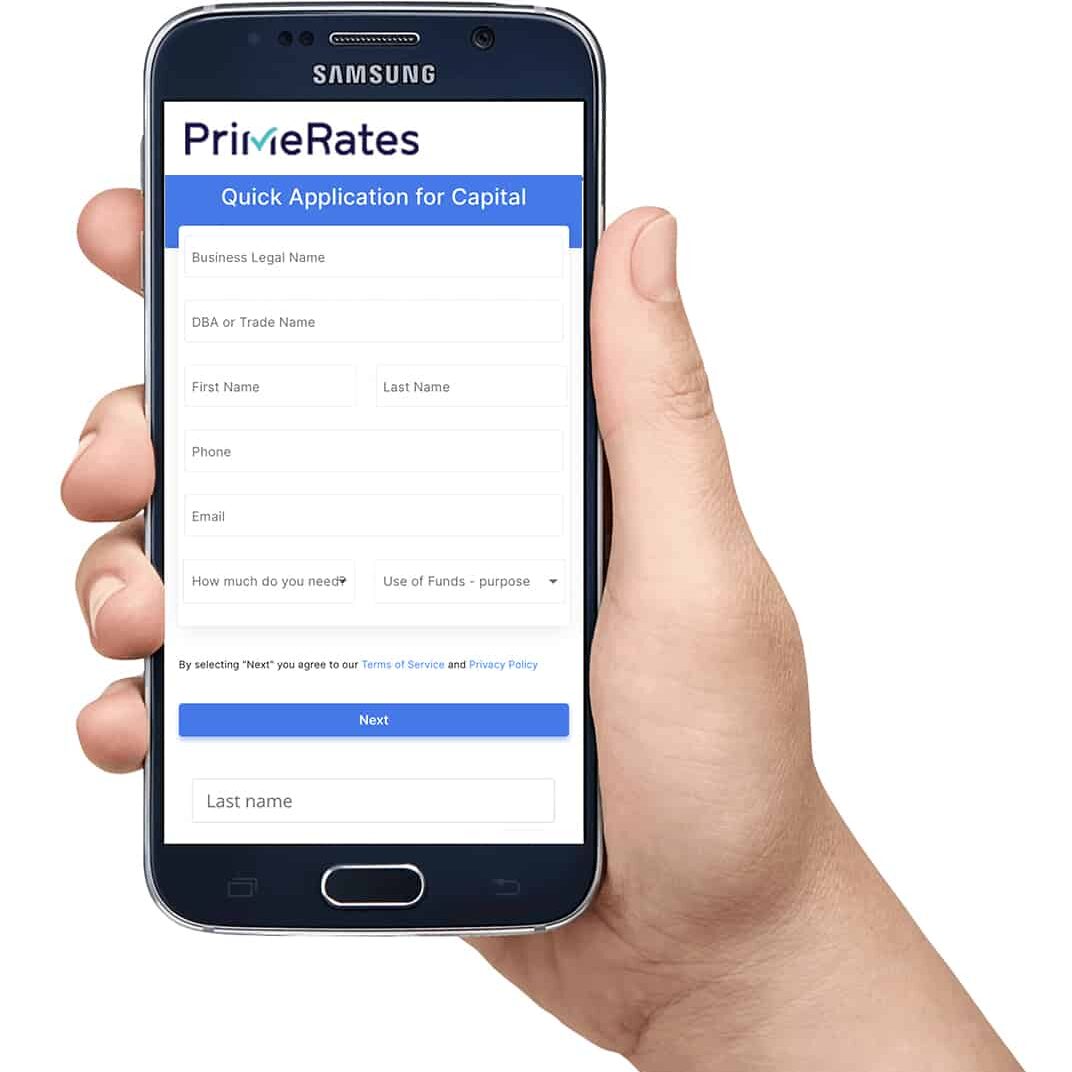 Kabbage Review: Loan Requirements, Line of Credit & More
What Is Kabbage?
Kabbage offers short-term business lines of credit up to $250,000 with monthly payment options that allow borrowers to pay the bulk of their interest within the first six months of the repayment period.
Kabbage might be a good fit if:
If you are looking to fund major business expenses and are having trouble getting approved with other lenders, have a low personal credit score or your business has a low annual revenue, Kabbage might be worth looking into. Additionally, Kabbage lines of credit fund within just a few business days, making this lender a good option if your business has immediate financial needs. Due to its unusually high-interest rates, this lender is also more willing to approve higher-risk borrowers.
Kabbage Review - Poor Credit
Loan Amounts
$2,000 to $250,000
APR Range
24% to 99%
Repayment Terms
6, 12, or 18 months
Time to Funding
A few minutes to several days
Credit Score
560+
Click "Check Rates" to apply to Kabbage
» MORE: Compare Bad Credit Business Loans
Interest Rates: Kabbage's annual percentage rates start at 24% and go up to 99%. Their high maximum rate makes them one of the most expensive lenders in the business financing industry.
Fee Structure: With this lender, borrowers repay a portion of the initial amount borrowed in addition to a fee. If you agreed to a six-month repayment term, your monthly fee will be between 1% and 10% of the principal amount that you borrowed over the first two months, and will then be 1% for the rest of the months.
If you opt for a 12-month repayment term, your monthly fee will be between 1% and 10% for the first six months of your loan, and 1% each month after.
Fast Cash: Kabbage offers a fast borrowing experience, with an online application that takes just a few minutes, while approval and access to funds are issued within a few business days.
How To Qualify For Kabbage: To qualify for a line of credit for less than $100,000 your business should have at least 12 months of operation under its belt and over $50,000 in annual revenue, or $4,200 for the last three months. You should also have a personal credit score of 550. For a line of credit over $100,000, your business should have at least three years of operational history, over $1 million in annual revenue, and a personal credit score above 680.
Loan Example:  If you borrow an amount of $100,000 with an annual percentage rate of 62.7% and a 12-month repayment term, your minimum monthly payments will be 11,426.16.
Personal Guarantee: Many lenders that approve borrowers with low credit will require the borrower to offer a personal guarantee, or collateral, allowing them to seize your personal assets in case you default on the loan. However, if you borrow from Kabbage, you won't be required to risk your personal assets and offer any kind of collateral.
Why Are Kabbage Requirements So Lax?
With no collateral requirement, a minimum credit score of just 550, and an annual revenue requirement of $50,000, you might be wondering why it's so easy to qualify for a Kabbage loan.
The minimum qualifications are so lax with this lender because the primary factors that influence your application are your bank statements and accounting information. By evaluating these factors along with your personal credit score and revenue history, Kabbage is able to widen the scope of your application and determine your eligibility using a more holistic method.
For borrowers with low annual revenues or low credit scores, Kabbage business loans are some of the easiest to qualify for.
Kabbage Pros and Cons
Pros
Easy online application
No paperwork required
Kabbage Card option
Easy to qualify for, with low revenue and credit score requirements
No collateral necessary
Holistic application evaluation process
No prepayment penalty
Cons
High fees, with maximum APR reaching 99%
Complicated fee structure
Few rewards for early repayment, because most fees are paid within first two to six months
What You Need To Apply:
You should have a payment platform such as PayPal or a bookkeeping software such as eBay, Xero, or Square to receive the funds with. You'll also need an active checking account and at least three months of records handy if you're using accounting software. Additionally, you should have your personal credit score, banking information, and business financial history available.
How Does Kabbage Compare? Vs OnDeck, Vs FundBox, Vs BlueVine, Vs LendingClub
Vs OnDeck
While OnDeck also offers business lines of credit to borrowers with low credit scores or annual revenues, their annual percentage rates can potentially be lower, starting at just 9%. However, if you're looking for a loan that exceeds $100,000, this lender won't be the right option for you. Their credit requirements are also higher than Kabbage's, with a minimum credit score of 600.
Vs FundBox
FundBox has similarly relaxed requirements for borrowers but has lower annual percentage rates starting at just 10.1% for their lines of credit. Like OnDeck, the maximum amount that you can borrow is $100,000, so if you need more, it could be wise to consider other lenders.
Vs BlueVine
BlueVine offers the widest range of amounts in the industry, with invoice factoring ranging between $20,000 and $5 million, and lines of credit starting at $5,000 with a maximum of $250,000. This lender has a higher annual revenue requirement, with a minimum of $100,000 per year to qualify for invoice factoring and $120,000 for a line of credit. If your annual business' annual revenue meets their minimum qualifications, BlueVine could be a lower-cost, higher-flexibility option.
Vs LendingClub
If you're not sure where to start and want to compare different loans without having to fill out several applications, you might want to apply with LendingClub. This online service connects borrowers with investors and banks offering loans of up to $300,000 and can be a good platform to apply to if you want to weigh a variety of offers.
Compare all business loans
If you're considering other business loans, PrimeRates offers comprehensive reviews of several other business loan types and lenders.  Even if you own a young business or don't have high annual revenue, it's still important to compare different lenders' rates and types of financing options. Because a loan from Kabbage comes with a higher cost than many of the lender's competitors, their lines of credit are best for fulfilling immediate or one-time financial needs. Take the time to understand all of your financing options before deciding on the loan that's right for you.
What Type of Business Do You Have?
Top Business Loan Articles