What Type of Business Do You Have?
Business Loans For Clothing & Fashion Stores
As a fashion business, you've got to react to trends fast. Most brands restock every quarter, and some react even faster. Major chain stores like Zara update their line as much as twenty times a year – that's a lot of restocking. While you may not need to replenish your stock quite that fast, you'll suffer if your items are either out of stock for too long or out of date.
If you're looking to grow your business, you'll likely need a business loan for your clothing store.
What is a clothing store loan?
A clothing store loan is simply a loan that is aimed at the owners of clothing stores and fashion brands. A clothing store loan can help you manage your inventory, pivot quickly to take advantage of a new trend or another opportunity you don't currently have the cash for.
How much does it cost to finance a clothing/apparel store?
This depends entirely on your personal circumstances, the health of your business, the type of loan you need, and how much you want to borrow. There are a number of different factors that affect how much you can borrow and how much your financing will cost you. These are:
The strength of your business and business plan – make sure you have an up-to-date business plan that states what your plans for the money will be and how you plan to grow in the future

Your profit and loss and other financial statements – these need to show that you have reliable revenue (even if it's seasonal) with a good profit margin that proves you can afford to pay back the money you borrow

A good-to-excellent personal credit score – as the owner of the business, lenders will look to your strengths and how you manage money to prove that you're a good "bet" and that you can be expected to pay them back.

How much you want to borrow – obviously, the more money you want to borrow, the stronger you need to prove your business is.

The type of loan you want to get – the lower the interest rate and the better the terms, the harder the loan will be to get. SBA loans, for example, are popular because they are guaranteed by the government. However, they are difficult to get. More expensive forms of borrowing are often easier to get.

How long you want to borrow the money for and whether there's any collateral for the loan – if you're a wholesaler, for example, then purchase order financing will be easier to get than a long term loan.
Can you get a business loan for a clothing store?
Yes, of course! Provided you meet a lender's requirements, you can get a business loan to help your business grow. If you're yet to found your business, you'll likely struggle to get funding for your startup, but this is the way it is for all industries. However, if you've got at least 1-2 years in business under your belt, then you can apply for a business loan.
Can you get a clothing store loan with bad credit?
As with any other industry, finding fashion business funding with bad credit can be a challenge, but it isn't impossible. While qualifying for some of the "stricter" business loans, such as SBA loans, may be off the table, there are other solutions. For example, if you've got great sales, a merchant cash advance will likely lend to you based on that, regardless of personal credit.  
How do you qualify for a clothing store loan?
To qualify for a clothing store loan, you'll need to look at the requirements for the type of loan you're interested in. Some lenders will need you to have a certain time in business to qualify, a certain turnover, a large profit margin, and so on.
The best thing to do is to do your research on the types of financing that are available to you, how much you need or want to borrow, and see what the typical requirements are. You can compare business loans and see what you're most likely to qualify for through a comparison service like ours – simply click here to get started and see your options in just minutes.
Apparel & Clothing Store Company SBA Loans
SBA loans are term loans that are guaranteed by the Small Business Administration. They are typically offered by banks and other traditional lenders. The guarantee makes lenders more willing to offer their money because they know that if you default, the SBA will cover most of the losses. The SBA does this to help more small businesses get the loans they need to grow.
Rates for SBA loans are typically between 5-10%, with terms over 1-10 years, though there are circumstances where the term can be longer, even up to 25 years, though these types of loans are typically reserved for loans for property.
SBA loans are a great option, but they are difficult to qualify for and can take anything from 2 weeks to 3 months to get your funding from the start of your application. If you're looking to take advantage of a new trend and buy inventory quickly, this likely won't be the best option for you. However, if you're looking to expand and your business meets all the requirements, it can be worth waiting for.
Best Clothing/Apparel Store Financing Options
There are a number of different options that may be the best fit for your clothing or apparel store. These are:
Term Loans

– this encompasses any term loan. These are loans that follow the "traditional" model, which you've likely had if you've had a personal loan. This is where you borrow a lump sum and pay it back over a term of anywhere from a few months to several years. This includes short term loans, long term loans, and SBA loans, as we talked about above.

Line of Credit

– this type of credit works like a credit card. Your lender agrees to lend you money with a limit. Within this limit, you can spend it freely and pay it back whenever you like, only paying interest on what you borrow. This offers a lot of flexibility and is a great option if you find yourself with limited cash often.

Merchant Cash Advance

– this is where you borrow money from your payment processor. This is most helpful for online businesses and can be incredibly fast to get the money you need because they essentially already have insider knowledge of how much money you make. They will automatically take a percentage of every sale to pay back the loan. Make sure you understand how much that will eat into your profits, as interest rates can be high and you won't have much control over when you pay it back.

Inventory Loans

– You may also be able to get an inventory loan depending on the stock you hold. This is where you borrow money to buy inventory, and the inventory itself is collateral for the loan. Your lender will typically cover 50-80% of the cost of the inventory, and you have to fund the rest. Should you default on the loan, they'll simply reclaim the stock and sell it to recoup their losses.
To help you, here are some of our favorite lenders for fashion business funding:
Kabbage
Kabbage is an online lender that offers clothing store loans. You can borrow $2,000 to $250,000 and with interest rates of 24-99%. Their repayment terms are typically 6, 12, or 18 months. Funding is fast, and they'll consider "lower" credit scores.
Fundbox
Fundbox offers borrowers short term loans that can help you get funding as soon as possible. They offer amounts from $1,000 up to $100,000. Their interest rates vary – from 10.1% to 79.8%, with terms of 3-6 months typically. Fundbox is one of the fastest options for funding and will consider those with bad credit. Provided you have a minimum revenue of $50,000, they'll consider your application.
Looking for business loans for your clothing store can be daunting, but it is entirely possible and can be just what you need to take your business to the next step. You simply need to be prepared to prove your profitability and do a little research into the best form for you.
Once you're ready to compare loans, we're here to help. We'll compare loans and show you the ones you're most likely to be approved for. Click here to get started and find the right fashion business funding for you as soon as possible.
PrimeRates provides access to personalized business loan offers through our simple and quick pre-qualification application. Once you're pre-qualified, you can select the best offer for you and finalize the business loan application with the lender.
Apply in minutes

Our simple application takes less than 5-7 minutes to complete.

Select your business loan offer

Choose the offer that best fits your needs by comparing loan amounts and terms.

Receive funds quickly

Finalize your loan offer with the lender you selected to receive your funds.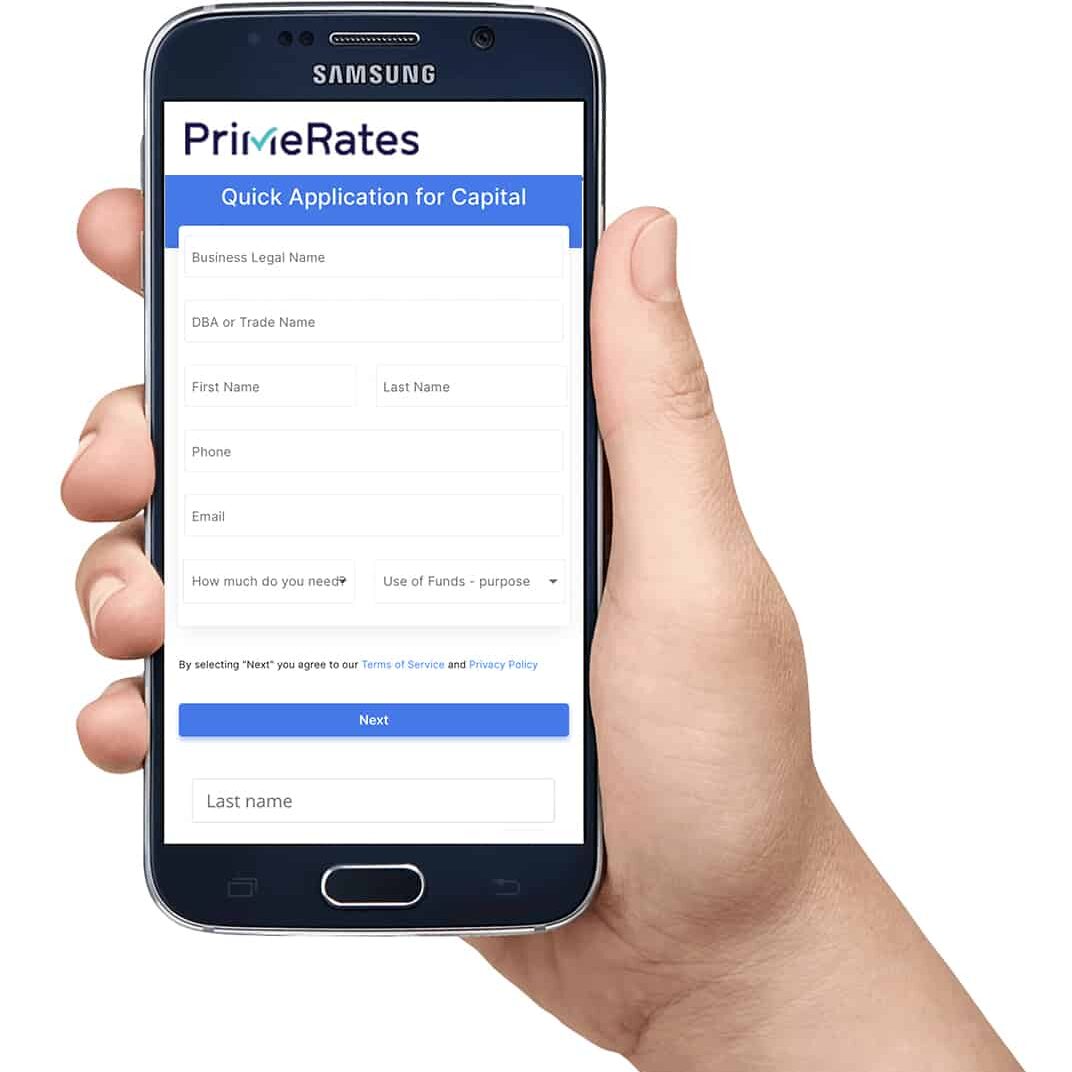 Business Loans By Industry