PrimeRates provides access to personalized loan offers through our simple and quick pre-qualification application. Once you're pre-qualified, you can select the best offer for you and finalize the loan application with the lender.
Apply in minutes

Simple pre-qual application in less than 1 minute. 

Select your loan offer

Choose the offer that best fits your needs.

Receive funds quickly

Finalize your loan offer, get approved, and receive funds.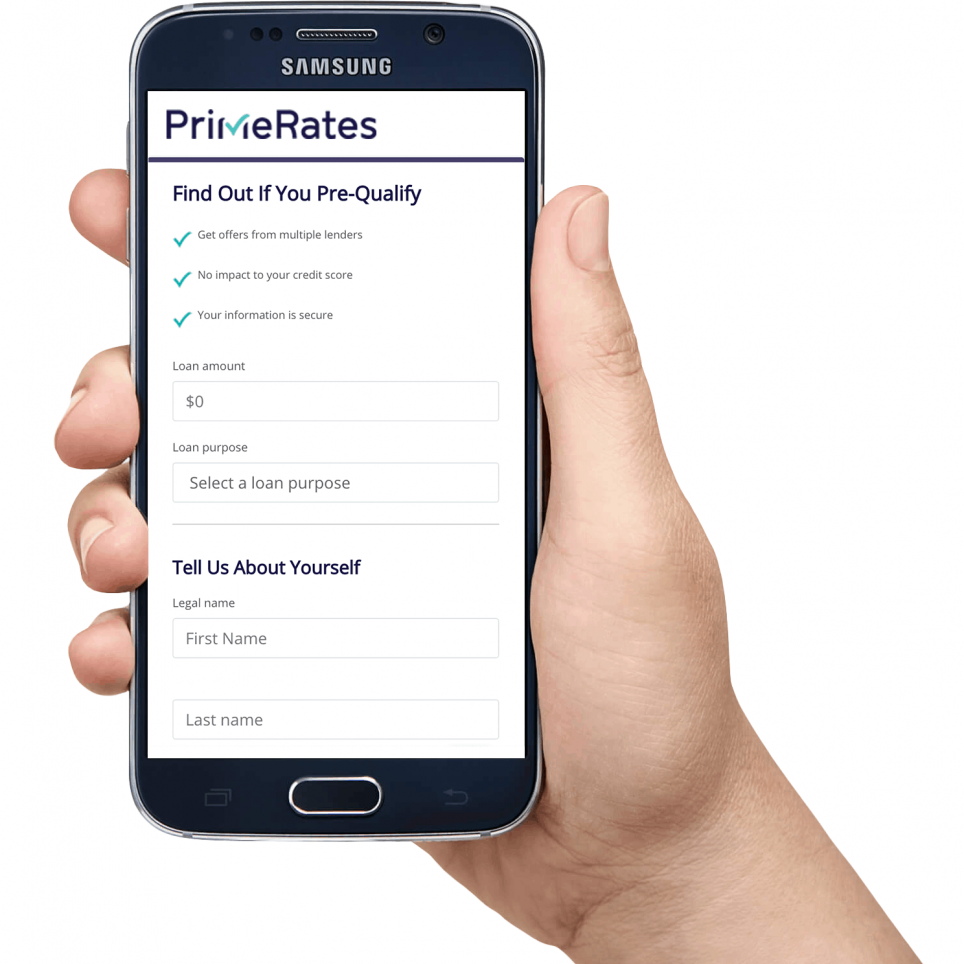 How Do You Finance a Pole Barn?
A pole barn is a relatively fast and easy way to get the extra space you need on your property, whether it be for commercial reasons or personal projects. While a pole barn is certainly one of the more affordable options when you're looking to create additional space, they are still an expensive endeavor. That's why many people look to pole barn financing to help them fund the build.
What is a pole barn?
A pole barn is a building that uses posts – which often look like a telephone pole – for the frame. This design first came about in the 1930s, after World War I when we fell into the Great Depression. Farmers had to use what was available to build with, and the most study option was to use old telephone poles.
This design was so cost-effective and long-lasting that we still use it today.
How much does a new pole barn cost?
Of course, the cost varies significantly depending on the size of the barn you plan to build, as well as how elaborate you want the materials to be. Building a pole barn for a farm will likely be less expensive than building one of the equivalent size for a business.
Generally, you can expect costs to be around the $25,000 mark. Small DIY kits can be as low as $4,000 to buy, while large commercial installations can reach well over $50,000.
What is pole barn financing?
Pole barn financing is simply financing options (such as a loan) you can use to spread the cost of building your pole barn and afford more barn than you have the cash available to build. For example, if you want to build a pole barn that costs $25,000, but you only have $10,000, you could get a loan (pole barn financing) to cover the whole cost or simply the remaining $15,000.
How do you finance a pole barn?
To finance a pole barn, you generally have three options. You can:
      Seek financing through the construction company you plan to work with, or,

      Compare financing options and secure the best option yourself.

      Of course, you can also pay for it with cash if you have it on hand.
The first may be more convenient, but you'll likely pay for that convenience over the term of your loan.
How does pole barn financing work?
Fortunately, pole barn financing works the same way as getting any other loan, you just need to find the best lender for your needs. Before you seek financing, it's a good idea to ask the construction company you plan to work with to draw up the costs, plans, and/or quote for the build. This way, you can show your lender how much the build will cost, and you'll know exactly how much money you need to borrow. Not all pole barn financing options will require it, but it is a good document to have to hand, especially if you're building for commercial reasons.
What is the best way to finance a pole barn? What are my options to finance a pole barn?  
There is a range of pole barn financing options available to you, and what is right for one person won't be right for another. Let's take a look at the different options and when they will and won't work for you.
Pay in Full in Cash
What's the best way to finance a pole barn? In cash! Paying for something in full is always going to be the most cost-effective way, but it doesn't always make the most sense.
Pros of Paying in Cash
Nothing more to pay – no interest rates

You don't have to ask for permission or find someone willing to lend to you
Cons of Paying in Cash
You may no longer have a financial cushion 

You may not have enough to complete the build
Get a Personal Loan
If you've got a decent or even great credit score, then a personal loan may be the best option. These loans are generally unsecured, meaning they lend to you based on your creditworthiness, and can't take your home or another asset if you fail to keep up on your payments.
There are also secured personal loans, where you can use your assets as collateral. You need to be careful here, and it's definitely not something you should do if you believe there is any chance that you may default on the loan. If you do, your lender can claim your asset (such as your home) and sell it to recoup their losses.
Some lenders that offer loans for agricultural use, such as building a pole barn, accept acres as collateral instead of your home.
Pros of a Personal Loan
Easy and fast to get – for most, you simply apply online and get a confirmation there and then, or within 24 hours or so. Most won't need to see your plans for the pole barn.

If you've got a great credit score, then getting a good interest rate should be easy. This can make using a personal loan the most affordable option.

The loan length is relatively flexible. Most personal loans offer terms of 3-10 years, but don't penalize you for paying the loan off early. This means you could choose a longer length to bring down the monthly payment, but overpay when possible to pay off the loan early.
Cons of a Personal Loan
If you've got a less-than-perfect credit score, interest rates can be high

If you use collateral, you risk having that asset seized

Finding personal loans for amounts over $25,000 can be difficult
Use Credit Cards
Using credit cards can be a smart option, but you have to be careful.
If you already have some credit cards with a lot of credit available, then you could spread the cost across the cards. You could also apply for 0% interest rate cards, and take advantage of spreading the cost that way.
There is a big caveat here: it's not going to be a good option if you can't trust yourself to make the necessary monthly payments. The problem with credit cards is that it's easy to let them sit, and unlike a loan when you pay the minimums it will take a very long time to pay off. You may also find yourself in a pit of debt you can't climb out of.
Pros of Using Credit Cards
If you have a lot of credit available, then you can start work on your pole barn now since you don't need to seek financing elsewhere

If you have low interest rate cards, or even 0% terms, you can save money on the build over getting a loan elsewhere.
Cons of Using Credit Cards
Credit cards often have high interest rates, so you can easily pay more for the barn over the length of your loan than its actual value

If you get 0% rates but fail to pay off the barn before the term ends (which is often only 3-24 months), you'll see your monthly bills skyrocket

It is incredibly easy to struggle to pay your credit card off if you aren't incredibly strict with yourself, and this can lead to long term debt problems.
Home Equity Lines of Credit
This is a cross between a loan and a credit card, based upon the equity in your property. Your home acts as collateral for the loan, and as you pay it back it becomes available again – just like a credit card.
Pros of HELOCs
Flexible financing that can help cover a range of property improvements and other financing needs

Often have a low-interest rate

You only pay interest on what you borrow
Cons of HELOCs
If you default on your credit, your home is the collateral, meaning they can cease it.

It's a good way to get in debt for a long time to come because you seem to have an endless flow of credit.

The interest rate can be variable, which can get you into hot water.
Get a Business Loan
If you are building your pole barn for commercial reasons, then a business loan may be right for you, especially if you have been in business for some time and have proven reliable revenue. There is a wide range of business loan options available, so if you feel this would be the best way to finance your business's pole barn you can click here to learn more.
Will banks finance a pole barn home?
In some cases, yes, but not under a traditional mortgage. If you plan to build a pole barn home you can use the pole barn financing options we've discussed above, but you probably won't be able to get a mortgage due to the non-standard construction.
There are some banks that specialize in this type of home, however. So, if you're planning on building a pole barn home or dedicating a part of your build to a living space, make sure you do your research and look at both traditional pole barn financing and specialist mortgages before making a decision.
How to Get a Loan for a Pole Barn
To get a loan for a pole barn first, make sure you have all your financial ducks in a row. Check your credit score and look at the debt you already have. Are you in a strong position? The better your financial position, the better the financing options you'll have available.
Next, get a quote for the cost of erecting your pole barn. This can serve as a guide for you and for proof of cost should your lender desire to see it.
Finally, do your research and compare loans. Once you start thinking about pole barn financing, you'll likely find that you start getting adverts for financing options, but don't be tempted to go with the first offer you see. Compare options, even if the construction company you use says they can get you a good deal.
To save time, use our comparison service and we'll present you with all the best options for you based on your details and credit score.
How long can you finance a pole barn?
This depends on the type of financing you choose. Personal loans are typically 3-7 years in length, but you can find some with shorter and longer terms. If you finance your barn using credit cards, then you can pay it off as quickly or slowly as you like, provided you at least pay the monthly payments. (Remember that this can be a slippery slope, however!)
The number one thing to remember when financing your pole barn is to not stretch yourself too far. The more comfortably you can afford your loan, the better chance you have of getting it at a low interest rate. That's why it's so important to compare interest rates of the loans available – the lower the rate, the easier you'll find it to pay, and the lower the overall cost of the barn.
To start comparing personal loans, click here.
If a business loan would work better for you, click here. 
Do I Need to Finance My Pole Barn Home?
If you do not have enough cash available to pay for a pole barn house, you'll probably need financing. The good news is pole barn financing is fairly easy to obtain. Whether you need to finance the entire project or only a portion of it, you can use financing. Some contractors or builders may partner with lenders that can offer financing. If they do not or you plan to build the pole barn house on your own, you can get financing at PrimeRates. You probably won't be able to use a traditional mortgage for pole barn financing, but there are other types of loans that you can use. 
Before applying for financing, we recommend getting an estimate that includes your total project costs. If you are using a prefab pole barn, make sure you ask the retailer what finishing touches and unincluded costs will total. Windows and other features may not be included in the price of the kit. Knowing what your total costs are can help you narrow down financing options and apply for the appropriate amount. If you use a personal loan, it's likely that it will be funded as a lump sum. Once the loan funds, interest starts accruing on the total amount borrowed. Borrowing just the right amount of money can help you avoid unnecessary interest charges.
What is the best way to finance a pole barn?
While most individuals prefer to use a personal loan for pole barn financing, there are other options. Let's take a look at 3 ways to finance a pole barn. . .
#1. Personal Loan
Personal loans provide individuals with a lump sum of cash that can be repaid over a certain term with fixed payments. In most cases, personal loans are easy to manage and easy to qualify for. Banks, credit unions, and online lenders can offer personal loans for pole barn financing. Typically, banks and credit unions have more strict requirements and can take longer to fund loans. PrimeRates can help individuals secure personal loans quickly. In addition, if you are a contractor you can partner with PrimeRates to offer customers pole barn financing. PrimeRates is completely free for contractors and individuals to use. With an elite group of lending partners, you can find the best pole barn financing offers at PrimeRates. 
#2. HELOC
If you own a home, you may be able to use a home equity line of credit (HELOC). It's common for homeowners to build a pole barn house on their property and use it as a guest house or office. If this is similar to your situation, you may be able to use a HELOC for pole barn financing. To qualify for a HELOC you'll need to have equity in your home. Lenders that offer HELOC loans can offer a revolving line of credit that is secured by the equity in your home. Since the lender has collateral, they may offer larger loan amounts, lower interest rates, and longer terms. Homeowners can draw the funds they need and only pay interest on the amount of money they use. However, HELOC loans can be harder to secure and more complicated to manage than personal loans. In addition, they can be riskier for homeowners. 
#3. Contractor Financing
Some contractors may offer financing for customers. While this may be a convenient option, you may be limited on options. Contractors that offer financing usually partner with lenders to offer personal loans to customers. In some cases, there may be an incentive for the contractor but not always. Contractors want to provide an affordable way to pay for projects to increase their revenue and increase closing ratios. If you want to be certain you are getting the best pole barn financing offer available, you should visit PrimeRates. PrimeRates does partner with contractors to help them offer financing. If you are already working with a contractor that partners with PrimeRates, you can skip this step.
What does a pole barn home cost?
Just like a traditional home, a pole barn home has many factors that can impact the cost. While you do not need an expensive foundation for a pole barn home, you'll need land to put it on. The first expense to building a pole barn home is purchasing the land. In some cases you may already have the land or have been gifted the land. If this is the case, you are one step ahead. One of the most affordable ways to build a pole barn home is to use a kit. Whether you use a kit or build a custom pole barn home, it should still be much cheaper than a traditional home. Most pole barn kits come in a variety of styles and sizes with plenty of features. In addition, they usually come with building plans, materials, hardware, and more. Pole barn homes are much less complicated and faster to build than traditional homes. However, you will probably still want to hire a professional to build your pole barn home. Home Guide reports that the average cost to build a pole barn house is $15,000 to $30,000 with most folks spending about $10 to $30 per square foot.
What is post frame construction?
Pole barns are built using post frame construction. Post frame construction utilizes large posts that are placed several feet into the ground. The poles usually extend continuously above ground. Post frame homes are usually more energy efficient. Just another way they can be more affordable. In most areas, post frame homes need permits which can be expensive. If you ever need to have a professional value your post frame home, it may be challenging. Most professional appraisers or lenders do not know how to value a post frame home. If you encounter any problems you should refer to your post frame home as wood framed. 
Other Personal Loan Types
Home Improvement Financing Articles