In order to start or grow any business, including a flooring business, you will need capital. If you do not have a stack of cash on hand, you may be wondering where this capital will come from. If so, you are about to learn how to finance a flooring company.
The good news is you have options when it comes to flooring financing and all credit types can qualify.  A business loan is one of the top financing choices for financing a flooring company. Flooring companies can qualify for business loans up to $500,000 with repayment terms up to 25 years. In addition, business loans offer extremely competitive interest rates. If you have a small business or startup you may fear not being able to qualify for a business loan. However, you can let that fear go knowing that there are business loans that cater to small businesses and startups to help them grow and get off the ground. In fact, the SBA is a federal government aid that was created to help small businesses secure funding and loans, without paying absurd interest rates. Whether you are a sole proprietor, LLC, partnership, s-corp, c-corp, or limited partnership we can help you learn the best way to get financing for a flooring company.
What are flooring company loans?
Flooring company loans can help flooring companies finance purchases and expand. Most flooring company loans can be used for just about anything your business needs from purchasing inventory or equipment to improving cash flow.  If you are looking for a low interest and flexible flooring company loan you should consider a business loan. In the next section, we will go into more detail about how a business loan works. If you are looking for a way to finance smaller day-to-day purchases, a business credit card may help. Business credit cards usually have higher interest rates and lower spending limits. For the most part, all flooring company loans should allow you to spend the money on just about anything business-related.  If you are a business owner looking to finance some living expenses you may want to look into a personal loan. Personal loans are fairly easy to qualify for and offer low interest rates. They can be a great way to cover personal expenses until your business is profitable enough to pay yourself a monthly salary. Owning a business can be risky and owners are never guaranteed a profit. For most business owners, this is what drives them each and every day to create wealth and a well-functioning business. 
How do flooring company loans work?
Most business loans are offered with a fixed interest rate and monthly repayment.
This means that your interest rate should not change during the loan term and your monthly payment should stay the same. Most lenders issue funds for business loans as a lump sum. Once you receive the funds for your approved loan amount, interest will start accruing. If you use a business line of credit, you only pay interest on the amount of money you use rather than the entire loan amount. You may want to consider a business line of credit once you have equity in your business.  However, using a business loan can help you establish the equity your business needs. No matter what type of flooring loan you choose, you should try to use a lender that does not have a prepayment penalty. This means you can pay the loan off early without extra fees or penalties. Paying the loan off early can help you save money by paying less interest. You can get a business loan from the SBA or a bank or credit union or an online lender. Online lenders can offer faster approval and funding speeds and can be easier to qualify for.  Compared to banks and credit unions, online lenders typically offer just as competitive (if not more competitive) interest rates. PrimeRates is a secure website that makes finding the best business loan offer safe and easy. 
Why consider financing and loans for flooring companies?
If you are a business owner you probably have the desire to take risks and never pass up an opportunity. One of the main reasons you should use financing for a flooring company is to invest in an expansion opportunity. While you may be sustaining day-to-day operations, you may be struggling to cover operational expenses while trying to invest in expanding your business. Even though you may have interest and fees tacked onto your business loan, you may be able to grow the money you borrow far beyond the total cost of the loan. Let's take a look at the top reasons to consider financing and loans for flooring companies… 
#1. Purchase Inventory
While you may have enough cash flow to cover expenses and payroll, you may not have enough money to purchase and floor inventory. Using a business loan can help you purchase more inventory that can help increase your sales. Inventory is not a one-time purchase, making it one of the most difficult expenses to manage. A business almost always needs to purchase inventory before selling it. In addition, most businesses need to constantly expand and revamp inventory. Purchasing inventory can be especially difficult for seasonal businesses. Business loans can help you increase sales, generate more revenue, and stay ahead of customers and trends. 
#2. Cash Flow
Whether you are a big business or a small business, cash flow can be challenging. In most cases, a small business is more likely to struggle with cash flow. No matter what size the business is, if it's struggling with cash flow it's likely to fail. If a business requires a lot of inventory, cash flow can be even more challenging. In order to stay current on all expenses and maintain healthy account balances, you will need to have fluent cash flow. A business loan is a great way to improve cash flow and keep extra money on hand or available. Business loans can help cover operational expenses and inventory costs while helping you keep your doors open when business is slow.
#3. Equipment
While some businesses may require more equipment or more expensive equipment, for the most part, all businesses require equipment. In addition, equipment usually requires maintenance and replacement at some point. This means it's not just a one-time purchase in most cases but a recurring or maybe even regular expense. If you are a business that relies heavily on equipment, you'll want to be sure you have enough cash on hand to fix it if something goes wrong. Business loans can help flooring companies purchase and maintain equipment while delivering better service and experiences for their customers. The better work you deliver to customers, the more likely you are to earn a referral. 
What loans are available for flooring companies?
If you are a flooring company looking for a loan you should explore your options. It's important to educate yourself and know how different financing options work and what they are best for. You may want to take advantage of more than one financing option to achieve all of your goals. Loans available for flooring companies may include SBA loans, business loans, business credit cards, business lines of credit, and more. 
What are the pros and cons of flooring company loans?
When it comes to making good business decisions it's important to explore options and evaluate the pros and cons. In our personal lives, we may try to avoid borrowing money but in the business world, it may be a necessity in order to grow. In addition, the intent is to make more money using the money you borrow. This can help justify the extra costs associated with loans. Let's compare some pros and cons of flooring company loans...
Pros:
Accelerate growth

Improve cash flow

Advance technology
Cons;
Repayments can be challenging

Success is not guaranteed
How do you apply for flooring company loans?
If you are sold on getting a business loan for your flooring company you should apply online through PrimeRates. PrimeRates partners with reliable lenders that can offer competitive business loans. PrimeRates offers a personalized experience that can help you find the best business loan offer quickly and efficiently. In addition, using PrimeRates can reduce the risk of using an online lender. Their platform also allows you to submit your information just one time to receive multiple personalized loan offers. Here are 3 easy steps to apply for a flooring company loan…
#1. Submit application (takes less than 2 minutes)
#2. Select the best business loan offer
#2. Receive funds quickly (as soon as 24-hours)
Conclusion
In conclusion, there are many options available for financing a flooring company. If you are feeling overwhelmed and unsure of where to start, visit PrimeRates. PrimeRates offers a user-friendly platform that can help you compare personalized loan offers after submitting just one application. Using PrimeRates platform costs you $0 and can save you tons of time, money, and hassle. In addition, your credit score will not be affected by submitting an application through PrimeRates. You really have nothing to lose and everything to gain. So what are you waiting for? 
Expand your flooring company...apply for financing today!
PrimeRates provides access to personalized business loan offers through our simple and quick pre-qualification application. Once you're pre-qualified, you can select the best offer for you and finalize the business loan application with the lender.
Apply in minutes

Our simple application takes less than 5-7 minutes to complete.

Select your business loan offer

Choose the offer that best fits your needs by comparing loan amounts and terms.

Receive funds quickly

Finalize your loan offer with the lender you selected to receive your funds.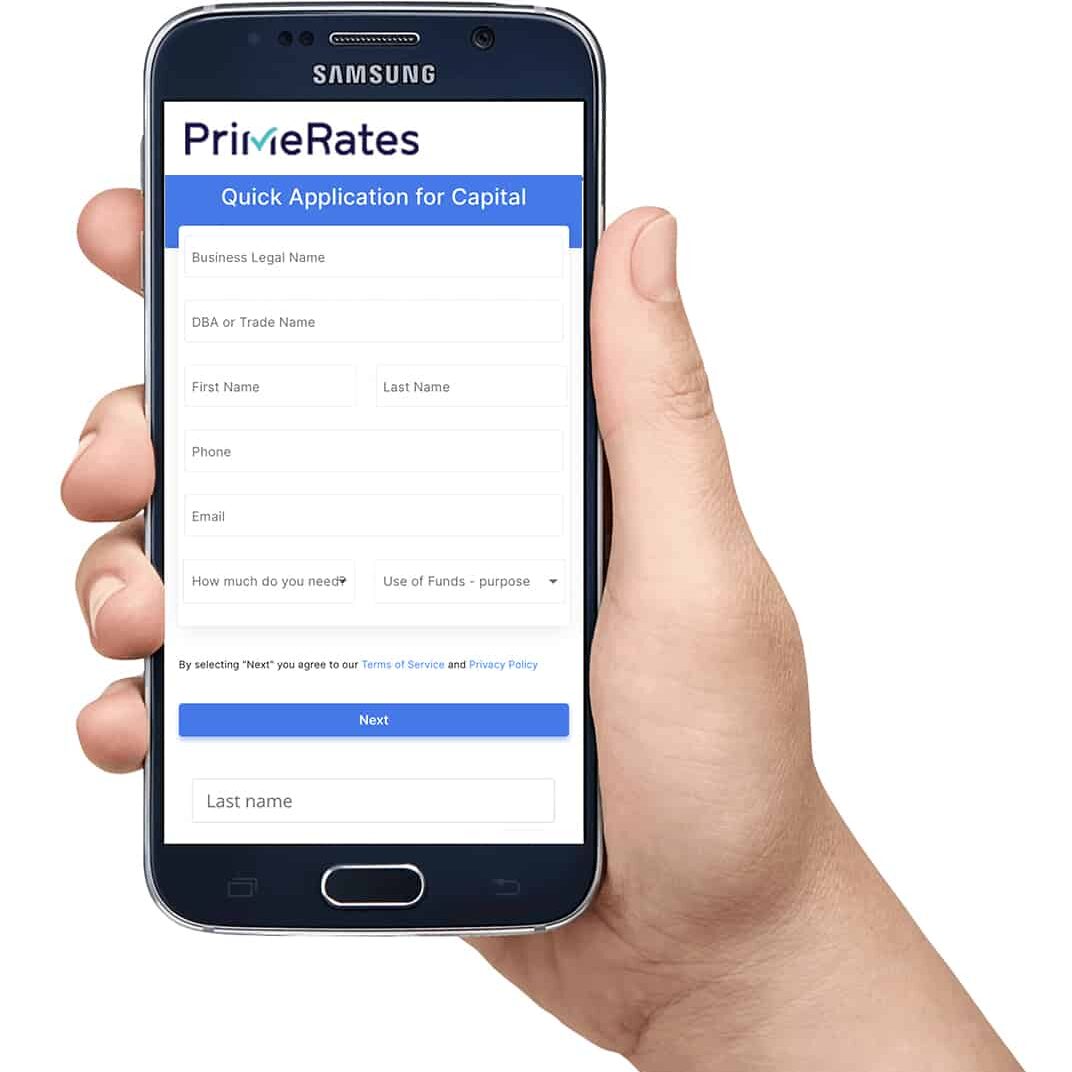 What Type of Business Do You Have?
Business Loans By Industry
More Business Loan Options