PrimeRates provides access to personalized loan offers through our simple and quick pre-qualification application. Once you're pre-qualified, you can select the best offer for you and finalize the loan application with the lender.
Apply in minutes

Simple pre-qual application in less than 1 minute. 

Select your loan offer

Choose the offer that best fits your needs.

Receive funds quickly

Finalize your loan offer, get approved, and receive funds.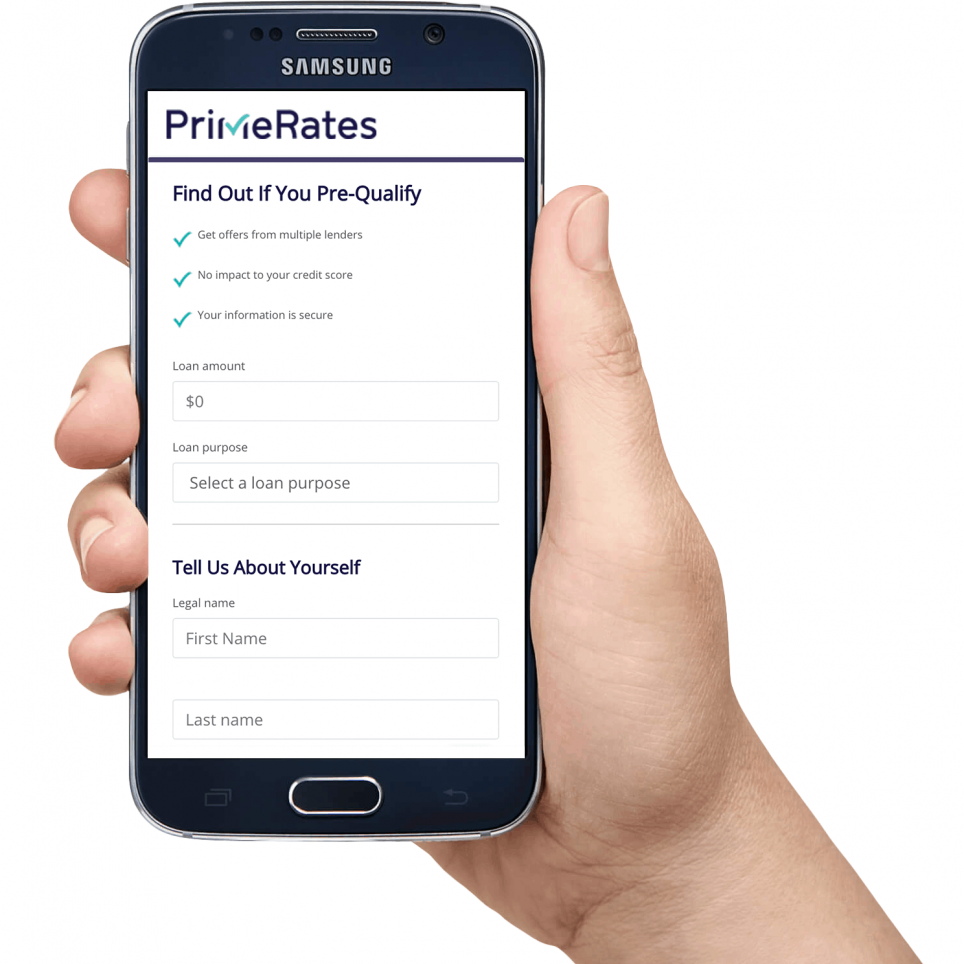 24/7 LoanPros Rates & Terms
What Is 24/7 Loan Pros?
24/7 Loan Pros is an online loan-matching platform that gives borrowers access to an extensive network of lenders and loan types. With amounts ranging between $500 and $35,000, this platform can connect borrowers to products that match any number of financial needs as well as credit scores.
The company also allows borrowers to apply for several loans with just one application so it's not necessary to send forms to individual lenders. With a speedy application and approval process and a large number of lenders, this site is a good place to start if you want to compare different rates and offers for personal loans.
24/7 Loan Pros might be a good fit if:
You want to compare rates without sending a large number of individual applications

You are not sure about your chances of approval with your ideal lender

You want quick and affordable financing for a range of needs
24/7 LoanPros Rates & Terms
APR range:

5.99%  - 35.99%

Available loan terms:
Up to 6 years
Loan amounts:

$500 - $35,000

Origination fee:
Varies
Credit needed:
All credit types accepted
Income needed:
No minimum income required
Best for:
Comparing rates, Fast Cash
Click "Check Rates" to pre-qualify and receive a personalized rate.
24/7 Loan Pros Review
Interest rates: 24/7 Loan Pros' annual percentage rates typically range between 5.99% and 35.99%. However, because Loan Pros is just a platform to connect borrowers with loans, the lenders that they work with can charge rates outside of this range.
Cost:  Any origination, late payment, prepayment, check processing or other fees are based on the loan type and lender. 24/7 Loan Pros does not guarantee any specific rates or fees.
How to Qualify for 24/7 Loan Pros: There is no minimum credit score or income required to apply. However, borrowers must be at least 18 years old, be U.S. citizens or permanent residents, and have current and verifiable income along with a verifiable bank account.
Types of Loans 24/7 Loan Pros Offers: This company connects borrowers with unsecured personal loans ranging between $500 and $35,000.
Loan Example: If a borrower takes out a loan of $12,000 with a 14.5% APR and a three-year repayment term, the minimum monthly payment will total $413.05.
24/7 Loan Pros Pros and Cons
Pros
Easy online application

Quick to fund, with a next-day disbursement for most loans

Direct deposit option

Variety of lenders and rates

Wide range of loan amounts to fit a variety of financial needs

Wide range of potential repayment terms, with terms of up to 72 months

No minimum credit score or income to apply

Easier for borrowers with low credit scores to get approval
Cons
No guaranteed rates and terms

No comprehensive list on 24/7 Loan Pros' website of affiliate lenders, partners and their requirements

No direct live chat on website

No company FAQ, which can answer some of the most common questions that potential borrowers have
24/7 Loan Pros Loan Approval Process
To find out which 24/7 Loan Pros loans you're eligible for, all you need to do is fill out a simple online application that takes just two minutes. Before applying make sure that you have your contact information, address, employment status and residency information handy.
Once you submit the application, you'll receive offers almost immediately. Your approval and offers are based on your credit score, credit history, annual income and debt-to-income ratio.
Lenders Like 24/7 Loan Pros
Before committing to a loan from 24/7 Loan Pros, you might want to take a look at some similar online lending platforms.
ZippyLoans - ZippyLoans offers loans of up to $15,000 with immediate approval for eligible applicants. This lender also caters to borrowers with a range of credit scores, from poor to excellent. However, if you're considering a loan from this platform, you should be aware that it has 23 formal complaints that have been lodged against the site with the Better Business Bureau.
OpenLoans - Borrowers can take out up to $40,000 with OpenLoans, with typical APRs ranging between 4.99% and 35.99%. They do not fund as quickly as 24/7 Loan Pros loans do, with three business days listed as the shortest time to disbursement.
LoanStart - LoanStart is a free service that connects borrowers with peer-to-peer, personal installment and bank personal loans that match their needs. Their loans range between $1,000 and $35,000, with APRs starting at 6.63% with a maximum rate of 36%.
OneMain - OneMain is a personal installment loan provider that caters to borrowers with average or poor credit scores. Unlike 24/7 Loan Pros and other online loan-matching platforms, One Main is a direct provider, and may require potential borrowers to visit a branch to apply in person. Their loan amounts range between $1,500 and $30,000, and the APRs start at 16.05% with a maximum of 35.99%, and a minimum rate of 9.99% for secured loans.
Is 24/7 Loan Pros Legit and Safe?
24/7 Loan Pros encrypts all of the data that goes through its website, as per the industry standard. Applicants should not be concerned about the safety or risk level of this platform. Additionally, the company does not share any data with third party lenders who are not affiliated with the site.
Conclusion
24/7 Loan Pros is a good place to start the process of finding an unsecured personal loan that's right for you. The company's easy and quick application process and short funding times make this platform one of the best if you want a fast decision and immediate cash. Its lenders also offer some of the most flexible repayment terms in the industry, with terms of up to 72 months.
Additionally, due to its extensive network and range of products, this site can help you find loans that satisfy a variety of financial needs, from small emergencies to home improvement projects and automobile down payments. However, although 24/7 Loan Pros is connected with several different lenders, there may be other services out there that can give you a better rate than what's offered by this company, so it's important to apply through multiple platforms to make the most well-informed decision.
Other Personal Loan Types
Top Personal Loan Articles