PrimeRates provides access to personalized loan offers through our simple and quick pre-qualification application. Once you're pre-qualified, you can select the best offer for you and finalize the loan application with the lender.
Apply in minutes

Simple pre-qual application in less than 1 minute. 

Select your loan offer

Choose the offer that best fits your needs.

Receive funds quickly

Finalize your loan offer, get approved, and receive funds.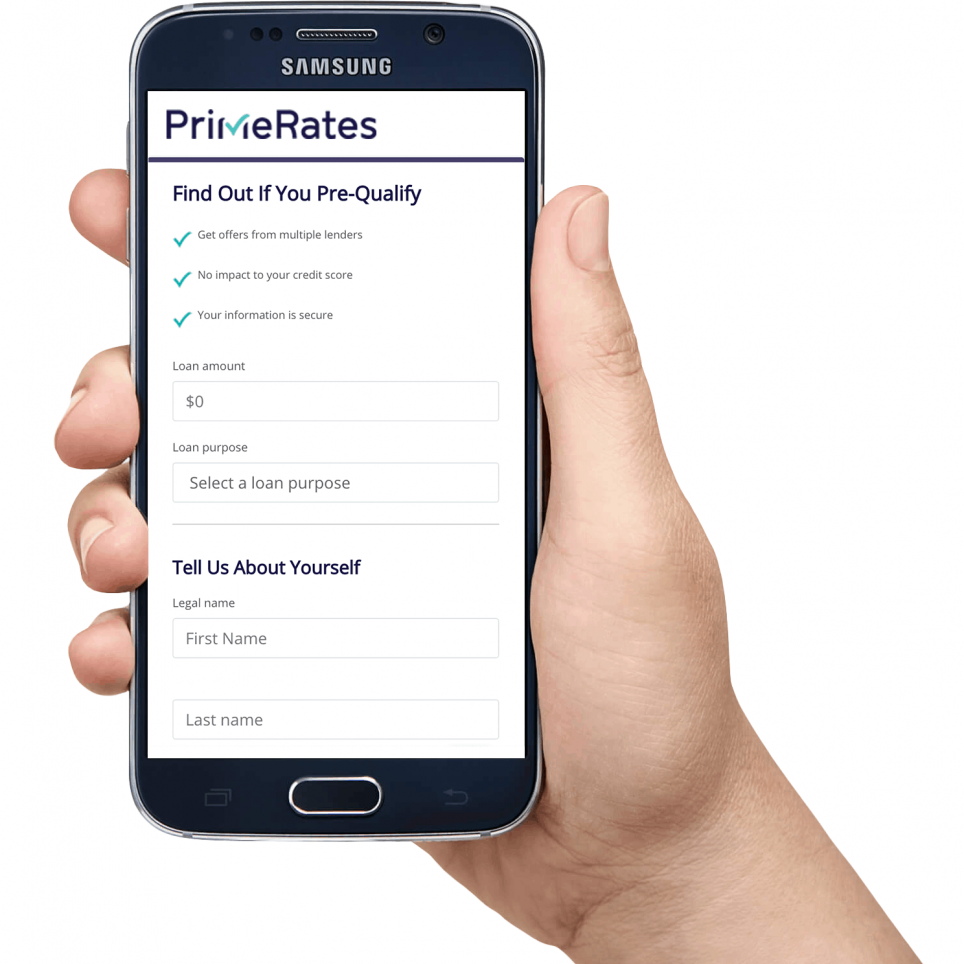 Pool Loans For Good & Bad Credit
As the weather warms up, many homeowners begin to entertain the thought of adding a swimming pool to their property. And although a pool can provide a setting for endless hours of entertainment and relaxation — not to mention increase the value of a home — the cost can be quite considerable. Fortunately, homeowners have several options when it comes to swimming pool financing.
If you're considering adding a watering hole to your homestead, this overview tells you everything you need to know about how to finance a pool.
How Do You Finance a Pool?
If you don't have the cash to pay for a pool out of pocket, you can opt for a pool financing plan. These financial arrangements typically come in the form of personal loans or home equity loans. Regardless of which option you choose, your creditworthiness will determine the interest rate and repayment terms you'll be responsible for.
Is it hard to get financed for a pool?
Swimming pool financing may be easier to obtain than you think. If you use an unsecured personal loan for swimming pool financing, you can borrow up to $100,000 with no collateral or money down. Personal loans can provide a lump sum of cash that can be repaid over time with interest. While they may be easier to obtain and manage than secured loans, secured loans usually have lower interest rates. Secured loans require homeowners to provide collateral, such as the equity in their home. In exchange for the collateral, lenders typically offer lower interest rates and longer loan terms. In most cases, secured loans have longer and more complicated approval and disbursement processes. There are a variety of online lenders that can provide personal loans for all credit types. One of the best ways to compare personal loan offers is by submitting an application at PrimeRates. PrimeRates has top-rated lending partners that want to compete for your business. Whether you have good credit or bad credit, you can qualify for a personal loan for swimming pool financing at PrimeRates.
How long can you finance a pool loan?
How long you can finance a pool usually depends on the type of loan you use. If you use an unsecured personal loan you can find terms up to 12 years. If you use a secured home equity loan, you can find terms up to 30 years. Some homeowners prefer to use a HELOC which is another type of secured loan. HELOC loans can provide a revolving line of credit that is secured by the equity in your home. HELOCs provide access to cash but you'll need to draw the money. Most HELOCs have a draw period of about 10 years and a repayment period of about 20 years. The repayment period typically begins after the draw period. Lenders can provide various loan structures so you'll want to communicate your needs and explore your options. Home Guide reports that the national average for installing an inground pool is between $28,000 to $55,000. While this may be a big chunk of cash, it's not really a lot of money, especially when you consider it as a monthly payment. If you borrow $50,000 using a personal loan you can have monthly payments as low as $438/month. We have estimated this payment using a 12 year term and 3.99% fixed interest rate.
Is a pool expensive to maintain?
There are monthly expenses that come along with maintaining a pool properly. Making the investment for proper upkeep can help you avoid expense repairs in the long run. Some homeowners prefer to maintain their own pool which can be cost effective. However, it's usually best to hire a professional. You can expect to spend about $80 to $150 per month on pool maintenance. In addition, you may see a spike in your electricity bill. Pools cost an average of about $800 to $1,200 to run annually. You may be spending money each month for a club membership to have access to a pool and other activities. Building your own pool may eliminate these types of expenses and allow you to spend extra money  toward something you own. 
Do inground pools add value to a home?
Real estate experts recommend adding a pool to your home to increase the value. Adding a pool could potentially increase your home value by 5% to 8%. However, while many home buyers may be searching hard for the perfect home that includes a pool in the backyard, it may detour other buyers. We recommend fencing in the pool and thinking about any potential risk of having a pool, such as an infant drowning. You will want to design your backyard and pool to make your space as functional as possible. Finishing your backyard with a pool and landscaping can increase home value and help your home sell quickly.
What's the best loan to get for a pool?
The best loan to get for a pool usually depends on your finances. If you have plenty of equity in your home, a secured loan may be a good option. However, if you do not have a ton of equity or excellent credit, you may want to consider a personal loan. If interest rates have dropped since you financed your home, a cash out refinance might be the best way to finance a pool. Cash out refinances allow homeowners to borrow money and refinance their mortgage at the same time. 
Can You Finance an Indoor Pool?
Depending on the size of your home and kind of swimming pool you're in the market for, you might be thinking about installing a pool inside your house, rather than in your backyard. If you're considering something along these lines, you can apply for indoor pool financing in case you can't afford to pay for your pool upfront.
Can You Finance an Above-Ground Pool?
Not all properties can accommodate the installation of an in-ground pool, leaving some owners to explore options for an above-ground swimming spot. These pools are typically far more affordable than in-ground pools, but they're not necessarily cheap. That's why many individuals choose to apply for above-ground pool financing.
How Much Is a Monthly Payment for a Pool?
Monthly payments for swimming pool loans can vary based on a variety of factors. The more money you put down as a deposit and the higher your credit score, the lower your monthly payments will be. Likewise, the smaller the deposit you put down and the lower your credit score is, the greater your payments will be.
What Credit Score Do You Need to Finance a Pool?
Although individuals with less-than-desirable credit scores may still qualify for pool financing, in general, however, you'll want a credit score of at least 670, though scores of 740 or higher will result in lower interest rates and more affordable monthly payments. 
How Long Can You Finance a Swimming Pool?
Although many lenders will expect loans to be repaid within three to five years, 20-year pool loans aren't entirely unheard of. Such a loan might seem attractive to individuals with a tight budget, but the interest payments could eventually outweigh the cost of the pool itself.
What Is the Average Cost of Building a Pool?
Depending on whether you're interested in an in-ground pool or its above-ground counterpart, the cost can range dramatically. Obviously, the size of the pool and the material it's made of play big factors in the calculation of a pool's cost. In general, in-ground fiberglass pools cost $15,000 to $25,000, while concrete and granite pools can set you back anywhere between $20,000 and $55,000.
What Is the Interest Rate on a Pool Loan?
Interest rates on pool loans largely depend on your individual credit score. They could be as low as 5.5% or as high as 36%.
Interest rates for pool loans can vary depending on the type of loan, the borrower, and other factors. Most lenders advertise their lowest rates online. If you have excellent credit (750 or above) you should qualify for the advertised rates. Some may include discounts such as autopayments so make sure you read the fine print. You should also pay attention to whether the interest rate is fixed or variable. We recommend using a fixed interest rate because it does not change during the loan term. Homeowners can secure HELOC loans with interest rates as low as 2.49%. PrimeRates has lending partners that can offer personal loans with interest rates as low as 3.99%. Although personal loans may have slightly higher interest rates than secured loans, they offer less risk for homeowners. In addition, they are usually much easier and faster to obtain. This can make the slightly higher interest rate easy to justify. 
What Is the Best Way to Finance a Pool?
Depending upon your unique situation, the best way to finance a pool for your home might be drastically different compared to your neighbor. To help you find the most affordable option, here's an overview of the most common ways to pay for a pool.
Home Equity Loans
Home equity loans allow you to borrow funds that are secured against the amount of equity you have in your house. These types of loans typically have lower, fixed interest rates because the home serves as collateral. 
» MORE: Home Equity Loans
Swimming Pool Financing Options
If you don't yet have much equity in your home — or if you live in an area where homes are less expensive — a personal loan might be a better option when it comes to financing a swimming pool. If you choose this route, you'll have the option of either selecting a secured or unsecured loan. Secured loans require collateral, whereas unsecured loans do not. These loans typically have higher interest rates than home-equity loans, but you won't have to worry about losing your home if you fail to keep up with your payments.
If you're in the market for a personal loan to help finance your pool, here are some leading lenders for you to consider.
LightStream
» MORE: LightStream Personal Loans Review
LendingClub
APR range
6.95-35.89%
Available loan terms
36 to 60 months
Loan amounts
Up to $40,000
Time to fund
Varies
Fees
Origination fee: 1% to 6%
Unsuccessful payment fee: $15
Processing Fee For Personal Checks: $7
Credit needed
600+
Income needed
n/a
Soft Credit Check?
Yes
Best for
Borrowers with good credit
Click "Check Rates" to apply to LendingClub
LendingClub made a name for itself by becoming the first peer-to-peer lender to register with the SEC and offer loan trading on the secondary market.
Loan Amounts — $1,000 to $40,000

APR — 6.95% to 35.89%

Origination Fees — 1% to 6% of the loan amount

Time to Funding — 3 to 7 days

Repayment Terms — 3 to 5 years
Pros & Cons
LendingClub is a great option if you have above average credit

It's not so great if you're looking to borrow more than $40,000

You'll need a low debt-to-income ratio to get approved
SoFi
APR range:
5.99% to 16.99% APR (with AutoPay)
Available loan terms:
24-84 months
Loan amounts:
$5,000—$100,000
Time to fund:
Typically 7 days
Origination fee:
None
Credit needed:
680+
Income needed:
$50,000+
Soft Credit Check?
Yes
Best for:
Young professionals and graduates, good credit
Click "Check Rates" to apply to SoFi
SoFi, short for Social Finance, is a reputable personal finance company that specializes in mortgages, personal loans, and student loan refinancing.
Loan Amounts — $5,000 to $100,000

APR — 5.74% to 16.24%

Origination Fees — None

Time to Funding — One week

Repayment Terms — 2 to 7 years
Pros & Cons
Only applicants with a strong credit score and little debt will get approved

SoFi doesn't charge any origination fees or late fees

It's a great option if you're looking for a large, in-ground pool
Avant
APR range
9.95% — 35.99%
Available loan terms
24 — 60 months
Loan amounts
$2,000 — $35,000
Time to fund
As soon as the next business day*
Administration fees
Up to 4.75%
Credit score needed
580; typical credit score is 600 — 700
Income needed
No set income requirement stated
Soft Credit Check?
Yes
Best for
People with poor or bad credit, debt consolidation
Click "Check Rates" to apply to Avant
Among the internet's leading lending platforms, Avant offers borrowers with less-than-stellar credit access to loans, whereas most banks would turn these applicants away.
Loan Amounts — $2,000 to $35,000

APR — 9.95% to 35.99%

Origination Fees — 4.75%

Time to Funding — Next day

Repayment Terms — 2 to 5 years
Pros & Cons
Avant is among the best for people with credit scores as low as 580

This lender charges late fees and administrative fees

Loan payments are flexible, and you only need an annual income of $20,000 to get approved
Conclusion
Now that you know the basics of how to finance a pool, start exploring your options by applying for a loan from any of the above lenders. You could be doing the backstroke before you know it!
Other Personal Loan Types
Home Improvement Financing Articles