PrimeRates provides access to personalized loan offers through our simple and quick pre-qualification application. Once you're pre-qualified, you can select the best offer for you and finalize the loan application with the lender.
Apply in minutes

Simple pre-qual application in less than 1 minute. 

Select your loan offer

Choose the offer that best fits your needs.

Receive funds quickly

Finalize your loan offer, get approved, and receive funds.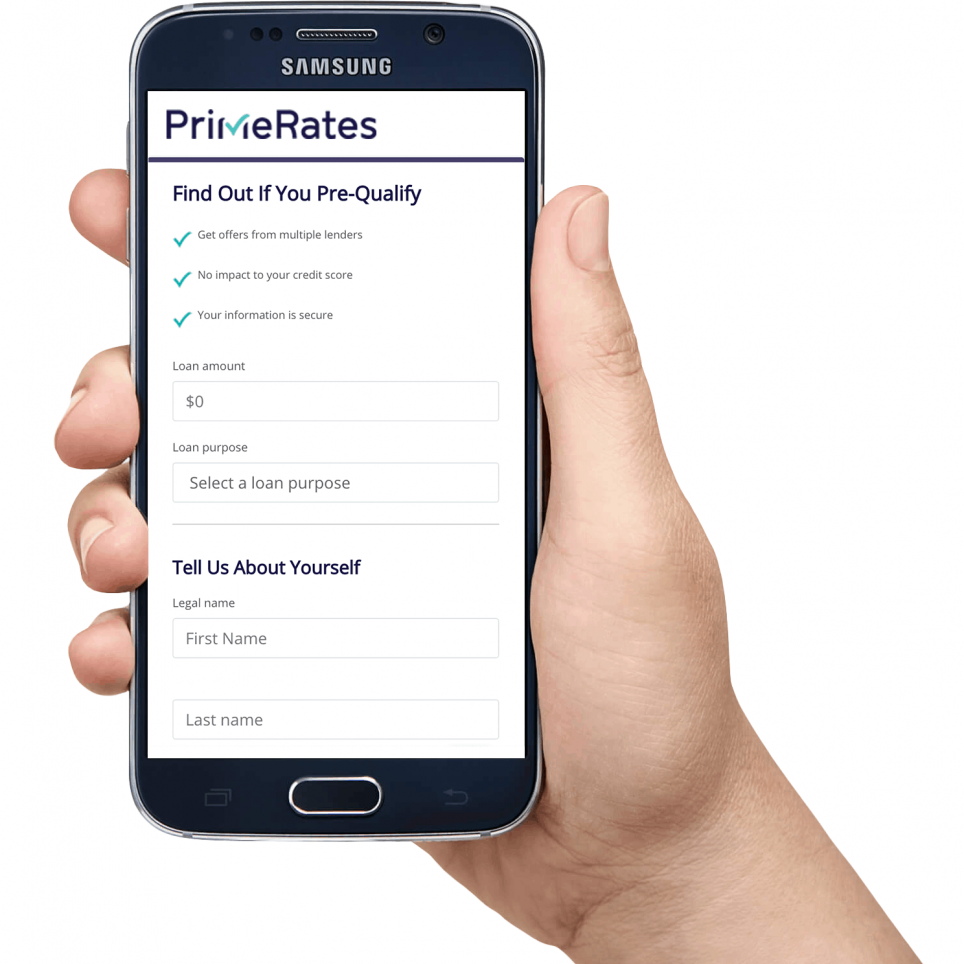 HVAC Financing - No Credit Check & Bad Credit
With many areas of the United States experiencing sultrier summers and chillier winters, there's never been a better time to install a new heating, ventilation, and air conditioning (HVAC) system in your living space. But, depending on the size of your home and how many rooms in which you want to control the temperature, HVAC systems can be incredibly expensive. Fortunately, HVAC financing plans make it possible for people to purchase new heating and air conditioning systems even if they're strapped for cash.
If you're interested in learning more about home heating and A/C unit financing, here's an overview of everything you need to know.
How does HVAC financing work?
In many parts of the US, an HVAC is not a luxury but a necessity. The weather can often be below freezing for long periods in the winter and hot and humid in the height of summer. Okay, not everywhere has both, but few areas have a truly temperate climate all year round. So when the HVAC goes phut, what do you do?
With a new system costing anything from $5,000 to $10,000 or even more, what do you do if you simply haven't got the money put by. The only answer is to seek financing.
There are four main types of credit you can apply for:
Personal Loan
Taking out a personal loan is a common way of financing all sorts of expenditure. If you have a good credit rating and are happy about the repayments, a personal loan can be simple to apply for and one of the cheaper forms of finance. There will probably be an origination fee, but interest rates are likely to be competitive.
Credit Card
When you need a new air conditioning or heating, ventilation and air conditioning system, a credit card can be the simplest way of finding the money. Given a sufficient credit limit, there's no problem, and you might benefit from cash back or a 0% introductory period. Just be aware that if you don't pay it back quickly within an introductory period, you can quickly get into financial difficulty.
Home Equity
If your home has gone up in value since you bought it, you might qualify for a home equity loan. It is basically a second mortgage, and the security is provided by your home. This means the interest charged is likely to be rather less than that for an unsecured loan. Make sure there aren't unexpected fees involved.
Like a credit card, a home equity line of credit (HELOC) is another option for those with equity in their homes. This is another case where your home is used as collateral, so interest rates should be low, but you could be in trouble if you default.
Rather than either of these, you might consider a flat cash-out refinance package which involves borrowing the money to pay off your original mortgage and borrowing enough extra to pay for the HVAC upgrade. Make sure you understand the fees involved before committing to such a move.
Loan Programs
You may be able to take advantage of a loan program such as that offered by the Federal Housing Administration. The FHA PowerSaver Loan program allows sums of up to $7,500 to be borrowed without using your home as collateral and covers "insulation, air and duct sealing, water heating, and upgrading or replacing heating and cooling equipment."
Can You Finance a New A/C Unit?
Absolutely! Banks, personal lenders, and HVAC financing companies make it possible to pay for a new air conditioning unit over the course of several months or even years. It's important to note, though, that only individuals who've demonstrated responsible use of credit in the past are likely to qualify for the best financing terms.
Can an HVAC system be financed?
There's no reason why you can't secure finance for a new HVAC system. You are improving your home, so a home equity loan is likely to be approved, and if you are eligible, it is unlikely a personal loan will be turned down. It makes sense to look for finance for such a purchase rather than using up all your savings. Just make sure the finance is affordable for you and your situation. Missed payments will have a negative impact on your credit.
How Can I Finance an A/C or HVAC Unit?
If you're considering financing an A/C or HVAC unit, there are a number of routes you could take. Here are some of the most popular options.
Finance through the installer
Get a subsidized loan from your state of residence
Apply for a home equity loan to cover the cost
Charge it on a credit card
Apply for a federal grant if your income level is low
Can I afford a new A/C system or an HVAC system?
The affordability of a new A/C or HVAC system depends on your income and lifestyle. If you are already stretched financially, the extra burden of a loan might be too much. On the other hand, living without a temperature-controlled environment may not be an option. If your current system does fail, you may need to make sacrifices in other areas to pay for it.
How do I finance a replacement HVAC system?
The cost of an HVAC system depends on:
The equipment and sophistication of the system

Whether the whole system needs replacing or can the ductwork and so on be reused

The ease of installation
But whatever the details, it will likely be expensive, and most people won't be able to drop the cash in one go. That's why many in this situation need to seek outside finance. 
How do I finance a replacement A/C Unit?
The same choices of finance are available for air conditioning units (A/C) as a full HVAC. Of course, the cost will likely be less, and you may not need to borrow so much. With this in mind, a credit card might be the simplest option if you expect to be able to pay off the amount quickly.
Do HVAC companies offer financing?
Due to the costs involved, many manufacturers and retailers offer their own finance packages or do so in partnership with a finance company. They don't differ greatly from personal loans or credit cards, so check the details before signing.
Air Conditioning Financing Options Near Me
There's no one-size-fits-all financing option for homeowners in the market for a new A/C or HVAC unit. Rather, the best payment option depends on your needs, your credit score, and how much interest you're willing to pay. With that in mind, here's a closer look at some popular options and how they work.
Personal Home Improvement Loans
Many modern lenders offer personal home improvement loans you can use to finance an A/C or HVAC unit. Here's a look at three of the leading lenders and each of their advantages and drawbacks.
LightStream
» MORE: LightStream Personal Loans Review
Avant
Among the internet's leading lending platforms, Avant offers borrowers with less-than-stellar credit access to loans for HVAC units, whereas most banks would turn these applicants away.
Loan Amounts — $2,000 to $35,000
APR — 9.95% to 35.99%
Origination Fee — 4.75%
Time to Funding — Next day
Repayment Terms — 2 to 5 years
Pros & Cons
Avant is among the best for people with credit scores as low as 580
This lender charges late fees and administrative fees
Loan payments are flexible, and you only need an annual income of $20,000 to get approved
NetCredit
NetCredit is an online lender that considers more factors than simply an applicant's credit score when determining whether or not to issue them a home improvement loan.
Loan Amounts — $2,000 to $10,000
APR — 34% to 155%
Origination Fee — None
Time to Funding — 1 to 3 days
Repayment Terms — 6 months to 5 years
Pros & Cons
NetCredit is a great option for applicants with poor to average credit scores
Homeowners with decent to excellent credit scores will get better rates elsewhere
On-time payments with this lender can help homeowners with bad credit improve their scores
Upgrade
Upgrade specializes in low, fixed-rate loans that borrowers can use for major purchases, home improvement, debt consolidation, or to refinance balances on existing credit cards.
Loan Amounts — $1,000 to $50,000
APR — 7.99% to 35.89%
Origination Fee — 1.5% to 6%
Time to Funding — 1 day
Repayment Terms — 3 to 5 years
Pros & Cons
Upgrade loans are a solid option for applicants with below-average to decent credit scores
Many borrowers choose Upgrade because the lender makes it easy to consolidate debt
You're not likely to get approved if you have less than $800 left over at the end of each month
Credit Cards
Some individuals might choose to use a credit card to pay for a new HVAC unit, either because they don't qualify for any other options or because they want to capitalize on the rewards credit card companies offer, such as points or frequent-flyer miles.
Pros & Cons
If you have good credit, you could qualify for a promotional APR of 0%
APRs with credit cards are typically far higher than personal loans and lines of credit
You could accumulate a tremendous amount of points or miles depending on the credit card
Lines of Credit
If you've developed a substantial amount of equity in your home, or if your personal bank account is in good standing, you may qualify for a home equity line of credit or a personal line of credit to cover the costs of an HVAC unit.
Pros & Cons
APRs on lines of credit are typically lower than rates with credit cards and personal loans
If you miss payments on a home equity line of credit, you could potentially lose your home
You could end up "underwater" depending on the value of your home and market conditions
Manufacturer Financing
Many HVAC manufacturers and installers offer their own in-house financing options, making it easy for homeowners to handle installation, maintenance, and financing all through a single company. But are these arrangements really a good deal?
Pros & Cons
HVAC companies are more likely to approve applicants with bad credit just to close the deal
Interest rates with manufacturers are generally higher than personal loans and lines of credit
Financing directly through the manufacturer or installer eliminates the middleman
Apply for an HVAC & A/C Loan
If you are seeking finance for a new HVAC or A/C system, we're here to help. We compare hundreds of loans to offer you the best terms for your circumstances and needs. Click here to find the funding you need today.
Conclusion
Now that you know the basics of financing A/C and HVAC units, apply for a loan with any of the above lenders or the other companies featured on our site. You might even qualify for no credit check HVAC financing with the right lender. In any case, these financing options can help you and your family beat the heat in the summer and stay warm in the winter.
Other Personal Loan Types
Home Improvement Financing Articles