PrimeRates provides access to personalized business loan offers through our simple and quick pre-qualification application. Once you're pre-qualified, you can select the best offer for you and finalize the business loan application with the lender.
Apply in minutes

Our simple application takes less than 5-7 minutes to complete.

Select your business loan offer

Choose the offer that best fits your needs by comparing loan amounts and terms.

Receive funds quickly

Finalize your loan offer with the lender you selected to receive your funds.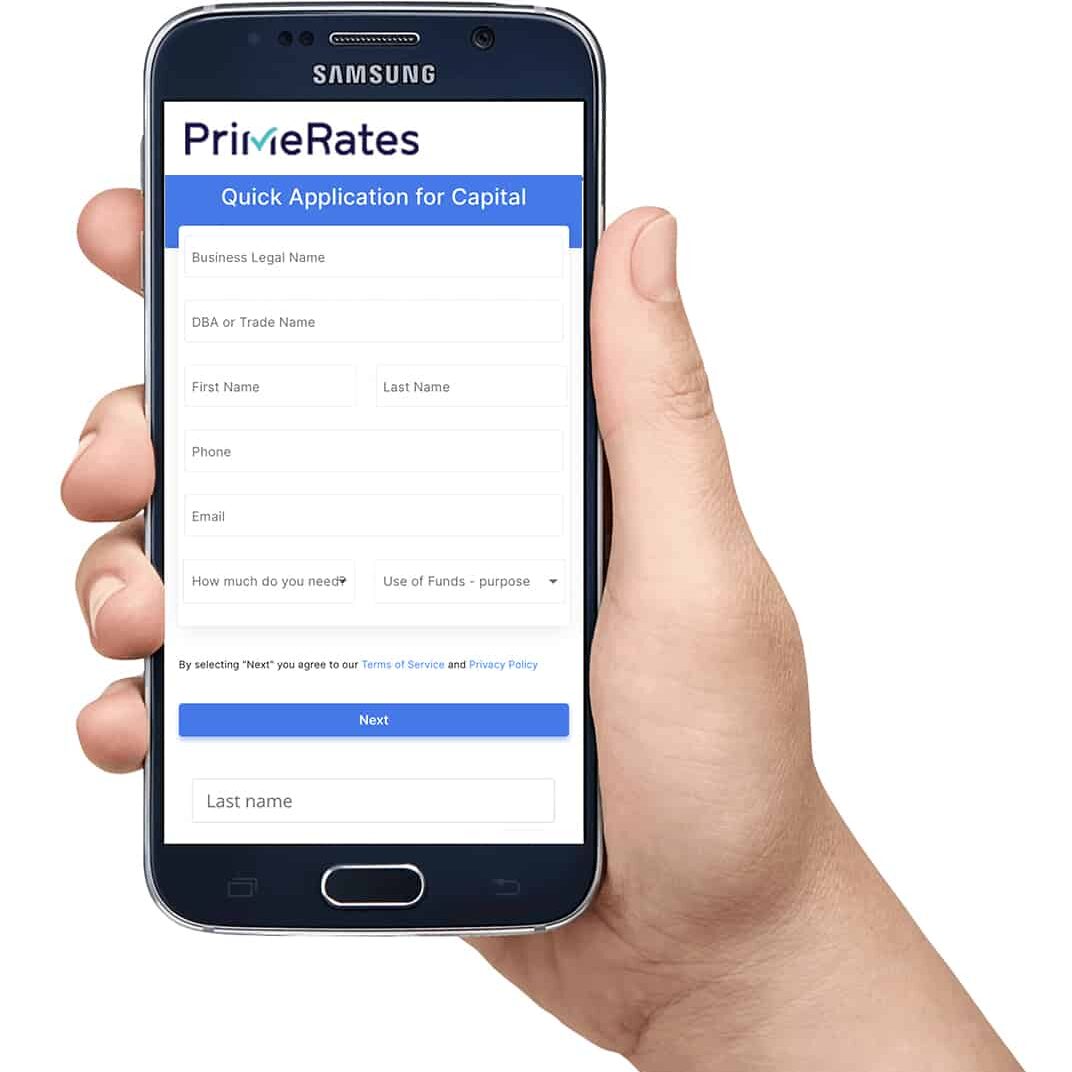 Best Medical Practice Business Loan Options
Small business medical practice loans can help expedite the launch or growth of your business. However, it's important to make an educated choice when selecting a lender to set yourself up for success. PrimeRates.com can simplify the shopping and application process for medical practice loans. You can receive personalized loan offers through PrimeRates' quick and simple pre-application online process. Below, we have compared some of the top lending options for medical practice loans.
What is a medical practice loan?
Small business loans for medical practices can help doctors who own their own practice secure funding. Most doctors can qualify for a medical practice loan due to their solid net worth, high earning potential, and consistent revenue. Doctors can avoid hefty amounts of paperwork and save time using alternative lenders. 
How does medical practice financing work?
The specifics of how medical practice financing works can vary depending on the type of loan you use. If you use a term loan such as a personal loan or traditional business loan, the loan should be funded as a lump sum and repaid in monthly installments. If the loan has a fixed interest rate, payments should be the same during the life of the loan. If you use a line of credit, you will be able to draw money from the line of credit as needed. Interest will only be charged on the funds you draw. Just like a term loan, the funds borrowed will need to be repaid. Regardless of the type of loan you pursue, you will need to start by getting pre-qualified.
Can you get a medical practice loan?
You can get a medical practice loan as long as you meet the lender's qualifications. Most will want to see a high credit score and strong business history, but others may use assets as collateral. If you are unable to meet these qualifications, you may want to look into alternative loans and other financing options. Most banks and credit unions offer medical practice loans. In addition, online lenders can offer medical practice loans too. Online lenders are becoming increasingly popular for offering competitive terms and unbeatable convenience.
Types of medical practice loans
There are many types of medical practice loans available. Here are a few you can choose from.
Medical practice loans: Medical practice loans are essentially just business or personal loans used by medical practices. Typically, these are term loans with fixed rates and fixed payments. In most cases, medical practice loans can be used for any business-related expense.
Equipment financing: Equipment financing must be used to purchase equipment. It's a good option for businesses that can't show a high credit score or a strong business history because the equipment is used as collateral. However, if the business defaults on the loan, it could lose its equipment.
Term loans: Term loans are provided in lump sums and must be paid back over time with interest. Term loans are usually best for one-time expenses or businesses that need a lump sum of cash. They can come with a variety of terms, usually ranging from 1-5 years. You should be able to find term loans with single-digit interest rates. Term loans usually do not require collateral and are extended based on a borrower's creditworthiness and or the financial stability and track record of a business.
SBA Loans: The SBA (Small Business Administration) is a government agency with the mission to support small businesses. While you may have to complete a vigorous application process, the SBA can provide competitive loans for small businesses. They tend to be more forgiving than bank loans if a business defaults on payments.
Business Line of Credit: A business line of credit is a revolving line of credit that is usually secured by an asset. For medical practices that need access to cash on a regular basis, a line of credit may be the best option. You will have access to a certain amount of cash that you can draw from at any time. You will only be charged interest on the money you draw.
How much does it cost to start a medical practice?
Starting a medical practice can be expensive. Let's take a look at some of the costs...
Dentistry - The average total cost for new dental startups can range from $350,000 to $500,000.
General Medicine - Starting a small general medicine practice can range from $70,000 to $100,000 plus. 
And More Practices
No matter what kind of private practice you intend to open, initial startup costs can range from $20,000 to $30,000. 
What Are The Restrictions On Medical Practice Loans?
A medical practice loan is a loan designed to help healthcare professionals fund their practice. The loan provides the money that is required to either start, operate, or grow a business in the medical service industry. Medical practice loans can come in amounts of anywhere from $25,000 to $5,000,000. The loan can be used for a number of expenses, however, many lenders have restrictions on using medical practice loans to cover personal expenses. The money is only intended to be used to start a medical practice, purchase equipment, promote your business, or purchase an existing medical practice. 
Although the lender most likely will not be overseeing how you use your funds, it is the IRS and the federal government who may take notice if you use medical practice loan money to pay off personal debts or to make personal purchases. It's a good idea to keep diligent records of how you spend the money from a medical practice loan to have proof that you're complying with all federal business regulations.
Pros and Cons of financing your medical practice
Pros
Launch or grow your business faster

Build business credit 
Cons
Taking on debt

Interest and fees
What are the average interest rates I can expect to pay for a medical practice loan?
The interest rates you pay for medical practice financing will vary depending on a few factors. One is the type of loan you're getting. If you qualify for a bank or SBA loan, you may be looking at rates of 5.5% – 8%. SBA loans are designed for small businesses that need funding. The average business loan rate at banks is between 2.54% - 7.02%. Keep in mind that rates can vary depending on several factors so you may qualify for a rate higher or lower than the average. This is why it's important to check several offers based on your financial situation to ensure you are getting the best deal possible.
What credit score is needed to apply for a medical small business loan?
Most lenders will want to see a good credit score before approving you for medical business loans. Basically, the higher your credit score is, the more likely you will be to get approved and the lower your interest rates will be.
To qualify for a business loan you should have a credit score 640 or better. However, it's a good idea to aim even higher. The higher your credit score is, the lower your interest rates should be. It's ideal to have a score of 700 or above.
If your score is below 640, you may still be able to qualify, but you will find it difficult to get anything other than a short-term loan that comes with high interest rates.
If your score is below 550, you may want to look into other lending options or apply with a co-applicant.
Can I obtain medical practice business financing with a 600 credit score?
A credit score of 600 is a little low but you can still qualify for a loan. Lending Club and Quarter Spot are two examples of lenders that can accept businesses with credit scores of 600 and even lower. You will have better chances of getting approved if you can accompany your score with a strong business history.
Keep in mind that lenders that accept lower credit scores may charge higher interest rates.
How Can You Use a Medical Practice Loan?
If you're looking to open or expand a medical practice, you can use a medical practice loan to help pay for some or all of the costs associated with your undertaking. Again, medical practice loans are typically for any amount between $25,000 and $5,000,000, depending on how much you need and what you're able to qualify for. 
Here are some of the most common ways that medical professionals use medical practice loans.
To purchase an existing medical practice

: Opening your own medical practice and building it from the ground up can take a lot of time and effort over years or even decades. If you're looking to get into a practice that is already established, sometimes it may be better to purchase an existing medical practice from a medical professional who is looking to retire or relocate.

Open your own medical practice

: Opening your own practice can require quite a bit of startup cash to secure a good location, purchase medical equipment, supplies, and office furniture, hire employees and run advertisements. You can use the money from a medical practice loan to cover all these costs and to give you a good amount of working capital to work with before you begin to generate revenue. 

Expanding your medical practice

: Maybe business has been good and you're looking to expand your practice to include more medical professionals and employees, and possibly move to a larger space. Having a larger space with more employees and new medical equipment requires a good amount of cash on hand. With a medical practice loan, you can pay for all of the costs associated with the expansion as well as launch a widespread marketing campaign to advertise your new location and new capabilities. 
Whether you're looking to open a new practice, expand an existing one, or acquire someone else's practice, one major expense that you may need to reckon with is the commercial property that you intend to use. Medical practice loans are commonly used to pay for a commercial space for the practice to operate in.
If you're looking to lease a property, then you can use the funds from a medical practice loan to cover the first and last month's rent and the damage deposit. Depending on how much the rent is, that could easily be tens of thousands of dollars upfront. 
If you're looking at purchasing a commercial property, then you may want to consider an SBA 504 loan to cover the cost of buying, constructing, or renovating a commercial property.
Who Can Apply For Medical Practice Loans?
Medical practice loans are designed to help a wide variety of healthcare professionals finance their businesses. Some of the most common medical professionals who obtain medical practice loans include physicians and dentists. However, these are not the only two professions that are allowed to access funds through medical practice loans. 
Here is a list of some of the most common medical professionals who seek financing through medical practice loans. 
Plastic surgeons

Psychologists

Psychiatric professionals

Optometrists

Chiropractors

Pediatricians

Dermatologists

Physical therapists

Reiki practitioners

Massage therapists

Nurse practitioners
How fast can a healthcare business loan be funded?
Alternative lenders can fund medical practice loans as soon as one business day.
Best Medical Small Business Loan Options
Online Term Loans
Online terms loans can secure your business a lump sum upfront that you must repay over a set period of time. 
Pros 
Borrow large amounts

Long repayment terms

Quick approval and funding

Requirements may be looser
Cons
Payments begin immediately after funding

Collateral may be required

Shorter term loans 
OnDeck
Originally founded in 2017, OnDeck is one of the largest online small business lenders that can provide quick funding. 
Pros
Transparent terms

Access to loans through business debit cards feature coming soon

Funds available quickly
Cons
Higher APRs

Origination fee

No factoring is offered (all funding options incur debt)
» MORE: OnDeck Business Loans Review
StreetShares
StreetShares is an online lender that can provide lines of credit, installment loans, and contract financing for medical practices. It was originally founded by veterans for veterans, but can serve non-veterans as well. 
Pros 
Relaxed borrower qualification

Competitive rates

No prepayment penalties

Outstanding customer service
Cons
Not the best option for larger businesses

Must have 1 year in business or $100,000 in revenue
LendingClub
LendingClub offers peer-to-peer lending options with fast approval and reasonable interest rates. Peer-to-peer lending connects people with money to people who need to borrow money. 
Pros
Clear terms outlined prior to signing up for a loan

Well established pattern of service

36- or 60-month terms

Information easily accessible on their website

Receive pre-approved offer in minutes

Easily apply online

Loans are usually funded in less than 10 days

Competitive interest rates between 6 to 30 percent

Nationwide availability for most types of credit
Cons
Application process may require copies of tax documentation

Passes accounts into collection quickly after a missed payment

Unsecured loans only
» MORE: LendingClub Business Loans Review
QuarterSpot
Founded in 2013, QuarterSpot is an online lender that can provide short-term loan products for medical practices. 
Pros 
Minimum credit score 550

Prepayment discount

Transparent terms and fees
Cons
Additional fees may apply

High origination fee

Moderate factor rate
SBA 7(a) Loans
The Small Business Administration (SBA) is a government resource created to encourage the growth of small businesses. The SBA may be a more affordable and accessible option for medical practices that need funding. 
Pros 
Easier to secure than traditional loans

Lower interest rates

Down payments as low as 10%
Cons
Personal collateral may be required

Long application process

Lenders have more discretion in setting loan terms 
SmartBiz
SmartBiz is an online lender that can provide financing for medical practices. 
Pros
Low APRs

Repayment terms up to 10 years

Easy application and approval process
Cons
Variable APR

Longer loan term can increase the cost of the loan

Strict requirements on how money is spent

High fees
» MORE: SmartBiz SBA Loan Review
A business line of credit can be compared to a business credit card. However, with a business line of credit, you can withdraw cash if necessary. 
Pros 
Helps balance cash flow

Only pay for what you use

Take advantage of more opportunities
Cons
Charges and fees

Difficult to qualify for

Low borrowing limits
BlueVine
BlueVine can provide capital for small to medium-sized B2B and B2G businesses. This fintech company is known for invoice factoring and servicing funding requests faster than most of its competitors. 
Pros 
Fast and easy application process

Funding decisions typically made within 24 hours

80% of production is from repeat customers

No hard credit checks
Cons
No funding for B2C companies

Prefers personal FICO scores above 600

Factoring transactions are full recourse
» MORE: BlueVine Business Loan Review
EasyFunding
EasyFunding is an online lender that can work with bad credit borrowers and finance medical practices. 
Pros
High approval rates

Works with bad credit

Flexible payments

Quick funding
 Cons
Traditional Banks
Traditional bank loans may have lower interest rates but can be harder to qualify for. 
Pros 
Low fixed interest rates

Available for many uses

Predictable monthly payments
Cons
Difficult to qualify for

Longer wait time

Collateral may be required
Which business loan is right for your medical practice?
Determining which types of medical practice financing is right for your business will depend on several factors including what you can qualify for, how much money you need, what loan terms you're comfortable with, what you want to use the money for and what works best for your business. Once you consider these factors, you will be able to decide on an option that's best suited to your needs.
When you determine which type of lender and loan are right for you, compare two or three similar options based on the APR which includes loan fees and interest rates. The one with the lowest APR should be a priority.
How Do You Qualify For A Medical Practice Loan?
To qualify for a medical practice loan, you should first be a healthcare professional who is looking at opening their own practice or expanding an existing one. Also, if you're a healthcare professional looking to acquire someone else's existing practice, then you may qualify for a medical practice loan as well. 
Whether you're a physician, chiropractor, or any other type of medical professional, you should be fully licensed in your profession. Lenders may require proof of licensure during the application process. 
Aside from being a healthcare professional, you're going to need good to excellent business and/or personal credit scores to qualify for a medical practice loan. If you have bad credit, you still may be able to qualify for a medical practice loan, however, you may be required to provide some collateral in the form of business or personal assets. 
If you already have your own practice, then a lender may require that you use the business property or specialized medical equipment as collateral to secure the loan. 
If you're just starting out, then you may be required to sign a personal guarantee which allows a lender to come after your personal assets if you should happen to default on the medical practice loan.  
Other factors that lenders may consider to determine your eligibility for a medical practice loan include business experience, income, and net worth.
The initial first step toward qualifying if getting pre qualified. However, asking out specific requirements before proceeding with the loan will help you prepare and avoid any major challenges or disappointments. 
How Do You Apply For A Medical Practice Loan?
There are many different places where you can apply for a medical practice loan. If you belong to a large bank, you could always check with them to see if they offer medical practice business loans and what it takes to qualify. Otherwise, you could always look for a medical practice loan through a local credit union, online lender, or the SBA. 
The Small business administration is a great place to find medical practice loans, however, they are typically much more difficult to qualify for than a conventional medical practice loan through a bank, credit union, or online lender. Not only are SBA loans much harder to qualify for, but the process can also take much longer as well. 
The main reason for this is that a large portion of an SBA loan is guaranteed by the US government. Because of this, SBA loans often can come in larger amounts, with longer terms, and lower interest rates than conventional business loans.
Either way, the process for applying is pretty straightforward and similar. 
If you're looking for an easier way to obtain a business loan, you can start shopping online. There are plenty of competitive and legitimate lenders that operate online. At PrimeRates you can access an entire network of trusted and vetter lenders. By checking offers at PrimeRates you can shop real offers with no credit impact, thus expediting the business loan process. 
Here are five steps involved with applying and securing a medical practice business loan. 
Prepare all the required documents: Whether you're applying for a conventional business loan or an SBA loan, you're going to need a large number of documents to qualify for a medical practice loan. Although every lender may require different documents, here is a list of the most commonly needed documents to determine eligibility for a medical practice loan.
Personal and business tax returns

Balance sheet

Income statement

Bank statements

Any current lease agreements

All relevant business licenses

Articles of incorporation

Business plan and/or loan proposal

Financial projections
Check offers: Once you have documentation ready to go, you can shop offers. Getting pre qualified usually involves a soft credit check following an inquiry. At PrimeRates you can check multiple personalized loan offers in one place with no credit impact. Simply select the offer that works best and proceed with step three with the lender. 
Apply: When you find a loan offer and a lender you would like to work with, you can go ahead and complete the loan application process with them. Once all the information and required documents have been received, the lender will then prepare a loan agreement. The loan agreement will detail all of the terms and conditions of the loan including monthly payment amount and payment due date, interest rate, and if there are any other fees or penalties that could apply under specific circumstances. If you're comfortable with all of the terms and conditions outlined in the loan agreement, go ahead and sign.
Receive funding: After the loan agreement has been signed, funding could hit your business account in as little as 24 hours or within a certain number of business days. Funding times differ depending on the lender.
Pay back the loan: After you receive the funds, go ahead and make the monthly payments until the loan plus interest is paid in full. 
Choosing The Right Medical Practice Loan For Your Practice
Choosing the right medical practice loan will have a lot to do with your success. It's important to invest the time it takes to secure the right loan. Luckily, at PrimeRates you can save time and money. We can help you find the right business loan offer faster. Within minutes you can access the best offers personalized just for you at
PrimeRates
. Skip false advertising and hope. Replace it with real offers that are just for you. Simply submit some basic information and access offers from a network of vetted and trusted lenders. With no credit impact, investing a little bit of time in checking offers at PrimeRates can have a healthy ROI. Our lending partners are experts at what they do, therefore, you can avoid red flags or scams by working only with a network of top-rated lenders.
Business Loans By Industry