Are you ready to take that next big step in your business? Often, these big steps toward success require a lot of money upfront – money we don't have (or want to have) to hand. You may need a $200K business loan to have enough working capital to reach your goals, to buy new premises, or take the leap to open an entirely new location.
Whatever your reasoning, this is an exciting time, and this article will take you through how to get a business loan for $200K and what loan options are available to you.
Loans to Consider for a $200K Business Loan
There are three main types of business loans you should consider, SBA loans, Term loans, and Equipment loans.
SBA Loans
Small Business Administration (SBA) loans are one of the most common loans used by small businesses as they often have the most flexible repayment terms for $200K business loans. You can use an SBA loan for:
Working capital
Equipment purchases
Refinancing
Buying real estate
SBA loans generally require a higher credit score, starting at around 620, which means that they can be harder to qualify for than other loan types. These loans typically take a while (weeks or even months) to fund, but do generally offer the lowest interest rates.
There are two types of SBA loans available for a business loan of $200K: SBA 7(a) Loan and SBA Express Loan. We will go into these in more detail a little later.
Loan Amount:
$30,000 - $350,000
APR Range:
9.7% - 11.04%
Time To Fund:
Typically take several weeks to fund, but can fund as quickly as within seven days.
Loan Term:
Maximum loan term is 10 years.
Origination Fee:
4.00%
How To Qualify:
675+ Personal credit score
$50,000+ Annual revenue
Great Option For:
Borrowers with good credit
SBA loans
Funding real estate purchases
Refinancing debt
Credit Check?
Soft credit check and hard pull
Co-Applicants Accepted?
No cosigners
Direct Pay-Off To Creditors?
No
Click "Check Rates" to apply to SmartBiz
» MORE: SmartBiz SBA Loan Review
Term Loans
Term Loans are another option available to you for a $200K business loan. These allow small businesses to borrow amounts from $5,000 to $2 million and, although the time of funding varies, you can get the money in as little as 24-hours. With a lower credit score requirement than SBA loans, at 550, this may be the best option for your small business. The interest rates on term loans vary, but are usually higher than SBA loans and can be substantial if you have poor credit. Generally, you need to show some proof of revenue and profit in the form of a bank statement or profit and loss statement before your application will be approved.
Equipment Loans
If you need a $200,000 business loan purely to fund new equipment purchases, consider an Equipment Loan. Equipment loans allow you to borrow anything up to $250K and enable you to pay for new equipment in installments rather than one lump sum, so the payment is more manageable. Loan terms will often depend on how long the equipment is estimated to last, but they are generally set at 2-10 years (though can be as much as 25 years), with interest rates anywhere from 2% to 20%. Equipment Loans are also a great way to build up your credit score relatively quickly, which will benefit your small business in the long term.
How large of a Business Loan can you get?
How large of a business loan you can get depends on a few factors that are all individual to your business. These factors are:
Annual gross sales
Existing debt
Creditworthiness (which indicates to the lender how reliable you will be when it comes to paying the money back)
You should also know that the majority of lenders will not lend more than 10-30% of the annual revenue of a business. Therefore, if your revenue is particularly low, or you already have debt, you will find that your loan options are limited.
Most online loans will require you to sign a personal guarantee that promises you will use your assets to pay back the loan if your business is unable. This guarantee is something you need to be aware of if you're determined to avoid it, or if you don't have significant assets to guarantee your loan.
When applying for a loan, it quickly becomes clear that it is important to have a good credit score as lenders will only give out large amounts to borrowers they can be sure will be able to pay back large debts on time and in full. If you're looking to build up your credit score, you should think about getting a business credit card. Not only will it help you build up credit just through everyday expenses, but you can also earn rewards that can benefit your small business.
However, there are still business loan options for business owners with bad credit. Here are some of the loan options available to those with "bad" credit:
  Short Term Loans: Short Term Loans usually have terms from 3-18 months, with money paid back daily or weekly straight from your business bank account. These loans have high-interest rates compared to traditional loans.
  Short Term Lines of Credit: Short Term Lines of Credit have particularly low credit limits and may offer more funding than a short-term loan, but they also come with high-interest rates.
  Invoice Financing: This allows you to use unpaid invoices as collateral to get advances, although for a fee. Once your client has paid the invoice, you'll get that money back, minus the fee for the advance.
  Equipment Financing: If you have bad credit, you can still get an Equipment Loan and use the new equipment you purchase as collateral for the loan. This way, if you are unable to repay the loan, the lender will just take the equipment.
  Merchant Cash Advances: This should be a last resort. Merchant Cash Advances are extremely costly as they require you to repay not only the amount lent to you from your daily credit card sales but also extra fees.
How do you qualify for a $200K Loan?
There are several things you need and can do to get a business loan:
Building Your Credit Score (Personal and Business)
A personal credit score evaluates how reliable you will be at repaying personal debts, such as car loans, credit cards, or a mortgage, and ranges from 300 to 850. You also have a business credit score, which typically ranges from 0 to 100. Regardless of which type of credit score we look at, you need to pay your bills on time, not have too much debt, and ideally, a low utilization score (i.e., have more credit available to you than you've borrowed).
If you intend to apply for an SBA loan or a loan from a bank, they are likely to look at both these scores; however, online lenders tend to focus on personal credit. They will pay more attention to the cash flow of your business and your business history. This is another reason why it's always a good idea to keep your personal credit healthy.
Have (or Create) a Solid Business Plan 
When you're dealing with a lot of money, such as a $200,000 business loan, lenders will want to see a business plan. This business plan should give them a good understanding of how you will use the money and that you are serious about your ventures, which generally indicates good cash flow. If you do this effectively, your lender will have more confidence in you and your business, and so are more likely to approve you for a loan.
A strong business plan should include:
A description of the company
A description of what the business provides
Management team
Industry analysis
Plan of operations and facilities
Strategies for PR, marketing, and sales
SWOT analysis
Collateral
To qualify for a small business loan, you will often need to provide some kind of collateral, such as real estate or equipment. This collateral will be taken and sold by the lender if you are unable to repay your loan for any reason. Some loans will require you to sign a personal guarantee that could jeopardize your personal assets and lead to a reduced credit score.
Are there SBA Business Loans for $200K?
Yes, there are two kinds of SBA loans to consider:
SBA 7(a) Advantage Loans - An SBA 7(a) Advantage Loan allows you to borrow anything up to $250K, so this is a great option for a business loan for $200K, especially if your revenue or collateral is low. You just need to meet the minimum criteria set by the SBA.
SBA Express Loans - If you are looking for a speedier application process, you can take advantage of an SBA Express Loan. Applications for this type of SBA loan can take as little as 36 hours, and you can borrow anything up to $350,000, so is the perfect option if you are looking to get a $200K business loan fast. You should be aware, however, that interest rates for SBA Express Loans can be high in comparison to other SBA loans.
» MORE: Compare SBA Loans
What lenders offer $200K Business Loans?
Here are 5 of the best lenders you should consider for your $200,000 business loan.
SBA Loans: SmartBiz - Look to SmartBiz for your SBA Loan. They offer SBA loans of $2,000 to $350,000 with terms of 1-7 years. SmartBiz prides itself on low-interest rates and will fund you fast, provided that you meet the minimum credit score requirement of 650.
Term Loans: Blue Vine - BlueVine offers traditional term business loans up to $250K, with terms of 2-5 years. BlueVine is great for new businesses as they will help even if they are less than a year old, providing you have a personal credit score of 600. The downside, however, is higher interest rates than other lenders.
Term Loans: OnDeck - Another option is OnDeck. They also offer traditional term business loans of up to $250K with terms between 2-4 years. Many of their loans require you to sign a personal guarantee or a lien on your business assets, but they have a relatively low credit score requirement of 600, need less paperwork than other lenders, and fund you quickly.
Equipment Loans: SmartBiz - SmartBiz loans are also an ideal option for equipment financing as they can offer up to $350K with terms as long as 10 years.
Equipment Loans: StreetShares - Another alternative is StreetShares. They offer business term loans up to $250K to those with solid cash flow and good credit. StreetShares loans have low-interest rates and provide higher amounts than other lenders. They even provide financing to new businesses who have only been in business for at least 12 months. You will need to have a minimum of $75,000 in annual cash flow to apply with this lender.
Calculating your $200K Business Loan cost
You can calculate the cost of your $200K business loan by using an online business loan calculator, which will take into account the loan term and the interest rate to give you the total cost of your business loan for $200K.
You can also do this manually by multiplying your loan amount by your interest rate. For example, if you borrow $200,000 and your interest rate is 10%, the total cost of your loan will be $20,000 (200,000 x 0.1 = 20,000).
How do you apply for a business loan online?
When you have chosen your ideal loan type, have a solid business plan in place, and gather together any documents you might need, such as financial statements, you are ready to move forward. It's always a good idea to compare rates to ensure you are getting the best deal you possibly can, and we can help you do just that.
PrimeRates provides access to personalized business loan offers through our simple and quick pre-qualification application. Once you're pre-qualified, you can select the best offer for you and finalize the business loan application with the lender.
Apply in minutes

Our simple application takes less than 5-7 minutes to complete.

Select your business loan offer

Choose the offer that best fits your needs by comparing loan amounts and terms.

Receive funds quickly

Finalize your loan offer with the lender you selected to receive your funds.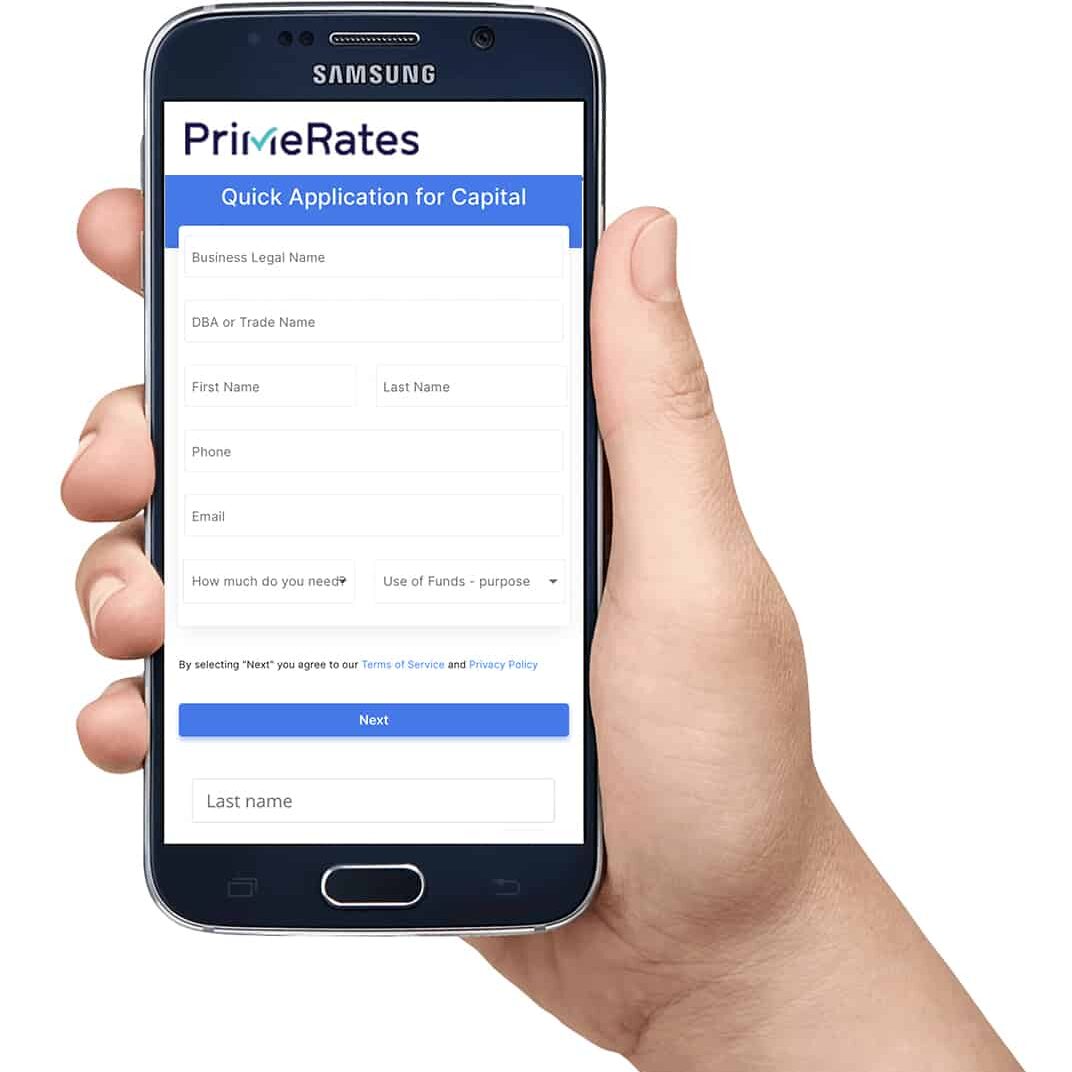 What Type of Business Do You Have?
More Business Loan Options
Business Loans By Industry