PrimeRates provides access to personalized business loan offers through our simple and quick pre-qualification application. Once you're pre-qualified, you can select the best offer for you and finalize the business loan application with the lender.
Apply in minutes

Our simple application takes less than 5-7 minutes to complete.

Select your business loan offer

Choose the offer that best fits your needs by comparing loan amounts and terms.

Receive funds quickly

Finalize your loan offer with the lender you selected to receive your funds.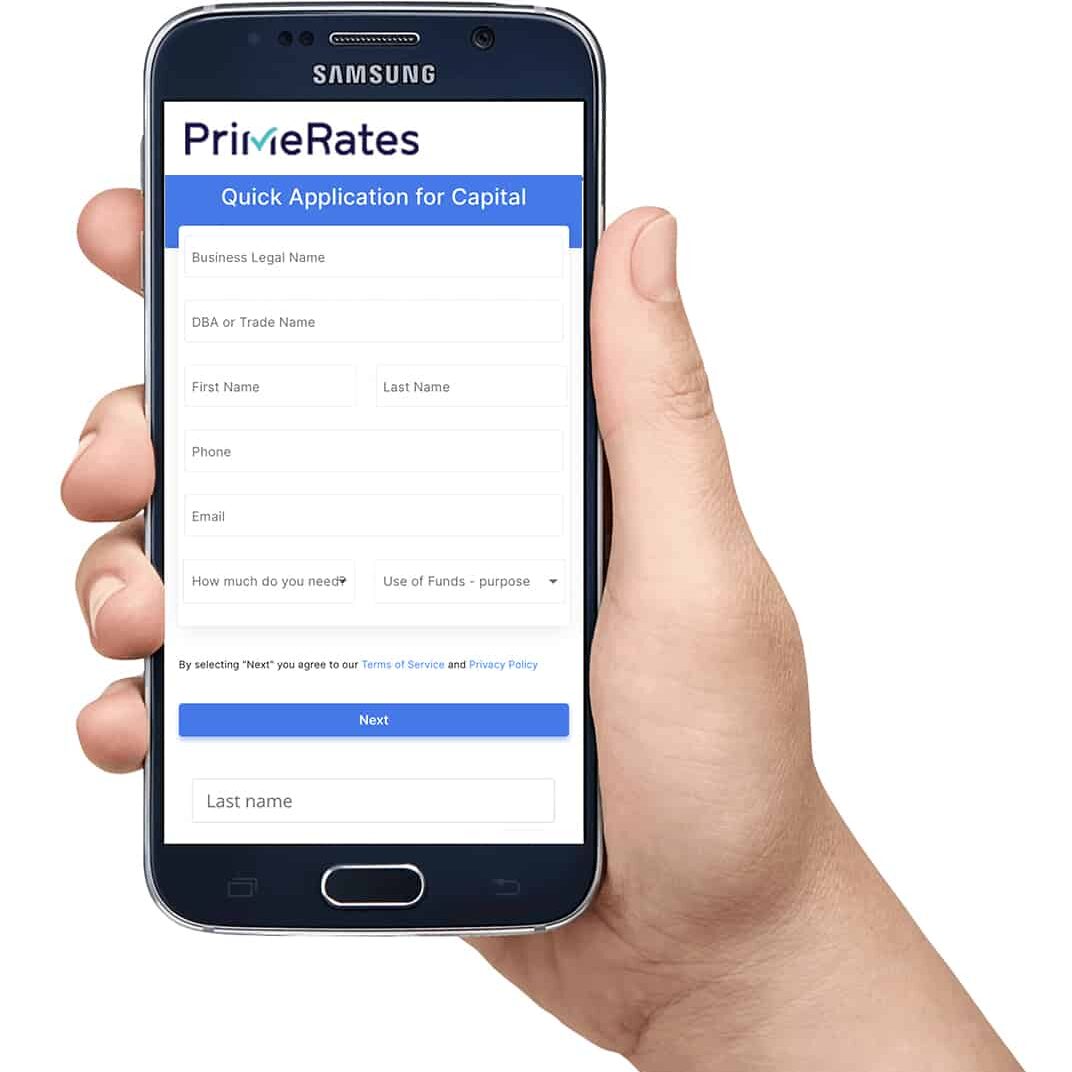 How To Get a $150,000 Business Loan
If you have decent credit and a somewhat established business, getting a $150,000 business loan to expand your operations or to increase your cash flow does not have to be an overly complicated process. There are many online lenders out there who are looking to do business with up-and-coming entrepreneurs and small business owners. When seeking a loan for your business, you may want to be aware of all the different loan types and finance options that are available to you. Different loan types work better for certain types of businesses and certain lenders may be better suited for your business's financial needs.
What can a $150,000 business loan be used for?
When you acquire a $150,000 business loan, there are several good ways to put the money to use. If your business needs some fresh talent to take on new roles or to help you offload some of your responsibilities so you can free up some time to network and focus on promoting your business, then using funds to hire staff is a great use of a business loan. Maybe you have a one-time opportunity to make a bulk inventory purchase with some incredible discounts that are just too good to pass up. Again, you can use a $150, 000 business loan to purchase new inventory at a bulk discount to increase your profit margins. 
One more reason to acquire a $150,000 business loan that many business owners do not think about is to increase your credit rating. Maybe you know for sure you are going to need a much larger business loan a couple of years down the road. By getting a smaller loan and making all the payments on time and in full, you may increase your credit rating which then may increase your chances of qualifying for a much larger business loan in a few years when you are ready for some serious expansion. 
What is the best time to get a $150k business loan?
Several different scenarios represent a good time to get a business loan of $150k. Maybe your business is beginning to surge in popularity and it is time to expand by increasing your inventory or opening new locations? A business loan can help you expand your business when the time is right. Another good time for a business loan is when you are just starting out and you need some working capital to cover daily expenses to keep the business running smoothly during the fragile beginnings. Having a solid cash reserve is always good business practice, and through a $150k business loan, you can make sure that your reserve is strong enough to cover any expenses thrown at you and your new business. 
Types of business loans
When you are starting to look for a business loan, you may be surprised to find out that there are several different options available. There are the more traditional routes of term, SBA, equipment, and personal loans, and then there are some other options that you may not be familiar with. Those more unconventional methods could include invoice factoring and financing, and merchant cash advances.
Conventional business loan methods: 
Term loans

: Financing of up to 1-million dollars and pay it back by making monthly payments over a predetermined period. 

SBA loans

: Financing of up to 5-million dollars that are backed by the Small Business Administration. Common loan repayment periods include 7, 10, and 25-years. 

Equipment loans

: Need some work vehicles, machinery, or any other type of equipment that is essential to the operation of your business? Secure an equipment loan to purchase what you need by using the equipment as collateral for the loan. 

Personal loans

: Though not a business loan per se, a personal loan can help you get a business started by loaning you up to $100,000 for any purpose that you choose, including creating a new startup. 
Unconventional financing methods:
Invoice factoring/invoice financing

: Secure money upfront by using your unpaid invoices as collateral to secure a loan, which is invoice financing, or by selling the invoices to a third-party company, which is called invoice factoring. 

Merchant cash advance

: By withholding a percentage of your credit and debit card sales each day, or by setting up automatic payments from a bank account, you can get a merchant cash advance. Be careful about companies offering this type of cash advance that charges interest rates as high as 350%. 
Other methods of financing not mentioned here include microloans through non-profit organizations and opening a business line of credit. Both of these options may be something you may want to consider before ultimately deciding which method of financing is best for you. 
What credit score do I need to obtain a $150k business loan?
Minimum credit score requirements are different for each lender and loan type that you may be interested in pursuing. The two main differences can be seen in minimum credit score requirements for SBA loans versus term loans and equipment loans. 
An SBA loan is backed by the small business administration and they have lower credit score requirements. For example, an SBA 7(a) loan or 7(a) express loan may have a credit score requirement of 650 or more. SBA CDC/504 loans may require a 680 or more. The SBA CAPLines program and SBA export loans may only require a credit score of 660 or higher, and SBA microloans may go as low as 620 for their minimum credit score requirements.
Term loans through a traditional financial institution may require a credit score of at least 720 to qualify, however, there may be some options for people with fair credit via the online lending market.
Equipment loans usually have lower minimum credit score requirements because the equipment can be seized to pay for the loan amount if you do happen to default on the loan. 
Do I need good credit to apply for a $150k business loan?
Having the best credit score possible based on your financial situation may increase your chances of qualifying for a business loan as well as help you secure the most favorable interest rates on the market. However, if you have bad credit, you may still qualify for a business loan. To learn more about bad credit business loans, click here.
What are the current $150k business loan rates?
Here is a small glimpse into some interest rates currently being offered on the three most popular types of business loan financing. 
SBA Loans:

SBA loans have interest rates from 5.50% to 8%. 

Lines of Credit:

Business lines of credit can have interest rates between 10% and 99%.

Term Loans:

Online lenders can offer term loans with interest rates between 9% and 99%
Interest rates will most likely vary greatly depending on the loan type and the specific lender. 
What are the business loan payments on $150,000 Loans?
A business loan of $150,000 comes with monthly payments that are determined by the length of the loan and the interest rate. Here are a couple examples:
A $150,000 business loan with a 10% interest rate borrowed over 5-year may have monthly payments around $3,187.06 per month while accumulating nearly $41,223.40 in interest. The same loan over 7-years may have a monthly payment closer to $2,490.18, but then the interest accumulated may be closer to $59.174.92. 
Is a downpayment required for a $150k business loan?
Down payments are not always required, however, they can be depending on the loan type and the lender. You should be prepared either way, and if you need a loan without a down payment, you may want to seek out lenders who offer business loans specifically with no down payment requirements. 
Where can I get a $150,000 business loan?
If you are looking to compare business loan offers, visit PrimeRates. At PrimeRates you can access some of the best small business loans up to $500,000. Our network of top national lending partners can help your business receive the funding it needs to grow and thrive. Alternatively, you can visit your bank or credit union to see if they can offer a business loan. These are only a few ways you can find business loans.
Browse more business loan options by amount
Apply for a $150,000 Business Loan
Before applying for a business loan, you may want to narrow down the type of loan you want to use. For example, SBA loans have pretty specific requirements to qualify. If you don't meet those requirements, you probably should look into another option. A platform such as PrimeRates allows business owners to browse lenders and what they could potentially offer. After you pick the lender you think is best you can apply online online for a business loan.
More Business Loan Options
What Type of Business Do You Have?