What Type of Business Do You Have?
Best LLC Small Business Loans For Good & Bad Credit
Securing an LLC business loan can help startups and mature entities grow or launch faster. So where do you start? PrimeRates.com can simplify the shopping and application process for LLC business loans. You can receive personalized loan offers through PrimeRates' quick and simple pre-application online process. Keep reading to discover the pros and cons of some of the top options for LLC business loans.
Can you get a business loan for a new LLC?
Legally formed LLCs can secure a business loan as long as they meet the requirements. If you're in the process of transitioning from a sole proprietorship to an LLC, then you will need to wait until the legal status of your business officially changes.  The process of becoming an LLC can take anywhere from a couple of weeks to a month or more depending on if you filed by mail or if you submitted your filing in person. 
Once your LLC has been approved, then you are free to apply for all of the same types of business financing that any other small business can apply for.
Some of the most common types of LLC business loans include the following.
SBA loans

: SBA loans for LLCs are business loans that are provided through the Small Business Administration. SBA loans are partially guaranteed by the federal government and the SBA, therefore, a small business owner may need to demonstrate more time in business, have a better credit score, and show a good amount of revenue in order to qualify for an SBA loan compared to other types of business financing. The most common type of SBA loan that LLCs apply for is the SBA 7(a) loan. The SBA 7(a) loan can provide up to $5,000,000 over 20 years for business owners looking to purchase commercial real estate, boost their working capital, or finance the purchase of machinery, equipment, and/or vehicles. Other common SBA loans include the SBA 504 loan which is used mainly to purchase commercial property and large machinery, and the SBA Express loan which can expedite funding of up to $500,000 for businesses that qualify.

Term loans

: Term loans are what are considered conventional business loans. An LLC can qualify for a term loan if they have a decent credit score, at least 6 months in business, and a strong revenue stream. Term loans are easier to qualify for than SBA loans and loan approval and funding take much less time. If an LLC obtains a term loan through an online lender, approval and funding can often be done within a few business loans. Term loans can come with loan amounts of up to $5,000,000.

Business lines of credit

: Many LLCs look into using a more flexible business line of credit when considering different types of business financing. The best part about a business line of credit is that you can borrow as little or as much of the line of credit as you want and only get charged interest on the amount you use rather than the entire credit limit. Also, when you make payments, the amount paid goes back into the credit line and can be borrowed again at a future date. 

Invoice financing

: LLCs that have a lot of orders coming in but that may lack the cash flow needed to take on larger requests often can use invoice financing to get the money they need to make sure they do not miss out on great opportunities. Invoice financing allows LLCs to sell or borrow against the pending invoices they have to get cash now that can be paid back once the customer pays the invoice.

Merchant cash advances

: If your LLC handles a lot of credit card transactions each day, you may be able to use a merchant cash advance to get a quick upfront sum of cash. A merchant cash advance can provide a short-term cash infusion that is paid by providing a certain percentage of your daily credit card sales. 
What is an LLC business loan?
In simplest terms, an LLC business loan is essentially a partnership that can deliver cash quickly. Online lenders can match business owners and help them grow, manage, or start their business.
How do you get a business loan for an LLC?
Business loans for LLCs are available through banks, credit unions, online lenders, and the Small Business Administration. Additionally, some types of business financing may be available through specialized financial service companies that offer invoice or PO financing, merchant cash advances, or business credit cards. With so many options it can be overwhelming to know where to start. To simplify the process and fasttrack a competitive LLC business loan, start by checking offers at PrimeRates.
The process for an LLC to apply for a business loan is the same as any other type of business. The application process can vary depending on the loan type, the lender, and the loan amount. To qualify for a business loan as an LLC, you should have a good to excellent credit score, a good revenue stream, and typically a minimum of 6 months to 2 years of time in business. 
How does an LLC loan work?
LLC business loans can vary depending on the type of loan you choose. For example, a conventional term loan for an LLC is typically funded as a lump sum and repaid in monthly installments with interest. If the loan is fixed, payments will be the same. Funds can be used for business purposes of any sort as long as there are no spending restrictions. Specifics can vary depending on the lender so be sure to clarify any detail you feel necessary before signing into the
How do you apply for a LLC business loan?
You have a few options when it comes to applying for an LLC business loan including:
Local bank
Local credit union
Online lender
Small Business Administration (SBA)
What documentation is needed to apply?
Similar to most business loans an LLC business loan typically requires documentation including:
Proof of business activity
Credit check
Verification of ownership
Financial statements
Potential business identification numbers
Who is eligible to apply for an LLC business loan?
If you can provide the documentation listed above you may be eligible for an LLC business loan. In addition, you must be a registered business for a minimum of 4 months and have an active business bank account.
Best Options for Financing Your LLC
Personal Loans
There are many ways you can obtain a personal loan to grow or launch your LLC, thus making it a competitive option.
Pros
Personal loan has many uses
No collateral needed
Loan amounts from $1,500 – $100,000
Reasonable rates
Available for most credit types
Cons
Fixed payment
Origination fees can apply
Prepayment penalties can apply
LightStream
LightStream offers competitive financing options for LLC business loans. They are a credible national lender that operates online as a division of SunTrust Bank.
Pros
Rate beat program
No fees
Low interest rates
Quick funding
Borrow from $5,000 to $100,000
Terms range from 24 to 144 months
Cons
Hard pull required
Seeks good credit candidates
LendingClub
LendingClub offers peer-to-peer lending options with fast approval and reasonable interest rates. Peer-to-peer lending connects people with money to people who need to borrow money.
Pros 
Clear terms
Quick online pre-approval
Competitive interest rates
Terms range from 36 to 60-months
Cons
Application process may require copies of tax documentation
Passes accounts into collection quickly after missed payment
Unsecured loans only
SoFi
Working with SoFi can be an attractive option for an LLC business loan if you have good credit.
Pros 
No fees
Terms range from 2 to 7 years
Fixed or variable APR offered
No collateral required
Borrow from $5,000 to $100,000
Low interest rates
Cons
Better for good credit borrowers
Strict approval terms
Hard credit pull
Slower funding
Prosper
In 2006, Prosper was one of the first companies to introduce marketplace lending and is still thriving with their model today. Prosper has funded over $5 billion in loans and targets people with fair to excellent credit.
Pros 
No prepayment fees
No collateral required
Fixed interest rates
Low interest rates
Borrow from $2,000 to $35,000
Cons
Requires minimum FICO score of 640 for approval
Only 3-year and 5-year terms offered
Origination fee
Not a direct lender
UpStart
Similar to LendingClub, UpStart is a peer-to-peer lending company that can provide financing for LLC business loans. UpStart may be a good choice for applicants with little to no credit history, steady income, and quality education.
Pros
Maximum loan term of 5 years
Competitive interest rates between 9.57 percent and 29.99 percent
Fast approval and funding process
Loans range between $1,000 and $50,000
Cons
Minimum credit score 620
Unsecured loans only
Loan origination fee of 1 to 6 percent
Does an LLC have a credit score?
Yes, LLCs can use a business credit score as well as the personal credit scores of each of the owners of the company when applying for new credit. If you are a new LLC, then you may have no other choice than to use personal credit, however, you can take a couple of steps to start building a business credit score for your LLC. 
Apply for a business tax identification number through the IRS.

Open business credit files with all the different business credit reporting agencies.

Apply for credit using your business tax identification number.

Pay all lenders and suppliers on time and in full.

Build a solid business credit history.
What credit score is needed for an LLC business loan?
Personal credit scores are often considered when applying for LLC business loans. While credit score requirements can vary by lender, most lenders are going to want to see a minimum credit score of 680 or higher. Also, it's important to note, that regardless of how good your personal or business credit score is, some lenders including SBA-approved lenders may require that you use commercial and personal assets as collateral to secure the loan. If a lender requires that you use personal assets to secure a business loan, then they may ask you and anyone in the company who holds a 20% or more ownership stake in the business to sign a personal guarantee. A personal guarantee bypasses the traditional protections granted by operating an LLC by allowing lenders to repossess the homes, vehicles, and other valuable personal assets of a business owner(s) if they should happen to default on the loan. 
How much loan can an LLC get?
The largest LLC loans are typically for up to $5,000,000 spread out over 20 years. However, the SBA loan does offer a loan of up to $5,500,000 through the SBA 504 loan program. The SBA 504 loan program is typically reserved for LLCs who are interested in purchasing commercial real estate or other types of fixed assets that can cost a lot. 
What are the pros and cons of LLC business loans?
There are many advantages and disadvantages to using an LLC business loan to fund your LLC. Here are some of the most common pros and cons of LLC business loans.
Access to large sums of money

Competitive interest rates

Easy and sometimes flexible monthly payments

Many lenders and loan types to choose from
Cash flow tied up into monthly payments

Can be expensive to borrow money if you have a low credit score or if you are a start-up
How much capital does your LLC business need?
All LLCs should have a good amount of working capital that can cover unexpected expenses and emergency repairs, and keep the lights on for an extended period, even during an economic downturn. The amount of capital your LLC needs will depend on business needs and existing cash. Before applying for an LLC business loan you should know how much you need and how the funds will benefit the LLC. 
Are business loans for LLCs worth it?
Yes, for many LLCs, the benefits far outweigh the costs of a business loan. This is especially true if you operate a business that can generate a high return on investment with the money lent to you in the first place. To determine if an LLC business loan is worth it you can start by checking offers to see what you can qualify for and what the cost is. 
To check offers with no credit impact, visit PrimeRates online. Within minutes you can access the best offers personalized just for you at PrimeRates. Skip false advertising and hope. Replace it with real offers that are just for you. Simply submit some basic information and access offers from a network of vetted and trusted lenders. With no credit impact, investing a little bit of time in checking offers at PrimeRates can have a healthy ROI. Our lending partners are experts at what they do, therefore, you can avoid red flags or scams by working only with a network of top-rated lenders.
Grow an LLC today with a competitive business loan. . . check offers now with no credit impact!
PrimeRates provides access to personalized business loan offers through our simple and quick pre-qualification application. Once you're pre-qualified, you can select the best offer for you and finalize the business loan application with the lender.
Apply in minutes

Our simple application takes less than 5-7 minutes to complete.

Select your business loan offer

Choose the offer that best fits your needs by comparing loan amounts and terms.

Receive funds quickly

Finalize your loan offer with the lender you selected to receive your funds.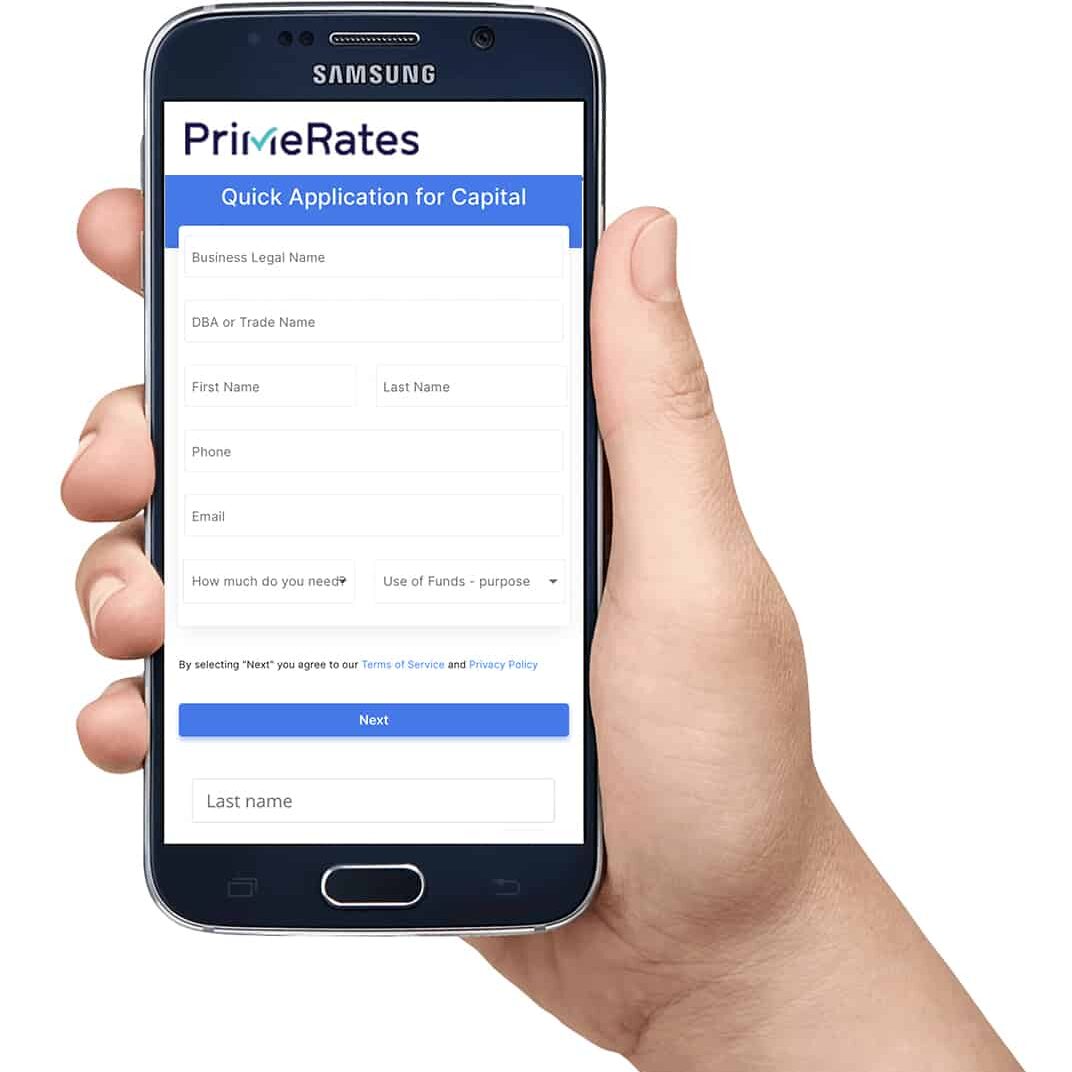 What Type of Business Do You Have?
Top Business Loan Articles