PrimeRates provides access to personalized business loan offers through our simple and quick pre-qualification application. Once you're pre-qualified, you can select the best offer for you and finalize the business loan application with the lender.
Apply in minutes

Our simple application takes less than 5-7 minutes to complete.

Select your business loan offer

Choose the offer that best fits your needs by comparing loan amounts and terms.

Receive funds quickly

Finalize your loan offer with the lender you selected to receive your funds.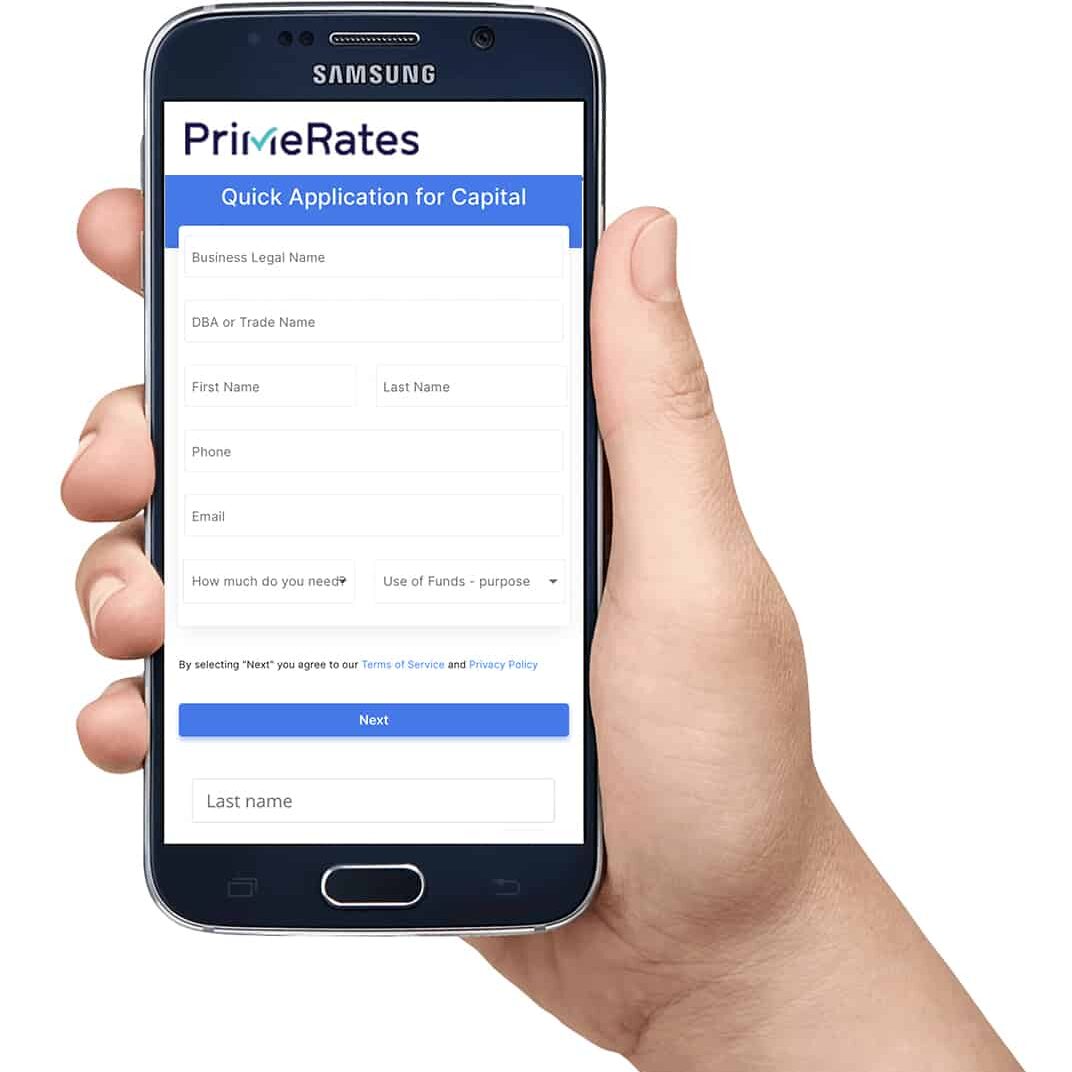 Information technology (IT) companies may need loans or financing in order to achieve growth and flourish. The IT industry is a lucrative and dominant industry with increasing demand. This encourages the finance industry to find ways to support information technology companies. IT companies and financial companies can work together to help benefit each other. Financing options for small and large IT companies is available. Below we have compiled valuable information you'll want to know if you are considering an IT company loan. 
What is Information Technology?
In simplest terms, Information Technology (IT) can be defined as the application of technology to solve organizational or business problems on a wide-ranging scale. Within the IT department, there are usually three primary areas of responsibility; governance, operations, and hardware ad infrastructure. IT governance typically handles the alignment of policies and processes to ensure they are effective and meet the organization's needs. IT operations is a much broader umbrella typically dealing with the day-to-day operations including tech support, maintenance, device management, security, and more. IT hardware and infrastructure typically work with the physical components of IT infrastructure. IT is an essential industry that serves many purposes. IT departments may operate differently from one another but all play an essential role in keeping things running. Without an IT department, most businesses and organizations would slow crawl. IT organizations must maintain a standard level of service, skilled employees, security, advanced systems and equipment, and more. Running an IT organization may be challenging and can require a lot of capital and investment. In addition, most IT companies are constantly innovating new ideas and trying new technology. There can be a lot of risks involved in running a cutting-edge IT company. However, there may also be a lot of rewards. If one thing is pretty certain in today's world it's that the IT industry will be around for the rest of our lives. 
Why would an IT company need financing?
Most IT companies require expensive equipment, operating systems, office space, licenses, vehicles, and more. This means that most IT companies need external financing. Whether you own a startup, small business, or large business you can qualify for an IT business loan. IT business loans can help companies improve cash flow, purchase equipment, pay payroll, and grow. Let's look at some of the most common reasons for IT business financing…
#1. Improve Cash Flow and Working Capital
Covering day-to-day expenses while investing in business growth can affect cash flow. It's critical that your business has enough cash in the bank to cover expenses, make purchases, pay employees, and more. Many IT companies use a business loan or business line of credit to improve cash flow. Although there may be fees associated with borrowing money they can be justified by the return on investment potential. At some point or another most businesses, small and large, need more working capital. 
#2. Expansion
IT business financing can help grow your company and take it to the next level. Whether you need to build a new location or purchase equipment, business financing can help. It can be challenging for companies to expand without financing. Financing can help expand your business without affecting cash flow or other operations. Keep in mind, that expansion is not always physical. Expansion can also include new systems that can potentially support the expansion of your company. Building a strong foundation and systems is the core of creating a successful business.
#3. Purchase Equipment, Inventory, Etc.
Equipment for an IT business can be one of the most important components. However, it can be costly to purchase and maintain. If you are struggling to come up with the cash to purchase equipment or inventory you should look into business financing. IT companies can use business financing to purchase, repair, or maintain equipment, parts, inventory, and more. Some business loans do not have spending restrictions meaning you should be able to use the money on just about anything business-related.
What are my options for IT company loans?
Navigating through financing options for IT companies can be overwhelming. When researching loan options you should start by focusing on options that cater to the size of your business. If you have a small IT business you should consider an SBA loan, business loan, or personal loan. If you have a larger and more established IT business you may want to consider a business line of credit or business loan. You should also keep in mind that the answer to your financial problems could be a mixture of a few different loans. Let's compare some options for IT company loans…
#1. SBA Loans 
SBA loans are designed to help startups and small businesses grow. SBA loans are partially guaranteed by the government which can make these loans less risky for lenders. Since there is less risk, you may be more likely to qualify. The SBA is an independent agency of the federal government that was created to help and protect small businesses while strengthening the overall economy. While the SBA does not loan money directly, they make it easier for lenders to access capital. The SBA created guidelines for SBA-approved lenders to follow in order to help them approve better loans. In order to use an SBA loan, you have to go through an SBA-approved lender. Some banks and online lenders are SBA approved. Although the loan is issued by the lender, the SBA guarantees up to 85% of any loss in the event the business defaults on the loan. Most SBA loans require at least 10% down and a personal guarantee. 
#2. Business Loans 
Small and large businesses that need to borrow a lump sum of money can use a business loan. Most lenders offer business loans up to $500,000 with repayment terms up to 25 years. Business loans may be easier to qualify for than SBA loans. In addition, business loans offer competitive interest rates and flexible repayment terms. Most banks, credit unions, and online lenders offer business loans. Online lenders may be the easiest to qualify for and typically have faster funding times. If you are considering a business loan you should visit PrimeRates. 
#3. Business Line of Credit
If you have a well-established IT business you may want to consider a business line of credit. In order to qualify you should have at least 6 months in business and $25,000+ annual revenue. Lines of credit allow access to a fixed amount of capital. Similar to a credit card, you should only be charged interest on the money you use. Lines of credit can be a smart way to finance inventory or equipment purchases and improve cash flow. IT lines of credit may be harder to qualify for than other options. In order to qualify with most lenders, you will need solid cash flow, collateral, and a good credit score. 
What documents will I need for IT financing?
Before applying for IT financing you should gather important documents you may need. Some documents that lenders may request during the approval process include…
Proof of residence

Proof of income

Identification

Bank statements

Business plan

Method of down payment
Can Small Businesses apply for IT company loans?
Small businesses are strongly encouraged to apply for IT company loans. As discussed earlier, the SBA is dedicated to helping small businesses secure company loans. In addition, many lenders specialize in loaning money to small IT businesses. Most lenders and people have a special appreciation for small businesses. They are an important part of our economy and can grow into life-changing technology companies. If you are a small business with the motivation and desire to succeed you should use an IT company loan to help you achieve your goals.
What are the pros and cons of IT financing?
At the core of every successful business are well-educated business decisions and choices. When it comes to borrowing money to expand your business, it's critical to make smart decisions. In our personal lives, we may try to avoid borrowing money but in the business world, it may be a necessity in order to grow. In addition, the intent of a business loan is to make more money using the money you borrow. This can help justify the extra costs associated with loans. Let's compare some pros and cons of IT business loans...
Pros:
Accelerate growth

Improve cash flow

Advance technology
Cons:
Repayments can be challenging

Money may not solve all problems
How do I apply for IT financing?
Most lenders require a completed application to start the approval process for IT financing.  If you want to save time and money you should use an online lender. PrimeRates partners with multiple reliable lenders who specialize in IT business financing. You can submit an application online at PrimeRates without affecting your credit score. Within seconds after submitting an application you should receive multiple personalized loan offers. Lenders know they will be competing against other lenders for your business, encouraging them to send their most competitive offer. PrimeRates can reduce the risk of using an online lender. Here are 3 easy steps to apply for an IT business loan…
#1. Submit application (takes less than 2 minutes)
#2. Select the best business loan offer
#3. Receive funds quickly (as soon as 24-hours)
Conclusion
In conclusion, IT company loans can be a smart business decision that can help your company grow. If you are looking for business financing you should apply online at PrimeRates. PrimeRates partners with lenders that can provide competitive IT business loans. Some of the lenders partnered with PrimeRates are SBA-approved lenders. If you are just in the curiosity stage, you should still apply at PrimeRates. Submitting a safe and easy application does not affect your credit score and provides multiple personalized loan offers. If you are ready to discover the best IT company loans, go to PrimeRates.
Pre-qualify for an IT company loan...apply online today!
Business Loans By Industry