PrimeRates provides access to personalized loan offers through our simple and quick pre-qualification application. Once you're pre-qualified, you can select the best offer for you and finalize the loan application with the lender.
Apply in minutes

Simple pre-qual application in less than 1 minute. 

Select your loan offer

Choose the offer that best fits your needs.

Receive funds quickly

Finalize your loan offer, get approved, and receive funds.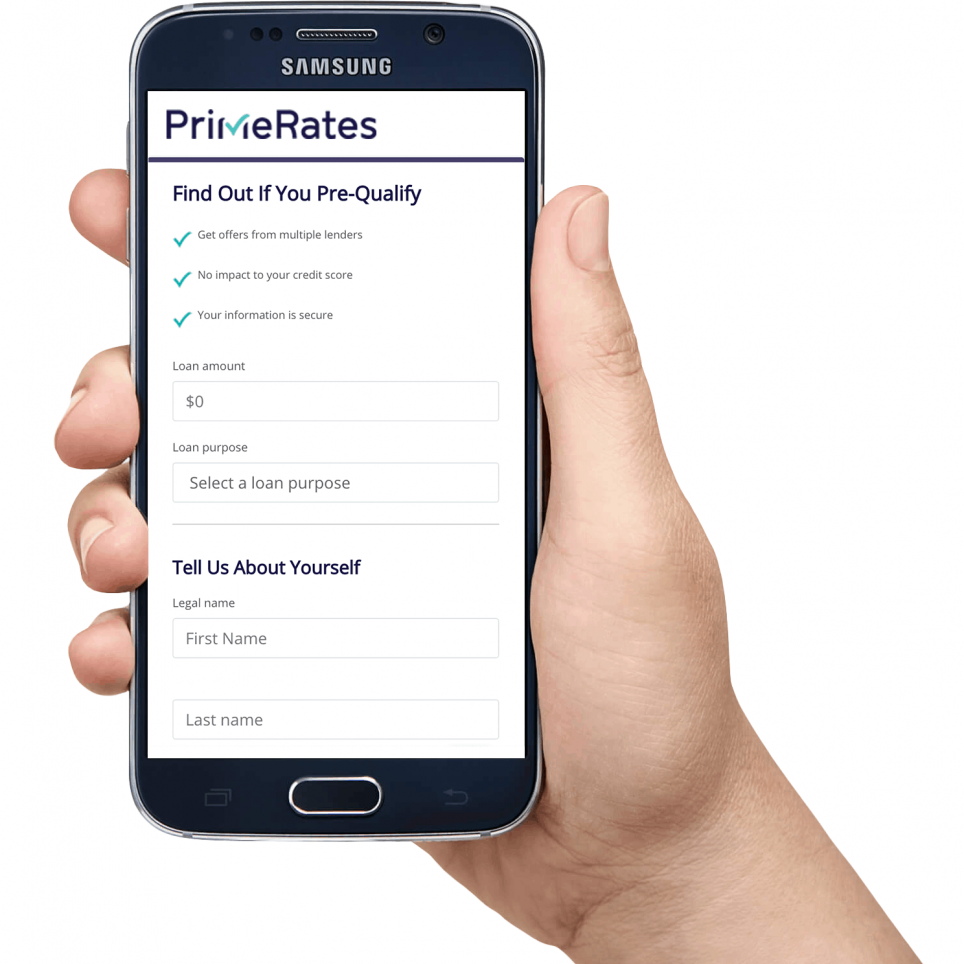 Flooring Financing: Hardwood, Laminate & More
Maintaining, renovating, and improving your home's functionality can be a great way to give your house a new look. If done the right way, certain types of renovations can add value to your home. Some of these improvements include outdoor installations, bathroom remodels, and kitchen overhauls. But did you know that upgrading your home's flooring could also bump up the value of your home?
However, like most home improvement projects, floor renovations aren't exactly cheap. According to Home Advisor, the typical costs of flooring installation can range from $1,496 to $4,464 with higher-end costs of up to $11,000. Factors such as the price of materials as well as the type of flooring that you want all come into play when financing these types of projects.
What is flooring financing?
If you don't want to spend thousands of dollars of pocket money on your flooring needs, you should take advantage of flooring financing options available on the market. Nobody likes spending a lot of money in one go, right? Flooring financing gives homeowners the option to get the floors they love without breaking the bank. Generally, flooring financing falls under the umbrella of home improvement loans.
Home improvement loans are offered by banks, credit unions, and online lenders just to name a few. More often than not, home improvement loans are an unsecured personal loan with a fixed interest rate that you pay in monthly installments. Lenders come up with your loan terms based on your overall creditworthiness. So whether you're applying for hardwood floor financing or looking to repair your carpet flooring, a personal loan for home improvement might be your best bet.
Does new flooring increase home value?
Are you just repairing a small section of your floor? Are you doing a complete overhaul of your flooring? Are you trying to replace your carpet flooring with hardwood floors? Increasing your home's value, through renovating your floors, highly depends on the type of flooring project that you have in mind.
According to a survey conducted by the National Wood Flooring Association, real estate agents agreed that homes with hardwood floors are easier to sell and sell for more money — up to 10% more than an identical home without wood floors.
What is the most popular type of flooring?
As a homeowner, it's important for you to educate yourself about the types of flooring to consider that would satisfy both your wallet and your aesthetic. Here are some of the most common flooring types to consider when renovating or building your floors.
Carpet Flooring
The comfort and the warm feeling of a carpet make it an attractive option for homeowners. While carpet flooring is a good option for homeowners with children, the biggest downside is that it's difficult to maintain and clean. A single mess could leave a stain on your carpet if you're not careful and, if it gets wet, mold may form underneath the padding. The only solution is to remove the carpet altogether. If you don't want to deal with the fragile feature carpets have, then carpets may not be the best option for you.
Hardwood Flooring
As mentioned above, real estate professionals claim that homes with hardwood floors are easier to sell and generally sell for more money. But did you know that hardwood floors are probably the most versatile and functional option for your home? Hardwood flooring combines functionality with charm and adds a little bit of personality to your home. Pricing for hardwood floors largely depends on the type of hardwood finish you want.
Laminate Flooring
One of the cheapest options out there, laminate flooring is an inexpensive and functional flooring option that homeowners love. And for good reason! Laminate flooring offers a lot of designs and patterns that could fit anyone's aesthetic. Another great thing about laminate flooring is that it comes as planks or tiles that can be easily installed if you don't want to spend a crazy amount of money on labor costs.
Tile Flooring
Tiles are most commonly used in kitchens and bathrooms. Some of the most common tile flooring options are ceramic, porcelain, natural stone, and cement just to name a few. Homeowners choose tile flooring because of how durable it is and how easy it is to clean. Tile flooring can be extremely affordable too. But one important thing to keep in mind is that the cheaper the materials are, the more likely it is to feel substandard. Be sure to do enough research and choose tiles that will provide you the best value for your money.
Carpet flooring vs Hardwood vs Laminate - what's the cheapest option?
All things considered, laminate and tile flooring options are some of the cheapest options out there. And, with enough patience, you can even install them yourself. No matter how cheap your chosen flooring option seems, it will still cost a substantial amount of money. For instance, if you really want those beautiful hardwood floors, chances are you would have to shell out a whopping $5,000. Yep, you read that right - $5,000 for your floors. So what now? Luckily for you, there are a variety of flooring financing options to choose from.
Can you finance flooring?
There are a variety of loan options that can be used for financing flooring. One of the easiest types of flooring financing to qualify for is a personal loan. Personal loans can be used for just about anything, including home improvement. Homeowners can use a personal loan to pay for materials and labor. In addition, good and bad credit borrowers can qualify for a personal loan. Other options for flooring financing includes home equity loans or HELOC (home equity line of credit). These are both secured loans, meaning they require collateral. Furthermore, they typically require homeowners to have equity in their home. Personal loans are unsecured making them less risky than secured loans. While secured loans may have lower interest rates they take longer to secure and are harder to qualify for. The convenience and low risk factor make personal loans a top choice for homeowners that want to finance home improvements.
Can you apply for flooring financing with no credit check?
There are plenty of floor finance companies that offer an impressive array of financing options to choose from. You can even apply for floor financing with no credit check! For instance, online lenders that provide personal loans for home improvement usually offer pre-qualified offers in minutes with no credit score impact. At the end of the day, it all boils down to you informing yourself about the different options on the market so you can study a financing option that would best meet your needs.
What credit score is needed to get a flooring loan?
Individuals with a credit score of 580 and above can qualify for flooring loans. If you have credit challenges or a low credit score, you may not qualify for a substantial loan amount. In addition, you may be offered a high interest rate. If you have bad credit and get approved for a flooring loan we recommend taking it, as long as you can cover the monthly payment. Making on time payments can help improve your credit score so that you can qualify for a higher loan amount and lower interest rate in the future. PrimeRates has lending partners that can help all credit types secure flooring loans. Individuals can apply with a cosigner through PrimeRates to increase their chance of approval. If you use a cosigner they should have good credit and consistent income. Keep in mind, you will both be equally responsible for the loan. If you are unable to make a payment or payments, you should communicate with your cosigner. They may be willing to help cover payments until you can take back over. If you default on a personal loan with a cosigner, both of your credit scores will be affected.
Can you apply for flooring financing with bad credit?
When it comes to flooring financing, bad credit could definitely influence your overall application. Having bad credit could even affect your loan's interest rates and your repayment period. If you have bad credit, there are options available for you such as unsecured personal loans and no credit check financing. Unsecured personal loans for flooring financing can be a great way to build your bad credit while no credit check loans provide you with a quick cash injection but with only a small amount of money. Before availing of no credit check loans, make sure to read all the terms and conditions carefully.
What's the best option for flooring financing, a personal loan?
It depends. How does your credit score look? Do you have a history of missed payments? How about your income? Do you have enough steady money coming in to allocate toward your debt payments? Regardless of the type of loan you apply for, lenders really only care about one thing - your ability to pay. Just because you think you can qualify for a personal loan doesn't mean that you can afford it. Personal loans for home improvement can be a great thing as long as you're confident that you can pay it back. Remember, defaulting on a loan heavily impacts your credit score and your ability to receive future credit.
How much does it cost to install flooring?
The cost of installing flooring can depend on the flooring material. It can also depend on the size of the job. If you have a relatively small job, contractors or installers may charge you more to make it worth their time. If you have a large job, you may receive discounts. Location may impact cost as well. In areas that have higher cost of living, professionals may charge more for services. While you do not want to discourage a contractor from doing their best work by negotiating profit out of the deal, you want to make sure you get a fair deal. You should ask your contractor how to qualify for discounts or gather more than one estimate to make sure you are getting a fair offer. Let's take a look at some flooring estimates for various square footages. . .
1,000 SQ FT: $3,000 - $22,000 (estimate)
2,000 SQ FT: $6,000 to $44,000 (estimate)
3,000 SQ FT: $9,000 to $66,000 (estimate)
How much does it cost to install flooring per square foot?
The national average cost of flooring installation is about $8 per square foot. However, your final cost usually depends on the flooring option you choose. You'll want to make sure you select a well qualified flooring contractor that is experienced with the type of flooring you choose. Different types of flooring requires different installation methods. We recommend estimating the total cost of flooring installation by using a flooring cost calculator. There are a few things you will need before using a flooring cost calculator. First, you'll need to know the square footage of your space. To get this you can measure the width and length of the floor and then multiply the width by the length. Once you know the square footage you can multiply to total square footage by the cost of the flooring material you choose. If you do not want to estimate the total cost on your own you can get an estimate from a contractor or flooring company. Some contractors and companies may provide free estimates. Before applying for flooring financing you should know how much money you need to borrow. 
What is the cheapest flooring material to use for your home?
One of the least expensive flooring options is peel and stick vinyl tiles. Peel and stick vinyl tiles are easy to install and virtually indestructible. Some types of peel and stick vinyl tiles may even be waterproof. It's ideal for a basement or bathroom. If you need to repair a vinyl tile, that is usually very easy as well. Peel and stick vinyl tiles usually range between $0.20 to $2.50 and up per square foot. 
Laminate is another type of affordable flooring that may be better suited for main rooms and hallways. Similar to vinyl flooring, laminate flooring is usually easy to install and very durable. However, even though laminate flooring is easy to install we recommend having a professional install it. Most laminate flooring requires proper padding and precise cuts that should be done by a professional. If you have the right tools, you may be able to complete the job yourself. Laminate is available in a variety of styles including imitation wood, stone, or tile. On average, laminate flooring costs about $5,500 to install on 1,000 square feet. You may be able to get cheaper materials at flooring outlets. It's worth asking flooring retailers if they have any styles being discontinued that might not be on the floor as a sample. You may be able to score a deal on discontinued styles if they have enough quantity in stock.
Finance flooring through a flooring company - is this a good idea?
Should you consider flooring financing through a flooring company? Again, it depends. Flooring companies offer various types of financing products that may vary from one company to another. As a borrower, you should take into account a flooring company's APRs, payment terms, as well as loan length. No matter where you obtain your flooring financing, any form of credit is also a form of debt that, if left unpaid, can spell disaster to your credit.
How do you qualify for flooring financing?
Flooring financing usually falls under home improvement loans. If you want to avoid ridiculous amounts of paperwork and in depth screening processes, you should use a personal loan for flooring financing. In addition, personal loans are easier to qualify for than secured loans. Whether you own a home or are renting, you can use a personal loan for flooring financing. Personal loans can also be used for flooring financing for a business. PrimeRates has a variety of lending partners that can help all credit types secure flooring financing. They offer a free platform that educates borrowers on their options while connecting them to the best personal loan offer. You can view flooring financing based on your credit score  offers even without submitting an application at PrimeRates. 
Most banks, credit unions, and online lenders offer personal loans that can be used for flooring financing. Banks and credit unions are usually harder to qualify for than online lenders. Most online lenders offer competitive rates and terms and may be willing to take more risk than banks and credit unions. Online lenders have less overhead allowing them to be more competitive than large companies with lots of overhead. PrimeRates has lending partners with minimum lending requirements that most people can meet. At the minimum, individuals should have some credit history and reliable income that they can prove to qualify for flooring financing. 
To receive multiple personalized flooring financing offers without affecting your credit you can submit an application at PrimeRates. Within minutes you can receive offers that you actually qualify for. Once you have selected the best offer you can proceed with securing the loan with the lender.
Closing thoughts: Are there any other options available?
If you don't want to deal with ridiculous amounts of paperwork and overly complicated processes when applying for flooring financing, why not try PrimeRates? PrimeRates is an online platform that educates consumers about their financing options. It also offers consumers the chance to analyze personalized offers that would best meet their needs.
Speaking of flooring financing, bad credit can discourage people from even checking what their rates might be. But with PrimeRates, borrowers can check their rates within minutes with no credit score impact. This simple and easy to use tool can be used for a variety of loan purposes from personal loans for home improvement to business loans for small businesses. How convenient is that?
PrimeRates Lender Partner Network










Other Personal Loan Types
Personal loans for any purpose.
Home Improvement Financing Articles