Although the fintech industry has become more dominant in recent years, it's been developing for about 65 years. In the 1950s fintech companies began creating credit cards which were one of the early inventions that led to the booming fintech industry we know today. Fintech companies can include a wide variety of businesses from digital lending and credit to mobile payment companies. It's likely that you are already using fintech company services on a regular basis. So what else can fintech companies do for you or your business? Keep reading to learn more about fintech business loans and the fintech industry.
What is a Fintech loan?
Fintech companies ranging from startups to large and well-established financial institutions may offer fintech loans or may need a fintech business loan. Regardless of the company's business model, there are financing options available. Fintech companies are shaking up the lending industry by utilizing data and technology. Experts predict that eventually it may be difficult for brick and mortar lenders to keep up. Just like any business, fintech companies need funding. In some cases, they may even need more funding than other businesses. There can be a significant amount of research and trial and error type projects that most fintech companies experience before achieving success. Even once they are established and successful, research and trial and error projects likely never end. In addition, most fintech companies require skilled employees that can be costly to retain. And the list of expenses keeps going. Fintech companies can have high overhead costs, expensive equipment, costly legal fees, and more. Fintech companies that are on the front line of loaning money are at the top of the risk and investment scale. This can make securing financing a bit more challenging. However, whether you are a big or small fintech company you can find affordable loans and financing solutions. Some fintech companies are in the business of providing loans. If you need a standard business loan for a fintech company the funds will most likely be issued as a lump sum and repaid monthly over a certain term. If you are a fintech company that needs funding to loan money you may want to look into peer-to-peer lending. 
What is a Fintech lender?
A fintech lender uses a combination of technology and finance to deliver customers faster and easier financial solutions. Fintech lenders and companies can provide a variety of services including allowing customers to view financial transactions online, apps that allow you to pay friends and digital loans. Most fintech lenders use peer-to-peer (P2P) lending. This means that individuals loan money to other individuals. The individual loaning the money makes money on interest and other fees. For someone who has extra money in the bank, this can be a smart way to grow it. P2P lending cuts out the middleman which is traditionally the financial institution. Fintech lenders offer safe and secure platforms through which individuals to offer and secure financing through. Companies like PrimeRates partner with a variety of fintech lenders to increase competition and benefit the borrower.  PrimeRates allows individuals to submit one application for financing, which does not affect credit score, and receive multiple personalized loan offers almost instantly. 
Why is Fintech important?
Fintech is essential to helping companies, business owners, and consumers manage financial operations and receive funding. Fintech creates opportunities for many businesses that otherwise would have had no chance of getting a loan. In addition, most fintech companies can make incredibly quick loan decisions. Fintech also provides us with easier ways to pay each other or monitor credit reporting. For example, the Credit Karma app is considered a fintech company. Credit Karma allows you to monitor your credit report without affecting your credit. This can help individuals improve their credit rating, monitor changes, and report fraud faster. While the service is free for users, Credit Karma makes money on advertising. Credit Card companies can advertise to Credit Karma users through the app. Fintech companies can also help individuals and businesses save money by creating smoother automated processes. 
What are my Fintech loan options?
The list is long when it comes to fintech loan options. So how do you decide what lender to choose? If you are considering a fintech loan the best place to go is PrimeRates. PrimeRates partners with dozens of reliable fintech lenders that can help businesses and individuals. You can submit one easy application through PrimeRates and receive multiple personalized loan offers within minutes. In addition, your credit score should not be affected by submitting the initial application.
Can Small Businesses apply for Fintech loans?
Small businesses can apply for fintech loans. In fact, many creative fintech lenders are constantly finding more ways to help small businesses. The ongoing coronavirus pandemic has caused many industries to go into recession. This means to stay afloat many small businesses will need cash infusions. With many big banks denying small businesses loans, many fintech lenders are committed to helping. Some fintech lenders are even using new approval processes based on factors beyond credit scores and lending history. If you own a small business and are unable to qualify for an SBA or traditional bank loan you should consider a fintech loan.
How do Fintech loans work?
Most traditional lenders accept cash deposits from customers in order to provide loans for other customers. The lender then charges borrowers higher interest rates than they would pay to savers. When you use a fintech loan you remove the middleman. Instead of a middleman, there is now a website that facilitates the connection of borrowers and lenders. This can cut down the cost of borrowing and make loans easier to qualify for. Fintech lenders can make money by charging interest and other fees.  If you are using a fintech business loan the terms should be similar to a traditional bank loan. In most cases, you will be required monthly repayment. If you use a fixed fintech loan the interest rate should not change during the loan term. If you need unique terms or delay a payment you should discuss with the lender to see if they can accommodate special requests.
Why is Fintech so popular?
The fintech industry is booming and many are benefiting. The fintech industry expanded access to capital to small business owners and people who were previously under-served. The technology in the fintech industry has leveled the playing field and given many underdogs a leg up. Startups have used fintech loans to grow from nothing to something. The fintech industry is more than just finance and technology, it truly is a community of real people innovating technology. Doing anything online can raise concerns about security and privacy. Most fintech lenders want to assure borrowers that their information is safe. Fintech lenders should have security precautions in place such as using tokens rather than extracting all the data and saving it. In addition, most fintech lenders use the guidance of federal banking regulators and Consumer Financial Protection Bureau in regard to the use of alternative credit data and making loan decisions. Many lenders have fraud detection that allows them to detect fraudulent activities in nanoseconds. 
What are the pros and cons of Fintech business loans?
Many individuals prefer to avoid banks and their bureaucracy, making them turn to fintech companies. Fintech companies can offer products and services to people that have been failed by big banks over and over again. In addition, fintech companies can help borrowers with all credit types. Many fintech lenders are able to specialize in particular niches or create flexible repayment plans. For these reasons and more, you may be considering a fintech business loan. Let's take a look at some pros and cons of using a fintech business loan...
Pros:
Personalized niche products (i.e. small business loans for women)

User friendly

Relationship orientated

Easier to qualify for 
Cons:
Shorter track record

Fintech lenders should be researched to ensure credibility

Less longevity than big banks 
Conclusion
In conclusion, fintech loans can be a smart financial solution for individuals and businesses. If you are considering a fintech lender you should visit PrimeRates. PrimeRates can connect you to multiple fintech lenders that specialize in your niche. In addition, PrimeRates only partners with trustworthy lenders eliminating risk for borrowers. PrimeRates offers a free platform that can save you tons of time and money while allowing you to take advantage of opportunities. 
Discover fintech business loans. . . apply online today!
PrimeRates provides access to personalized business loan offers through our simple and quick pre-qualification application. Once you're pre-qualified, you can select the best offer for you and finalize the business loan application with the lender.
Apply in minutes

Our simple application takes less than 5-7 minutes to complete.

Select your business loan offer

Choose the offer that best fits your needs by comparing loan amounts and terms.

Receive funds quickly

Finalize your loan offer with the lender you selected to receive your funds.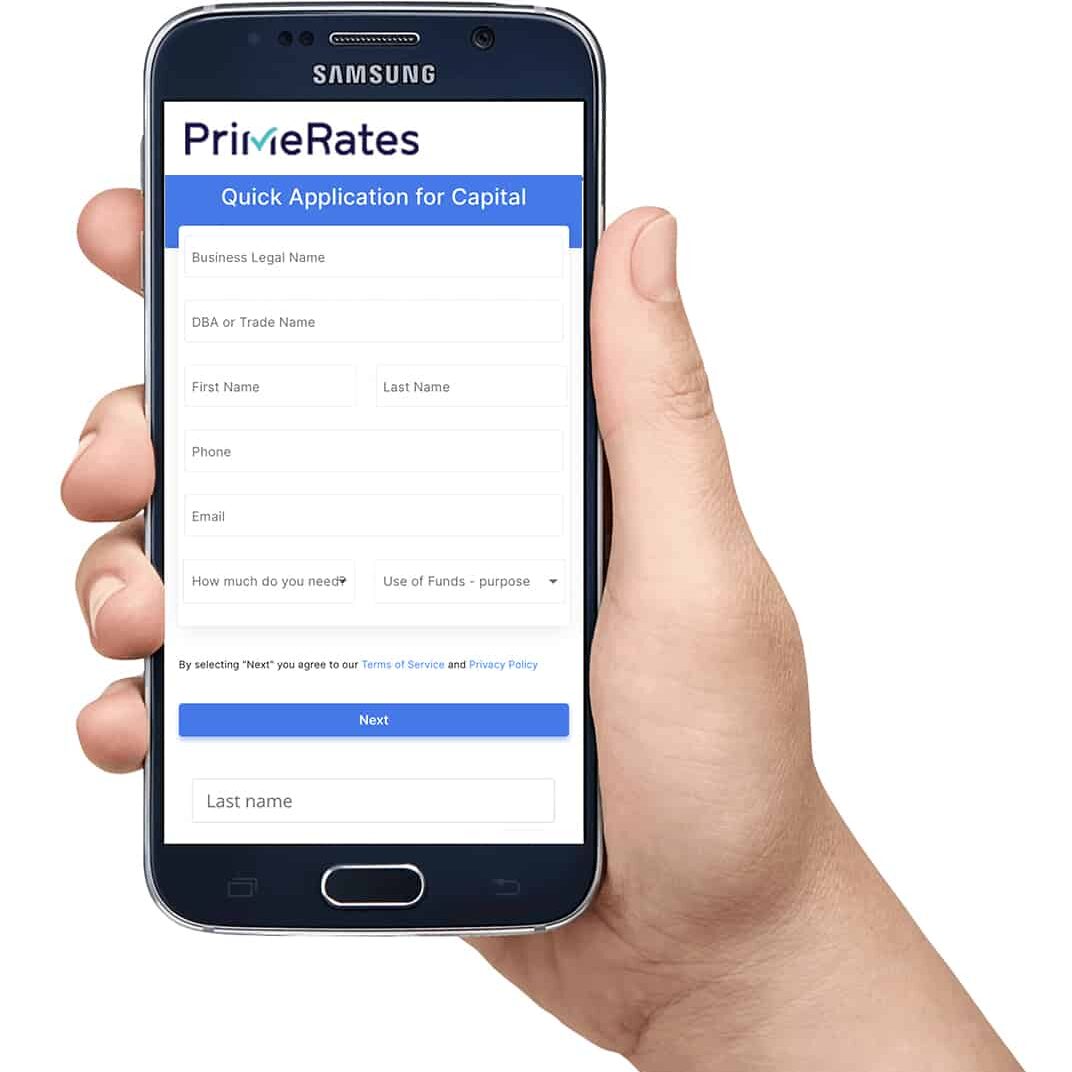 Business Loans By Industry