Best Short-Term Business Financing
If your business is opening a new location, acquiring a competitor, or experiencing any form of explosive growth, you might seek a long-term business loan to cover unforeseen expenses during the time of transition. But if your business is mostly steady — or even in a seasonal slump — a short-term business loan can help you bridge financial gaps when times are tight. If you're new to the world of short-term business loans, this overview offers some insight into the nature of these financial arrangements and how best to approach the application process.
What is a short term business loan?
A short term business loan is any loan that has a short repayment period, generally less than 3 years. In some cases, a short term business loan may be less than 12 months. They allow business owners to quickly finance and repay their short-term business needs and expenses.
How do short term business loans work?
Short-term business loans are most often set up as unsecured installment loans, meaning the loan proceeds are paid back over a predetermined period of time in equal monthly payments.
In some cases, they may require an asset to be used as collateral and create a secured loan.
Short term business loans may also require payments to be made with increased frequency when compared to traditional loan terms. Depending on how short your loan repayment period is, you may need to make weekly or biweekly payments as opposed to a monthly payment.
Who can obtain short term business financing?
Any business owner who qualifies can obtain short term business financing. Every lender and lending program will have their own unique set of application requirements that borrowers will have to fulfill. Typically, lenders request financial statements, business licensing information, a written business plan, and other important information about your business. You will also need to pass a credit check and meet the minimum credit score required by the lender. Applicants who do not qualify based on their credit score may still be able to apply using a cosigner.
When applying for a business loan, the lender will also most likely require a minimum annual revenue or amount of gross monthly sales in order to qualify for a short-term business loan.
In general, established business owners will have an easier time qualifying for short-term business financing than new business owners and entrepreneurs. This is because many lenders like to see some time in business and solid financials before approving applicants for a loan.
How long is a typical short term business loan?
A typical short-term business loan ranges from between 12 months to 3 years. In some cases, they can even be shorter than 12 months. Because of their relatively short repayment periods, these loans may have financing plans that require weekly or biweekly payments. In fact, some loans may even require a payment to be made daily.
Common uses of short term business loans
Applicants can use the proceeds from a business loan for many types of qualified business expenses. Everything from debt consolidation to staffing needs can be covered with a loan.
Short-term business loans are most often used for emergencies or for temporary cash flow interruptions that require financial assistance to help fill in the gaps. Common uses include funding unexpected purchases and covering business expenses during a company's off-season.
Short term vs. long term business loans
Short term business loans have a few advantages when compared to long term business loans.
Many business owners prefer them to pay for their expenditures because they can pay off their debts much faster. In addition, borrowers see a significant amount of savings on interest over the lifetime of the loan. Lastly, funding for short-term loans (especially from online lenders) is relatively quick, allowing you to get the cash you need for your business much faster.
On the other hand, a shorter loan term means that borrowers will need to shell out more cash each month for a higher monthly payment. Because of this higher payment, short-term loans carry a higher risk of defaulting on the loan or needing to take on a new loan or refinance.
Lastly, it may be harder for new business owners to take out a short-term business loan, as lenders generally want to see that your company has been operating for some time already.
Are short term loans better when compared to long term business loan options?
The answer to this question will depend on your financial situation and your own unique business needs. You will need to weigh your options and make an educated decision.
However, it is important to keep in mind the pros and cons of short-term loans. In addition to having a higher monthly payment, short-term loans may also be limited in how much you can borrow and are more likely to come with a variable interest rate. On the plus side, short-term loans allow your business to get back in the black much faster by paying off debt quickly. With such short repayment periods, they also accrue less interest over the lifetime of the loan.
How much does a short term business loan cost?
There are a few costs associated with taking out a short-term business loan. A short-term business loan will accrue interest and may or may not come with loan fees such as origination fees, underwriting fees, late payment fees, and early repayment penalties. This is why it is important for you to thoroughly read and understand your loan terms before applying. To get a better idea of how much you will need to pay monthly in interest, consider getting prequalified.
The typical interest rate for a business loan as of May 2022 is between 2.54% to 7.02% APR.
You may also be required to put down a down payment or pay closing costs to get your loan.
Check with your preferred lender(s) to see if they offer financing options with minimal costs.
PrimeRates provides access to personalized business loan offers through our simple and quick pre-qualification application. Once you're pre-qualified, you can select the best offer for you and finalize the business loan application with the lender.
Apply in minutes

Our simple application takes less than 5-7 minutes to complete.

Select your business loan offer

Choose the offer that best fits your needs by comparing loan amounts and terms.

Receive funds quickly

Finalize your loan offer with the lender you selected to receive your funds.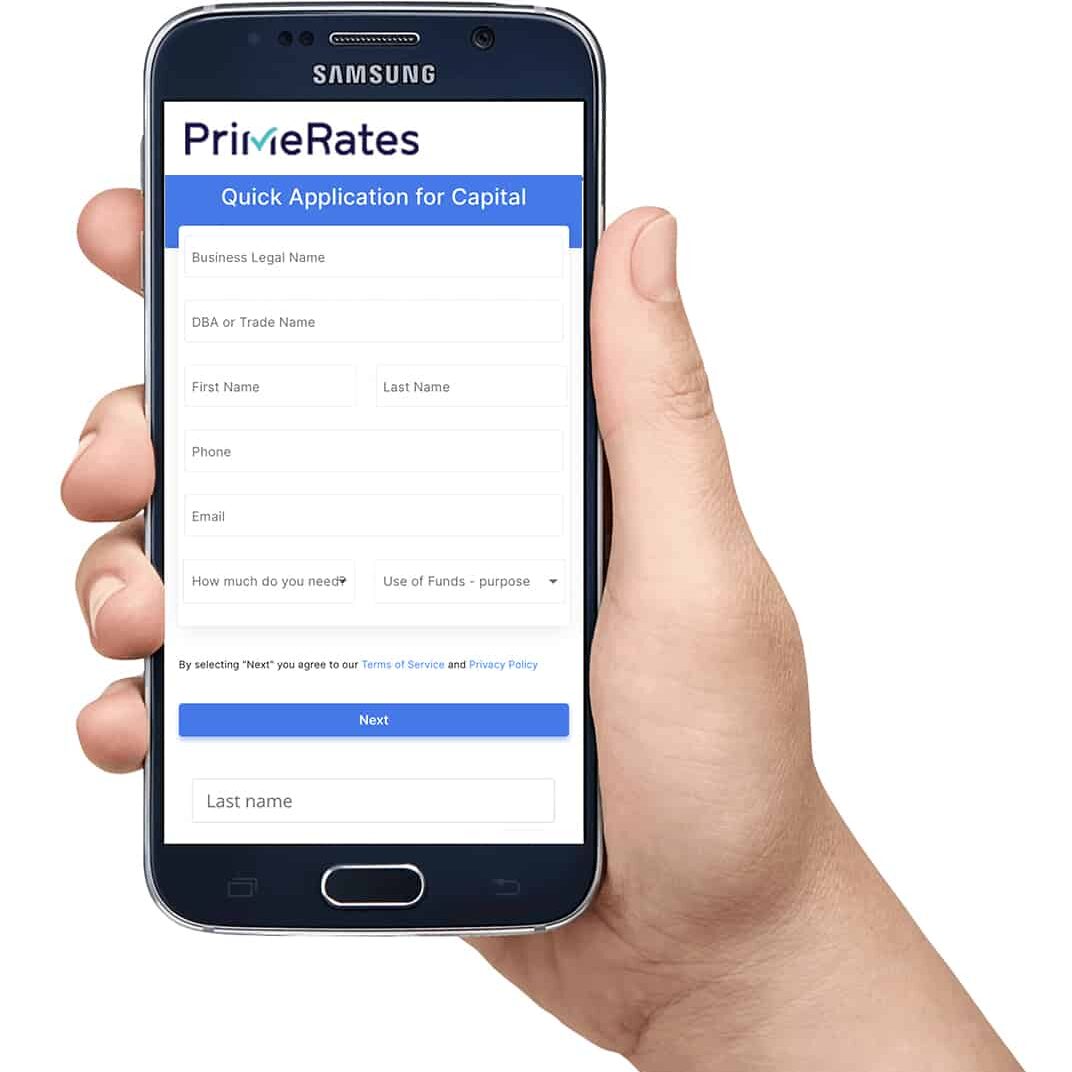 More Business Loan Options
Business Loans By Industry