PrimeRates provides access to personalized loan offers through our simple and quick pre-qualification application. Once you're pre-qualified, you can select the best offer for you and finalize the loan application with the lender.
Apply in minutes

Simple pre-qual application in less than 1 minute. 

Select your loan offer

Choose the offer that best fits your needs.

Receive funds quickly

Finalize your loan offer, get approved, and receive funds.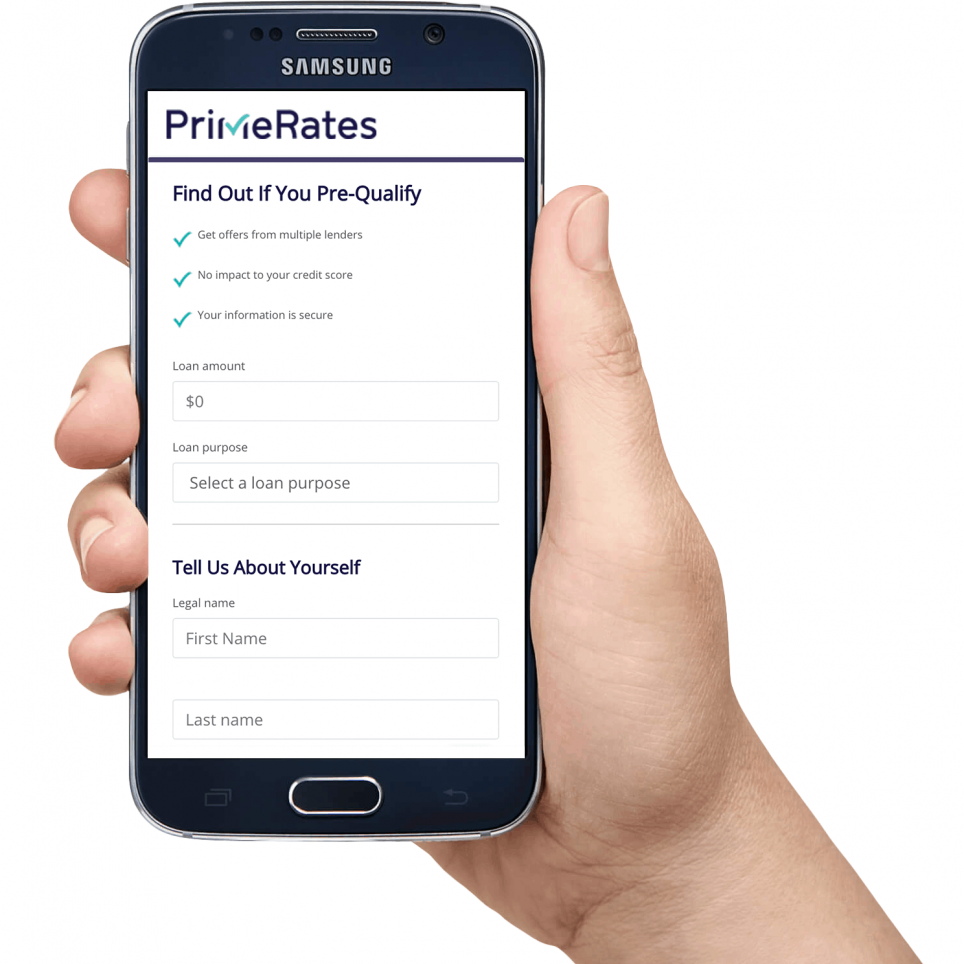 What Are the Best Plumbing Financing Options?
Plumbing repairs and upgrades can seem relatively straightforward and inexpensive to repair yourself, at first glance. It's often what you find once you start digging or removing old fixtures and pipes that can leave you scratching your head, wondering if you should have called a plumber. A low-cost, self repair may not be an option, especially if you are in the middle of a plumbing emergency.
When should you call a plumber?
Although you may feel skilled at making home repairs, there are times when you should consider calling the plumber:
Low water pressure throughout your house

- this can be due to obstructions, roots or poor supply line design and a professional plumber can pinpoint the problem.

Emergencies

- Occasionally water shoots out from, or lies around in places it shouldn't. Plumbing appliances, like water heaters, need replacement or repairs. Be sure you and your family know the location of the water shut-off valve to your house for emergencies like these. Turn the water off until the plumber arrives to fix the problem.

No hot water

- this could be due to a faulty hot water tank. A plumber will be able to find out why

Clog in the sewer line

- if you've been plunging your toilet, sinks, and drains and still cannot manage to get things moving, it's time to call a plumber.

Leaking, outdated fixtures and pipes

can precipitate a complete home plumbing reconstruction and remodeling project. You'll want to plan that with a plumber.
How much does major plumbing work normally cost?
As with most repairs, the estimates can vary widely and are highly dependent on the plumber's rates, as labor is a significant portion of the total costs for plumbing work.
The average cost per hour for plumbers ranges from $45 to 200 dollars, so be sure to obtain a few estimates to compare before selecting the plumber with whom you want to work.
For larger bathroom reconstruction projects, a plumber might charge a flat rate service fee in addition to the costs of the fixtures, pipes, or appliances necessary to complete your job.
Can you finance plumbing repairs?
Major plumbing work and repairs can be financed if you find yourself unable to come up with the cash. Paying with cash will always be the cheapest option, but if you have an emergency plumbing issue, you simply might not be able to afford it.
If this is the case, there are a few financing options available to you to help you resolve your plumbing issue as soon as possible.
How does plumbing financing work?
Plumbing financing works differently depending on the type of financing or loan you choose to take advantage of. Typically, you can find plumbing financing in the following ways:
Credit cards – using a credit card may be a good option if the repair won't cost too much and your interest rates aren't too high.

Personal loan – this kind of loan is unsecured, which means that the lender lends you the money based on your trustworthiness. You then pay the amount back each month until the term of the loan ends.

Home equity loans – if you've come across a large plumbing issue, a home equity loan may be the right choice for you. With this kind of loan, the money you borrow is secured against your home's value, which means that if you don't repay on time, your home may be at risk. While riskier, it can help you borrow more money at a lower interest rate.
How much do plumbers normally charge?
Plumbers either charge a flat rate for a specific job, or they charge an hourly rate, the cost of which depends largely on their level of expertise and your location.
If you need an urgent repair done, it can be tempting to simply go with the first plumber that shows up at the top of search results, but it will save you time and money in the long run if you take some time to read reviews or get local referrals so that you can find a reliable plumber who will offer a reasonable rate.
Although prices will vary in your area, you can expect reasonable charges to be:
$175 to $450 per job

$45 to $200 per hour

additional service fee up to $300
Do plumbers offer payment plans?
Some plumbers/plumbing companies offer their own payment plans, typically in partnership with a finance company or bank.
This can be a good option if you have good to excellent as you usually find that you can get lower interest rates than you could find with alternative lenders, although this will not always be the case.
If you are thinking of taking advantage of a plumber's payment plan, make sure that you consider their terms as you would any other lender, find out whether they charge any additional fees, and make sure that everything is laid out properly in writing so that you can be sure it is a legitimate agreement.
How much does a major plumbing repair cost?
As you can imagine, major plumbing repair costs vary over individual plumbers or plumbing companies, location, and quality of work. To give you some idea of what you can expect to pay, here is a list of some common plumbing work and the average cost of each job:
unclogging drains - $210

repairing toilet system - $225

cleaning of a septic tank - $385

repairing water heater - $525

installation of tankless water heater - $1,750

repairing mains sewage - $2,500

installation of solar water heater - $3,960
How much plumbing financing will I need?
The amount of plumbing financing you will need depends on the services you require and the labor costs of your chosen plumber.
If you are looking for plumbing financing for a kitchen or bathroom remodel, you will need to consider the costs of any materials in addition to labor costs.
What are my plumbing financing options?
If you cannot afford to cover plumbing costs out of your own pocket, there are a few plumbing financing options that you can consider.
Personal Home Improvement Loan
Also known as a zero equity loan, a personal home improvement loan is probably the best option if you are looking to receive funding quickly, especially if you have a good to excellent credit score.
Once you're approved by a lender, you could receive your funding as soon as the same day, which makes this option particularly useful for emergency plumbing work.
It is important to be aware that, unless you have excellent credit, you may find that a personal home improvement loan has relatively high-interest rates of up to 20% as they tend to be unsecured, which means there is no collateral offered to the lender if you default on repayments.
With a personal home improvement loan, you can typically borrow amounts from $2,000 to $35,000, with some lenders offering sums of as much as $100,000, with terms ranging from around three to seven years.
You will generally need to have a credit score of 640 or more to gain approval or suffer very high-interest rates.
Home Improvement Credit Card
A home improvement credit card could be a convenient option for you, especially if you are able to take advantage of a 0% interest introductory offer, but it's certainly not without its drawbacks.
With an introductory offer, you will be able to use credit without paying back any interest. However, if you haven't paid back what you have borrowed by the time this offer is over, you will find yourself with very high-interest rates. Credit cards typically have the highest interest rates from around 15% and up.
With these high-interest rates come higher monthly payments, which could lead to mounds of debt and a potentially serious financial situation. A high credit limit could also cause problems if you are tempted to purchase more expensive things simply because you have the credit. It may seem like a good idea at the time, but when it comes to paying off the credit card later down the line, you could find yourself in real trouble.
It should also be noted that some plumbers will require a 5% surcharge to accept credit cards.
Home Equity Loan
A home equity loan can either come in the form of a cash-out refinance or a home equity line of credit (HELOC).
A cash-out refinance replaces your existing mortgage with another at a different rate, which is great if you need one lot of cash. A HELOC is another mortgage that you are required to pay on top of your existing mortgage, beneficial for larger projects or repairs that will take an extended period to complete.
This may not be the best option if you need financing for urgent repairs, as it may take a little time to apply and receive this type of funding.
How do you finance major home repairs?
There are a few options for you to choose from in financing major home repairs. While using a credit card might work okay for a small emergency repair, the high-interest rates, accruing interest, and credit card limits should inhibit their use for major plumbing repairs.
You can consider:
A cash-out refi - refinancing your mortgage to obtain cash equity from your home 

A second mortgage

A home equity line of credit

Qualifying government loans through the Title 1 Program run by the Federal Housing Administration for homeowners with little equity

A personal home improvement loan
What are the best plumbing financing options?
Personal Home Improvement Loans for Plumbing Work - money borrowed from a lender, bank, or credit union to make plumbing repairs and  improvements to your home.
Pros
Personal loans can be either secured or unsecured. Unsecured personal loans allow people to obtain the financing they need based on their income and credit history. 

The loan is a fixed amount of money, with a fixed interest rate and a fixed term for repayment (generally 2-5 years). These benefits make it easier to plan and budget for your project and allows you to prepare for and schedule your monthly payments. 

The application process can be short,  24-72 hrs, and simple, without much tedious documentation.
Cons
Lenders do not require the security of collateral for unsecured personal loans and therefore regard them as higher risk loans. To offset that risk, Lenders typically set higher interest rates for personal loans than what you might receive if you obtain a home equity line of credit. 

Because it's a fixed amount, sometimes unexpected completion costs can exceed your financing budget.

Most lenders charge an origination fee.
SoFi
APR range:
5.99% to 16.99% APR (with AutoPay)
Available loan terms:
24-84 months
Loan amounts:
$5,000—$100,000
Time to fund:
Typically 7 days
Origination fee:
None
Credit needed:
680+
Income needed:
$50,000+
Soft Credit Check?
Yes
Best for:
Young professionals and graduates, good credit
Click "Check Rates" to apply to SoFi
SoFi - The borrower best suited for funding a plumbing project with a personal loan through SoFi has good to excellent credit, and income history.
Pros 
NO Origination Fee

Longer loan term options, 24 - 84 months

Borrow up to $100,000.00

Competitive low interest rate range - you can choose variable or fixed APR

Pre-qualify without a hard inquiry on your credit history

No collateral necessary

Forbearance for up to 12 months with career counseling if you lose your job
Cons
Must have good credit history and income

Funding can take time - the application process takes just a few minutes, but SoFi can take up to a week to fund the loan due to their underwriting process
Earnest 
APR
Starting at 6.99%
Loan amounts
$5,000-$75,000
Time to fund
As Early As 48 hours
Credit needed
680+
Best for
Borrowers With Good Credit
Click "Check Rates" to pre-qualify and receive a personalized rate.
Earnest - Designed for borrowers who have good credit scores but lack a long credit history
Pros
No Fees - this means you never pay more than your monthly payment and you can pay it off early without a prepayment penalty.

The lender offers an easy application process

Rates and terms of loans are determined based on borrowers savings patterns, career trajectory, education, and each borrower's unique financial situation.

Seven day grace period from original payment due date to make payments without penalty
Cons
Must have good credit - a credit score of 680+

Meant for larger projects $5,000 to $75,000

Higher interest rates 

Application to funding time is 5-10 days
LightStream
LightStream Promising the best online loan experience possible for customers with good credit.
Pros
Apply quickly, and from the convenience of a computer or mobile device

Highly competitive fixed-rate financing

Longer loan terms - up to 144 months (12 years)

$5,000-$100,000 loan amounts - significant if your plumbing project requires major repairs, reconstruction or remodeling

Financing is in-house, immediate funding once the loan closes
Cons
Once funds are made available, the borrower has 30 days to move them into their personal bank accounts or the loan application is canceled

Need good credit - 680+

To lock in competitive financing rates, LightStream considers credit history (credit cards, vehicle loans, etc.), the ability to save, stable income, and good repayment history with few delinquencies or problems.



Plumber's Loans
There are independent lenders and plumbing companies that offer plumber's loans, specially designed for emergency plumbing repairs. Some companies even provide same-as-cash financing options for a specific promotional period.
Pros
Quick financing for emergency repairs

No credit check

No upfront costs
Cons
Missed payments and balances that extend beyond the original loan terms can result in high interest rates that accumulate quickly

Generally only used to finance small projects
Home Equity Line of Credit - Also known as  HELOC, is credit extended to you by a lender, secured by the equity in your home. 
Figure
APR range
Starting at 4.99%
Available loan terms
Up to 30 years
Loan amounts
Borrow up to $150,000
Fees
Low origination fee
Credit needed
Minimum credit score 600
Best for
Major Purchases, Home Improvements or Consolidating Debt
Click "Check Rates" to apply to Figure
Pros
Once obtained, homeowners have a revolving line of credit to use for project expenses. 

Like a credit card, you can pay all of it or some of it monthly. 

Unlike a credit card, because they are secured second mortgages, the interest rates are among the lowest. 
Cons
Since your home is used for collateral, if you are unable to make your payments, you could lose your home.

Interest rate is variable and can be unpredictable

Many lenders charge an annual fee to keep the HELOC open

If your home value falls you could end up owing more than your home is worth.



How to Apply for Plumbing Financing
To avoid high-interest charges or having to release equity on your home, your best option for plumbing financing is likely to be a personal home improvement loan. There are a large number of lenders who can offer this type of financing, each with their own terms, amounts offered, interest rates, and qualification requirements.
With PrimeRates, you can quickly and easily compare offers for plumbing financing from reputable lenders so that you can find the funding that is right for you at a price that you can afford. Click here to compare hundreds of loans to find the best rates for you.
Conclusion
If a plumbing repair is in your future either due to emergency leaks and damage, or maybe you are unsatisfied with your current plumbing and ready for an upgrade, there are several ways you can fund your project. Remember not to skimp on materials. Using good quality materials can keep you from having to make repairs later. 
Other Personal Loan Types
Home Improvement Financing Articles