PrimeRates provides access to personalized business loan offers through our simple and quick pre-qualification application. Once you're pre-qualified, you can select the best offer for you and finalize the business loan application with the lender.
Apply in minutes

Our simple application takes less than 5-7 minutes to complete.

Select your business loan offer

Choose the offer that best fits your needs by comparing loan amounts and terms.

Receive funds quickly

Finalize your loan offer with the lender you selected to receive your funds.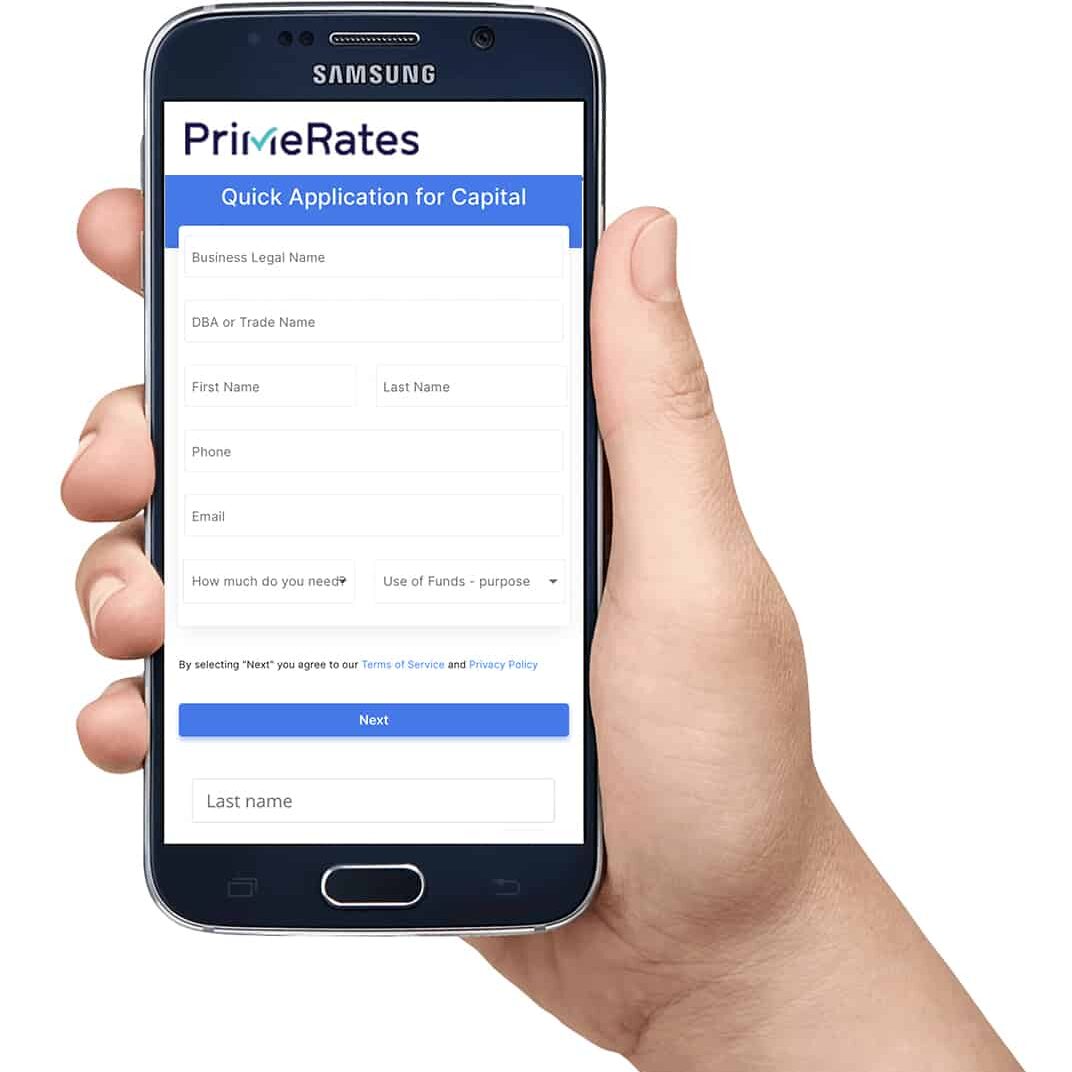 How to Get Grocery Store Business Loans
Grocery stores are somewhere that everyone goes, often on a weekly basis at the supermarket, or more sporadically at the convenience store. Owning a grocery store can be a profitable business, after all, no one can be without what you supply, but they do typically work on low margins as money is made by selling a lot of cheaper items rather than one or two expensive items that pay out a quick profit. As with any business, if you are looking to open a grocery store or expand an existing one, you will be likely to look to financing options.
How much does it cost to finance a grocery store?
Grocery stores often need financing in the form of a loan to provide their business with working capital, funding to expand, to bring on new staff, to cover advertising costs, to pay suppliers, and other business expenses. How much this will cost you depends on your needs, the size of your store, and the type of loan you choose.
How do you qualify? What are the requirements for a supermarket loan?
Each different loan provider will have their own particular requirements depending on the type of loan you are looking to receive. That being said, there are a number of things you should ensure you have before applying for any type of grocery store loan.
A Strong Business Plan
As part of your supermarket financing application, you need to ensure that you have drawn up a strong business plan. This shows potential lenders how you intend to operate your store, what you expect any costs to be, and your plans for the business in the long-term.
Not only will it help to sway the lender in your favor, it will also give you something to work with to ensure that you are staying on track as your business continues to grow.
You also need to be able to tell your potential lenders exactly what you plan to do with their financing. This is one of the first questions you will have to answer in the application process and lenders want to know that their money will be used for genuine reasons.
Reliable Revenue with a Good Profit Margin
You need to show potential lenders that your grocery store is bringing in more money than you are losing to expenses. This shows lenders that your business is already successful and that your finances are healthy enough to be able to make all repayments, on time and in full.
When you work to fully understand your revenue, cash flow, and expenses, you will have a better idea of the type of loan you will actually be able to qualify for and won't waste time applying for loans you are unlikely to get.
Potential lenders need to know that their money will not be lost if they invest in your grocery store. With evidence of a healthy revenue flow and profit margin, they can be reassured that you will pay the money back, with interest, without defaulting on payments.
A Good to Excellent Credit Score
Lenders use your personal credit score to determine whether you are a good candidate for grocery store financing as it shows that you have had a good history with paying back loans in the past.
Although you don't need excellent credit, it will increase your chances of receiving quality funding if you have at least a good credit score. There are loan options for you if you have bad credit, but these often come with undesirable terms or only for small loan amounts.
Having a good personal credit score means, not only are you more likely to get approved for your first choice of loan, you might also receive a lower interest rate, which can make all the difference when having to make repayments. This is why it is so important to do as much as you can to build up your credit score before applying for grocery store financing, and the same goes for any business partner or co-signer on the loan.
A Clear, Positive Business History
Your business history also plays an important part in the loan application process. If you have a successful business that has been operating for 2 or more years, you are much more likely to impress potential lenders and get approved for a loan.  
With a clear and positive history in business, lenders can see that you have been able to deal with all the challenges that come with running a small business in the past, and so they can be relatively sure that you will use the funding in a smart way.
What types of loans are available for supermarkets?
Supermarket financing comes in a number of loan types depending on what you need the financing for. You might need a lump sum for a large expansion, a smaller amount to cover daily expenses or seasonal expenditure changes, or funding to purchase new equipment. Whatever your needs, each type of loan and lender will come with different interest rates and terms, so it is important to know your options for grocery store loans.
These are:
 

SBA Loans

 

Term Loans

 

Lines of Credit

 

Alternative business loans

 

Cash advance funding

 

Invoice financing
SBA Loans for Grocery Stores and Supermarkets
SBA Loans are more traditional loans guaranteed by the Small Business Administration (SBA). These are very popular with small business owners as they boast very attractive rates, loan amounts and repayment periods, however, because of this, they are particularly hard to obtain, with very specific requirements.
The SBA guarantees up to 90% of the total value of the loan, which greatly decreases the risk to lenders and so if you are able to qualify for this type of loan you will be at a huge advantage.
There are a number of different types of SBA loans, but the most popular type of SBA loan with new small businesses is the SBA 7(a) program. This offers loan amounts up to $5 million with repayment periods of up to 10 years.
Generally, though, SBA Loans have interest rates ranging between 6-8% with terms ranging anywhere from 3 to 25 years.
Our Pick for SBA Loans for Supermarkets: Smartbiz
One option for online grocery funding with an SBA Loan is from Smartbiz, a good option for if you have an established business and are looking to expand, need to refinance debts, or if you are looking to purchase business related real estate.
They offer loan amounts ranging from $30,000 to $350,000 with interest rates of 9.7-11.04% and maximum repayment terms of up to 10 years. You will typically see the financing within several weeks although this can be as little as several days.
The downside is, you will need an excellent credit score of at least 675 and need to have an annual revenue of $50,000 or more.
Term Loans for Grocery Stores and Supermarkets
Term loans offer particularly good rates of 5-10% with long terms ranging from 1 to 25 years, which makes repayments of these loans more manageable than others. However, lenders of term loans are typically not willing to take much risk and so you will need a high credit score to attain a term loan for grocery stores and supermarkets.
Our Pick for Term Loans for Supermarkets: Fundbox
Fundbox offers borrowers a short-term line of credit which allows you to get cash quickly. They offer loan amounts ranging from as low as $1,000 up to $100,000 with interest rates of 10.1-79.8% and short repayment terms of 3 to 6 months. Fundbox can finance you within several days, and in some cases only minutes, and you can even get approved with bad credit. You just need to have a minimum annual revenue of $50,000.
Our Pick for Term Loans for Supermarkets: Kabbage
Kabbage is another online lender that offers a short-term line of credit for supermarket financing. They offer loan amounts ranging from $2,000 to $250,000 with interest rates of 24-99% and repayment terms of 6, 12, or 18 months. Like Fundbox, you can be financed in a few minutes or within a few days. Either way, they will provide you with money fast, you just need a minimum credit score of 560.
Business Line of Credit for Grocery Stores
A business line of credit works in a similar way to a credit card, except you only have to pay interest on the amount you actually use. You borrow a set sum of money from a lender, then you can use part of that total loan amount to pay your expenses.
Furthermore, when you pay back the amount you have used, you can use that money again and again throughout the term of your line of credit. With interest rates ranging from 5% to 15% and repayment terms of 1 to 3 years, this is a great option if you need a grocery store loan to cover every day or smaller costs.
Equipment Financing for Grocery Stores
Often, grocery store owners need funding to cover costs of new equipment that is important for keeping stock fresh for customers or to make the day-to-day running of the business that bit easier. If you don't want to lease equipment, you have the option of using equipment financing.
Equipment financing lenders give borrowers enough money to make their equipment purchase and then charges interest on this amount until the loan has been paid off. The best thing is, this type of loan doesn't require you to put any money up front, as the new equipment itself is used as collateral. If you default on repayments, the lender will simply take and liquidize the equipment in order to get their money back.
If you are looking to open a new convenience store or expand your existing grocery store, there are plenty of supermarket financing options for you to choose from. You just need to consider exactly what you require funding for to work out which grocery store loan is best for your business, and take some time to compare lenders so that you can ensure you are getting the best possible rates and terms. We can help you compare business loans, so you can find the right financing for your supermarket. Click here to get started.
What Type of Business Do You Have?
Business Loans By Industry