PrimeRates provides access to personalized loan offers through our simple and quick pre-qualification application. Once you're pre-qualified, you can select the best offer for you and finalize the loan application with the lender.
Apply in minutes

Simple pre-qual application in less than 1 minute. 

Select your loan offer

Choose the offer that best fits your needs.

Receive funds quickly

Finalize your loan offer, get approved, and receive funds.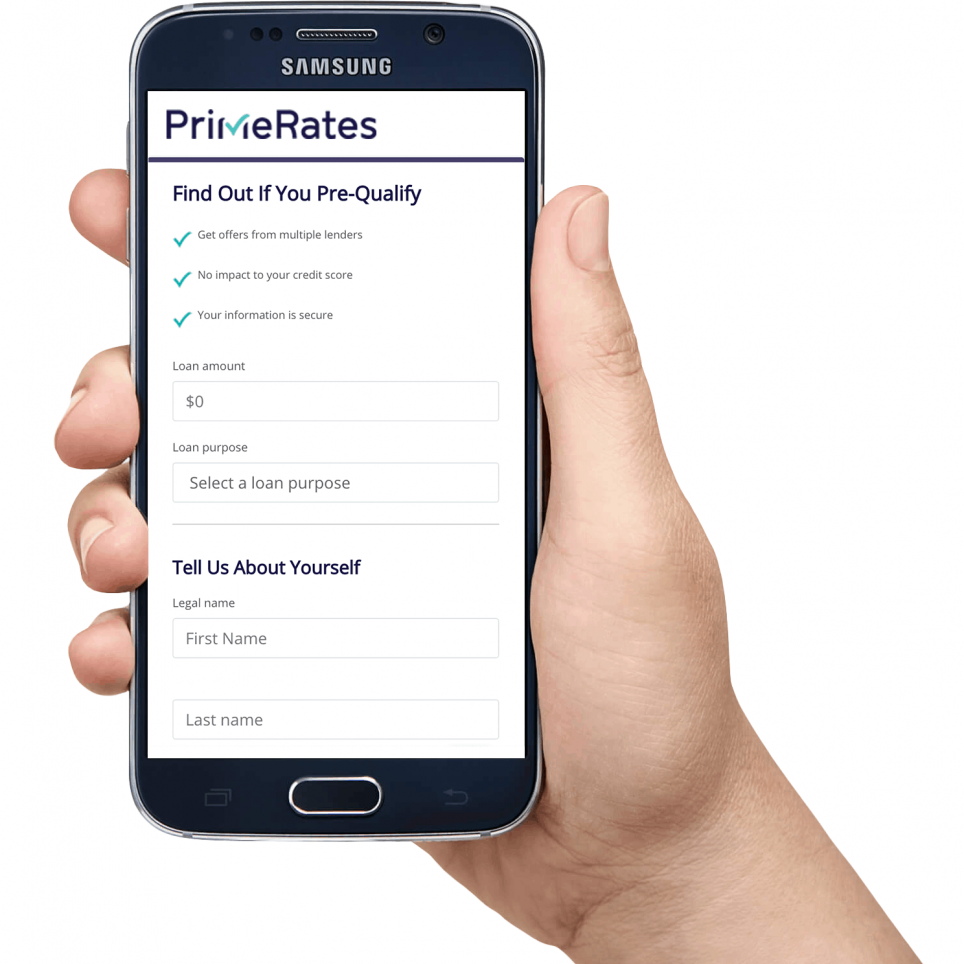 Roof Loans For Good & Bad Credit - No Credit Check
Is roof financing a good idea?
Whether you have the cash on hand for a new roof or not, roof financing can be a good idea. Roof financing can provide affordable monthly payments and low interest rates. Even if you have the cash available, you may prefer to use financing and save your cash for a real emergency. Most roof financing loans do not have an early payoff penalty. This means you can pay the loan off early and save money on interest. If you are planning on selling your home shortly after installing a new roof, you should take advantage of a roof loan. When your home sells, you can pay off the loan.
Best Options to Finance a New Roof
Whether you need to finance a new roof or roof repairs, you have a few options to choose from. Even if you have credit challenges you can qualify for roof financing. One of the easiest types of roof financing to qualify for is a personal loan. Unsecured personal loans do not require collateral or money down. PrimeRates can connect borrowers with reputable lenders that specialize in roof financing. Online lenders are usually easier to qualify for and can provide faster funding than most banks and credit unions. Some contractors may even offer roof financing. If you are working with a contractor that offers financing there's a good chance they partner with lenders that offer personal loans. 
Personal loan
As we mentioned above, personal loans provide homeowners an easy way to finance a new roof or repairs. Most lenders fund personal loans as a lump sum that can be repaid over a certain term with interest. You can usually spend the funds on just about anything. This means if you want to replace windows and a roof, you can use one personal loan for both projects. PrimeRates has lending partners that can offer personal loans up to $100,000 with terms up to 12 years and rates starting at just 3.99%. You can submit one application without affecting your credit score and get connected to lenders that you may qualify for based on borrowing criteria and your credit score. 
HELOC
A home equity line of credit (HELOC) can be used for roof financing. Compared to a personal loan, you may receive a lower interest rate, higher loan amount, and longer term with a HELOC. However, you will need equity in your home to qualify. In addition, there is more risk involved for the homeowner. HELOC loans require homeowners to use their home as collateral to receive a revolving line of credit. If you use a HELOC you should have access to a certain amount of cash that you can withdraw as needed. You should only be charged interest on the amount of money you use. 
Credit card
Credit cards can be used for roof financing, but we recommend considering other options first. Credit cards typically have much higher interest rates. If you can pay the balance off before your next credit card statement, you may be able to earn rewards or other incentives. However this is most likely not the ideal financing solution you are looking for.
How long can a roof be financed for?
If you use a personal loan you can find loan terms up to 12 years. If you use a secured loan option such as a HELOC loan you may find terms up to 30 years. Personal loans and secured loans usually offer the most flexible repayment terms. If you use a credit card it may seem like you can make the minimum monthly payment and take as long as you need to repay the loan. While this could work, it may set you up for high interest charges and unwanted debt. In addition, having credit cards with high balances can negatively impact your credit score.
Can a metal roof be financed?
Just about any kind of roof, including a metal roof, can be financed. Metal roofs are usually more energy efficient than other types of roofs. In addition, some homeowners believe they are more attractive and can increase home value more. The reality is that any type of new roof should increase your home value. A metal roof for a 2,000 sq-ft house can range between $8,500 to $29,500. Metal roofs are on the expensive side compared to other options. However, most metal roofs last upward of 50 years.
Can You Secure Solar Roof Financing?
Depending on your credit, options available for solar roof financing may vary. If you have excellent credit you may be able to secure a residential solar loan through a local bank or credit union. However, if you have credit challenges you may want to consider other options. Personal loans can be used for solar roof financing. If you are looking to add a new roof and solar, you can use a personal loan for both projects.
Does Adding a New Roof Increase Home Value?
Home Advisor reports that adding a new roof can increase home resale value of about $12,000 on average nationally. Furthermore, they report that homeowners can expect to recover an average of 62.9% of installation costs. If you are trying to decide which home upgrades to prioritize, a new roof should be at the top of your list. New roofing is one of the best ways to increase home value. It can also ensure a smoother escrow process. 
Is Roof Damage Covered By Insurance?
If roof damage has occurred due to nature or a sudden accidental event, repair may be covered by homeowners insurance. However, if you are in need of a new roof because of age, wear and tear, or neglect, homeowners insurance will probably not cover repair. If you have roof damage as a result of wind, rain, or hail, most insurance companies will evaluate claims on a case by case basis. The age of the roof and your policy can help determine whether repair will be covered or not. 
Do Roofing Companies Finance?
Roofing companies can offer financing. In some cases, roofing companies may offer special interest rates and other perks. Typically, the roofing company partners with lenders. Since roofing companies provide lending partners with a large volume of roofing loans, lenders often want to offer customers incentives. Offering lower interest rates may be less expensive than advertising for lenders. If you are a roofing company that wants to offer financing for customers, PrimeRates can help. 
Other Personal Loan Types
Home Improvement Financing Articles