Best E-Commerce Business Loan Options
eCommerce businesses are attracting a lot of attention, and with good reason. With less overhead, and more opportunity, successful eCommerce businesses are funneling in quite the profit. Some are even run as a side hustle. Lenders are recognizing the opportunity in the eCommerce space as well. eCommerce business loans are fairly easy to secure. With adequate funding eCommerce businesses can grow faster while maintaining healthy cash flow. Read on to learn more about e commerce startup loans. 
What is an eCommerce Loan?
An eCommerce loan is just like any other business loan that you may use to cover the costs of starting or running a business. An eCommerce business loan can help you get the money you need to invest in inventory, hire employees, lease warehouse space, launch marketing campaigns, and to provide the working capital you may need for day-to-day expenses. 
When you apply for an eCommerce loan, once you qualify and receive the funds, the original loan amount and the agreed-upon amount of interest can be paid back over time with simple monthly payments. The length of time that you will be required to make monthly payments depends on the term of the loan which is detailed in the business loan agreement. Specifics on how the loan works can vary depending on the type of loan. Before signing into the loan always make sure you understand how the loan works.
How Do eCommerce Business Loans Work?
eCommerce business loans work in different ways depending on the lender and the type of business loan you seek to help finance your business. For example, there are conventional eCommerce business loans through banks, credit unions, and online lenders that can be pretty straightforward. 
To qualify for a conventional eCommerce business loan, typically you are going to need a good to excellent personal and business credit score. Some lenders may be a little more lenient than others if you can demonstrate a strong cash flow and show that you have experience running successful businesses in the past. If your personal and/or credit score is too low, you may be able to qualify for a conventional business loan by using assets as collateral or by finding a business partner willing to cosign on the loan. 
Aside from a good credit score, to qualify for a conventional eCommerce business loan, you are going to need a high annual revenue, be in business for more than two years, and have a well-drafted business plan or loan proposal. Lenders are likely going to want to see how you plan to use the money, what your business goals are, and how you plan to repay the loan. If you are an LLC, then a lender may ask you to sign a personal guarantee that allows a lender to come after your personal assets if you are unable to pay back the loan.
If you're looking for an eCommerce business loan through the SBA, many of the same things may be required, however, the process for approval can be more rigorous with higher standards for approval.
Either way, once you qualify for the amount you are looking for, you can then receive the funds upfront from the lender facilitating the loan. One month after you receive the funds, your first loan payment will be due. Continue to make the monthly payments until the loan and all of the interest are paid in full. 
There are several other types of eCommerce business financing options available, however, conventional eCommerce business loans and business loans through the SBA are the two most common. 
What Are The Pros and Cons Of eCommerce Business Loans?
Just like every other type of financing, with an eCommerce business loan, there comes a certain array of pros and cons. These pros and cons should be considered before applying for an eCommerce business loan to understand what you may be getting into and whether or not this is the right type of financing for your business. Here are some of the most common pros and cons that should be considered. 
Pros
Access to larger sums of money

: If you have an excellent business and personal credit score and a demonstrated history of running successful businesses, then you can have access to large sums of money through lending institutions or the SBA. For example, for those who qualify, the SBA has a maximum loan amount of $ 5 million. Whatever loan amount you end up qualifying for and receiving, the large upfront sum of cash is then paid back over time through more manageable monthly payments. 

Increased cash flow

: Some eCommerce businesses may be more seasonal than others. During this downtime, as a business owner, you may not have the cash flow you need to make investments in inventory and personnel, with an eCommerce loan, you can get the injection of cash you need to make investments you need to best prepare for your busy season. 

Maintain autonomous business control

: Some eCommerce businesses decide to sell equity in their company to access injections of cash. This is not entirely a bad thing, however, with an eCommerce business loan, you can keep control of your equity and simply pay the loan over time rather than give up percentages of the business you are working so hard to build. 
Cons
No flexibility

: eCommerce business loans typically require a concise business plan or loan proposal that details exactly how you plan to use the money and how you will pay it back. Once you receive the loan, the monthly payments are usually fixed until the loan is paid in full. There really is little to no flexibility when it comes to how you use the funds and when you will be expected to pay back the loan. For some eCommerce businesses that may have irregular income streams, this lack of flexibility with monthly payments can become an issue. 

Consequences of default

: If you have a secured eCommerce business loan, if you should happen to default on the loan, the lender may seize assets like your business property and/or equipment to sell and use the money to pay off the loan. If you were required to sign a personal guarantee to qualify for the loan, then the lender may be able to go after your personal property like your home or vehicles to cover the remaining loan balance. 
What Are The Different Types Of eCommerce Business Loans?
There are many different types of eCommerce business loans available to entrepreneurs looking to fund their startup or expand their existing business. Here is a list of some of the most commonly used financing options that eCommerce business owners pursue. 
Conventional business loan/term loan

: Term loans are just straightforward business loans that provide a lump sum of cash upfront to be paid back over time through monthly payments. Interest is charged by the bank, credit union, or online lender that issues the loan. 

SBA loan

: SBA loans are government-backed business loans that are more difficult to qualify for. However, SBA loans often come in larger amounts, and longer terms, and may require less interest than other types of loans. 

Business line of credit

: A business line of credit is a revolving line of credit that allows a business to borrow as little or as much of a credit line as it would like. When they make payments, the payments are credited back to the line of credit and can be borrowed again in the future. This is good for businesses that may not know exactly how much money they are going to need and when.

Equipment loans

: Equipment loans are loans used to finance the purchase of machinery, vehicles, computers, and any type of equipment that is needed to operate your business. Typically, the equipment being financed is used as collateral for the loan, so if you should default, the lender may seize the equipment to cover the amount owed on the loan.

Invoice factoring

: Invoice factoring is when you have a good amount of invoices out that need to be paid by other businesses but they are not due at the moment. You can sell these unpaid invoices to an invoice factoring company for a slightly lower amount, and when it is time to collect, the invoice factoring company can collect the amount owed directly from the customer. 

Invoice financing

: Invoice financing is similar to invoice factoring except you are still responsible for collecting the amount owed to you on the invoices, and instead, a company lets you use the invoices as collateral to secure a cash advance. 

Business credit cards

: A business credit card acts just like a personal credit card. As long as you make the minimum payments, you can use your credit line to cover travel expenses, pay for office supplies, and to cover typical day-to-day expenses. 
How Do You Qualify For An eCommerce Business Loan?
Qualifications can vary depending on the lender and type of loan. Before applying you should check requirements. In general, most lenders will have requirements centered around credit score, time in business, and financial statements. In addition to these core requirements, some lenders may require collateral, a cosigner, or a personal guarantee to secure the loan. To find out if you qualify for an eCommerce business loan, you can check offers at PrimeRates with no credit impact.
How Do You Apply For An eCommerce Business Loan?
Applying for an eCommerce business loan is easy. You can either go directly to a bank or credit union and ask them what the steps are for applying for a loan and what is required to qualify, or you can use an online lender. There are many benefits to using an online lender for an eCommerce business loan. These benefits include a faster application and approval process, the ability to shop multiple lenders at the same time, and faster loan processing and funding. 
Choosing The Right eCommerce Business Loan For Your Business
While you may be excited to jump at the first loan offer you receive, remember there's more opportunity out there. You want to have enough education going into the process that you know about what you're looking for. Before choosing an offer, compare a few. But, be careful when doing so as you don't want multiple inquiries on your credit report. Here's where PrimeRates can help you choose the right eCommerce business loan. Within minutes you can access real eCommerce business loan offers with no credit impact. Skip false advertising and hope. Replace it with real offers that are just for you. Simply submit some basic information and access offers from a network of vetted and trusted lenders. With no credit impact, investing a little bit of time in checking offers at PrimeRates can have a healthy ROI. Our lending partners are experts at what they do, therefore, you can avoid red flags or scams by working only with a network of top-rated lenders.
Maximize opportunity for your eCommerce business. . . check business loan offers now!
PrimeRates provides access to personalized business loan offers through our simple and quick pre-qualification application. Once you're pre-qualified, you can select the best offer for you and finalize the business loan application with the lender.
Apply in minutes

Our simple application takes less than 5-7 minutes to complete.

Select your business loan offer

Choose the offer that best fits your needs by comparing loan amounts and terms.

Receive funds quickly

Finalize your loan offer with the lender you selected to receive your funds.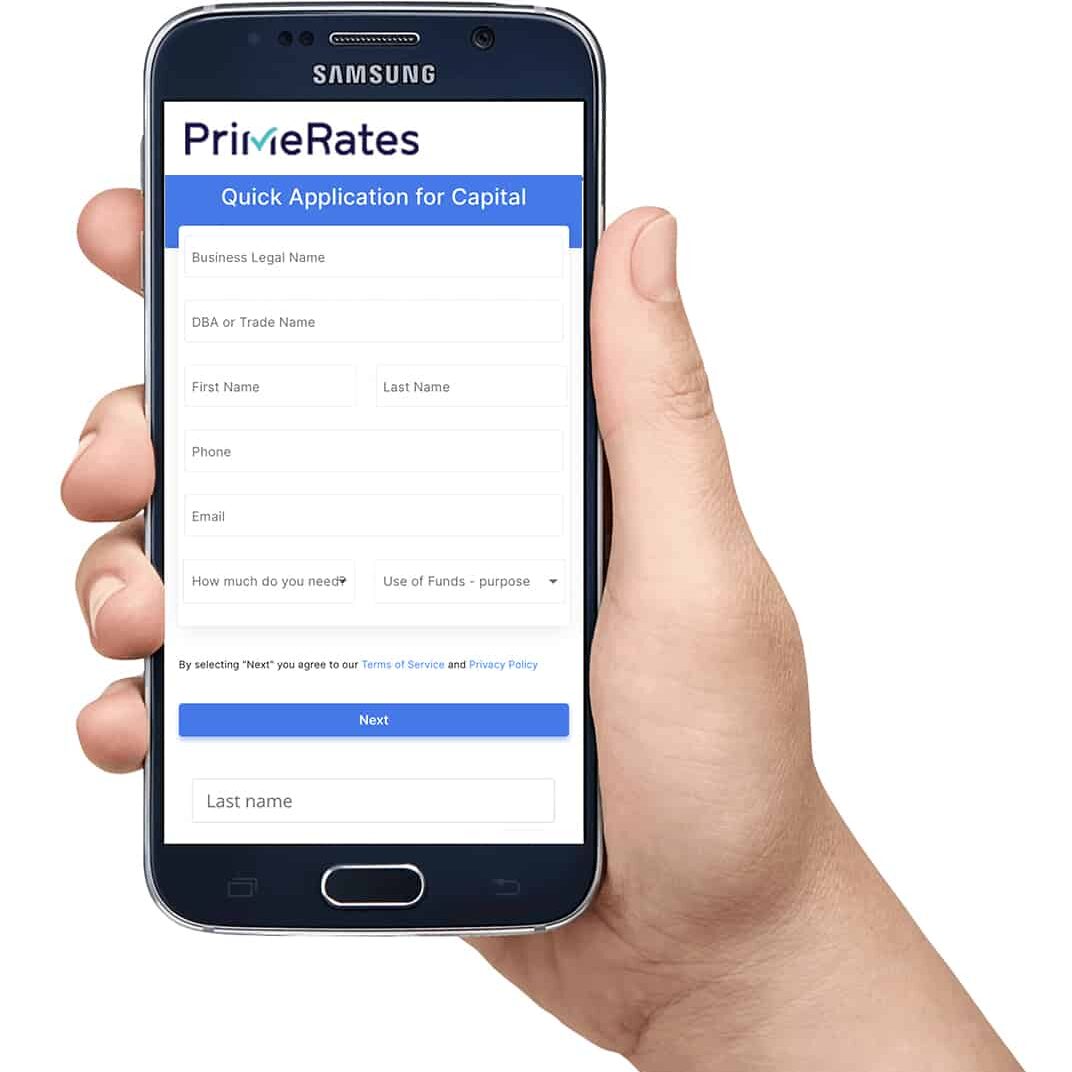 What Type of Business Do You Have?
Business Loans By Industry