How To Get a $300K Business Loan
Can a start-up get approved for a 300k business loan? 
The chances of a new start-up getting approved for a $300,000 business loan are pretty small, however, it's not impossible. If a business can develop a comprehensive business and financial plan, maintain an excellent personal credit score, come up with a sizable down payment, and use collateral to secure the loan, qualifying may be within reach. Ultimately though, it's up to the lender to determine if they are willing to take the risk. They may require a personal guarantee or collateral. Let's dive into the four main elements lenders will likely require for a startup to qualify for a 300k business loan. 
Create a thoughtful business and financial plan

: The idea of a business and financial plan is to outline what your business will need to get started, how you plan to obtain funding, projections for sales and expenses, and what kind of success you are planning to achieve over 5 years. You may also include who you plan to hire to help you achieve your business goals and what kind of experience you have that can help to achieve success. The better your business and financial plan, the better your chances of a lender taking a risk on you and your business idea.However, at the end of the day it's just a plan and with little-to-no proven experience, lenders and investors will be taking a leap of faith by extending a loan.

Maintain an excellent personal credit score

: Lenders are going to want to see that you are good with money, and because you do not have a business credit history, they are going to look at your personal credit history. They are going to want to see a good to excellent credit score with no previous defaults or bankruptcies. Additionally, they are going to want to see a relatively lower amount of existing debt in comparison to the amount of income you have coming in each month. They may even require a personal guarantee. 

Come up with a sizable down payment

: To get a business loan of $300,000 you may be required to have a down payment of at least 25%. This can decrease the risk the lender is taking while at the same show them that you are serious about your business idea and you are willing to put down personal savings.

Use collateral to secure the loan

: A $300,000 business loan is a large loan for a startup. To protect the lender or investor, and help the business keep costs down, collateral may be required to back the loan. You could use your home, vacation home, vehicles, or even investment accounts as collateral to secure the loan. Remember though that in the event of default you risk losing the collateral. 
If you can fulfill these four elements you may be able to qualify for a $300,000 business loan, but there's no guarantee. Keep in mind that some loans and lenders may be easier to qualify for so do your research. As a startup, you may not qualify for an SBA loan. SBA loans are much more difficult to qualify for, and most of the time, SBA-approved lenders are going to want to see a minimum of two years in operation. 
Term loans may be a better option for a startup looking for a $300,000 business loan. Term loans can be obtained through banks, credit unions, or online lenders. All three make excellent options, however, sometimes online lenders may be more willing to take a risk on a new business venture. Or, if you already have a long-term and strong relationship with a bank or credit union, you may want to consider trying there first. This is especially true if you already have some personal assets like a home or vehicle financed with a particular bank or credit union.
Alternatively, you may consider using a personal loan until your business is established enough to qualify for a business loan. To explore business and personal loan options with no credit impact, visit PrimeRates.
Before you apply for a $300,000 business loan, you need to determine what the right type of loan is for your small business. There are several different options, but the two most likely are SBA loans and Term loans.
SBA loans are loans offered by lenders that have a guarantee from the Small Business Administration. (They are commonly referred to as SBA 7(a) loans.) The repayment periods of these loans differ depending on why you need the loan and the amount. Generally, these loans are more difficult to qualify for. Since these types of loans are slower to fund, they are best for businesses that do not need immediate financing.
Term Loans, on the other hand, are lump sum business loans. These usually have an unfixed interest rate that will add to the repayments. These loans last for 1-10 years and are ideal for large investments and expenses, such as property and equipment. Term Loans are best for businesses that have been operating for a significant period of time, with good financial history and, therefore, great credit.
If you're getting a business loan for the first time, we have a great post here you should read.
What Are The Business Loan Payments on $300,000 Loans?
 The loan payments on 300K business loans vary depending on the type of loan, the lender, and your circumstances. If you qualify for a $300,000 business loan, you're likely to get rates at the lower end of the scale, especially if it's going to be paid off over a long period of time (more than 7 years, typically).
Currently (late April 2020), SBA loan payment rates are usually between 6 – 13%, depending on your term. SBA loans are unique because the term is often calculated by what you plan to use the money for. Some examples are:
7 years

for working capital and daily operations

10 years

for equipment purchases

Up to 25 years

for property purchases
SBA loans come with some of the most flexible repayment terms available, so you don't need to take this guide too literally. If you have extenuating circumstances, such as taking out the money to cover a disaster, the term can even be 30 years.
Term loans are for a much shorter duration, typically 3-7 years. These loans work similarly to the way a personal loan does, in that you'll take out the loan, receive a lump sum, and pay it back at a set interest rate over your term. This rate varies depending on the amount you borrow, your lender, your credit score, and other factors, but typically start as low as 6% and can be as high as 99%.
 It's wise to get an idea of what kind of repayment rates before you continue with your application, so you know what you can afford. To see a $300,000 business loan calculator, just click here.
What Type of $300,000 Business Loan Should You Choose?
If you've been an established business for at least 2-5 years, and don't need the money soon, it may be worth applying for an SBA loan. The problem with these loans is that they can take a long time to get (weeks and months), and they're more difficult to obtain because you can get such a low interest rate.
Recommended SBA Loan Service: SmartBiz
If you are looking to take out an SBA loan, you should look at a service like SmartBiz.
SmartBiz is an online service that will connect you to a lender for SBA Loans up to $350K. SmartBiz means that you will never have to go to the bank during your business loan application process. This is a great way for the more established business owners to borrow money to expand, refinance debts, or purchase real estate.
As mentioned above, their loans usually fund within a couple of weeks but can take months, so aren't suitable for businesses that need money ASAP.
Term loans are much easier to get, and you'll get your money quickly – typically days or even hours after approval, but the interest rates are often high. If you have great credit history, however, you're much more likely to get approved at a low rate.
Loan Amount:
$30,000 - $350,000
APR Range:
9.7% - 11.04%
Time To Fund:
Typically take several weeks to fund, but can fund as quickly as within seven days.
Loan Term:
Maximum loan term is 10 years.
Origination Fee:
4.00%
How To Qualify:
675+ Personal credit score
$50,000+ Annual revenue
Great Option For:
Borrowers with good credit
SBA loans
Funding real estate purchases
Refinancing debt
Credit Check?
Soft credit check and hard pull
Co-Applicants Accepted?
No cosigners
Direct Pay-Off To Creditors?
No
Click "Check Rates" to apply to SmartBiz
Recommended Term Loan Lender: OnDeck
If you think an online Term Loan would be more suitable for your business, you could look at OnDeck, which offers business loans up to $400K. With OnDeck, you can get funding in just one day, so it's a great option if you have sudden unexpected expenses or an opportunity you want to jump on.
You don't even need to have a particularly good personal credit score, and you can qualify even if you are a relatively new business. (Typically 2 years in business.)
 If you need money to fund the purchase of new equipment for your business, you should consider a specialist Equipment Loan. Rather than paying the entire cost of your new equipment upfront, this business loan means that you can pay for the equipment in manageable installments over an agreed term.
Most lenders will match their loan terms to the lifetime of the equipment, ranging from about 2 to 10 years, but you may find that some lenders will provide terms up to 25 years. To find out more about what equipment loans may be available to you, click here.  
Loan Amounts
$5,000 to $500,000
APR Range
As low as 9.99%
Repayment Terms
Term loans up to 3 years
Time to Funding
As fast as 1 day
Is There a Down Payment for Business Loans?
 Not typically, no – however, there nearly always is for an SBA loan.
SBA loans require a down payment the majority of the time. The down payment required will depend on your credit history, the type of loan you need and how much money you need, but it is usually somewhere up to 20%. Clearly, this can be a substantial amount – for our $300,000 business loan, the downpayment could be $60,000.
Some SBA loans don't require a down payment, but these will be specified toward certain types of businesses and will come with many restrictions, so it may not be possible to get one of these business loans. However, the two most common SBA loans, SBA 7(a) and CDC/SBA 504, do require a down payment of 10 to 20%.
What are the requirements for a 300k business loan?
There are a few main requirements that a lender may ask you to meet in order to be considered for a $300,000 business loan. 
First, you should develop a thorough and detailed business and financial plan. 
Next, your personal credit score should demonstrate that you can be responsible with debt and that you do not have any recent major credit events. In addition to having a very good to excellent credit score, you should have a strong personal income with little existing debt. If you have an excellent debt-to-income ratio, lenders are going to see you as risky. 
Last, you should consider preparing a down payment of 25% or more and offering up some personal assets as collateral to secure the loan. Lenders feel much more at ease with making large loans like $300,000 business loans if there are some assets securing the loan.
What Are The Best $300K Business Loans?
So, what are the best $300K business loans out there for your small business? We talked briefly about a couple of the best above, but here we will go into a bit more detail about their pros and cons.
SmartBiz
Best for: SBA loans and Term loans of $30,000 to $350,000, for established businesses that have plans to make purchases or improvements weeks or months in the future.
Pros:
Funding can come within a week (but may take a little longer)

Flexible repayment terms of up to 10 years for Term Loans

Borrowing an SBA Loan can help you to build your company or refinance debts

A great option for business owners with good credit

Their loans have some of the lowest interest rates available for term loans – as low as 9.7% for Term Loans

They are associated with eight affiliate companies to provide borrowers with a comparison of SBA Loan offers through just one application
Cons:
If your business is young (5 years or less), you may be less likely to qualify because their time-in-business and credit requirements are higher than other providers – you need to have a credit score of more than 680 with no tax liens, on-record bankruptcies or foreclosures

For a loan of $300K (or more than $150K) your business revenue must be more than $300K itself in order to qualify for the loan

Getting a loan through SmartBiz comes with added fees – whichever lender you choose will take 4% for "referral and repackaging fees" and you will have to pay all closing costs

You will have to fulfill both the lenders' requirements and those of the SBA to get approval for an SBA loan

Applying for a business loan through SmartBiz requires you to have several documents to complete the application so it can take you over 2 hours to complete
OnDeck 
Best for: Term loans of $5,000 to $400,000 for businesses that need or want fast funding.  
Pros:
The funds may come through within 24 hours, so it is a great option if you require immediate financing

The application process is fast

You can apply online or over the phone

Relatively easy to qualify

You are rewarded if you have borrowed from them before

Allows you to build up your business credit
Cons:
They can be a lot more expensive than other lenders as they have higher interest rates – APRs start at 9.99% but can reach up to 99% on their short-term loans

They charge a maintenance fee of $20 per month for their lines of credit

There is a risk of seizure of business assets if you default on the loan as they back all of their loans with a blanket lien on business assets

You have to sign a personal guarantee that allows them to pursue your assets if you are too late with re-payments

They require a fixed monthly payment from a related business account, and Term Loans may demand a fixed daily payment
EasyFunding.com
Best for: Term loans of $2,000 to $350,000 for businesses with "bad" credit for very short terms, as well as SBA loans for those with good credit.    
Pros:
You can get the funds in as little as 72 hours

They can approve most businesses that are making money – even if they have "bad" credit

You don't have to use a credit card

Terms are short; 3 months – 2 years for Term loans, longer for SBA

They offer flexible payments so you can pay back in a way that suits you

Complete an online form, speak to an account executive, and then you'll get a funding solution
Cons:
Automatically debits the money from your business bank account daily

Terms may be too short for some

They're a smaller company that isn't as established as larger lenders

They don't seem to give approximate APR rates, so you'll have to contact them to find out  
As you can see, you have many options for $300K business loans, and when you're ready to apply, go to our site to see a comparison of the best options for you. 
How do I apply for a 300k business loan?
Before you apply for a $300,000 personal loan you should do a few things. First, you should review your personal credit history to see if it is accurate and if it's the best score you can achieve at the moment. If your credit score is very good to excellent, then you should start saving up for a downpayment of at least 25%. If your credit score is only fair, then you may want to take some time to build up your credit score by paying down existing debt and resolving any issues that could boost your score. At the same time you are building your credit score, you could be saving up that downpayment and writing a stellar business and financial plan.  
When you think you are ready to apply for a $300,000 business loan, you are going to want to identify a lender that you may want to work with. It could be your personal bank, credit union, or through an online lender. A good place to unlock business loan offers with no commitment and no impact on your credit score is PrimeRates. From the comfort of your home or office you can shop real offers in minutes.
How do I qualify for a 300k business loan?
There are a few hoops that you may need to jump through to qualify for a $300,000 business loan. Before you even apply for a business loan, you should take a look at your personal and business credit histories. Are they in the best shape that they can be? Next, start saving for a down payment for the loan and write a clear and thoughtful business and financial plan complete with anticipated revenues and expenses. 
Once you are properly prepared, it is time to apply for your $300,000 business loan.
Choose the loan type that makes the most sense for your business needs

: Are you a startup? Do you have several years of time in business? What are the qualifications for the loan you're pursuing?

Compare

your options to determine what your business qualifies for and what best meets your needs. The most common loan types for business loans of $300,000 are SBA loans, term loans, equipment loans, and merchant cash advances.

Compare loan providers and/or get prequalified

: Getting prequalified for a business loan is one of the best ways you can shop and compare lenders, rates, and terms. At

PrimeRates

you can unlock real offers from some of the best lenders online.  

Gather documents

: Gather all of your business documents like EIN#, bank statements, tax returns, financial statements, and financial projections. You will need to reflect on accurate information during the application process and lenders may require you submit certain documents before approving a loan. 

Apply with the lender of your choice

: Getting prequalified is one step toward getting a loan, but remember, prequalified and preapproved are different. Once you've received an offer you wish to be approved for, find out what the lender requires to complete the loan process. In most cases they will need more information and documentation to approve and fund the loan. 

Collateral appraisal

: If the lender requires you to use some personal or business assets as collateral to secure the loan, you will need to get them properly appraised so the value can be determined.

Sign the promissory note

: Review all of the fine print and every detail of the promissory note. If everything looks as discussed, go ahead and sign. Funding times can take as little as 24 hours or a few business days depending on the lender and the loan type.

Make the payments

: Once the funds are deposited into your account, you can go ahead and use the money to fund your business. Continue to make the payments on time and in full, and at the end of the loan term, you will have paid off the entire loan plus the interest due. 
Can I get an unsecured $300,000 business loan?
It's possible to get an unsecured $300,000 business loan, however, it's  unlikely. A significant amount like $300,000 is something that lenders are not going to take lightly. It's better to be prepared by having some assets appraised before applying for the loan or saving up a large down payment. 
How long is a 300k business loan typically?
If you obtain a $300,000 business loan through the SBA, terms can typically be for up to 20 years or more, however, those terms are usually reserved for larger amounts and commercial real estate loans. A more realistic loan term on a $300,000 business loan would be for up to 10 years. 
Where can I get a $300,000 business loan?
A $300,000 business loan can be obtained through a bank, credit union, online lender, or the SBA. The SBA is an excellent source for larger business loans with longer terms and lower interest rates. However, SBA loans are some of the hardest loans to qualify for, especially if you are a newer business. One of the best places to shop and compare offers is PrimeRates. At PrimeRates you can explore business loan offers without the pressure of a sales associate. The freedom to shop and compare offers online can help you make a better business decision. And of course if you need help, PrimeRates is just a chat or call away. 
PrimeRates provides access to personalized business loan offers through our simple and quick pre-qualification application. Once you're pre-qualified, you can select the best offer for you and finalize the business loan application with the lender.
Apply in minutes

Our simple application takes less than 5-7 minutes to complete.

Select your business loan offer

Choose the offer that best fits your needs by comparing loan amounts and terms.

Receive funds quickly

Finalize your loan offer with the lender you selected to receive your funds.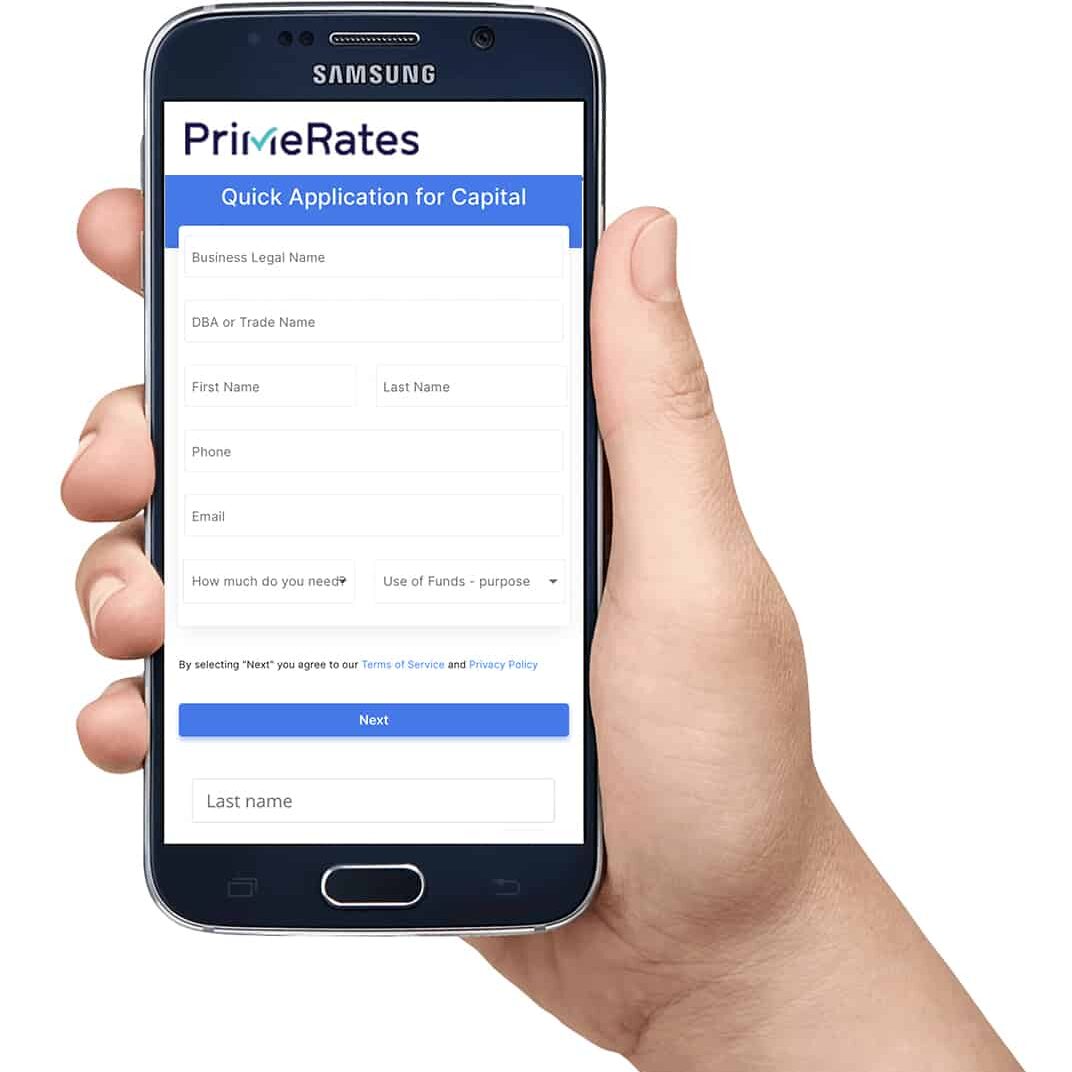 What Type of Business Do You Have?
More Business Loan Options