Learn More About Equipment Financing
What is equipment financing?
Equipment financing is the process of borrowing money to fund a major equipment purchase.
What is an equipment finance agreement?
An equipment finance agreement will include the interest rate at which you're borrowing the money, any extra fees, and the terms, or timeframe in which you have to repay the funds.
How does equipment financing work?
Instead of having to pay for the entire cost of a piece or multiple pieces of equipment upfront, you can take out a loan that allows you to repay the cost of the equipment in installments over a certain period of time.
How long can an equipment finance agreement last?
While most lenders won't want to extend the terms of the loan beyond the average lifetime of the equipment, some provide repayment terms of up to 25 years. However, most equipment financing agreements come with repayment terms between two and 10 years.
Is it hard to get equipment financing?
In general, business loans can be a bit of a headache to qualify for, especially when compared to using other types of financing like credit cards and personal loans. Business loans, including equipment financing, often require a mountain of paperwork including proof of licensing, profit and loss statements, financial projections, and a detailed written business plan.
Many lenders also require certain qualifications to be met before approving applicants for a business loan. Some of these requirements include a certain amount of annual revenue or a minimum amount of time in business. For example, Bank of America requires business applicants to have a minimum of 2 years in business operation and $250,000 in annual revenue.
As an alternative to using equipment loans, some business owners may find more success using in-house financing from the equipment vendors themselves. Personal loans and credit cards are other common ways that business owners choose to finance their equipment purchases.
Benefits of Equipment Lease Financing
Pros
Quick access to cash
Limited paperwork
Equipment serves as collateral
Cons
Equipment could be obsolete by the time the loan is fully repaid
Might need to depreciate equipment, so you can't deduct full cost each year
Types of business equipment which can be financed
Business owners across almost every industry may find themselves with a need to finance an equipment purchase.
There are many different types of business equipment that can be financed including kitchen appliances, manufacturing equipment, construction machinery, office equipment and furnishings, medical equipment, and even commercial vehicles.
No matter what type of business equipment you are looking to obtain, using financing can make your purchase more accessible and affordable.
Equipment financing options
There are a variety of different equipment financing options for business owners to take advantage of, including:
Equipment Business Loans

- This type of financing is often the most popular option for business owners looking to make equipment purchases. These loans are usually self-secured which means you do not need to put up any additional collateral besides the equipment itself. Underwriting approval is often much faster than traditional business loans. The lender will offer you up to 100% of the purchase price of the equipment and may require a down payment.

Term Loans

- Term loans are a form of flexible working capital. They can also be used to finance equipment purchases. They may require business owners to put up additional collateral in order to secure the loan. The loan balance is then paid back in equal weekly or monthly installments. These loans may take longer to go through the underwriting process and have stricter requirements for loan approval.

SBA 504 Loans

– The Small Business Administration insures a variety of loans from their partner lenders in order to assist qualifying business customers. Loans that are backed by the SBA are often easier to obtain and carry lower interest rates and smaller down payment requirements than other loan programs. The SBA 504 loan program allows business owners to borrow up to $5 million for eligible equipment purchases and real estate purchases that promote business growth and job creation. Applicants must have a net worth of less than $15 million and an average net income of less than $2 million.

Business Line of Credit & Credit Cards

– Some business owners prefer the flexibility and open access of using a credit card or line of credit. Once you have obtained business credit, you are usually not subject to any further restrictions or red tape in order to make new equipment purchases, which is a big advantage for many business owners.

Personal Loans

– Since personal loans can be used for a variety of expenses and purchases without much oversight, some business owners choose to use them for their equipment needs. Personal loans often have lenient application requirements and very quick underwriting processes. In some cases, you may be able to obtain your funds within just 1-2 business days. Loan amounts are typically limited to less than $100,000.
Equipment Financing Rates and Terms
Standard Rates: Borrowers with excellent credit can take out equipment financing with rates as low as 9%, while some borrowers with average or poor credit may be charged as much as 99% on a loan.
Standard Terms: Most equipment financing repayment terms are set between three and 36 months.
Price ranges

Equipment under $50,000: It's easier to qualify for equipment financing under $50,000 than some higher amounts of funding. This type of financing may also come with shorter repayment terms.
Equipment over $50,000: Financing for equipment worth over $50,000 may be more difficult to obtain and have stricter requirements and longer processing times. With this kind of financing, you want to make sure to find the agreement with the longest repayment terms and lowest APR.
Type of equipment covered

Farm equipment
Industrial equipment
Business equipment
What credit score do I need to obtain equipment financing?
In order to obtain equipment financing, you will need to meet the minimum credit score requirements of the vendor or financial institution you are applying through.
Whether you are using in-house financing, a traditional bank, or an online lender for your business equipment financing, you will most likely need to pass a credit check. Most lenders want to see a credit score of at least 660 in order to approve applicants for the best rates.
If your credit score is less than ideal, you may still be able to obtain financing from online lenders and credit unions who have more lenient application requirements. You can also consider using the services of a cosigner or coborrower in order to obtain your equipment loan.
How long does it take to get equipment business funding?
Some business loans take a long time, up to 30-60 days, to go through the underwriting process and obtain approval. Even SBA-backed loans involve a significant amount of red tape and require applicants to submit a great deal of paperwork such as financial statements and a business plan.
On the other hand, equipment financing can be faster to obtain. Online lenders are often more likely to have a faster underwriting process and more lenient application requirements. In some cases, you may be able to obtain your funds within just a few business days. Likewise, in-house financing often offers one of the quickest ways to get your equipment in a rush.
As an alternative to using these types of financing, business owners can also consider taking out a personal loan to pay for their business expenses including equipment. Personal loans can be used for whatever purchases the borrower needs, often fund within a few business days, and do not require as much documentation as business loans do.
What minimum credit score do I need to qualify for equipment financing?
While the minimum credit score needed will depend on each individual lender, applicants still need to have a ballpark idea of what credit score is too low to qualify. Getting prequalified from a few different lenders can help you determine whether or not you will be able to obtain a loan.
Applicants can compare rates and minimum credit scores from online lenders such as Prosper and Upgrade in order to see who has the most lenient credit score requirement. For example, Upgrade will approve applicants with scores as low as 560, although interest rates may be high.
What is the interest rate associated with borrowing for equipment?
While the interest rate on your equipment purchase is dependent on a variety of factors including your credit score and the lender that you choose to borrow from, you can expect to see rates between 4% and 30% APR on equipment financing. Applicants with lower credit scores will pay more in interest, while those with prime credit scores will receive the best rates.
Applicants may also encounter various loan fees including origination fees, underwriting fees, late payment fees, and early prepayment penalties. Be sure to read through your financing terms before agreeing to your business loan or equipment purchase.
Equipment financing vs. equipment leasing
Equipment leasing offers business owners another alternative to equipment financing. In some cases, leasing may be the better financial choice for your company.
Leasing your business equipment entails renting the equipment directly from the vendor or from a specialized financing company. At the end of the lease period, business owners can either convert the lease to a purchase or return the equipment, often for a newer model.
Leasing may be a better option for those equipment purchases that require an upgrade every few years in order to stay up to date with the latest technology. Many equipment leases also offer the advantage of built-in service agreements which can save business owners money on maintenance and repairs.
Equipment purchases have their own set of advantages. Getting financing for a purchase may be easier to obtain than a lease since equipment loans are secured by the equipment itself. You may also get a better deal on an equipment purchase than when using a lease. On the other hand, equipment loans may require a sizeable down payment and can often take longer than a lease to obtain. Some business loans can take up to 30-60 days for approval.
How long can you finance equipment?
Although repayment periods will vary from lender to lender, business financing for equipment purchases often spans between 2 to 10 years. Terms may also vary depending on the type of equipment purchased and the expected lifetime of that equipment. Extended loan terms of up to 25 years may be available from some lenders and loan programs.
A shorter term allows you to pay off the loan balance faster with larger monthly payments, while a long term loan allows you to take advantage of more affordable payments at the cost of paying more in interest over the lifetime of the loan.
Businesses will need to evaluate what financing period is best for them and how large of a monthly payment they can afford to pay.
How to Qualify for an Equipment Financing Loan
In order to qualify for an equipment financing loan, you should have good to excellent credit and extensive, positive credit history. Because equipment financing loans are larger than many personal loans and potentially higher risk to the lender than other types of funding, they can be difficult to qualify for. If you don't have stellar credit or have some negative remarks on your report, some lenders may allow you to apply with a co-signer or business co-owner with a stronger financial history.
Equipment Financing for items under $50,000
Credibility Capital is an online lender that works with businesses that have a high annual revenue and high credit scores.
Why they may be a good option for equipment financing: This lender offers equipment financing with fairly low rates and flexible repayment terms.
Short-term financing: Repayment terms for this lender are usually one, two, or three years long.
Strong credit borrowers: Borrowers with excellent credit can get financing with rates as low as 10%.
StreetShares offers business term loans ranging up to $250,000 to borrowers with good credit and strong cash flows.
Why they may be a good option for equipment financing: StreetShares offers lower rates and higher financing than many of its competitors.
For newer businesses:  This lender offers financing to businesses who have been in operation for as little as one year.
Strong cash flow: Businesses should have at least $75,000 in annual revenue to be considered for financing with this lender.
OnDeck offers loans of up to $500,000 to borrowers across a range of credit scores.
Why they may be a good option for equipment financing: If you have low credit or need fast cash, this lender might be a good option to consider.
For Fast Cash: OnDeck financing can fund within as little as 24 hours.
For Bad Credit: This lender approves borrowers with credit scores as low as 500.
Equipment Financing for items $50,000 and over
Smartbiz offers large SBA loans with some of the lowest interest rates in the industry.
Why they may be a good option for equipment financing: Smartbiz's loan terms can be as long as 10 years and can range up to $350,000.
For Fast SBA loans: While many SBA loans can take months to fund, Smartbiz's loans fund in as little as a week.
Fundbox offers loans of up to $100,000 to borrowers across a range of credit scores.
Why they may be a good option for equipment financing: This lender's requirements are not as stringent as some of its competitors, so it can be a good company to look into if you're having trouble getting approved elsewhere.
Fast Cash: Their loans can fund as soon as the next business day.
Equipment Financing requirements: To be eligible for a loan with Fundbox, you should have at least three months of invoicing history and a minimum of $50,000 in annual revenue.
Currency Capital offers large business loans to borrowers with average credit scores.
Why they may be a good option for equipment financing: Currency Capital offers a wide range of loans, with amounts of up to $2 million. This lender is also easier to qualify for than many of its competitors.
Large equipment purchases: With possible loans of up to $2 million, Currency Capital offers financing to fit a wide range of equipment needs and expenses.
For Established Businesses With Good Credit: If you're a business owner with an established financial history and high annual revenue, you'll be eligible for some of the lowest equipment financing rates with Currency Capital.
Best Option For Equipment Financing: Currency Capital connects borrowers to lenders so they're able to evaluate a variety of loan offers and find the product that's best for them. This allows applicants to compare several equipment financing lenders at once to determine the lowest annual percentage rate and most flexible repayment term that fits their needs.
How to Apply for Equipment Financing
While some lenders require an in-person meeting or telephone interview, some applications are completely online, and decisions are made within minutes. Whether you're applying in-person or exclusively online, you'll need to have a few documents handy, including a driver's license, bank statements, your credit score, business tax returns, and an equipment quote.
No Credit Check Equipment Financing – Does this exist?
Unfortunately, almost no company will lend to you without a prior credit check. However, companies like OnDeck and Fundbox will work with borrowers who have average or poor credit scores.
» MORE: No Credit Check Business Loans
Equipment leasing options
Leasing vs Financing: While with financing you will own the equipment outright, leasing allows you to effectively "rent" your purchase and pay for it in installments over the course of its life.
When leasing is a better idea than financing: If you're looking to purchase equipment or machinery that doesn't typically have a long lifespan, leasing might be the right option for you. However, if you intend to use the equipment for a long period of time or you expect it to last for several years, this option can end up being pricier than purchasing the item outright.
Conclusion
Whether you have excellent or poor credit, or are a new or established business, it's possible to find the equipment financing option that's right for you. No matter what your business or financial history looks like, take the time to compare several lenders' offers in order to find the agreement with the lowest annual percentage rate and repayment terms that fit your budget.
PrimeRates provides access to personalized business loan offers through our simple and quick pre-qualification application. Once you're pre-qualified, you can select the best offer for you and finalize the business loan application with the lender.
Apply in minutes

Our simple application takes less than 5-7 minutes to complete.

Select your business loan offer

Choose the offer that best fits your needs by comparing loan amounts and terms.

Receive funds quickly

Finalize your loan offer with the lender you selected to receive your funds.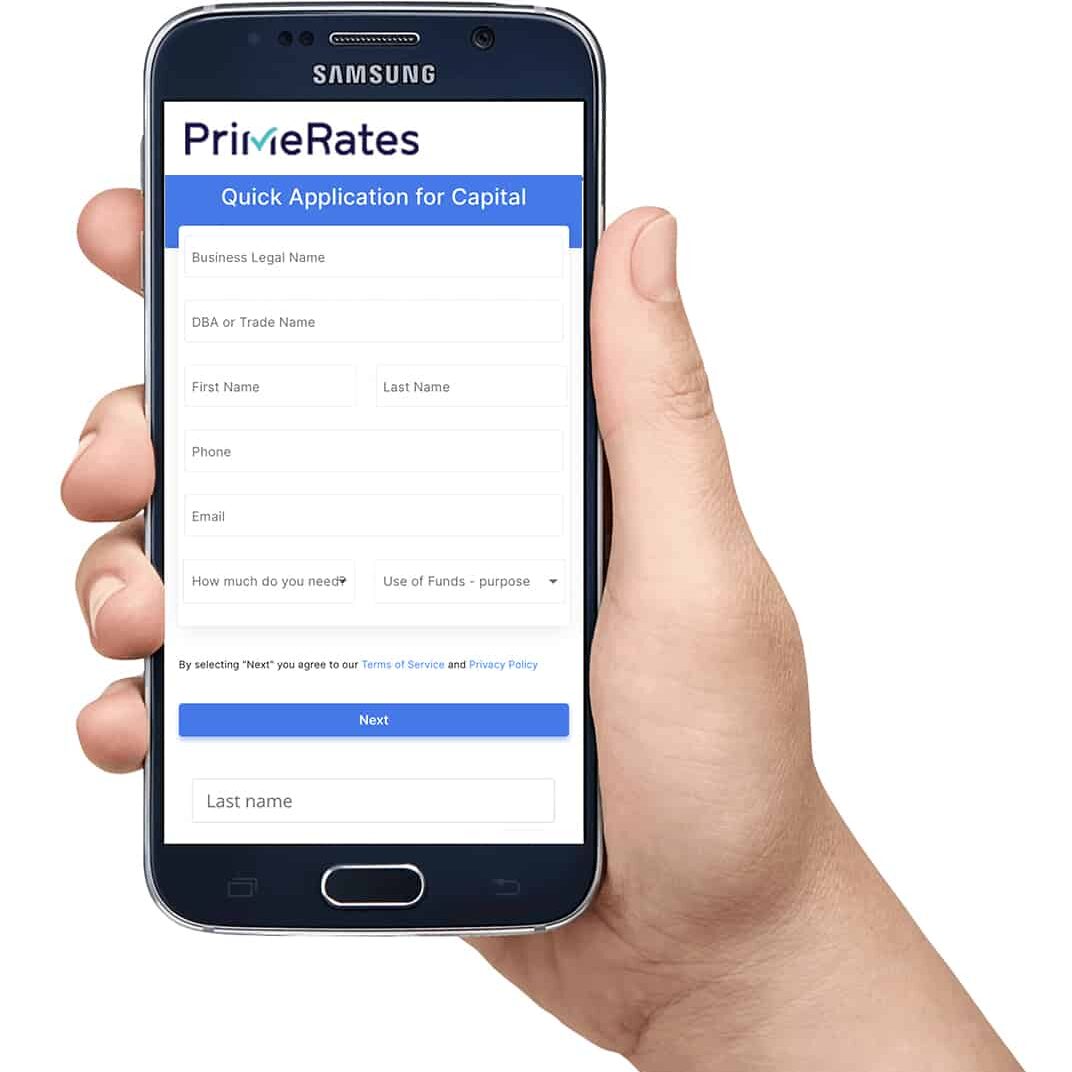 More Business Loan Options