PrimeRates provides access to personalized loan offers through our simple and quick pre-qualification application. Once you're pre-qualified, you can select the best offer for you and finalize the loan application with the lender.
Apply in minutes

Simple pre-qual application in less than 1 minute. 

Select your loan offer

Choose the offer that best fits your needs.

Receive funds quickly

Finalize your loan offer, get approved, and receive funds.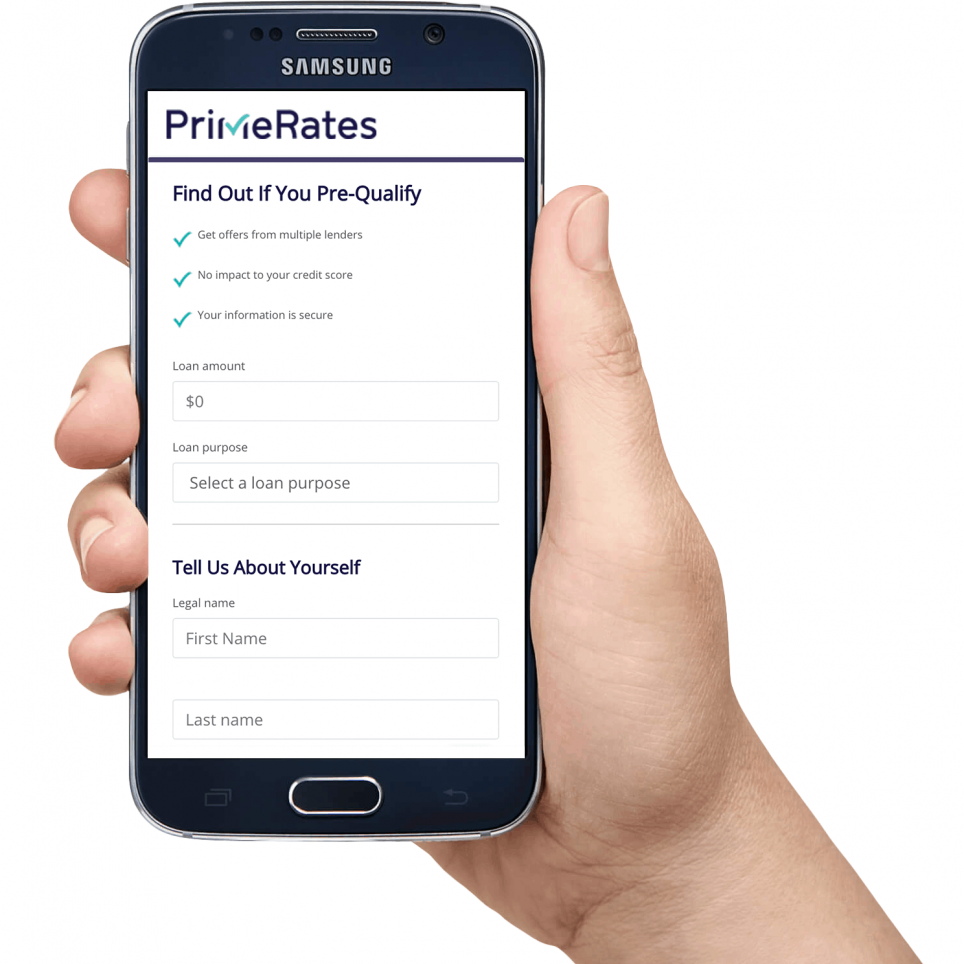 Best Personal Loans For Fair Credit: 600+ Credit Score
There are some people in this world who relentlessly obsess over their credit scores. They check their online credit reports at least once a week and do everything in their power to ensure their score climbs ever higher. Then there's the rest of us who realize that there's more to life than three intangible digits. Sure, it's important to be financially responsible, but it's not the end of the world if a bill slips your mind from time to time.
If you've done a decent job being a responsible borrower, yet you're not exactly the most financially fixated person you know, odds are you've at least established a fair credit score and can qualify for loans relatively effortlessly. But what kind of numbers are lenders looking for, and what are the best personal loans for fair credit applicants? Let's take a closer look.
What Is a Fair Credit Score - 600, 650?
Credit scores range between 350 and 850 with the average American's score falling somewhere around 650. Generally speaking, individuals with credit scores of 690 and above are considered to have good credit, while those with scores below 630 are largely deemed to have bad credit. Everyone in the middle, with scores between 630 and 690, has fair credit, and folks in this category have a lot of options when it comes to getting a personal loan with an average credit score.
Personal Loans for Fair or Average Credit - 600+
If you're in the market for a cash infusion, here are three leading lenders that offer personal loans for average credit applicants.

APR range: 6.95-35.99%
Available loan terms: 36 to 60 months
Loan amounts: up to $35,000
Time to fund: One to three business days after approval
Origination fee: Ranges from 2.4% to 5% of the initial loan amount
Credit needed: 640+
Click to apply with Prosper

APR range: 6.94-35.97%
Available loan terms: 36 to 60 months
Loan amounts: up to $35,000
Time to fund: N/A
Origination fee: 2.9% - 8%
Credit needed: 620+
Click to apply with Upgrade

APR range: 15.49-34.99%
Available loan terms: 24 to 48 months
Loan amounts: up to $25,000
Time to fund: N/A
Origination fee: 5% of loan amount
Credit needed: 600+
Click to apply with LendingPoint
» MORE: Read our side-by-side Comparison of Upgrade vs Prosper
Prosper: Founded in 2005 as the United States' first peer-to-peer lending marketplace, Prosper has since helped more than 840,000 people secure more than $13 billion in personal loans.  Prosper matches borrowers with lenders to facilitate fixed-rate loans ranging from $2,000 to $40,000 fixed-rate. The lender does charge origination fees that vary between 2.41%-5%, and their interest rates start as low as 6.95% but can balloon up to 35.99% for high-risk borrowers.
Upgrade: Headquartered in San Francisco and founded in 2016, Upgrade helps borrowers with greater needs by offering loans in amounts from $1,000 to all the way up to $35,000. Interest rates on Upgrade loans range from 7.99% to 35.97%, and all loans require origination fees that can be as low as 2.9% or as great as 8%. There are no pre-payment fees with Upgrade, however, and approve borrowers can receive funds in as quickly as one business day.
LendingPoint: Based in Atlanta, LendingPoint distinguishes itself from other institutions in this space by specializing in making fair credit score loans a reality for people who've neglected their finances in the past. LendingPoint positions itself as an advocate for borrowers with flawed credit reports and issues loans ranging from $2,000 to $25,000. APRs with LendingPoint range from 15.49% to 35.99%, and while some applicants may qualify for a 0% origination fee, others could pay up to 6%.
Personal Loans for Debt Consolidation
While many borrowers may seek loans that allow them to make large purchases, other applicants are more interested in paying for things they already own. If you've run up your credit cards in the past and are now looking for an easy — and affordable — way to pay down your debt, a consolidation loan could be just what you're looking for.
Here are two lenders that specialize in providing such loans.


APR range: 9.95-35.99%
Available loan terms: 36 to 60 months
Loan amounts: up to $35,000
Time to fund: N/A
Origination fee: up to 4.75%
Credit needed: 580+
Click to apply with Avant
» MORE: Personal Loans For Debt Consolidation
Avant: Offering unsecured loans for fair credit — and even poor credit — Avant is an excellent choice for people with credit scores as low as 580. And applicants who earn upward of $40,000 per year will pay a lower APR than they'd get otherwise. Avant loans come with interest rates spanning from 9.95% to 35.99% for loan amounts up to $35,000.
FreedomPlus: Though this lender typically approves applicants with scores above 700, it's certainly not unheard of from them to grant a loan to individuals with ratings around 640. FreedomPlus offers interest rates ranging from 4.99% 29.99% for loans in amounts from $10,000 to $35,000. In many cases, funds can arrive in as quickly as two days, and origination fees vary from 0% to 5% of the loan amount. FreedomPlus is also one of the few lenders that accepts cosigners.
Personal Loans For Thin Credit
Perhaps you're the type of person whose credit history isn't necessarily good, fair, or bad — but it's more a matter of it being nonexistent. If you've largely relied on cash until now, or if you just moved to the U.S. from a foreign country, you might be best off with a lender that offers loans for individuals who don't have much credit experience. Here's a look at one of our top picks:

Upstart: Instead of solely considering an applicant's credit history, Upstart weighs other factors including education, work history, and the likelihood of on-time payment. Upstart is among the best options for college-age students with sparse credit history, and the lender offers loans for up to $50,000 with rates ranging from 7.43% to 29.99%.
Even if you don't have incredible credit, you can still get a decent loan without paying an arm and a leg. Your best bet, though, is to continue building better credit to get the lowest rates. Maintaining a good credit score doesn't have to become an obsession, but there's nothing wrong with it being a healthy habit.
Other Personal Loan Types