PrimeRates Lender Partner Network










PrimeRates provides access to personalized loan offers through our simple and quick pre-qualification application. Once you're pre-qualified, you can select the best offer for you and finalize the loan application with the lender.
Apply in minutes

Simple pre-qual application in less than 1 minute. 

Select your loan offer

Choose the offer that best fits your needs.

Receive funds quickly

Finalize your loan offer, get approved, and receive funds.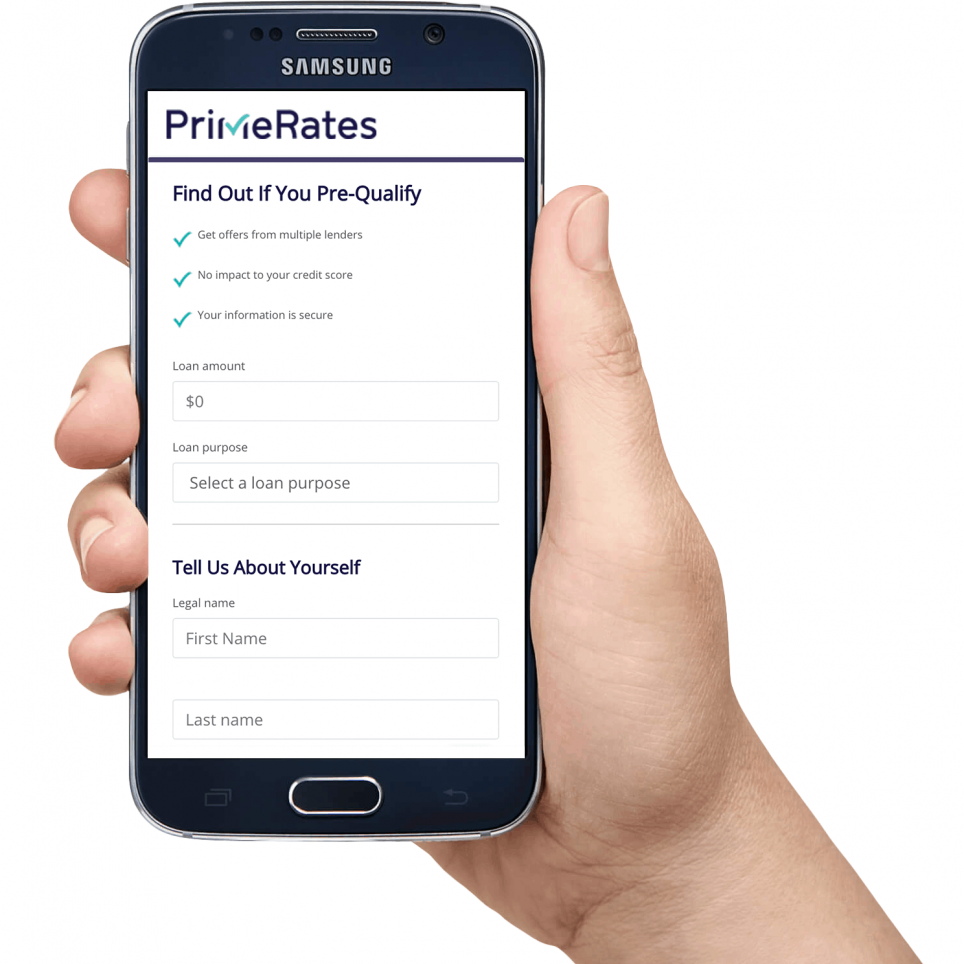 Best Options To Finance New Kitchen Cabinets
Open the door to the opportunity to remodel the heart of your home using financing options for new kitchen cabinets. Customizing your kitchen and hand-selecting each touch can transform a house into a home. We get that the cost can be overwhelming and are here to help by providing options for financing kitchen cabinets. Keep reading to discover easy and affordable financing options for new kitchen cabinets.
What is kitchen cabinet financing?
Is the cost of new kitchen cabinets prohibiting you from upgrading or designing the kitchen of your dreams? Kitchen cabinet financing makes it affordable to score the new kitchen cabinets you want. 
How much do new kitchen cabinets normally cost?
Whether you are remodeling an existing kitchen or building a brand new one, the cost of kitchen cabinets may be an obstacle. Three types of kitchen cabinets are stock, semi-custom, and custom. In most cases, stock cabinets are the cheapest and custom cabinets are the most expensive. Semi-custom cabinets falls in between on the price scale. Let's take a closer look at what kitchen cabinets cost…
Stock cabinets typically cost $60 - $200 per linear foot

Semi-custom cabinets typically cost $100 - $650 per linear foot

Custom cabinets typically cost $500 - $1,200 per linear foot
What normally factors into kitchen cabinet costs?
The cost of kitchen cabinets may vary depending upon many factors including these 4 things...
#1 Type of material
Most kitchen cabinets are made of wood and wood-based materials. The type of material can affect the cost and quality of the cabinet. Some of the most affordable cabinets are often made of particleboard, laminates, and plywood. 
So, how much of a difference does the material make on the price? Let's take a look at different cabinet materials and their average costs:
Wood veneer $4,000 - $9,000

Laminate $5,000 - $8,000

Acrylic $5,000 - $8,000

Wood $6,000 - $12,000

Stainless steel $22,000 - $36,000
#2 Number of cabinets
The more cabinets you need, the more it'll probably cost you. In some cases you may be able to negotiate a discount for large quantities of cabinets, overstock supply, discontinued styles, and so on. 
#3 Special features (ex: self-close doors, magnets)
Special features can be added to stock cabinets and custom cabinets. These features may increase the price and can include:
Knobs and pulls

Hinges

Lazy Susans

Trash bin pull-outs

Plate displays

Integrated panel systems

Rollout drawer trays

Spice drawer organizers

Rollout drawer trays

Soft close

Swing-out shelving

Appliance garage houses

Lighting

Decorative features (posts, valances, wainscoting, pilasters, etc.)
#4 Professional vs Personal installation
Installing new cabinets might sound like a job any handyman can handle. However, it's a project best completed by an experienced and trustworthy professional. There are many steps involved in the installation process such as removal/demo, additional features and accessories, molding and trim, finished ends and labor. Below is an average breakdown of cabinet installation costs:
Removal / demo: $300+

New install: $500-$1,200 per linear foot

Additional features & accessories: $5,000 (average)

Molding & trim: $10 - $15 per linear foot

Finished ends: $75 - $200+ each

Labor: $50 - $150 per hour or $100 - $250+ each
How much can you borrow for new kitchen cabinets?
In most cases, the full amount needed for new cabinets can be borrowed or financed. The amount you can borrow will depend on your loan approval. Below are a variety of financing options for all types of credit. 
Is there a minimum amount I can finance for a kitchen remodel?
The minimum loan amount for a kitchen remodel usually depends on the lender and type of loan you use. Most lenders prefer to issue larger loans. If you are using a personal loan some online lenders have minimum loan amounts as little as $500 or $1,000. If you are using a home equity loan or line of credit most lenders have a minimum loan amount of about $20,000 to $25,000. Kitchen cabinets are one of the most expensive parts of most kitchen remodels. Even if you are replacing just cabinets, you can easily meet minimum loan amounts for personal loans. 
How much does a new kitchen cost on average?
On average, small kitchen remodels can cost as little as $4,000. However, larger or more lavish kitchen remodels can cost $50,000 or more. However, most kitchen remodels fall in the ballpark of $12,000 to $35,000. There are many variables that can impact the cost of a kitchen remodel such as the type of materials, size, labor required, quality of appliances, location, and more. The most expensive part of a majority of kitchen remodels are the cabinets. Replacing kitchen cabinets can cost upwards of $15,000. Homeowners on a budget should consider painting or repairing current cabinets to help save money. The second most expensive part of a kitchen remodel is appliances. Replacing kitchen appliances costs about $8,200 on average. The third most expensive part of most kitchen remodels is the countertops. One of the cheapest options for countertops is laminate. Because of laminate's affordability and durability it's becoming more and more popular. While these are just three main components of a kitchen remodel it's easy to see how the expenses can add up quickly. 
Types of Kitchen Cabinet Financing Options Available
Homeowners have a variety of loan options for kitchen cabinet financing. Some require collateral which can make them more risky. Unsecured personal loans are preferred by many homeowners because they do not require collateral or equity in your home. Below, we will explain 3 of the most common types of kitchen cabinet financing:
Home Equity Line of Credit (HELOC)
Home equity loans and home equity lines of credit require homeowners to have equity in their home. Most lenders allow homeowners to borrow about 75% to 90% of their available home equity with a HELOC. This means you should have 20% or more equity in your home to apply for a HELOC. A HELOC is a revolving line of credit that gives homeowners access to capital. Similar to a credit card, you should only be charged interest on the amount of money you actually use. HELOC loans can have lengthy approval processes. In addition, if you default on a HELOC loan you may risk losing your home. Most banks and credit unions offer HELOC loans.
Personal Loan
PrimeRates has lending partners that specialize in kitchen cabinet financing. Homeowners can obtain personal loans up to $100,000 with terms up to 12 years and rates starting at just 3.99% through PrimeRates. Most personal loans are issued as a lump sum that can be repaid over a specified term with interest. As we mentioned earlier, unsecured personal loans do not require collateral or a down payment. Homeowners lacking equity in their home can use personal loans for kitchen cabinet financing. In addition, most personal loans have fixed interest rates making them easy to manage with predictable monthly payments. If you are considering a personal loan for kitchen cabinet financing you should apply through PrimeRates. 
Home Equity Loan 
Similar to personal loans, home equity loans provide homeowners with a lump sum of cash that can be repaid over time with interest. Some lenders offer home equity loans with terms up to 20 or 30 years, which is much longer than most personal loan terms. Longer terms can mean lower monthly payments. However, longer terms can also mean more interest charges. Just like HELOC loans, home equity loans require homeowners to have equity in their home. Most lenders will loan between 80% to 85% of your home's equity. When you use a home equity loan you are borrowing against your home and using it as collateral. This means if you default on the loan you may risk losing your home. 
What kind of ROI can I expect on my kitchen remodel?
Homeowners that remodel their kitchen usually recoup about 54% of their investment. However, keep in mind this is an average and in some cases homeowners may recoup much more than this. In addition, remodeling your kitchen can help your home sell faster. If you live in a desirable area where many of the homes are older or outdated, you may have a better ROI from remodeling your kitchen. 
Will kitchen cabinet financing negatively impact my credit score?
Taking a loan for kitchen cabinet financing may temporarily negatively impact your credit score. To get approved for most loans, lenders will have to pull your credit report. This can decrease your score by a few points but it should go back up quickly. In addition, if you have a lot of debt and then take on more debt, your credit may take a hit. However, in most cases kitchen cabinet financing can improve your credit score over time if you make on-time payments. Borrowers who pay extra each month may see their credit score improve even faster. Paying extra each month can also save you money on interest.
Can you get kitchen cabinet financing with no credit?
Many factors are considered when it comes to getting approved for kitchen cabinet financing. Some of these factors include income, occupation, length of employment, and consistent employment and residency. It can be challenging to get approved for kitchen cabinet financing with no credit, but it's not impossible. The outcome typically depends on a combination of factors. When completing your application it's important to ensure the information is accurate.
What average credit score is needed to get approved for financing?
Credit scores above 620 typically have an easier time getting approved for kitchen cabinet financing. Credit scores below or between 620 - 679 may incur higher interest rates and more difficulty getting approved. Credit scores of 680 or higher can usually take advantage of more competitive rates and experience a higher approval rate.
Best New Kitchen Cabinet Financing Options
FOR POOR CREDIT (Below 620)
ZippyLoan
APR range:

5.99%  - 35.99%

Available loan terms:
Up to 5 years
Loan amounts:

$100 - $15,000

Origination fee:
None
Credit needed:
All credit types accepted
Income needed:
No minimum income required
Best for:
Smaller loan amounts, those struggling with approval from direct lenders
Read Our Review:
ZippyLoan Review
Click "Check Rates" to pre-qualify and receive a personalized rate.
Open Loans
Open Loans is an online service that can help connect you with reputable lenders. 
Pros
Free process that will not negatively impact your credit score

View results within minutes

Simple and secure process

Connects you with reputable lenders that want your business

Request between $1,000 - $40,000
Cons
Lenders may or may not offer you loan approval after being connected

Interest rates may be higher

Origination or other fees may apply
LoanStart
LoanStart partners with affiliate lenders to connect potential borrowers with the financial assistance they are requesting. 
Pros
Easy and secure online process to request a loan

Money available as soon as the next business day

Variety of loan products, terms, and interest rates available

Long loan terms (24-60 months)
Cons
Longer loan terms may equate to higher finance charges

Greater risk for lenders

Loan agreement may prohibit early loan payoff (prepayment penalties)

Tempting to borrow more than you need
FOR AVERAGE CREDIT (620 - 679)
Best Egg
Best Egg offers competitive rates for good credit, making them a kitchen cabinet financing option you should consider. 
Pros
Competitive interest rates

No prepayment penalty fees

Soft credit check inquiry 

Funded more than $7 billion in loans to over 350,000 people

Loan amounts generally range between $2,000 - $35,000
Cons
Origination fee varies from 0.99% to 5.99% (meaning you won't receive the full amount you are approved for)

Credit requirements for lower rates

$7 payment processing fee may apply

Best rates reserved for FICO credit scores of at least 700 and individual annual income of $100,000+
Credible
Credible offers an online marketplace that allows customers to quickly compare offers from multiple lenders. This may increase your chances of receiving a competitive rate. 
Pros
Flexible loan amounts ranging from $1,000 to $100,000

2 and 7 year loan terms offered

Competitive rates between 5.34% - 35.99%

Saves time while showing you offers from multiple lenders

Quick funding process (as soon as one business day)

Free service
Cons
Small network of lenders to choose from

Must have excellent credit to qualify

Only fixed-rate loans available

Third-party lenders can cause confusion or obstacles

Potential fees may be incurred depending on the lender

Limited terms available
Conclusion
Overall, new kitchen cabinet financing options are available for all types of credit. In addition, you have options selecting and customizing cabinets that can make them more or less affordable. It's important to do your research to ensure you select quality cabinets, skilled installers, and a trustworthy lender. 
The good news is that investing in new kitchen cabinets can benefit your lifestyle and the resale value of your home. Studies have shown that upgrading your kitchen can help your home sell better as opposed to upgrading other parts of the home. Homebuyers consider the kitchen to be one of the top three most essential areas of a house. 
Personal loans for any purpose.
Home Improvement Financing Articles