PrimeRates provides access to personalized business loan offers through our simple and quick pre-qualification application. Once you're pre-qualified, you can select the best offer for you and finalize the business loan application with the lender.
Apply in minutes

Our simple application takes less than 5-7 minutes to complete.

Select your business loan offer

Choose the offer that best fits your needs by comparing loan amounts and terms.

Receive funds quickly

Finalize your loan offer with the lender you selected to receive your funds.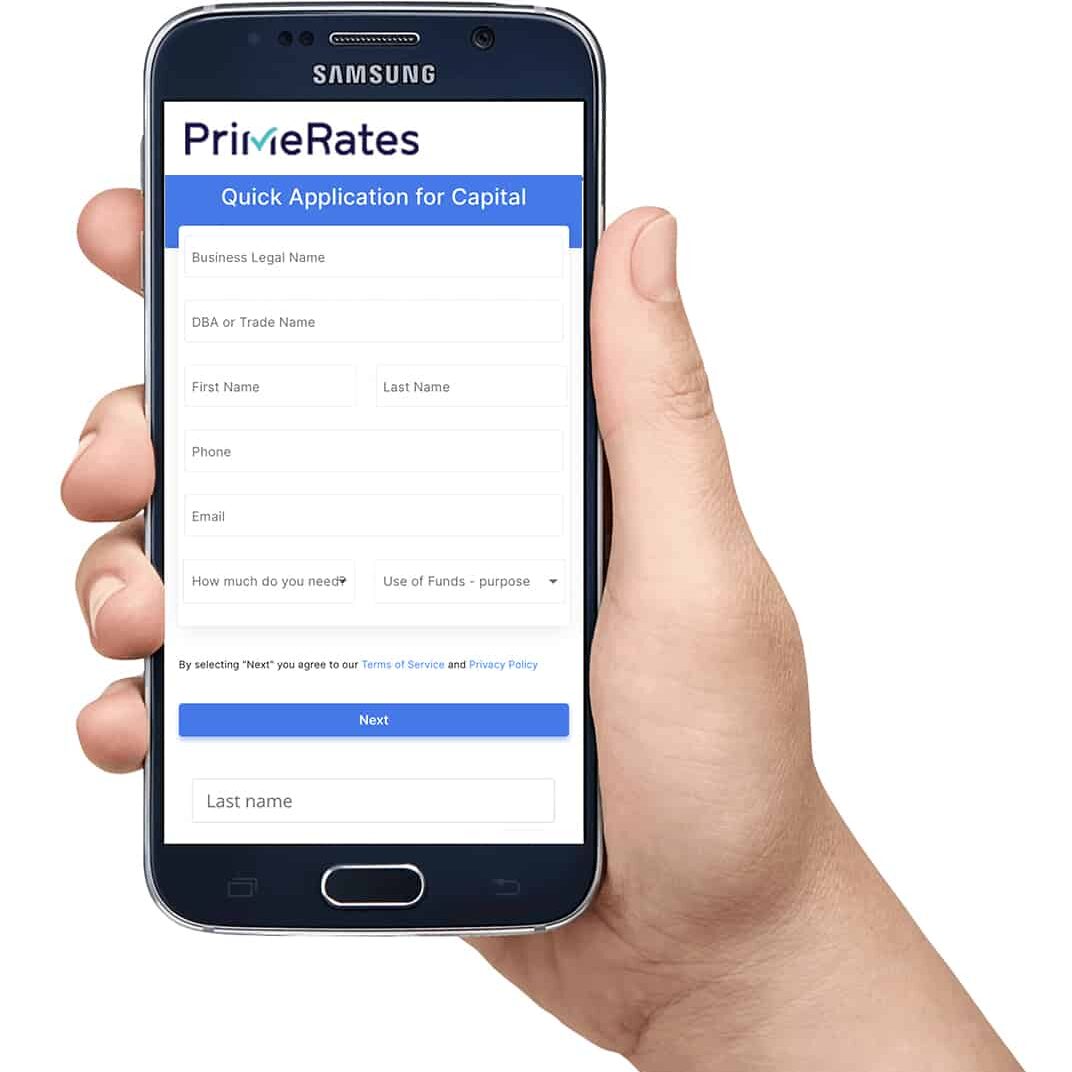 Business Loans For Gas Stations
Gas stations are vital to the US economy and our way of life. We are a country that largely needs vehicles to get around, and we need every one of the approximately 115,000 gas stations that fuel those internal combustion engines. Over 60% of these are privately run and extremely profitable, too. The industry is changing as electric vehicles become more popular, but there will be gas stations around for many years yet and you have an opportunity to evolve with the industry.
Like all small businesses, gas stations often require financing, whether for expansion, equipment, cash flow, or to cover payroll. Because of environmental concerns and the difficulty of keeping accurate financial records in what is still a high cash-transaction industry, obtaining a loan can be tricky for the gas station owner. We're going to examine what sort of finance is available, where you should seek financing and what you need to secure a loan.
What is a gas station business loan?
A gas station loan is any finance that a gas station requires in order to carry on its business. Most gas stations incorporate a convenience store, and many also have an auto shop. Around 80% of convenience stores in the U.S. are also gas stations. This means that the type of finance likely to be needed is very variable, from buying fuel, equipment, or store inventory to helping with payroll and other running expenses.
Or it may involve purchasing real estate, an already existing gas station, or helping with other expansion or modernization projects.
Gas stations are facing a changing marketplace. Not only has the move towards alternatively powered cars forced a rethink, but the falling number of smokers, more fuel-efficient engines, and ever-improving technology are all factors that need to be considered. 
How to finance a gas station?
All forms of business finance are available to the gas station owner, but many providers are reluctant to lend money to this sector. This is often related to the perceived environmental issues connected with the industry. Where you look for finance will depend on your particular situation. If your business has been running successfully for a number of years and is growing, you might face little difficulty in qualifying for finance. However, if your business is new or the tough marketplace has led to falling profits, things will not be so simple. Certainly, traditional banks will probably not be a help.
What are the reasons for financing a gas station?
Nearly all small businesses need finance from time to time, and gas stations, with their wide-ranging needs, are certainly no exception. Among the common reasons for seeking financing are the following:
Equipment
With the understandably tight environmental regulations that are in place, keeping your fuelling pumps and storage tanks in good condition is vital. Perhaps the auto shop part of your business needs to upgrade its lifts or diagnostic equipment, or maybe your store requires an updated point of sale system.
Expansion
Businesses need to grow. An opportunity to buy another gas station might arise, or you may decide to expand the convenience store, and only extra finance will allow you to do this.
Renovation
In a very competitive sector, appearance counts for a lot. Being shabby doesn't cut it in the 21st century. Funding a make-over and keeping your technology up to date is important, and a loan can often be the answer.
Marketing
It has never been more important to have a strong marketing strategy in place, and that doesn't come cheap. When times are hard, many businesses slash their marketing and advertising budgets. This is a mistake. Difficult times mean you should strive harder to earn those dollars, and marketing plays a massive part in that. You shouldn't throw money at it, but a carefully thought-out strategy is vital.
Running Costs
Payroll has to be found, taxes paid, insurance kept in place, and your utilities paid for, plus the 101 other business expenses that a gas station can be subject to. In an ideal world, sales would cover all these, but cash flow is not always smooth, and extra finance can help to keep everything ticking over.
Why would I need a commercial gas station loan?
Businesses can't always find the money they need when they need it. If a sudden opportunity comes up and you can't capitalize on it when you have an unexpected equipment emergency, or simply when you are struggling to fill that payroll; those are the times that a gas station loan will help.
What are the pros and cons of gas station financing?
Pros of Gas Station Financing
Additional capital

: All businesses need capital to run smoothly, boost market share, increase profits, or simply survive a poor trading period. Often finance, like a line of credit, can be the answer.

Timing

: Not everything can be planned for, and a loan can help you react quickly to the need for cash.

Growth

: Getting the best staff and equipment in place is vitally important to a successful business but costs money. So is marketing your business properly. A loan can help ensure your gas station business is in the best position to grow and be more profitable.

Building business credit

: Taking out a loan and making regular repayments actually boosts your credit score and improves your chances of obtaining future credit when you need it.
Cons of Gas Station Financing
Cost

: Gas station loans are not always a cheap option. If your credit score is poor, or your business doesn't appear to be strong, you will find that loan interest rates are high and may make finance unaffordable.

Reduced flexibility

: Loan repayments have to be met and will eat into the amount of spare cash you have. For instance, should you need to hire more staff or replace some vital equipment, you might find that your hands are tied. Only borrow for the right reasons at the right interest rates.

Money management

: Sometimes, having cash from a loan results in poor spending decisions resulting in financial trouble further down the line. Careful planning is the way to avoid this.
What are the common types of gas station loans?
Term Loans
Term loans are traditional small business loans. A lender agrees to give you a certain sum that you pay back plus interest with regular repayments over a fixed term. They can be long-term loans of perhaps 3 years up to as much as 25 years in some cases or short-term and repaid within 12 months. 
Term loans often offer the lowest interest rates and are, therefore, the most affordable and sought after.
SBA Loans
SBA loans are the gold standard for term loans. The Small Business Administration offers government-backed loans that are popular with both the lender and borrower. Lenders like them because the government's guarantee removes much of the risk, and borrowers usually find that the interest rates and terms are the best available.
The 7(a) loan is the most used program and offers amounts up to $5 million for small businesses for anything from constructing a building or buying equipment to providing working capital.
The SBA also offers an Express loan of up to $350,000. The interest rate will be higher than for a 7(a) loan, but you get relatively fast access to your cash.
Their third program in common use is the SBA 504, which is a powerful funding tool aimed at promoting business growth and job creation. It is designed to be for the acquisition of fixed assets for expansion or modernization.
Both SBA loans and term loans require high levels of qualification and are usually only offered to businesses with a proven profitable track record.
Business Line of Credit
A business line of credit is one of the most flexible forms of finance. It works a little like a credit card. The provider agrees with you a maximum amount you can borrow, and then you dip into this as and when you need, making regular repayments. The advantages of a business line of credit are that you only pay interest on the actual amount you borrow and as you make the repayment so that money is available to borrow again.
Often a business line of credit is unsecured, which means you don't have to provide collateral though interest rates are likely to be higher than for a term loan.
Equipment Financing
Equipment financing uses the value of the equipment purchased as the collateral, making the risk to the lender less than for an unsecured loan.
What are the requirements for gas station financing?
Requirements for gas station financing vary depending upon the type of loan and the provider.
For some financing options, you may only need to have been in business for four months or more, have annual revenue of $100,000, and have a FICO score of above 500. But for an SBA loan, for example, you will need far more in terms of time operating, growth potential, and fiscal probity. They don't hand out loans to just anybody.
What are the rates for gas station financing?
SBA and term loans have the lowest rates of interest. The 7(a) SBA loan currently runs at around 2.25%-4.7% above the base rate. Business lines of credit will likely have higher rates, though only paying interest on the amount you actually borrow can go some way to minimizing the financial implications of that. Equipment financing usually offers rates in the 8%-20% range.
What banks and lenders offer financing for gas stations?
Loans for gas station businesses can be obtained from both banks and non-bank lenders. There is said to be some resistance to lending to gas stations from some providers, so you will have to do a fair amount of research to provide a lender that suits you and your loan requirements.
How do I apply for gas station financing?
SBA and term loans have a lengthy application process and will require full and accurate financial records. Online lenders can make the process quicker and less painful. As a bare minimum, you will need to have your personal tax returns for the last few years, a complete financial statement, and your bank statements to hand.
Finding a finance provider and taking out a loan can take a lot of time and resources, but it is important you find the best deal for you and your business.
PrimeRates can help speed up this process and minimize the effort of finding a loan provider that has the right product for you. All you have to do is fill in a short online form that doesn't affect your credit score, and we will come back with a list of suitable finance companies that fit your needs. Then you just choose the best offer and finalize the loan with your provider. Simple. Click here to get started.
What Type of Business Do You Have?
More Business Loan Options
Business Loans By Industry