PrimeRates provides access to personalized business loan offers through our simple and quick pre-qualification application. Once you're pre-qualified, you can select the best offer for you and finalize the business loan application with the lender.
Apply in minutes

Our simple application takes less than 5-7 minutes to complete.

Select your business loan offer

Choose the offer that best fits your needs by comparing loan amounts and terms.

Receive funds quickly

Finalize your loan offer with the lender you selected to receive your funds.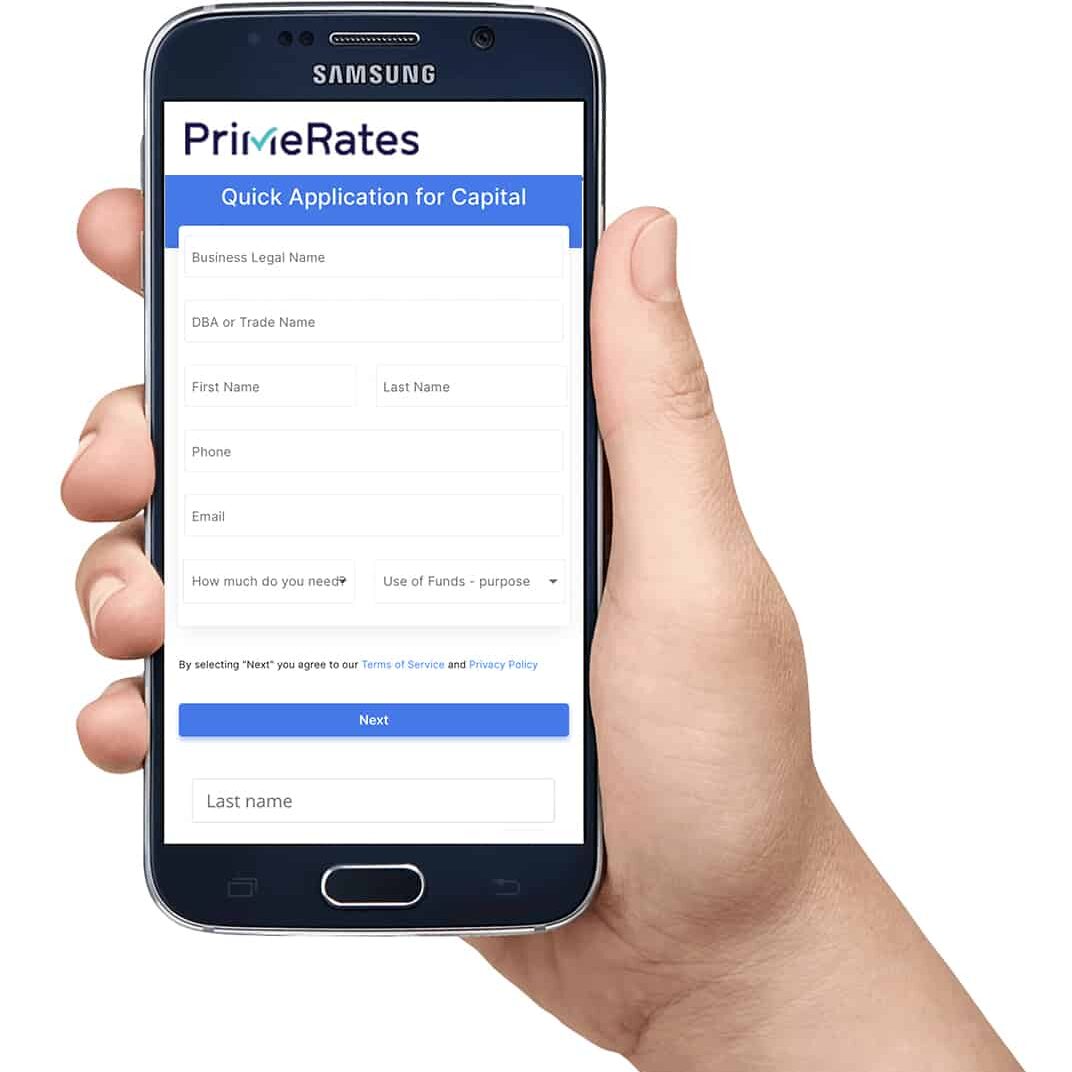 How To Get A $50,000 or $100,000 Business Loan
Creating capital for your business is the gateway for expansion and success. If you do not have enough cash available, using a $50k to $100k business loan can be a smart way to invest in the growth of your business. The best time to get a business loan can include:
When Is the Best Time to Get a $50K to $100K Business Loan?
Creating a Startup

Growing a Business

Purchasing equipment

Solving cash flow problems

Purchasing inventory
Secured vs Unsecured Business Loans
Secured business loans require collateral while unsecured business loans do not require collateral. Secured business loans usually have lower interest rates and lower minimum credit score requirements. If you have good credit and a solid business plan you should be able to get a $50,000 to $100,000 unsecured business loan. However, if you have average credit or a less than solid business plan you may want to look into a secured business loan.
What Are Current $50,000 to $100,000 Business loan Rates?
#1. Microloans (maximum loan amount $50,000)
The average interest rates for Microloans can vary between 6.5% to 13%. This makes them a competitive option. The downside is that they only offer repayment terms up to six years and loan amounts up to $50,000. SBA Microloans are different from other SBA loans because the rates and terms are not set by the SBA. Microloans can be a good option for startups since there is no minimum time in business requirement. While a down payment is not always required for SBA Microloans, it is usually required for startups using Microloans.
#2. SBA Loans
Different types of SBA loans have different interest rates. In general, SBA loans are known to have some of the lowest interest rates, highest loan amounts, and flexible borrowing amounts. However, they are also known for their paperwork-heavy and lengthy application process. Despite the lengthy application process, If you can qualify for an SBA business loan, you should apply. SBA loans can be secured through approved online lenders, banks, and credit unions. The SBA guarantees the loans making them less risky for the lender.
#3. Lines of Credit
 Business lines of credit can have rates anywhere from 5% to 20%. Your business characteristics can impact your approved interest rate. A business line of credit is similar to a business credit card.  Rather than having a lump sum of cash deposited at the beginning of the loan, business lines of credit simply allow you access to money that can be used for business expenses. Once you withdraw funds, interest begins to accumulate. Business lines of credit are commonly used for operational expenses including supplies, payroll, or increasing inventory orders.
#4. Term Loans
In most cases, interest rates start at about 6% and terms are offered between 1-5 years for repayment. Using a term loan, business owners can borrow between $5,000 to $2,000,000 and receive funds as soon as 24-hours. Term loans and lines of credit can have some of the lowest credit score requirements. Most lenders require that borrowers provide profit and loss or bank statements as proof of revenue.
How Do You Get a $100,000 Business Loan?
Getting a $100,000 business loan is probably a lot easier than you think. Before applying you should make sure that you qualify and select the best lender for your circumstances. Let's take a look at how to qualify for a $100,000 business loan...
#1. Establish personal and business credit scores
Getting approved for a $100,000 business loan has a lot to do with your business's credit history and your personal credit history. However, even if you have poor to bad credit, you may still qualify for a business loan. It's important to select a lender with a lower credit score requirement if you have bad credit. A little later on we will review some top lenders for $100,000 business loans that can help all credit types.
#2. Select the right lender
Before applying for a business loan you should compare lenders and their minimum qualifications and requirements. To increase your chance of approval you should meet or exceed all of the minimum requirements. Some of the most important requirements can include credit score, annual revenue, and years in business. If you are applying for an SBA loan you will need to meet SBA requirements in addition to the lender's requirements. It can be easier to qualify for business loans using online lenders. If you have credit challenges we recommend trying an online lender to secure a $50,000 to $100,000 business loan.
#3. Prepare financial and legal documents
After pre-qualifying for a business loan, you will need to get pre-approved. Online lenders may require less documentation and allow you to access funds faster. During the pre-approval process, most lenders can request financial and legal documents including…
Business licenses

Commercial leases

Personal and business income tax returns

Balance sheet

Income statement

Personal bank statements

Business bank statements

Copy of your driver's license

Articles of incorporation

Resume showing relevant management or business experience

Financial projections
#4. Develop a strong business plan
Lenders often request a business plan in order to see how you will use the loan and how it can increase profits. It's important that your business plan can demonstrate that you have enough cash flow to cover new loan payments and ongoing business expenses. Your business plan should include:
Current and projected financials

Company description

Industry analysis

Management team

Product and/or service description

SWOT analysis

Operations and facilities plan

Promotional, marketing, and sales strategy
#5. Provide collateral or down payment (if needed)
If you are using a secured business loan you will probably need to provide collateral. Collateral can include equipment, real estate, inventory, etc. Collateral can ensure the lender that they can recover their money in the event your business fails. If you don't have collateral you should use an unsecured business loan.
How Do You Get a $50,000 Business Loan?
Securing a $50,000 business loan is very similar to securing a $100,000 business loan. You can use all of the same steps to qualify. If you need to borrow $50,000 or less you can also look into using a personal loan. Personal loans can be easier to qualify with faster funding times.
Best Small Business Loans between $50K and $100K
Compared to Bluevine, Smartbiz specializes in assisting more established businesses seeking financing for expansion or debt refinancing. Smartbiz offers competitive interest rates compared to other online lenders. For most Smartbiz business loans interest rates vary between 6.73% to 10.29%. Borrowers should have a minimum credit score of 650 to qualify for a Smartbiz business loan.
Loan Amount:
$30,000 - $350,000
APR Range:
9.7% - 11.04%
Time To Fund:
Typically take several weeks to fund, but can fund as quickly as within seven days.
Loan Term:
Maximum loan term is 10 years.
Origination Fee:
4.00%
How To Qualify:
675+ Personal credit score
$50,000+ Annual revenue
Great Option For:
Borrowers with good credit
SBA loans
Funding real estate purchases
Refinancing debt
Credit Check?
Soft credit check and hard pull
Co-Applicants Accepted?
No cosigners
Direct Pay-Off To Creditors?
No
Click "Check Rates" to apply to SmartBiz
» MORE: SmartBiz SBA Loan Review
Bluevine is a top lender for borrowers with bad credit or businesses that are less than a year old. They have a low minimum credit score requirement of 600. However, their average APR rates can be higher ranging from 15%-78%. Most approved loans require a personal guarantee. Funds can be available within 24-hours on approved loans.
EasyFunding offers business loans up to $350,000 for all credit types. Most approved loans require a pledge of business assets but no personal collateral. Borrowers can use the funds for most business purposes and funds can be available within 3 days. EasyFunding does not have an advertised minimum credit score. Applications are reviewed on a case by case basis.
What Type of Business Do You Have?
More Business Loan Options
Business Loans By Industry