Currency Capital Equipment Financing Review
Whether you're the owner of a brand new business and are looking for your first pieces of equipment, or you're looking to replace a few items or expand an already-established business, you might need to take out a loan to finance these expenses. That's where Currency Capital comes in. This service can connect interested small businesses to equipment financing options as low as $5,000 and funding as high as $2,000,000.
Currency Capital Equipment Loan Rates & Terms
Loan Amount:
$5,000 - $2 million
APR Range:
6.00% - 24.00%%
Time to Fund:
As early as same day
Loan Term:
One to five years
How To Qualify:
620+ Personal Credit Score
$120,000+ Annual Revenue
Great Option For:
Large Equipment Financing
Competitive Interest Rates
Click "Check Rates" to apply to Currency Capital
APR range: Currency Capital's annual percentage rates range between 6% and 24%.
Available loan terms: This platform's repayment terms start at one year with a maximum term of five years.
Loan amounts: Currency Capital offers loans starting at $5,000, with a maximum amount of $2,000,000.
Time to fund: A loan with Currency Capital can fund in as little as 24 hours following approval.
Origination fee: Currency Capital may charge no origination fee, or a fee of up to 5%, depending on the applicant's financial qualifications.
Credit needed: Applicants must have a credit score of at least 620 in order to qualify.
Income needed: To be eligible for a loan through this platform, your business should have annual revenue above $120,000.
Soft Credit Check? Currency Capital only takes a soft pull of your credit, meaning that sending an application won't affect your credit score.
Best for: Currency Capital connects borrowers with lenders offering equipment financing across a wide range of amounts, rates, and repayment terms. Their loans are best for small business owners looking to make large equipment purchases.
What Is Currency Capital?
Currency Capital is an online loan-matching service that connects prospective borrowers to lenders offering quick cash and large loans, at relatively reasonable rates.
How Does Currency Capital Financing Work?
Currency Capital works by connecting borrowers with a number of affiliate lenders who offer products to fit their equipment financing needs. By requiring just one application to gain access to a wide variety of lenders, Currency Capital simplifies the borrowing process and helps business owners evaluate a range of offers without having to put in the time that it would normally take to apply for a traditional bank loan.
Benefits of Currency Capital
Short time to fund, with many loans under $150,000 becoming available within as little as 24 hours

Easy, online application

Access to a wide variety of lenders

Lower APRs than many of its competitors

Small businesses with low annual revenues can qualify

Large loans to fit a range of equipment financing needs

No hard credit check during the initial application phase

Streamlined underwriting process for loans under $150,000
Drawbacks of Currency Capital
Personal guarantee required for owners with at least 10% ownership

Purpose limited to equipment purchases, so the loans cannot be used for any other business-related expenses

Potential for a variety of fees including origination, document fees, UCC filing fees, inspection, and titling fees
How To Apply for a Currency Capital Equipment Loan
With Currency Capital's easy, online application, you'll have a loan decision within just three minutes. On the application, you'll need to share information about your business, including its age, industry, and monthly revenue.
Additionally, you'll need to share how much funding you're applying for as well as your contact information. If you qualify for a loan, you'll immediately be connected to a representative from the company to finalize the offer.
Once you've accepted and finalized the offer, you'll need to send the company a copy of your bank statements and proof of ownership.
If your loan is under $150,000, it will usually be made available within just 24 hours. Larger loans, however, may take a few more days to fund.
Express Finance by Currency Capital
The Express Finance service through Currency Capital allows borrowers to access their funds through a virtual Visa debit card, further streamlining the borrowing process. This option not only makes accessing funds easier than through a traditional bank loan or ACH transfer, but it also speeds up the time in which a borrower can access their financing, further cutting down on an already-short wait to use the funds.
What You Need To Apply:
Before applying for a Currency Capital loan, you'll need to have a few documents and pieces of information on hand.
If the funding you're applying for is less than $150,000, you'll need to provide an equipment quote to finalize the funding. For larger loans, you'll need to send three months of bank statements, two years of business tax returns, profit and loss statements, a balance sheet, a debt schedule, and an exact equipment quote.
Is Currency Capital Legit?
Although Currency Capital does have an A+ rating with the Better Business Bureau (BBB), it has only been rated 2.5 stars by reviewers. The company is accredited, but potential borrowers should make sure to carefully consider each element of their agreement before deciding to take a loan through this company.
Currency Capital Complaints & Solutions
Many of the formal complaints lodged against Currency Capital are regarding excessive telephone calls or attempts to contact the applicant. Another reviewer complained that the lender took too much money from their account and that they were not aware that this would be the case. Currency Capital has responded to some of the formal complaints against it by forwarding reviewers to its live customer service telephone number and email address.
How Does Currency Capital Compare? Vs Credibility Capital & Funding Circle Equipment Loans
Funding Options
APR Range/Loan Amount
How To Qualify
Great Option For
Credibility Capital

APR Range:

$50,000 - $400,000
10.00% - 25.00%

How To Qualify:

650+ Personal Credit Score
$150,000+ Annual Revenue
1.5+ Years In Business

Great Option For:

Borrowers With Good Credit
Established Businesses

Funding Circle

APR Range:

$25,000 - $500,000
7.40% - 36.00%

How To Qualify:

620+ Personal Credit Score
No Minimum Annual Revenue
2+ Years In Business

Great Option For:

Established Businesses, Not Sole Proprietors
Good Personal Credit

Currency Capital

APR Range:

$5,000 - $2 million
6.00% - 24.00%

Loan Term:

620+ Personal Credit Score
$120,000+ Annual Revenue
6+ Months In Business

Great Option For:

Equipment Purchases - Quick Funding
vs Credibility Capital
Credibility Capital offers a smaller range of loans than Currency Capital, with financing ranging between $50,000 and $400,000. While their annual percentage rates are comparable, the lender's loan terms are more limited due to the lower maximum loan amount, with terms reaching three years at most.
vs Funding Circle
Funding Circle is an online peer-to-peer lender that connects borrowers with loans of up to $500,000. The company functions similarly to Currency Capital in its application process but has a slightly higher maximum APR and slower average time to fund.
Currency Capital Locations in the United States
Currency Capital's office is based in Los Angeles, California.
Compare All Equipment Loans
If you're in the market to purchase or lease new equipment and want more information, PrimeRates offers thorough reviews of several other lenders that can help you fund your equipment-related expenses. Even if you have low credit or are the owner of a new business, you may still be able to find the right funding option to finance the equipment purchases that you're looking for.  It's important to take the time to understand all of your financing options before deciding on the loan that's right for you.
What Type of Business Do You Have?
PrimeRates provides access to personalized business loan offers through our simple and quick pre-qualification application. Once you're pre-qualified, you can select the best offer for you and finalize the business loan application with the lender.
Apply in minutes

Our simple application takes less than 5-7 minutes to complete.

Select your business loan offer

Choose the offer that best fits your needs by comparing loan amounts and terms.

Receive funds quickly

Finalize your loan offer with the lender you selected to receive your funds.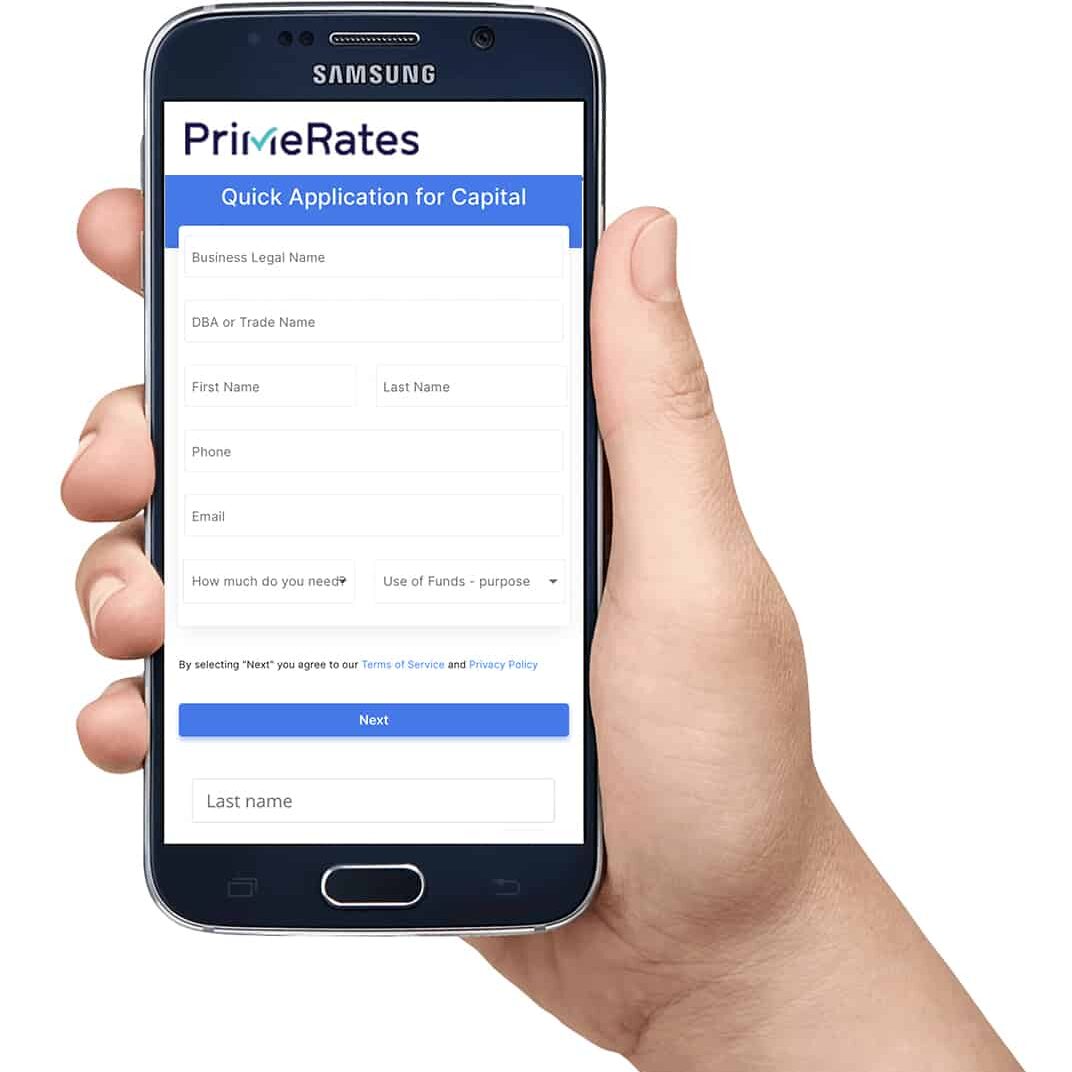 Top Business Loan Articles