Best Personal Loans for Weddings
Get personalized loan rates in 60 seconds without impacting your personal credit score.
Get your rate in minutes
No credit score impact
Borrow up to $100,000
Get your rate in minutes
No credit score impact
Borrow up to $100,000
Avoid piling your wedding expenses onto your existing credit cards
A personal loan may help couples stick to a spending plan, and fixed monthly payments may make budgeting after the wedding easier.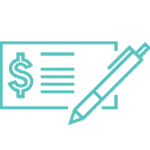 With an affordable fixed rate, your monthly payment never increases.

With a 36- or 60-month loan term, you're on a clear path to becoming debt free.
A low-cost alternative to running up your credit card balances to pay for wedding expenses
Compare personal loan rates in 2 minutes.
Check Your Rate
Compare Lenders That Offer Wedding Loans

APR range: 6.95-35.99%
Available loan terms: 36 to 60 months
Loan amounts: up to $35,000
Time to fund: One to three business days after approval
Origination fee: Ranges from 2.4% to 5% of the initial loan amount
Credit needed: 640+
Check Rates
Click to apply with Prosper

APR range: Starting at 6.99%
Available loan terms: 3 to 5 years
Loan amounts: $5,000 - $75,000
Time to fund: As Early As 48 hours
Origination fee: None
Credit needed: 680
Check Rates
Click to apply with Earnest
PrimeRates Lender Partner Network

LightStream

Prosper

Upgrade

BestEgg

SoFi

Payoff

LendingPoint

FreedomPlus

OneMain

Avant

LightStream

Prosper

Upgrade

BestEgg

SoFi

Payoff

LendingPoint

FreedomPlus

OneMain

Avant
Best LLC Small Business Loans For Good & Bad Credit
Planning a wedding can be stressful, but the financial burden some couples face after the wedding is much heavier. In 2017, the average cost of a wedding was $33,391. That's a big bill for the big day. While those with excellent credit may qualify for a no-interest credit card to cover the costs, it may not be your best option. Credit cards don't require a set payment schedule. You pay back whatever amount you choose each month. Wedding loans, on the other hand, are much more predictable.
Expand
Wedding loans are not typically called "wedding loans." A wedding loan is any unsecured personal loan, which you can apply for at a local bank or online lender. Like credit cards, unsecured personal loans don't require collateral to secure the loan. They do, however, come with a loan term. A loan term is the due date for when you need to have paid back the total loan amount plus interest.
A loan term works in your favor, though. When using a personal loan for wedding expenses, you'll plan a repayment schedule that works for you and your significant other. You'll know exactly what your bill is month-to-month. That alone can create peace of mind — and a happier marriage.
Wedding Loans

Though weddings are about celebrating your relationship as a couple, it's important not to put strain on other relationships in the process. Sometimes, it's just too difficult to ask family members for money. Even if your family offers to contribute to your wedding fund, you may not want to put the relationship at risk. Choosing a wedding loan gives you and your loved ones the freedom to simply revel in the day.
Wedding loans also allow you to preserve your savings account. When you've worked hard to build a nest egg, the last thing you want to do is drain it all on one day. Experts advise that you should always have enough in savings to cover around six months of living expenses. But you may also want that savings for a future home improvement project, so you don't have to take out a home equity line of credit.
As with any personal loan, you will be charged interest to pay back your wedding expenses. The good news is that most online lenders base your interest rate on more than just your credit score. They also look at your credit history, debt-to-income ratio and a variety of other qualifying characteristics – such as education level and annual income. This creates a more customized loan that better suits your lifestyle and current financial health.
Can you finance your whole wedding with a personal loan?
Personal loans are available anywhere from $1,000 up to $100,000. Depending on your credit score, you'll fall somewhere between there. If you have a modest budget for your wedding and a strong credit score, you could very likely finance the entire event.
Some couples choose to use wedding loans only for their engagement rings or something specific such as the bride's dress. This may be a smart decision, provided you can afford the remaining expenses that come with planning a wedding.
However, if you think you may need to borrow more later, it's best to settle on a loan that can cover all your bases. Obtaining one larger loan at the beginning will keep you from imposing multiple hard inquiries on your credit report as the big day draws closer.
Who can get a wedding loan?
You would think being engaged would be a requirement for getting a wedding loan. Fortunately, that's not the case. Remember, wedding loans are simply unsecured personal loans. What matters more than your custom-designed ring is your credit score and debt-to-income ratio (DTI). Lenders prefer a DTI of 30% or less. If you can lower your DTI by bringing in more money or knocking down other debt, you'll increase your chances of securing a loan.
Of course, your credit score and payment history are also factored into your loan inquiry. The higher the credit score, the better. But you don't have to have an excellent credit score to get approved for a loan. Several lenders will accept credit scores as low as 600. A sub-prime credit score, however, will likely lead to higher interest rates.
Where to get a wedding loan
Your neighborhood bank offers personal loans. If you already have a checking and savings account in one place, it may seem logical to use that same bank for a wedding loan. Credit unions are also a popular choice, because they offer lower loan rates and better customer service than most banks. At a federal credit union, you won't be charged an APR greater than 18%.
Instead of walking into a bank or credit union, you can also turn to online lenders. From the comfort of home, you can shop and compare loans from different lenders. You'll find a broad range of options, including loans for bad credit, loans with up to 84-month terms and even loans with interest rates as low as 5.49%. Online lenders are competitive, so be ready to shop around.
The best wedding loans

Here are some lenders to consider for your wedding loan:
LightStream is perhaps one of the most competitive lenders for wedding loans — it certainly stands out among the pack. At 5.74% with AutoPay, LightStream offers the lowest interest rate. In fact, LightStream's Rate Beat Program means they will beat a qualifying interest rate from any other lender. They also offer loans up to $100,000, which is three times more than Prosper's highest loan and 10 times more than what you can get from NetCredit. And if you need the money fast, LightStream will send funds the same day you apply.
LightStream wedding loans

LightStream is a division of SunTrust Bank, a member of FDIC. As an online lender, they specialize in financing life's greatest expenses. LightStream doesn't just offer wedding loans or home improvement projects. You can finance a boat, time share, medical procedure or even a horse through LightStream. Their philosophy is that if you have excellent credit, you should be rewarded for it. And LightStream does just that.
One of its greatest rewards is fast and easy funding. The application and approval process are streamlined and paperless – and backed by their $100 guarantee. If you don't have the best experience applying for a LightStream loan, they'll give you $100. They also guarantee the lowest rates and have been known to send funds as soon as the same day you applied.
However, this excellent service is only reserved for those with good to excellent credit. LightStream caters to borrowers who are very likely to repay their loan in a timely manner. In determining your creditworthiness, LightStream will look at the following:
Your credit score
How many years you have of total credit history
The variety of account types you hold (credit cards, car loans, mortgages, etc.)
Your payment history
Your ability to save based on stocks, down payments, retirement savings, etc.
The stability of your income
The total assets that can be used to repay the loan
While the APR for a loan with LightStream starts at 5.74% APR, other types of loans from LightStream can go as low as 3.99% APR. For instance, $10,000 over a three-year loan term with 3.99% APR comes to 36 monthly payments of $291.21.
The biggest benefits of LightStream personal loans for weddings
Low APR – starting at 5.74%
High borrowing limit up to $100,000
Loan terms up to 84 months
Same-day funding**
Funds can be used for non-wedding-related expenses
No fees or prepayment penalties
The drawbacks of LightStream personal loans for weddings
LightStream won't consider borrowers with anything less than good credit. Typically, "good credit" is defined by a score of 700 or greater. While LightStream doesn't set a minimum credit score, they do have high standards for their customers. They prefer a long credit history, characterized by several different kinds of debt. For many young couples about to get married, they simply don't have enough years under their belt to qualify for a LightStream loan.
For those who do apply and qualify for a LightStream loan, there are some limitations to consider. In order to receive the lowest APR, you must request $10,000 to $24,999 in financing. Anything less and anything more will push you into a higher interest rate range. Remember: the average wedding in the U.S. costs $33,391. A loan of that size from LightStream can come with an APR up to 14.24%. 
How LightStream wedding loans stack up
You will find very few online lenders who offer unsecured personal loans up to $100,000. While LightStream's minimum loan amount of $5,000 is higher than other lenders, this simply illustrates their customer base. LightStream caters to borrowers with excellent credit and large financing needs – like weddings.
When you look at the average APR for a LightStream loan, it too exceeds expectation. For instance, Prosper has competitively low interest rates around 5% for its most creditworthy customers. However, Prosper's APR goes up to 35.99%, more than double the upper limit for a LightStream loan. Both lenders serve those with good credit, but LightStream wins out with its lower-than-average APR. Plus, LightStream's Rate Beat Program matches any qualifying interest rate from another lender.
Should you apply for a LightStream wedding loan?
LightStream says its average financing for a wedding is $17,472 with a four-year loan term. Though far from the average, it's certainly enough money to ask for help. If you estimate your expenses are between $10,000 and $24,999, a LightStream loan makes sense. You'll get the best APR and will know exactly how much you'll owe every month.
It's true that many young adults under age 30 don't have a long credit history and, therefore, may not qualify under LightStream's high standards. However, that shouldn't discourage you from applying for a LightStream loan. LightStream will look at other factors, including your income and track record for paying off debt in a timely manner.
One thing to note: LightStream does allow you to do a joint application. But if one of you has less-than-ideal credit, let the other person apply as an individual to help increase your chances of qualifying.
How to apply for a LightStream wedding loan?
LightStream personal loans are available online. You do not have to be a SunTrust bank customer to apply for a LightStream loan. LightStream services customers across the United States.
Applying online – on your desktop or mobile device – is easy. LightStream prides themselves on their simple, user-friendly application process.
Visit LightStream.com and click the yellow "Apply Now" button in the top right corner.
Select your loan purpose (choose "Other Loan or Refinance" if requesting funds for a wedding)
Enter your requested loan amount and loan terms.
You'll provide some personal information and wait to be notified of your approval. You'll receive a response quickly during business hours.
Accept the loan agreement.
Provide your bank's credentials in order to receive the funds.
If all materials are received by 2:30 pm ET, you could receive funds as soon as the same day.
When to consider a wedding loan

How you decide to pay for your wedding can impact your life for years to come. Consider a loan if:
Asking family for help is not a viable option
You want to protect your hard-earned savings account
You want to finance all wedding-related expenses
Finding the Best Wedding Loan
Relying on family for financial help is not always a comfortable – or feasible – option. And no one wants to start their marriage with overwhelming credit card debt. Wedding loans, however, help you avoid all of that additional stress.
Even if you don't have a high interest rate on your credit card, there's no defined repayment schedule to keep you on budget. With a lender like LightStream, wedding loans are different. The low interest rate, fixed monthly payments and zero prepayment penalties will help make every day after your big day easier to manage. You'll repay the loan like any other bill, while building your credit, sparing your savings account and enjoying your new married life.
Which lender is right for me?
PrimeRates has reviewed more than 15 lenders to help you compare. Here are the most popular personal loans.
SoFi personal loan review
Upgrade personal loan review
Payoff personal loan review
Avant personal loan review
Best Egg personal loan review

See also – Honeymoon Loans
How PrimeRates Works
PrimeRates provides access to personalized loan offers through our simple and quick pre-qualification application. Once you're pre-qualified, you can select the best offer for you and finalize the loan application with the lender.
Apply in minutes

Our simple pre-qualification application takes less than 2 minutes to complete and it won't impact your credit score. 

Select your loan offer

Choose the offer that best fits your needs by comparing monthly payments, APRs, and loan amounts.

Receive funds quickly

Finalize your loan offer with the lender you selected and they'll send your money after finalizing any required verifications such as ID, Income, etc. In some cases you can receive your funds in as little as 1 business day.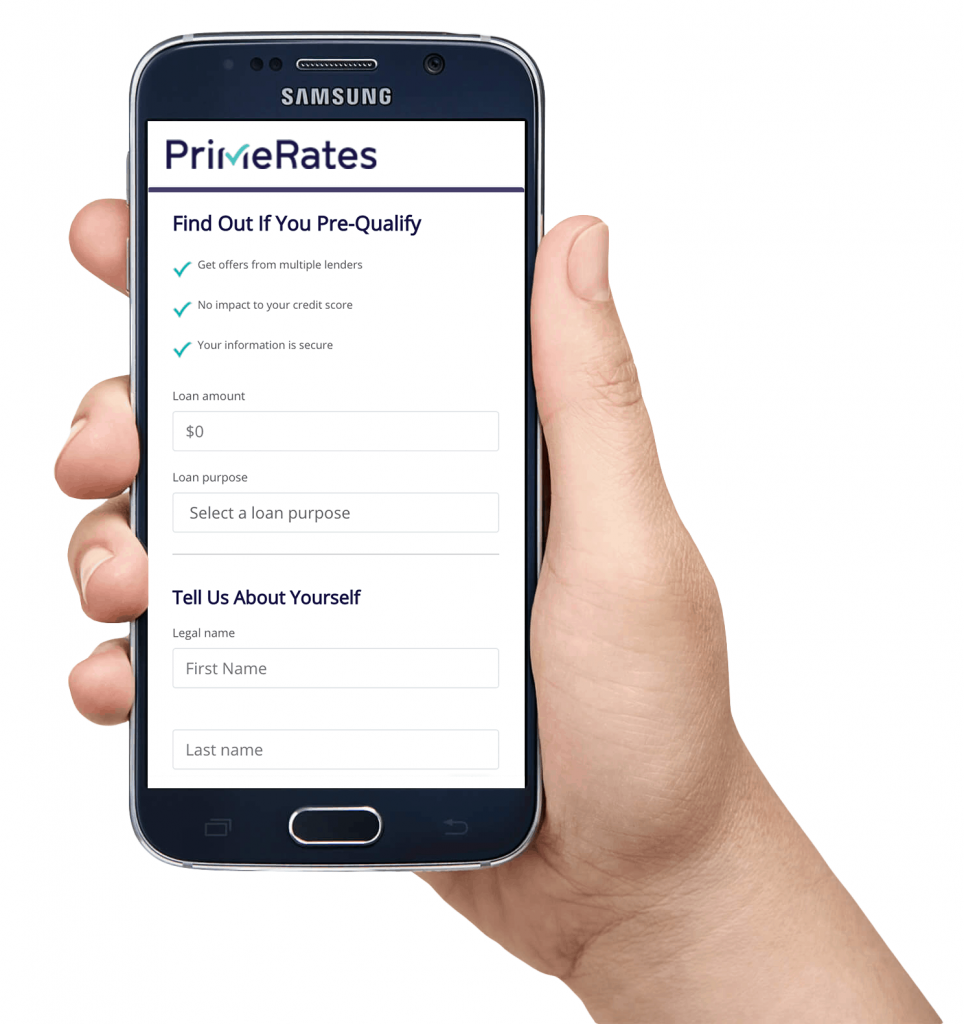 Other Personal Loan Types
Ready to get pre-qualified for a personal loan?
Get Started
Top Personal Loan Articles
Recommended Articles
Recent Articles