PrimeRates provides access to personalized business loan offers through our simple and quick pre-qualification application. Once you're pre-qualified, you can select the best offer for you and finalize the business loan application with the lender.
Apply in minutes

Our simple application takes less than 5-7 minutes to complete.

Select your business loan offer

Choose the offer that best fits your needs by comparing loan amounts and terms.

Receive funds quickly

Finalize your loan offer with the lender you selected to receive your funds.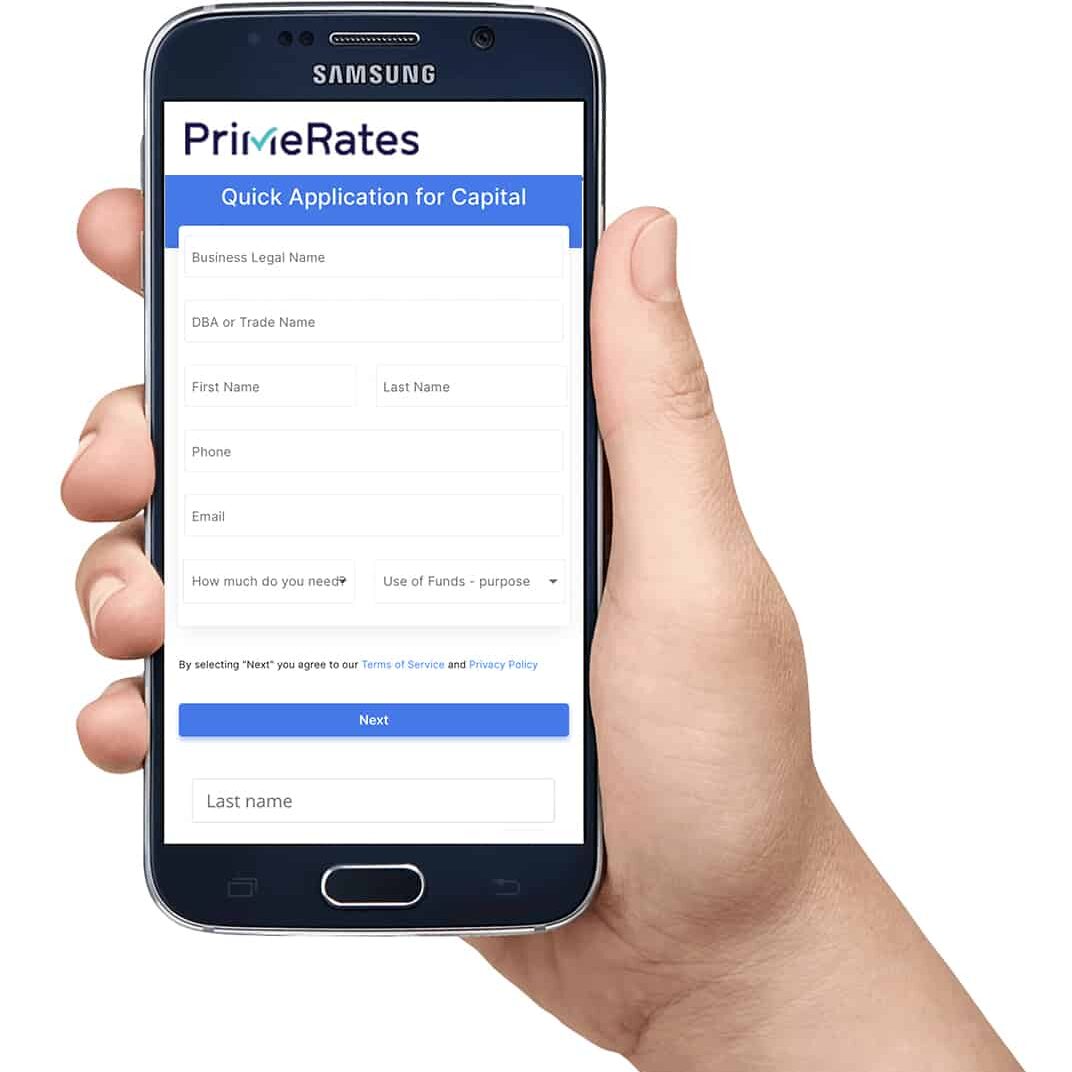 How To Get a $350,000 Business Loan
What can a $350,000 business loan be used for?
Depending on the source of the loan, a $350,000 business loan can essentially be used for any reason you choose related to your business. For example, you could use a $350,000 business loan to pay off some other high-interest debts and to consolidate them all into one easy monthly payment. You could expand your business by hiring new employees, investing in the development of a new training program, or by purchasing new and additional equipment to increase production or to make your business more efficient. Sometimes, you may even want to take out a business loan to stock up the cash reserves for the daily operations of your business. This is called maintaining working capital. Having plenty of working capital on hand can help to reduce the use of high-interest credit cards, saving you money in interest in the long run. 
What is the best time to get a $350k business loan?
There are many good times and good reasons for acquiring a $350k business loan. The best times to take on new financing for your business may include when it is time to purchase new equipment, remodel your offices or storefront, launch a new product or service, open a new location, expand into new markets, create and launch an exciting new marketing campaign, or to hire additional staff. Also, if you went into business with someone and you are looking to buy out a current business partner, a business loan may be able to help you cover the upfront costs associated with that. The best time to take out a business loan is when revenues are strong and when you see an opportunity to continue to grow your business. 
Types of business loans
When pursuing a new business loan, you may have to evaluate several different loan options to see which one is right for you. For example, you could choose from a term loan, an SBA loan, business lines of credit, equipment loans, invoice factoring, invoice financing, personal loans, or business credit cards. You do not have to choose just one option either. Many small businesses may have two or more of these loan types utilized at any given moment. Here is a quick breakdown of just a couple of these loan types.
Equipment loans

: Any equipment that is used directly in the operation of your business can be financed through an equipment loan. This could include new machinery, tools, vehicles, conveyor systems, and IT equipment. By using the equipment as collateral to secure the loan, an equipment loan is no different than a car loan. If you default on the loan, the lender has the right to seize the property in an attempt to recover the debt. 

Term loans

: Term loans are a typical business loan type that you repay over time with interest. The loan repayment period and interest rate are predetermined during the loan application process. Business owners may borrow up to 1-million dollars through a business term loan. 

SBA loans

: An SBA loan is a low interest business loan that is backed by the Small Business Administration. These loans can be for up to 5-million dollars and they usually have specific loan repayment periods depending on your intended use of the funds. The typical loan repayment periods are as follows: A seven-year loan is normal for working capital or cash on hand for daily business expenses, a  10-year loan is the norm for large purchases of essential equipment, and a 25-year loan can be acquired for real estate purchases.   

Microloan

: A microloan is a small business loan of $50,000 usually intended for startups or businesses in disadvantaged communities. The loans are managed by non-profit organizations that can also potentially provide additional resources including consulting and training. 
These are just a few of the many business loan options that may be available to you. Again, you may want to investigate all the loan options available to you to ensure you are making a sound financial decision.
What credit score do I need to obtain a $350k business loan?
Credit score requirements for a $350k business loan can vary depending on the loan type and the lender. For example, an SBA loan may have lower credit score requirements than a term loan since they are essentially guaranteed by the Small Business Administration. A term loan lender may require a credit score of 720 or higher where you may be able to get an SBA loan with a credit score as low as 650. Again, it all really depends on the loan type and lender and therefore you may want to consider filling out a pre-approval application to determine your eligibility and loan options. 
Do I need good credit to apply for a $350k business loan?
While you do not necessarily need a good credit score to apply for a $350k business loan, it's recommended that you should have good credit. The better your credit score is, the better your chances of qualifying for a loan of that size will be. Not only do your chances of qualifying increase, but if you have good credit, you may be able to qualify for some of the lowest and most competitive interest rates on the lending market. 
What are the current $350k business loan rates?
Business loan interest rates vary by loan type and lender. Here is a small snapshot of some current rates for the following loan types. 
SBA Loans:

SBA loans have interest rates that vary on the type of loan and the length of the loan repayment period. Interest rates range from 5.50% to 8%. 

Lines of Credit:

Business lines of credit typically come with interest rates that range between 10% and 99%.

Term Loans:

Term loans typically come from a bank or online lenders. Banks may currently offer interest rates between 2.58% and 7.16%. Online lenders can offer term loans with interest rates between 9% and 99%.
Whenever seeking financing, no matter the reason, it is best to shop around to find the loan type and interest rate that is the best for your financial situation. 
What are the Business loan payments on a $350,000 loan?
By using a free online business loan calculator you can find out your estimated monthly payment schedule by typing in the loan amount, the length of the loan, and the estimated APR. For example, a $350,000 SBA loan with an interest rate of 6% paid off over 7-years, would have an estimated monthly payment of $5,112.99 a month while accumulating over $79.491.50 in interest during the life of the loan. 
Is a downpayment required for a $350k business loan?
Down payment requirements vary by lender and loan type. Some loan types will require a significant down payment for a $350,000 loan, however, others may require little to no down payment. You will need to consider this when exploring all your small business finance options. 
Where can I get a $350,000 business loan?
If you are looking to compare business loan offers, visit PrimeRates. At PrimeRates you can access some of the best small business loans up to $500,000. Our network of top national lending partners can help your business receive the funding it needs to grow and thrive. Alternatively, you can visit your bank or credit union to see if they can offer a business loan. These are only a few ways you can find business loans.
Apply for a $350,000 Business Loan
Before applying for a business loan, you may want to narrow down the type of loan you want to use. For example, SBA loans have pretty specific requirements to qualify. If you don't meet those requirements, you probably should look into another option. A platform such as PrimeRates allows business owners to browse lenders and what they could potentially offer. After you pick the lender you think is best you can apply.
More Business Loan Options
Business Loans By Industry
What Type of Business Do You Have?