PrimeRates provides access to personalized business loan offers through our simple and quick pre-qualification application. Once you're pre-qualified, you can select the best offer for you and finalize the business loan application with the lender.
Apply in minutes

Our simple application takes less than 5-7 minutes to complete.

Select your business loan offer

Choose the offer that best fits your needs by comparing loan amounts and terms.

Receive funds quickly

Finalize your loan offer with the lender you selected to receive your funds.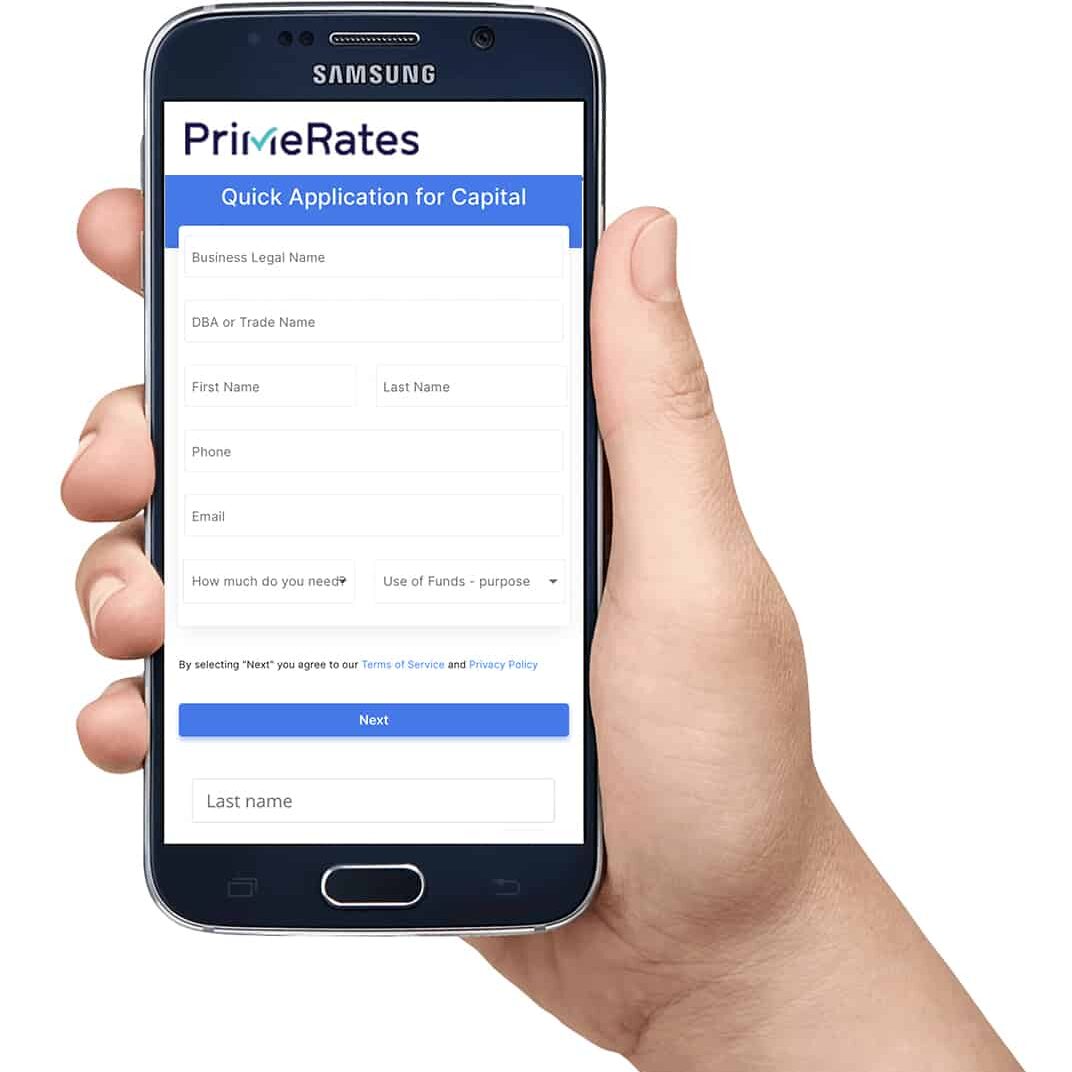 How To Get a $400,000 Business Loan
Can you get a business loan for $400,000? Yes, depending on your credit score and how long your business has been operating, you may qualify for many different types of business loans. The type of business loan you may want to pursue depends on what type of business you have, what you need the funding for, and what type of credit score and monthly revenue you have. For example, Microloans are typically an option for many minority-owned businesses or businesses that service low-income neighborhoods. SBA loans are harder to qualify for, but they are backed 100% by the Small Business Administration and they come with some of the lowest interest rates in the industry. Term loans can be for any type of business for up to 5-million dollars, and equipment loans can be used to purchase essential equipment for your business operation. Essentially, yes, you can get a business loan for $400,000, but the type of loan you need and the type of loan you can qualify for really depends on some additional criteria.
What can a $400,000 business loan be used for?
Depending on the type of business loan you are applying for, you could use a $400,000 business loan for several purposes. Maybe you are looking to expand your business or purchase additional property for business operations? Maybe you need some much-needed equipment or inventory? Also, some people simply take out a business loan to have some working capital and not necessarily for any specific purpose. Working capital is simply cash on hand that can be used to cover day-to-day expenses. 
What is the best time to get a $400k business loan?
The best time to apply for and to receive a business loan is once you have a demonstrated business model that is profitable and it is time to expand. Business expansion can include the hiring of additional staff, real estate purchases, and equipment purchases, among other things.
Types of business loans
If you are beginning to look into acquiring a business loan, you should be aware that there are ten main types of business loans to choose from. Those types include:
Business lines of credit:

If you are looking for a quick loan to increase your cash flow or to handle unexpected expenses, then a business line of credit can allow you to access funds up to a particular credit limit. Once you are approved for a business line of credit, you do not have to withdraw the entire amount and you can take out smaller sums of money as you need it. You only pay interest on the money that you withdraw from the line of credit and not the qualifying amount. 

SBA loans:

An SBA loan may be a good option for someone needing a business loan that wants a low-interest rate. An SBA loan is guaranteed by the Small Business Administration, and they are offered by banks and online lenders, usually with some of the lowest interest rates available. The best part of SBA loans is that you can borrow up to 5-million dollars for loan terms of seven, ten, or 25 years, depending on how you intend to use the money. They can be harder to qualify for and the loan application process can take longer when compared to other forms of business financing.

Term loans:

A term loan is a basic business loan that gives you a lump sum of money in exchange for a specific number of monthly payments over the loan's term. Online lenders may offer term loans up to 1-million dollars. The funding is fast when compared to traditional business loans, however, sometimes collateral is required and they can cost a little more than other business loan types. 

Equipment loans:

An equipment loan is an upfront lump sum of money that is to be used for purchasing equipment that your business needs. It could be anything from a semi-truck to company vehicles, machinery, or specific tools needed to complete essential tasks. The equipment you purchase then is automatically used as collateral for the loan. Sometimes, a down payment is needed as well to secure the loan. 

Invoice factoring:

Invoice factoring is essentially selling unpaid customer invoices to a third-party factoring company that will give you money now and then collects from the customer when the invoice is due. Typically, invoices can have terms of 30, 60, or 90 days. 

Invoice financing:

Same as invoice factoring except you only use the unpaid invoices as collateral for a loan. 

Personal loans:

A personal loan can be used for anything, and depending on your credit score and your current debt-to-income ratio, you could qualify for up to $100,000. This may be a good approach for someone who is just starting their business and they have no operating history to show a lender. Use a personal loan to get up and running, and then later you can apply for a business loan to further expand your business. 

Business credit cards:

A business credit card is just like a personal credit card and it can be a good option to cover business-related travel expenses, office supplies, business lunches, etc. 

Microloan:

Depending on what type of business you are starting, you may be able to secure a microloan through a non-profit organization. These loans max out at $50,000 and there may be some additional requirements for qualifying relating to the type of business you are creating or the community that you intend to serve. 
Just like any type of financing, whether it be for personal use or business purposes, you should take some time to investigate all the different options you have available to you. Taking that extra time to do some research could save you thousands of dollars over time. 
What credit score do I need to obtain a $400k business loan?
A $400,000 business loan is a pretty substantial amount of money for a lender to risk loaning out to a borrower. Some lenders are going to want to see a credit score of at least 720 or higher. A score greater than 720 demonstrates that you have a solid history of making on-time payments and paying your debts. If your credit score is less than 720, there may still be many options available to you and you may want to consider finding a lender who works with business owners with fair credit scores. Most business loans are determined on a case-by-case basis and so you may want to consider pre-qualifying in order to begin the conversation with potential lenders who will look past your less than perfect credit. Lenders can  use other contributing factors, like current debts and monthly revenue, to help determine your creditworthiness. 
Do I need good credit to apply for a $400k business loan?
Having good credit may significantly increase your chances of qualifying for a $400,000 business loan, but it does not guarantee that you will get the loan. If you have fair credit, there still may be a path forward to receiving financing and you can still apply. 
What are the current $400k business loan rates?
Current interest rates on $400,000 business loans depend on the loan type. Here are just a few quick examples: 
SBA Loans:

Current rates for SBA loans vary by type. SBA 7(a): 5.5% to 11.25%. SBA CDC/504: 2.81% to 4%. SBA disaster loans: 2.75% to 3.75%. PPP loan: 1% for portions not forgiven. 

Lines of Credit:

A business line of credit can come with an interest rate anywhere from 10% to 99%.

 
Term Loans:

Bank small business term loans can come with an interest rate of anywhere from 2.58% to 7.16%, where online term loans typically range from 9% to 99%. 
Again, many variables can contribute to what type of business loan you may need for your situation and the rate that will come along with it. 
What are the business loan payments on a $400,000 loan?
Monthly payments on a business loan are determined by the interest rate, the length of the loan repayment period, and the total amount. For example, a $400,000 business loan at an interest rate of 10%, may have monthly payments close to $5,286.03 per month with a total interest amount of $234,323.54 over the 10-years.
How much does a $400,000 business loan cost?
Total loan costs can vary depending on a variety of factors. Factors such as the interest, loan amount, fees, and terms can impact total loan costs. As you shop offers, it's critical to compare total loan costs and not just interest rates and payments.
Where can I get a $400,000 business loan?
If you are looking to compare business loan offers, visit PrimeRates. At PrimeRates you can access some of the best small business loans up to $500,000. Our network of top national lending partners can help your business receive the funding it needs to grow and thrive. Alternatively, you can visit your bank or credit union to see if they can offer a business loan. These are only a few ways you can find business loans.
Browse more business loan options by amount
Apply for a $400,000 Business Loan
Before applying for a business loan, you may want to narrow down the type of loan you want to use. For example, SBA loans have pretty specific requirements to qualify. If you don't meet those requirements, you probably should look into another option. A platform such as PrimeRates allows business owners to browse lenders and what they could potentially offer. After you pick the lender you think is best you can apply online.
More Business Loan Options
What Type of Business Do You Have?