PrimeRates provides access to personalized loan offers through our simple and quick pre-qualification application. Once you're pre-qualified, you can select the best offer for you and finalize the loan application with the lender.
Apply in minutes

Simple pre-qual application in less than 1 minute. 

Select your loan offer

Choose the offer that best fits your needs.

Receive funds quickly

Finalize your loan offer, get approved, and receive funds.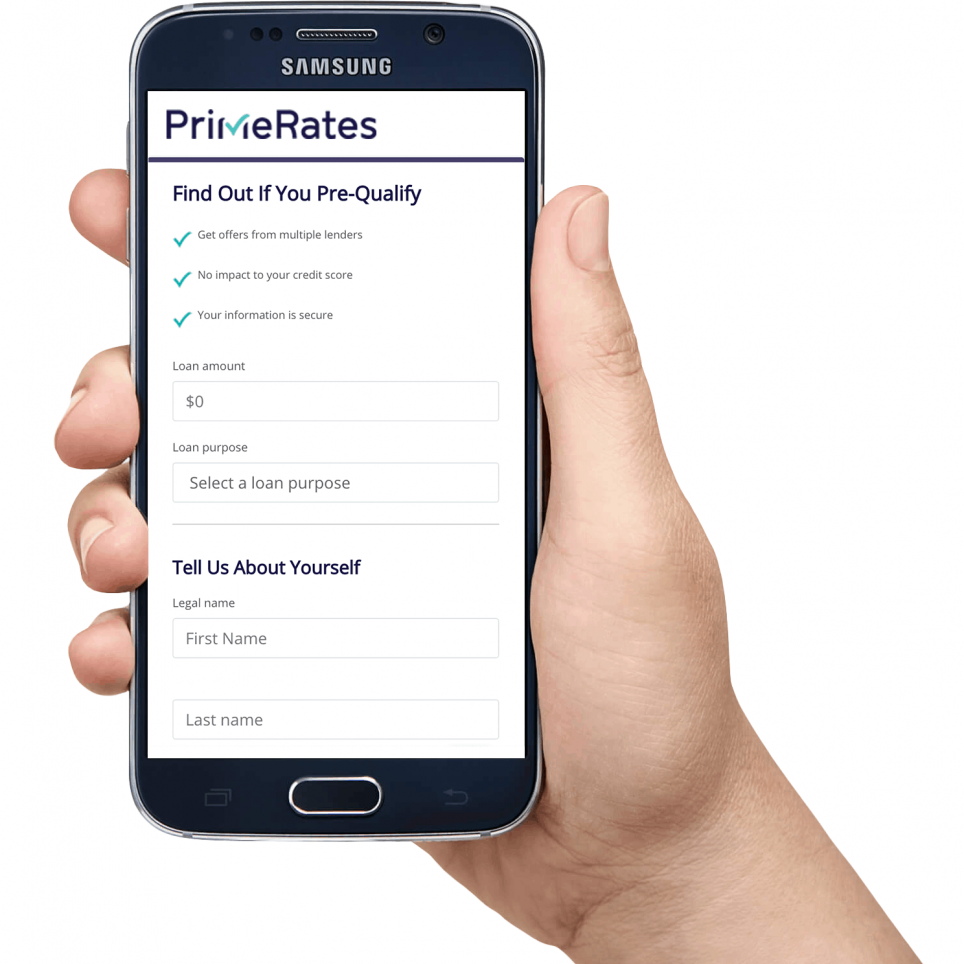 How To Get A $50k Personal Loan
Taking out a personal loan of $50,000 is a major financial commitment and should be pursued while keeping in mind budget constraints, income and annual percentage rates on offers. A loan of this size can help you carry out major home renovations and repairs, pay for a vehicle, and finance medical expenses or weddings. Because these loans are on the high end of personal loans, they often have higher income and credit score requirements and come with longer repayment terms than smaller loans.
What credit score do you need for a $50,000 personal loan?
Because a $50,000 loan is relatively large for a personal loan, most lenders are going to look for a high credit score of 680 or above. Some lenders will, however, accept borrowers with credit scores around 620, and some even lower. The higher your credit score is, the more likely you are to be approved for a loan with low rates and flexible repayment terms.
How much would a monthly payment be on a $50,000 loan?
A monthly payment on a $50,000 loan is dependent on the APR, or annual percentage rate of a loan, along with its repayment terms, which will typically be around two to seven years on a loan of this size. For example, if you take out a $50,000 loan with a 14.7% APR and a five-year repayment term, your minimum monthly payment will come out to $1,181.64.
What is the best reason to get a personal loan?
Personal loans can help borrowers achieve any number of financial goals, from funding large life events such as weddings or surgeries to renovating the entire house. Borrowers should, however, only take out a personal loan if they're not able to finance their projects using money out of pocket or other methods that don't require taking out a loan with interest.
Is a personal loan a good idea?
A personal loan is a good idea if you are not able to finance your goals with money out of pocket. When taking out a personal loan, make sure that even if you're approved for a certain amount, that you are able to make timely monthly or weekly repayments.
Otherwise, fees can accrue, and at the worst, you can default on your loan, which will cost you more in the end and negatively impact your credit score. It's also important to make sure that you need the entire amount that you're borrowing because you'll have to pay interest on each dollar that you take out.
How long does it take to get approved for a personal loan?
Some online lenders will approve you within as little as a few minutes, while some require a few business days to process your application. If you need a quick answer or fast cash, there are many lenders that can provide that for you and make your borrowing process relatively quick and easy.
Is a personal loan better than credit card debt?
Personal loans often come with much lower interest rates than credit cards, so if you know you need one lump sum, a personal loan can be the better option of the two. However, each method of financing depends on your personal needs.
If you're looking to fund day-to-day or cyclical expenses, a credit card might be more ideal for you because you only pay interest on balances you carry over at the end of each billing cycle. However, if you have a major project to pay for and you know roughly how much it will cost, a personal loan will be the best option.
Does paying off a personal loan early hurt credit?
Paying off a personal loan early can be beneficial to your credit score and show future lenders that you're a reliable borrower who is capable of paying ahead of time.
Best personal loan lenders $50,000 or more
Let's take a look at some of the best lenders offering $50,000 loans for borrowers with all kinds of credit scores:
Average Credit
Upgrade
Pros:
APRs as low as 6.94%

No prepayment fee

Funding in as little as 24 hours

Ability to renegotiate payment plans

No minimum annual income

Maximum late fee of $10, which is lower than many of Upgrade's competitors

Low minimum credit score requirement of 620
Cons:
Origination fee of up to 8%

Maximum repayment terms of five years

Minimum monthly free cash flow requirement of $800

Unavailable to borrowers in Colorado, Connecticut, Iowa, Maryland, Vermont or West Virginia
Credible
Pros
One form provides access to multiple lenders

Quick to fund, with many loans funding within as little as one business day

No extra fees to use the service or to apply

Potential for APRs as low as 5.34%

Flexible loan repayment terms of up to seven years

No minimum credit score
Cons
Potential for high or extra fees, depending on the lender

Smaller selection of lenders than other online loan-matching services

Third-party lending means customer service might not be as accommodating as with a direct lender
New Borrowers
Upstart
Pros
Loans of up to $50,000

No prepayment fee

No minimum credit history requirement

Monthly repayments

Possibility of no origination fee

Rates as low as 7.69%

Low minimum income requirement of $12,000

Loans fund within as little as one business day

Flexible repayment terms between three and five years

Minimum credit score requirement of 620
Cons
Rates as high as 35.99%

Late fee of $15 or 5% of the overdue amount (whichever is greater)

Difficult for borrowers with average credit to qualify, with a minimum credit score requirement of 620

Origination fee as high as 8%
Good Credit
LightStream
Pros
Allows co-signers

Rate beat program

APRs as low as 3.99%

Maximum APR of 16.99%

No origination, late fee or prepayment fees

Autopay option
Cons
Hard credit pull on loan applications

Difficult for borrowers with average credit to qualify, with a minimum credit score requirement of 660
Excellent Credit
SoFi
Pros
Flexible repayment terms ranging between two and seven years

Loans of up to $100,000

No origination fees, late fees or overdraft fees

APR as low as 5.99%

Autopay option
Cons
Difficult for average-credit borrowers to qualify, with a minimum credit score requirement of 680

Not ideal for borrowers who need immediate access to cash, as loans take up to three days to fund
Conclusion
Taking out a $50,000 loan can help you fund that dream home improvement project, handle major emergency expenses or make a large purchase. No matter what your reason for taking out a $50,000 personal loan is, however, it's not a decision that should be taken lightly as it can take several years to pay off the entirety of the loan. Make sure to compare multiple lenders and offers to find the loan with the lowest annual percentage rate before making a final decision.
Other Personal Loan Types
Top Personal Loan Articles