What Type of Business Do You Have?
Business Debt Consolidation Loan Options
What is business debt consolidation?
Business debt consolidation is the process of taking out a new loan to pay off multiple existing debts. This can be an effective way to reduce interest rates and monthly payments, as well as simplify debt management. 
There are several different types of business debt consolidation loans available, including term loans, line of credit, and SBA-backed loans. Each option has its own pros and cons, so it's important to compare different offers before selecting a loan. 
In general, business debt consolidation loans can be a helpful tool for managing existing debt, but it's important to understand the risks and potential pitfalls before signing on the dotted line. 
How does business debt consolidation work?
Business debt consolidation is a process whereby a business owner takes out a new loan to pay off multiple existing debts. This can be an effective way to reduce monthly payments, as the new loan will usually have a lower interest rate than the individual debts. In addition, consolidating debts into one loan can make financial management simpler and help to improve cash flow. 
However, it's  important to note that business debt consolidation is not suitable for every company. The underlying goal of debt consolidation is to save money on interest while making finances more affordable. If consolidating debt is going to cost you more than your current debt, it may not be the best option.
Almost every business owner will at some point have to take out a loan to finance their goals. Many may also have to work with multiple lenders to achieve those goals. Sometimes, making multiple monthly payments and keeping up with different deadlines can start to take up a lot of time -- a precious commodity in the entrepreneurial world. In other cases, borrowers might find that they're eligible for loans with lower rates than what they have with their original loans. That's where debt consolidation comes in.
Can you consolidate business debt?
If you're an owner working with multiple lenders and investors, it's quite possible that you'll at some point consider consolidating your debts. This is possible if you're able to qualify for one large loan that can combine all or some of your other debts into a single payment.  
How to get a business debt consolidation loan
Business debt consolidation loans can provide much-needed relief for small businesses struggling with multiple high-interest payments each month. By consolidating debt into a single loan with a lower interest rate, businesses can save money and free up cash flow to invest in other areas of their business. There are a few things to keep in mind when applying for a business debt consolidation loan, including the following:
Determine how much debt needs to be consolidated

. This will give you a good starting point for shopping around for loans and comparing rates.

Consider the interest rate and terms of the loan

. It's important to get a loan with an interest rate that is lower than the interest rates you are currently paying on your debts. You'll also want to consider the repayment terms of the loan, as you'll want to make sure you can comfortably make the monthly payments.

Shop around for the best rates and terms

. Don't just go with the first loan offer you receive - compare rates and terms from multiple lenders to ensure you're getting the best deal possible.
By following these steps, you can increase your chances of approval for a business debt consolidation loan and get the financial relief your business needs.
Can startups obtain business debt consolidation?
Startups typically have a lot of debts, from credit cards to loans. This can make it difficult to keep track of payments and may even lead to missed or late payments, which can damage your credit score. Startups can get a debt consolidation loan to help put them back on track. 
Business debt consolidation can help by combining all of your debts into one monthly payment. This can make it easier to budget and may even help you save money on interest. In addition, business debt consolidation can help improve your credit score by showing that you're able to manage multiple debts successfully. 
However, it's important to shop around for the best rates and terms before signing up for a business debt consolidation plan. Otherwise, you could end up paying more than you need to.
How fast can I consolidate my business debt?
Some lenders may be able to speed up the process, but not all. If a lender offers direct payment to creditors this can help expedite the process. While you may be able to get pre-qualified within minutes for a business debt consolidation loan, the process may take a bit longer. Ask the lender of your choice what timeline to expect.
What minimum credit score do I need to qualify?
Most lenders like to see a credit score of 660 or higher, but this does not mean you will be denied with a lower score. If you have a lot of business debt, this may be dragging your score down. When you apply for a debt consolidation loan be sure to specify the use of the loan. This way lenders can look past a damaged credit score and place more focus on on-time payments and other factors. 
What are the monthly payments on a business debt consolidation loan?
When you have a business, you inevitably have expenses that come along with it. These may be in the form of loans for equipment or office space, or they may be credit card debts from business-related travel or entertaining clients. 
Whatever the case, it can be helpful to consolidate these debts into one loan with a single monthly payment. This not only makes it easier to keep track of your expenses, but it can also save you money on interest charges. 
The monthly payments on a business debt consolidation loan will vary depending on the size of the loan and the interest rate. However, most lenders will work with you to create a payment plan that fits your budget and helps you get out of debt in a timely manner. To estimate payments, consider using a loan payment calculator or getting pre-qualified. 
Does debt consolidation affect credit score?
Debt consolidation can boost your credit score as long as you're able to make regular, timely payments. 
How business debt consolidation loans work
Consolidation vs Refinancing
Pros:
Refinancing lowers the overall interest rate of loans

Possibility of reduced fees and more flexible repayment terms with refinancing
Cons:
With a refinance, you're still working with multiple lenders

Refinancing may increase the overall cost of the loan, even if the interest rate looks lower
Benefits of consolidation over refinancing
With consolidation, borrowers are combining multiple payments into just one single payment, reducing the overall time spent keeping up with deadlines and also potentially reducing the cost of the loan. While refinancing just lowers the cost of the loan and keeps borrowers working with multiple lenders, consolidating costs actually pays off other debtors directly, giving borrowers more of a chance to boost their credit score. 
» MORE: Small Business Loan Refinancing
Is a debt consolidation loan a good idea?
Consolidating debts can be a good idea if you're able to find one, larger loan to pay off multiple loans and reduce the overall cost of the debt. Borrowers who had to take out one or multiple high-interest loans in a pinch could be interested in this option.
Pros:
Turns multiple payments into one, single payment

Can help credit score as long as payments are made on time and in full

Can reduce the overall cost of debts

Potential for more flexible, longer repayment terms 

Potential for direct payment to creditors
Cons:
Depending on interest rates and repayment terms, borrowers may end up paying more for their debt consolidation in the long run than they would have by paying off their original debt

Repaying the entirety of the debt may still be difficult if the business has taken out more loans than it can afford

If timely payments aren't made, accessing other forms of financing may become more difficult
How do I combine all debts into one payment?
Before consolidating your debts, you should understand just how much debt you have so that you can find a lender that can provide you access to enough funding to cover those payments. Once you've crunched those numbers, you'll want to find a bank that not only gives you access to the cash that you need but also offers the option to pay creditors directly or allows you to use the funds to consolidate debt. Once you've found the right lender for your business, it's time to send in an application and sign on the dotted line. 
Best business debt consolidation loan options
Fundation
Best For: Fundation is best for established small businesses that are looking to finance projects such as major renovations, vehicle purchases, or debt consolidation. 
Pros:
Wide range of loans, with products ranging between $20,000 and $500,000

APRs as low as 8%

Quick to fund, with cash becoming available within just one to three business days
Cons:
Potential for APR as high as 30%

Short maximum repayment terms of just four years

Difficult for small businesses to qualify

Repayments are made every two weeks instead of once a month
Credibility Capital
Best For: Credibility Capital is best for low-risk borrowers with high credit or high annual revenues, who are looking for a short-term loan and are able to repay large loans within three years or less. 
» MORE: Credibility Capital Business Loan Review
Pros:
Loans available between $50,000 and $400,000.

APR starting at just 10%

Faster time to fund than traditional banks, with cash becoming available within seven days on average

No prepayment fee

Holistic view of an application

Autopay option
Cons:
Difficult for borrowers with poor or average credit to qualify

Maximum repayment terms of three years

UCC-1 filing requirement

Possibility of personal guarantee requirement

Slower time to fund than any of its online business loan competitors
LendingClub
Best For: LendingClub is a great choice for borrowers across a range of credit scores and financial qualifications, who aren't quite sure which lenders they'll qualify with. This service allows applicants to submit one form and gain access to multiple offers. 
» MORE: LendingClub Business Loan Review
Pros:
APR as low as 9%

Flexible loan terms, with repayment terms of up to five years

Quick to fund, with loans becoming available within two days to two weeks

Easier to qualify for borrowers with average credit scores

One application gives access to several different lenders
Cons:
UCC-1 lien requirement for loans above $100,000

Potential for higher APR than with a traditional business loan, with rates ranging between 9% and 35.7%

Maximum loan amount of $300,000 is lower than many other business loan providers
SmartBiz
Best For: SmartBiz loans are great for established, high-credit businesses that are looking to save some time and effort off of the Small Business Administration (SBA) application process. With low-interest loans ranging between $30,000 and $350,000, their products can help business owners finance medium and large-sized projects and assist with debt consolidation. 
» MORE: SmartBiz SBA Loan Review
Pros:
Rates starting at just 9.7%, with a maximum of 11.04%

SmartBiz loans have a shorter funding time than a traditional SBA loan

Amounts of up to $350,000

Funding possible within weeks
Cons:
SmartBiz adds its own fees on top of normal SBA loan fees

SmartBiz loans take longer to fund than many other online business loans of similar amounts

Borrowers must meet both SBA and SmartBiz requirements

Difficult for new businesses or borrowers with low credit to qualify
Funding Circle
Best For: Funding Circle loans are best for businesses with a high annual revenue, who are able to wait for more than a few days to gain access to funding. Their loans can be used for major renovations, repairs and vehicle purchases in addition to debt consolidation. 
» MORE: Funding Circle Business Loan Review
Pros:
Wide range of loans, with products ranging between $25,000 and $500,000

Flexible loan terms between one and five years

No minimum annual revenue requirement

Faster application and funding process than a standard SBA loan
Cons:
Slower to fund than other online lenders, with most loans funding within an average of 10 days

Difficult for new businesses to qualify, with a minimum of two years in business required to qualify
Conclusion
Consolidating debts can simplify your business finances, turning multiple payments into just one and giving your business more time to repay the loans. However, it can also drastically increase the cost of borrowing in some cases and can negatively impact your credit score if you're not able to make regular, timely payments. Before diving into any debt consolidation, make sure that the loan you are choosing will actually help your finances, not hurt them. 
PrimeRates provides access to personalized business loan offers through our simple and quick pre-qualification application. Once you're pre-qualified, you can select the best offer for you and finalize the business loan application with the lender.
Apply in minutes

Our simple application takes less than 5-7 minutes to complete.

Select your business loan offer

Choose the offer that best fits your needs by comparing loan amounts and terms.

Receive funds quickly

Finalize your loan offer with the lender you selected to receive your funds.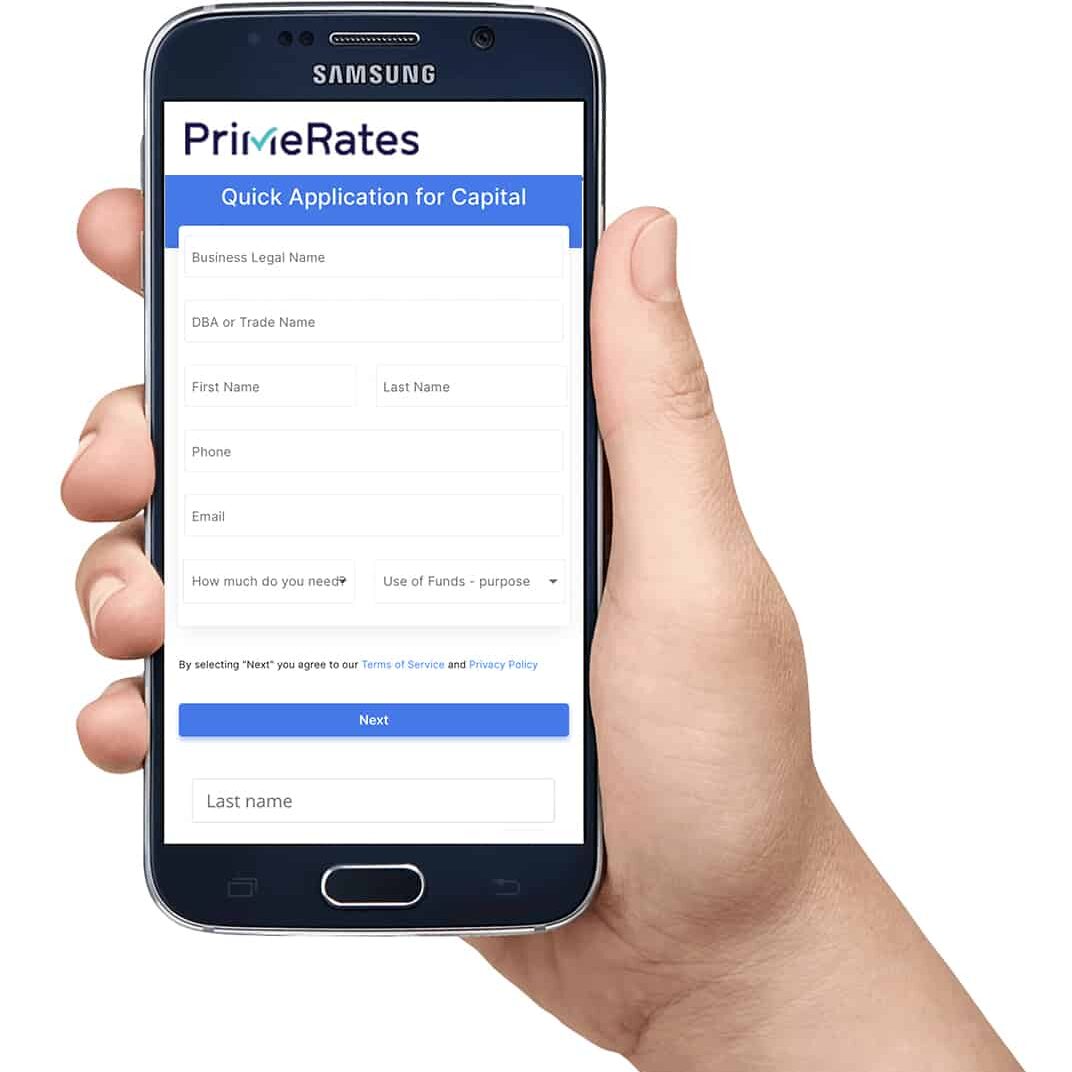 Top Business Loan Articles