PrimeRates provides access to personalized business loan offers through our simple and quick pre-qualification application. Once you're pre-qualified, you can select the best offer for you and finalize the business loan application with the lender.
Apply in minutes

Our simple application takes less than 5-7 minutes to complete.

Select your business loan offer

Choose the offer that best fits your needs by comparing loan amounts and terms.

Receive funds quickly

Finalize your loan offer with the lender you selected to receive your funds.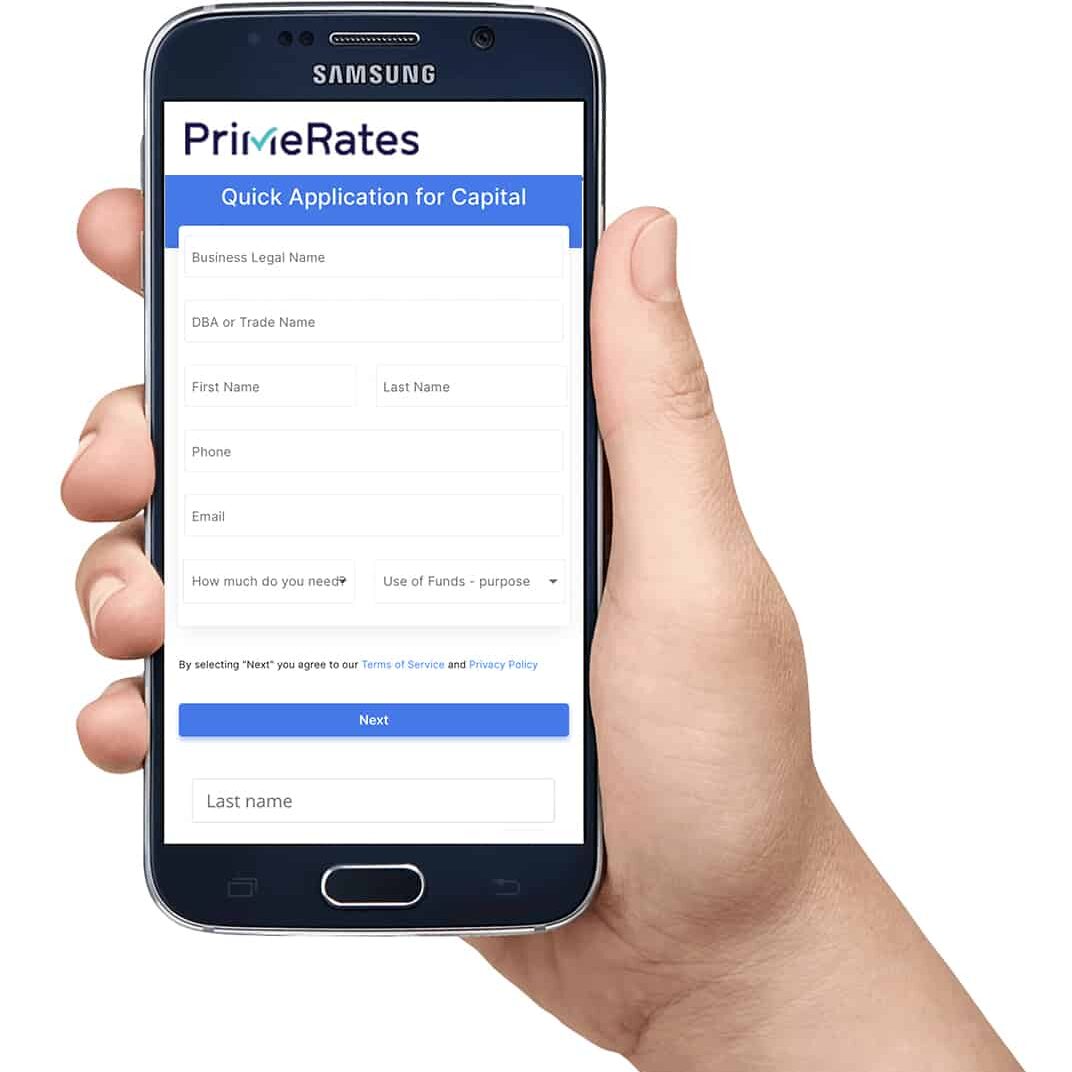 Loans for Hospitality Industry
Whether you are starting a new hospitality business, opening a new location, or supporting more efficient business operations, a hospitality loan can provide the financing your business needs. When it comes to selecting the right financing option for your business, you should have plenty of options.
The government has even created agencies and allocated funding to help small hospitality businesses and startups qualify for financing and loans. Although the hospitality industry (and many other industries) are experiencing a lot of change recently, the number one goal remains to deliver the best customer experience. Technology continues to promote guests to engage in self-sufficient ways. Because of this, many hospitality businesses are feeling the pressure to innovate more advanced technology and learn to complement it with the right amount of human interaction. Most hospitality financing can be used for just about any business purpose. This means you should explore the options available and select the hospitality loan that is best for your business. Keep reading to learn more about hospitality financing and how you can apply for a loan. 
What is hospitality financing?
Hospitality loans can provide financing designed specifically for businesses in the hospitality industry. Hospitality businesses may include hotels, motels, restaurants, hostels, theme parks,  bars, and more.  Hospitality financing can provide the opportunity to expand investment capability, improve cash flow, make large purchases, renovate locations, upgrade systems, and more. Before applying for hospitality financing you should clearly outline your revenue streams or potential revenue streams. Hospitality businesses often have multiple ways to generate revenue. For example, hotels may generate revenue from booking rooms, renting pay-per-view movies, room service, spas, telephone charges, and so on. If you are a startup or small business it's likely that most lenders will ask for a detailed business plan, bank statements, and other financial documents. If you use a business loan most lenders require monthly repayment determined by a pre-set schedule. However, repayment terms and interest can vary and should be assessed on an individual basis. In some cases, lenders or the SBA may defer payments for small businesses or startups to allow them some time to get going. 
What is a hospitality loan?
Whether you have a big or small hospitality business, a business loan can provide the funding you need. Most hospitality business loans issue the funds in a lump sum with a pre-arranged monthly repayment and term. Term loans are one of the most common and most affordable loan choices for hospitality businesses. Terms loans can be defined as a loan for a specific amount with a specified repayment schedule and a fixed or floating interest rate. A fixed interest rate can be more common than a floating interest rate. 
Benefits of a hospitality loan?
Hospitality business loans can provide generous loan amounts, flexible terms, and competitive interest rates. Some lenders may even be able to make adjustments for seasonal shifts in revenue. Let's take a look at some of the benefits of a hospitality loan…
All credit types may qualify

Less paperwork

Flexible terms

Generous loan amounts

Small businesses may qualify

Collateral may not be required
What types of hospitality loans are available?
There are a few factors that you should consider before selecting the type of hospitality loan that is best for your business. These factors can include the size of a business, how much you need to borrow, how long you need to borrow the money, and how long you need to repay the loan.  Securing a business loan online may be the most efficient way to get a business loan since you will never have to leave your home. Some may be tempted to submit multiple applications to multiple online lenders to see who has the most competitive loan offer. However, you should avoid submitting multiple applications for prequalification. The best way to compare loan offers and receive multiple personalized loan offers without affecting your credit score is PrimeRates. PrimeRates offers a secure online platform that can connect you to multiple reliable lenders. PrimeRates can help all credit types qualify for hospitality business loans and SBA loans. Let's take a look at different types of hospitality loans...
#1. Hospitality Business Loan
If you need to borrow large amounts of money issued as a lump sum you should consider a business loan. Most lenders offer business loans up to $500,000 with repayment terms up to 25 years. Business loans are fairly easy to qualify for and offer competitive interest rates. In addition, business loans are available for small and large businesses. You can receive a business loan through a bank, credit union, or online lender. All of these sources offer competitive interest rates but online lenders may offer some of the most competitive rates. In addition, online lenders may be easier to qualify for and faster to fund loans. Hospitality business loans may offer some of the most affordable and flexible repayment terms, making them a top choice. 
#2. SBA Hospitality Loan
If you are a small business or startup you should consider an SBA loan. SBA loans are partially guaranteed by the government which can make these loans less risky for lenders. Since there is less risk, you may be more likely to qualify. The SBA also makes it easier for lenders to access capital. The SBA does not directly loan money to businesses. Instead, the SBA sets guidelines for agencies to help them approve better loans. Some SBA loans require some kind of collateral or money down and almost all SBA loans require a personal guarantee. Most business loans also require a personal guarantee. 
#3. Hospitality Business Credit Card
If you are looking for a way to finance smaller day-to-day purchases, a business credit card may help. Business credit cards usually have higher interest rates and lower spending limits.  Many credit cards offer incentives for making purchases using their card. It may be a good idea to find a credit card with generous rewards and use it for regular spending. If you decide to do this, you should pay the balance off monthly in order to receive the rewards without paying high interest rates. In addition, using a business credit card for regular spending may help cash flow.
#4. Hospitality Line of Credit
Once you have been in business for at least 6 months with $25,000+ annual revenue, you may qualify for a hospitality line of credit. Lines of credit allow access to a fixed amount of capital. Similar to a credit card, you should only be charged interest on the money you use. Lines of credit can be a smart way to finance inventory purchases and improve cash flow. Hospitality lines of credit may be harder to qualify for than other options. In order to qualify with most lenders, you will need solid cash flow, collateral, and a good credit score. 
What are hospitality loans used for?
Hospitality loans can be used for just about anything business-related. Some popular uses for hospitality business loans include…
Purchasing inventory

Improving cash flow

Financing equipment

Renovations

Expansions

Licenses

Pay business taxes

Upgrade computer systems and technology

Buy out a business partner

Open new locations or franchises

Expanding services

Marketing and advertising expenses

Pay off more expensive business loans

Signage
How to qualify for a hospitality loan?
Most business loans, especially for small businesses and startups, require a personal guarantee. In addition, some may require collateral, equity in the company, or an asset. If you are applying for a small business loan,  you should have a credit score of 700+.  When you apply for most business loans, lenders will request financial documents, proof of income, bank statements, identification, and more. If you are a startup business you may be asked for even more documents and business plans. Before applying for a business loan you should gather important documents that you may be asked for. 
How to apply for a hospitality loan?
If you are looking for the best hospitality loan you need to visit PrimeRates. Many reliable lenders partner with PrimeRates to help companies receive competitive loan offers. Using PrimeRates can allow you to quickly and efficiently receive multiple personalized business loan offers within minutes. In addition, PrimeRates can reduce the risk of using an online lender. Your credit will not be affected by submitting an application through PrimeRates, so you really have nothing to lose and everything to gain. Here are 3 easy steps to apply for a hospitality business loan…
#1. Submit application (takes less than 2 minutes)
#2. Select the best business loan offer
#2. Receive funds quickly (as soon as 24-hours)
Conclusion
Hospitality term business loans and SBA loans can be the best financing options for startup and small hospitality businesses. More established and larger hospitality businesses may also qualify for hospitality lines of credit. PrimeRates partners with dozens of reliable lenders that specialize in business loans and SBA loans for hospitality businesses. Before reaching out to multiple lenders on your own you should apply through PrimeRates. You can submit one quick application that will not affect your credit and within seconds you can receive multiple personalized loan offers. This will allow you to compare offers and select the lender with the best offer and appropriate expertise. PrimeRates offers a platform that can eliminate the risk involved with using an online lender while saving you tons of time and money. In addition, PrimeRates also offers personal loans. If you are a business owner looking to finance some living expenses you may want to look into a personal loan. Personal loans can be easy to qualify for and offer low interest rates. They can be a great way to cover personal expenses until your business is profitable enough to pay yourself a monthly salary. Starting a new business may be challenging but if you can overcome the challenges, you are sure to be rewarded in the long run.
Pre-qualify for a hospitality loan in seconds...apply online today!
Business Loans By Industry