How can a home equity  product help me?
If you are considering making a large purchase, planning a home improvement project or want to consolidate your debt, a home equity loan may be right for you.
How much can I borrow with Figure?
With Figure, you can borrow up to $100,000 or start with a loan as low as $15,000.
What documents do I need to complete my application?
You'll need a current U.S. driver's license, state I.D. or passport to verify your application. You'll also need your bank information handy in order to receive the funds.

Image provided by Figure.com
1 Our APRs range from 4.99% to 12.75%. The lowest APR is only available to consumers with excellent credit. For example, for a borrower with a CLTV of 45% and a credit score of 800, a five-year Figure Home Equity Loan Plus with an initial draw amount of $50,000 would have a fixed annual percentage rate (APR) of 4.99% and a 3.00% origination fee. Your total loan amount would be $51,500. Origination fees range from 0-3% of your initial draw depending on the state in which your property is located. The advertised rate is available only to borrowers using primary residences as collateral. Your actual rate will depend on many factors such as your credit, combined loan to value ratio, loan term and occupancy status.
2 Approval in 5 minutes and funding in 5 days is based on a typical customer experience for properties located in counties that permit e-signatures and e-recording. Actual funding times may vary. Due to state law, funding in 5 days is not applicable to first lien loans secured by owner-occupied properties in Vermont.
5 You should consult a tax advisor regarding the deductibility of interest and charges to your Home Equity Loan Plus.
Snapshot of Figure.com's Home Equity Loan PLUS
Products: Fixed-rate open-end loans with terms from 5-20 years.

APR: 4.99 percent to 12.75 percent.

Minimum FICO: 680.

Minimum CLTV: Lends up to 80 percent CLTV.

Minimum assets needed: No minimum.

Approval time: As few as 5 minutes.

Loan amounts: $15,000 to $100,000.

Appraisal: Automated valuations.
About Figure
Figure aims to simplify the borrowing process from the initial application to loan repayments. See how your home equity can help you meet your goals, whether they include funding home improvement projects or consolidating debt. The process has never been easier, faster or more transparent than it is today.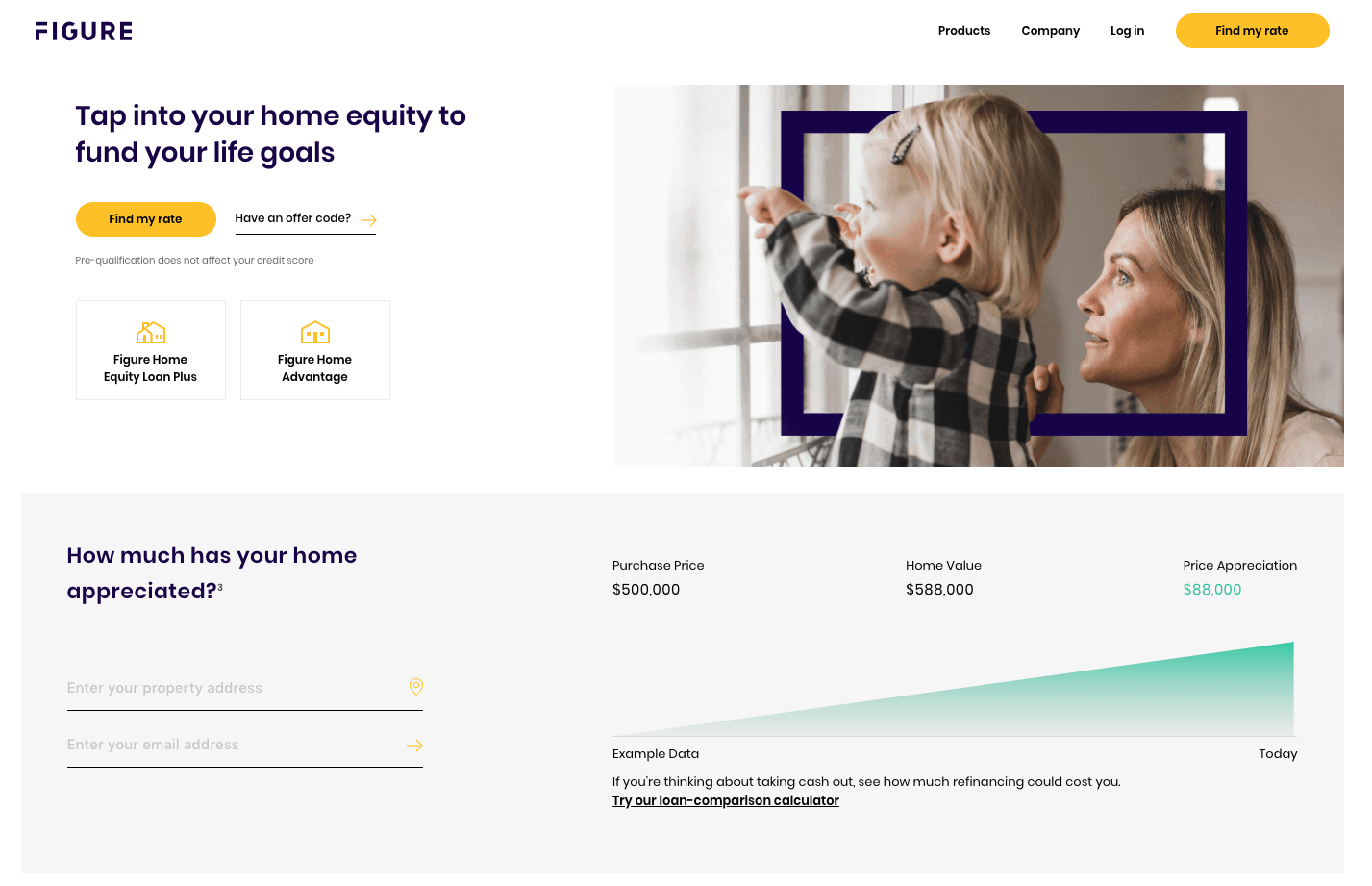 Figure Home Equity Loan PLUS Review
APR range
Starting at 4.99%
Available loan terms
Up to 15 years
Loan amounts
Borrow up to $100,000
Fees
Low origination fee
Credit needed
Minimum credit score 680
Best for
Major Purchases, Home Improvements or Consolidating Debt

Click "Check Rates" to apply to Figure
What Is Figure?
Figure is a home equity lender that uses blockchain, artificial intelligence (AI) and analytics technology to streamline what was previously a very time-consuming borrowing process.
The company, which was established by Mark Cagney, the founder of SoFi, is paving the way in the home equity loan field by being the first company to utilize these technologies in its lending process. As the first exclusively-online home equity lender, Figure has reduced the application decision time to just five minutes and funding times down to five to seven business days.
This company offers sell and lease back options for homeowners as well as HELOC loans, which are a combination of home equity lines of credit and traditional home equity loans.
Figure Home Equity Loan is ideal for:
Property owners with excellent credit who are looking to make major purchases, home improvements or consolidate debt but don't want the higher APRs and shorter repayment terms that come with a traditional personal loan.
Figure Home Equity Loan PLUS Review 2019

Interest rates:  Figure's annual percentage rates range from a low 4.99% up to 11.25%.
Rates, Fees: Figure does not charge any prepayment or check processing fees. However, the origination fee may be up to 3% of the entirety of the loan.
How to Qualify for Figure: In order to qualify for Figure, you'll need a valid passport, state I.D. or U.S. driver's license and an active bank account. Although the minimum credit score is 680, you'll have significantly higher chances of approval if your FICO score is above 740. You'll also need access to a smartphone or computer with a camera in order to have the live meeting with one of the lender's eNotaries.
If multiple owners are listed on the property that you're applying for and one of them does not meet the criteria, it is still possible to apply independently instead of both owners applying jointly.
Home Qualification Requirements: Both the borrower and the home must fulfill a set of qualifications. To ensure that your home qualifies for a Figure home equity loan, you should make sure that it includes a few different elements.
You must be the legally-named owner of the property, as reflected in county records. As long as your name is bound to the structure, it can be held solely or jointly, by an LLC or a revocable trust. You should also have both hazard and flood insurance for the home.
If you have multiple properties and one of them does not meet the eligibility requirements, you can always apply with just the ones that do fulfill the standards.
Is Figure Legit and Safe?
Although Figure was only established in October 2018, its founder, Mark Cagney, has a longstanding reputation within the loan industry, having also established the well-known lender SoFi. Most of Figure's online reviews are very positive, with an 8.9/10 score on Trustpilot.com.
Funding Time: While applying for a home equity loan and waiting for its disbursement used to be a lengthy and cumbersome process, the funding time for a Figure loan is just five to seven business days.
What types of property can you use as security for a home equity loan with Figure?
Private homes, second homes, investment properties, single-family residences and townhouses are all eligible properties to use as security for a Figure Home Equity Loan PLUS.
Loan example: A borrower with excellent credit who takes out $80,000 with 8.2% APR and a ten-year repayment term will have monthly payments of $979.10.
Figure Pros and Cons
Pros:
No prepayment or check processing fees

Large range of loan amounts, with a maximum of $100,000 per property

Low APRs starting at 4.99%

Quick to fund compared with similar lenders

Quick loan decision

Long repayment terms, with a maximum of 15 years
Cons:
New company without an extensive track record

Not available in all 50 states

Borrowers with credit scores below 680 will have difficulty qualifying
How is your property's value assessed?
Figure uses an Automated Valuation Model (AVM) to determine the value of your property. This method takes price trends, public records and recent sales of similar properties into consideration.  
How does the draw work?
Once you're approved, the full amount will be made available at one time. As you make payments on the loan, you'll be able to draw from your credit limit again. Draws cannot exceed 10% of the loan or credit line amount, and must meet a minimum of $500. They remain available for up to two years from the loan's origination date.
What are the steps of the Figure eNotary process?
As long as you have a smartphone or computer with a camera, the notarization process should be relatively smooth and only take a few minutes. Once you're in the video chat with the eNotary from Figure, you'll confirm your identity with a form that was issued to you with your initial loan application. Next, you'll answer a set of authentication questions, review the mortgage document and sign it before the eNotary notarizes the document.
Conclusion
Figure's Home Equity PLUS loans are using some of the most cutting edge online technology to revolutionize the lending process. Where the typical time to fund a home equity loan used to be 45 days, that time spans just five to seven days due to the company's exclusively-online nature.
The company itself is very new and doesn't have a proven track record yet. However, it was established by the founder of another major company that has a reliable reputation within the lending world.  
With a maximum loan amount of $100,000 per borrower per property, fast funding times and some of the lowest rates in the industry, a Figure Home Equity Loan PLUS is worth looking into if you're a borrower who meets their eligibility requirements.