PrimeRates provides access to personalized loan offers through our simple and quick pre-qualification application. Once you're pre-qualified, you can select the best offer for you and finalize the loan application with the lender.
Apply in minutes

Simple pre-qual application in less than 1 minute. 

Select your loan offer

Choose the offer that best fits your needs.

Receive funds quickly

Finalize your loan offer, get approved, and receive funds.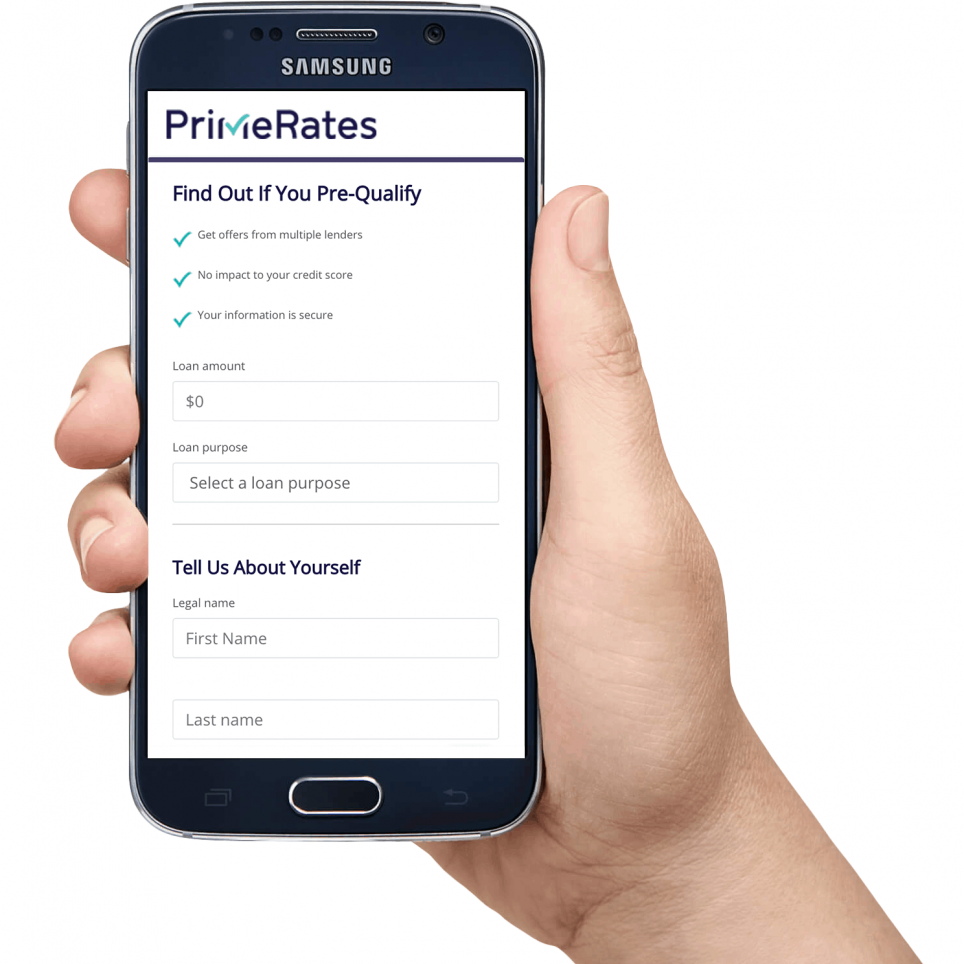 Best Personal Loans For $25k and Above
A personal loan of up to $25,000 can be used to finance emergency expenses, vehicle down payments, major home repairs, medical expenses or consolidate debt. Because this is a mid-sized personal loan, it's easier for borrowers who fall short of having excellent credit to qualify than with a larger loan.
What is an LLC business loan?
In simplest terms, an LLC business loan is essentially a partnership that can deliver cash quickly. Online lenders can match business owners and help them grow, manage, or start their business.
How do you apply for a LLC business loan?
You have a few options when it comes to applying for an LLC business loan including:
Local bank
Local credit union
Online lender
Small Business Administration (SBA)
What documentation is needed to apply?
Similar to most business loans an LLC business loan typically requires documentation including:
Proof of business activity
Credit check
Verification of ownership
Financial statements
Potential business identification numbers
Who is eligible to apply for an LLC business loan?
If you can provide the documentation listed above you may be eligible for an LLC business loan. In addition, you must be a registered business for a minimum of 4 months and have an active business bank account.
Best Options for Financing Your LLC
Personal Loans
There are many ways you can obtain a personal loan to grow or launch your LLC, thus making it a competitive option.
Pros
Personal loan has many uses
No collateral needed
Loan amounts from $1,500 – $100,000
Reasonable rates
Available for most credit types
Cons
Fixed payment
Origination fees can apply
Prepayment penalties can apply
LightStream
LightStream offers competitive financing options for LLC business loans. They are a credible national lender that operates online as a division of SunTrust Bank.
Pros
Rate beat program
No fees
Low interest rates
Quick funding
Borrow from $5,000 to $100,000
Terms range from 24 to 144 months
Cons
Hard pull required
Seeks good credit candidates
LendingClub
LendingClub offers peer-to-peer lending options with fast approval and reasonable interest rates. Peer-to-peer lending connects people with money to people who need to borrow money.
Pros 
Clear terms
Quick online pre-approval
Competitive interest rates
Terms range from 36 to 60-months
Cons
Application process may require copies of tax documentation
Passes accounts into collection quickly after missed payment
Unsecured loans only
SoFi
Working with SoFi can be an attractive option for an LLC business loan if you have good credit.
Pros 
No fees
Terms range from 2 to 7 years
Fixed or variable APR offered
No collateral required
Borrow from $5,000 to $100,000
Low interest rates
Cons
Better for good credit borrowers
Strict approval terms
Hard credit pull
Slower funding
Prosper
In 2006, Prosper was one of the first companies to introduce marketplace lending and is still thriving with their model today. Prosper has funded over $5 billion in loans and targets people with fair to excellent credit.
Pros 
No prepayment fees
No collateral required
Fixed interest rates
Low interest rates
Borrow from $2,000 to $35,000
Cons
Requires minimum FICO score of 640 for approval
Only 3-year and 5-year terms offered
Origination fee
Not a direct lender
UpStart
Similar to LendingClub, UpStart is a peer-to-peer lending company that can provide financing for LLC business loans. UpStart may be a good choice for applicants with little to no credit history, steady income, and quality education.
Pros
Maximum loan term of 5 years
Competitive interest rates between 9.57 percent and 29.99 percent
Fast approval and funding process
Loans range between $1,000 and $50,000
Cons
Minimum credit score 620
Unsecured loans only
Loan origination fee of 1 to 6 percent
Other Personal Loan Types
Top Personal Loan Articles