PrimeRates provides access to personalized business loan offers through our simple and quick pre-qualification application. Once you're pre-qualified, you can select the best offer for you and finalize the business loan application with the lender.
Apply in minutes

Our simple application takes less than 5-7 minutes to complete.

Select your business loan offer

Choose the offer that best fits your needs by comparing loan amounts and terms.

Receive funds quickly

Finalize your loan offer with the lender you selected to receive your funds.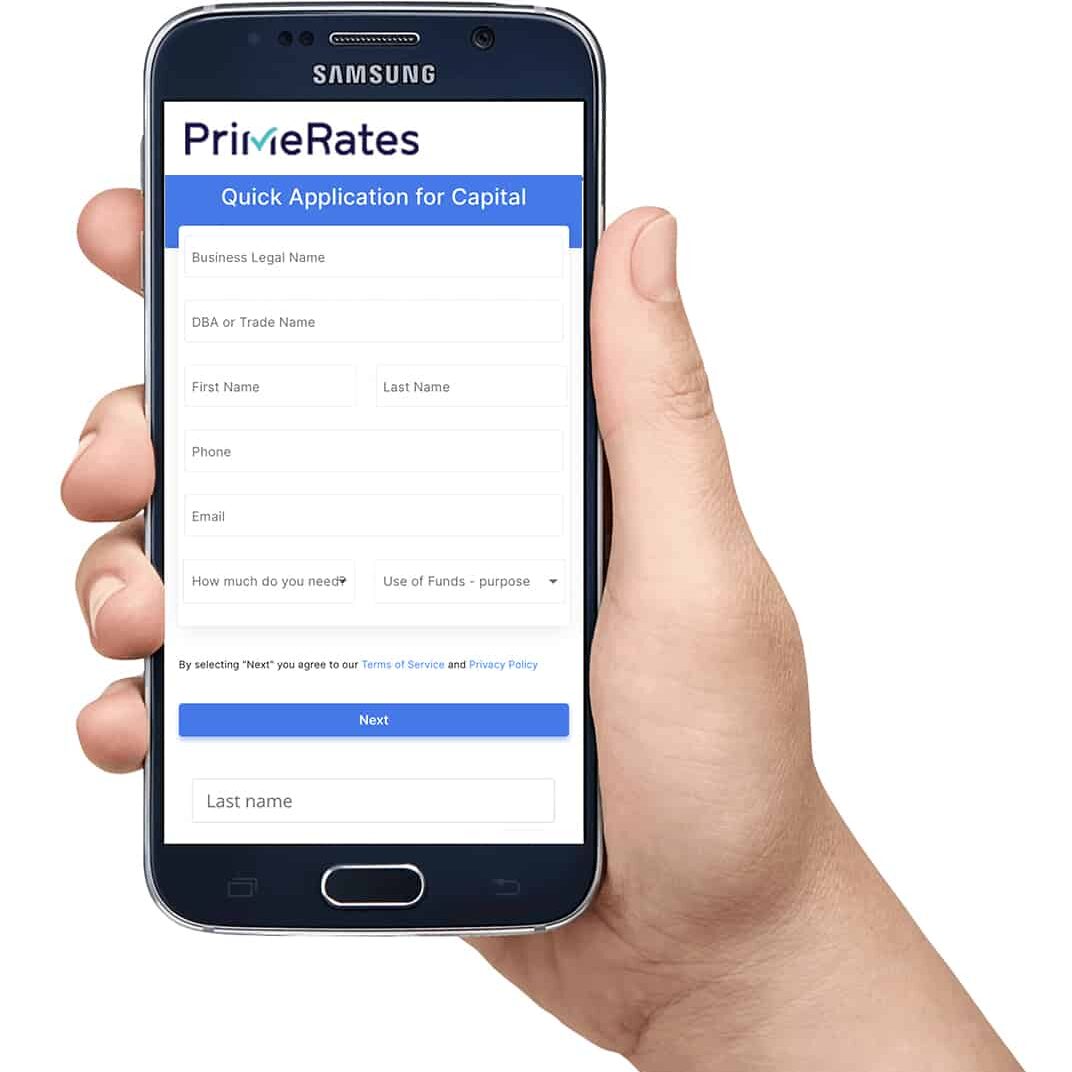 Small Business Loans For Restaurants
New/Startups & Old
Running a restaurant can be both a work of passion and a high-intensity ownership experience. Whether you're looking for funding to pay for kitchen renovations, or need quick cash to pay for repairs on a broken industrial refrigerator, you're likely going to require some form of lending at various points during your restaurant's operation.
What is a restaurant business loan?
A restaurant business loan is a regular business loan designed for and used by restaurants. They can be used for a variety of expenses or investments including financing new equipment, expansions, inventory, emergencies, and more. In most cases, loans will need to be repaid with interest. Terms can vary so make sure you pay attention.
How do restaurant business loans work?
There are several types of loans available so the specifics can vary, but there are a few steps that should work the same. These include:
Apply

Get prequalified 

Obtain approval

Funding
Most loans will require you to start with an application. Once the application is submitted, you can prequalify. At this time the lender can share what they can offer based on the information you submitted. They may also ask you to submit some supporting documentation. If you are unable to provide the supporting documentation or there are any discrepancies, the lender can change or revoke the prequalification offer. Most pre-qualifications are good for a certain amount of time. If they expire you may need to start the process over.
After any contingencies are satisfied, you can earn pre-approved status. Once you are pre-approved, you typically just need to sign documents and wait for funds. Lenders may be able to direct deposit funds into the business account of your choice or cut you a check. If you use a business line of credit, funding will work differently.
Common reasons restaurant owners apply for restaurant financing
There are many reasons why a restaurant owner may apply for restaurant business loans. Here are some of the most common.
New business: Business loans for new restaurants may be required to cover equipment costs, renovations, hiring staff, uniform purchases, and more. New businesses may have trouble qualifying for a business loan. Business owners may need to take out a personal loan to get their business going. 
Acquisition of an established restaurant: If you are taking over an established restaurant, you may need funds to pay off the owner and to cover remodeling costs. Whether you are starting a new restaurant or purchasing an existing one, you can use financing. 
Renovation needs: Renovation can occur when the business is being opened or it can come down the line if the owner wants to expand or change the facility's aesthetic. Creating functional, clean, and brand-friendly locations will help your business. 
New location expansion: The building purchased or rented for the restaurant may not be large enough. Business loans for new restaurants may be required to cover expansion expenses.
Operations: Funding may be needed for everyday operations such as purchasing food items, paying staff, utilities, and more. If you need to improve cash flow, you should consider a business line of credit.
Marketing: Every good business needs a strong marketing plan. Funding may be needed to cover marketing materials, marketing software, and payroll for a marketing team.
Equipment Investing: A restaurant requires plenty of equipment including ovens, fans, refrigerators, freezers, and more. The owner may need a loan to purchase these products.
Payroll: Paying a staff may be a business's largest expense. A loan may be needed to cover payroll costs from time to time.
Types of restaurant business loans
There are several types of business restaurant loans. Here are a few you can choose from.
Traditional business loans: Traditional business loans are typically installment loans or term loans that are funded as a lump sum and repaid in monthly installments. Most lenders offer business loans that do not require collateral. 
» MORE: Business Loan Options
Business line of credit: A business line of credit is similar to a credit card but typically with much lower interest rates. Business lines of credit are ideal for businesses that need access to cash on a regular basis.
» MORE: Business line of credit
SBA loans: The Small Business Administration (SBA) offers small business loans for restaurants. They are similar to banks in terms they offer, interest rates and requirements. However, they tend to be more forgiving of business owners that default on loans. The SBA is an independent agency of the federal government dedicated to helping small businesses.
» MORE: Compare SBA Loans
Equipment financing: Equipment financing is a loan that is given specifically to cover equipment expenses. It's a good option for businesses that can't qualify for other types of loans as it uses the equipment as collateral. However, if the company is unable to repay the loan, they could lose their equipment.
» MORE: Equipment Financing Options
Alternative loans: Alternative loans are an option for businesses that can't show a good credit score or solid business history. They have fewer requirements and can be funded quickly but they are shorter term and offer higher interest rates. An example of an alternative loan could be a personal loan.
Cash advance: A cash advance is like a credit card you can use for your business. You make payments either by withholding a percentage of your credit and debit card sales or by fixed weekly or daily withdrawals from a bank account. The loans fund quickly and have few qualifications, but they come with expensive fees.
» MORE: Merchant Cash Advance
Invoice financing: Invoice financing involves the lender buying your unpaid invoices. They will pay you the amount your customers owe minus a fee and collect the money directly from your customers. It's a good way to get a quick infusion of cash and it does not require extensive qualifications.
How do you get a small business loan for a restaurant?
The first step in getting financing to open a restaurant is to find the type of loan or lender that's right for you. The internet is a great place to narrow down your options. When you're ready, you will want to apply for a loan or start checking offers. In some cases, this can be done online.
Time in business: While having two years in business will help you secure a much lower rate on a loan for your restaurant, many lenders require just one year.
Credit score: Having a credit score above 650 will give you access to the most affordable rates. However, some companies offer loans to restaurants whose owners have credit scores as low as 550, while others take a holistic approach to application evaluations and don't stipulate any minimum requirement.
Available collateral/down payments: Not all lenders require collateral or down payments on loans. However, if you're a new restaurant or do not have strong financial qualifications, it can be a good idea to be ready to put up collateral to secure a lower rate or higher amount.
Equipment vs Real Estate Purchases
If you're looking to purchase new equipment or expand your properties, you can look into loans that are offered specifically for these purposes. The Small Business Administration (SBA) offers commercial real estate loans at extremely low rates to borrowers who fulfill SBA's set of requirements. However, there are also many lenders who will work with owners who do not fulfill this list of qualifications or who are very new to the industry.
How much does it cost (on average) to start a small restaurant?
The cost of starting a restaurant can range from a few thousand dollars to hundreds of thousands. According to restaurantengine.com, the average cost of starting one is $275,000, or $3,046 per seat. When evaluating how much it will cost you to open your small restaurant, make sure to factor in the cost of the property, utilities, kitchen supplies and machinery, food, and labor.
Is it hard to get a loan for a restaurant?
Getting restaurant business loans can be difficult, especially if you can't show a reliable business history and a good credit score. The worse your financial situation is, the harder it will be. While there are lenders that accept poor credit scores and little to no business history, they tend to charge higher interest rates.
How much does it cost to open a restaurant?
The amount of money it takes to open a restaurant will vary depending on the size of the facility and how upscale the eatery will be. In most cases, it can cost between $175,000 and $750,000.
What credit score do I need to obtain restaurant financing?
It's best to have a credit score of 600 or above to obtain restaurant financing, but the better your score is, the lower your interest should be. Ideally, you should have a credit score of 700 or better. Let's take a look at what you might qualify for based on your credit score.
700 or above: If your score is 700 or above, you should be able to qualify for most loans with low interest rates.
640 to 700: If you fall between 680 and 700 you should still be able to qualify for loans. If you are on the lower end of the spectrum, you will likely need good business credentials to back you up.
600 to 640: A score this low may limit you to alternative loans and equipment financing.
550 to 600: A score of 550 to 600 may limit you to invoice financing and cash advances.
500 or Below: If your score is below 500, you may want to look into other financing options.
How long does it take to get funded?
The amount of time it takes to get funded for restaurant business loans will vary depending on the type of loan you are getting. For example, a bank or SBA loan will require a lot of paperwork which will need to be manually approved. Although most organizations say approval takes a week or two, it can drag out to as long as a month or two.
Alternative lenders won't require as much documentation and can provide approval in as little as 1-3 days.
What documentation is needed to apply for a restaurant loan?
If you're applying for a standard loan for your restaurant, there will be a few documents that you'll need to have available before starting the process:
Your personal financial information

Personal credit report

Business' credit report

Business plan

Income tax returns

Personal bank statements

Business bank statements

Documentation of collateral (if required by the lender)

Personal contact information
Requirements & how to qualify for a restaurant loan
Because there is such a wide variety of options for restaurant owners to use to fund their businesses, most borrowers will be able to find some form of financing. However, having a credit score above 650 and more than two years in business will drastically improve any potential borrower's chances of finding a low-cost loan.
Best Small Business Loan Options For Restaurant Owners
For New Restaurants & Smaller Purchases
Kiva
Kiva is a nonprofit crowdfunding platform that connects borrowers to independent lenders and investors all over the world. This can be a very flexible form of funding because it allows borrowers to speak directly with interested lenders and establish terms on a case-by-case basis. Crowdfunding can be an ideal option for new restaurant owners who have trouble qualifying for traditional or low interest, online loans.
StreetShares
StreetShares offers loans and lines of credit of up to $250,000 and invoice financing for up to $2 million. Their rates range between 9% and 40%, depending on borrowers' financial qualifications. Restaurants that don't have the credit or time in business to take out a loan or line of credit with this lender but who have unpaid invoices can sell those invoices for an advance of a portion of the unpaid amount.
Fundation
Fundation's business loans start at $20,000, with a maximum amount of $500,000 and rates ranging between 8% and 30%. With APRs in the single digits, Fundation offers lower rates than most of its competitors and flexible borrowing amounts.
For Established Restaurants Looking To Expand
Credibility Capital
Credibility Capital's business loans start at $50,000 with a maximum amount of $400,000. This lender has a maximum APR of 25%, and a minimum of 10%. Credibility Capital is best for restaurant owners who have above-average credit scores, multiple years in business, and high annual revenue.
SmartBiz
SmartBiz offers loans starting at $30,000, with a maximum of $350,000. This lender has some of the lowest APRs in the online business lending industry, with rates starting at 9.7%, and a maximum of 11.04%.
OnDeck
OnDeck offers business loans and lines of credit ranging between $5,000 and $500,000. Their rates start at 9.1%, with a maximum of 99.8% for term loans. Rates for their lines of credit range between 11% and 63.2%.  Although APRs with this lender can be quite high, they can also be competitively low for established and well-qualified businesses.
Lendio
Lendio is a funding marketplace offering several different forms of restaurant and business financing. With loans ranging between $1,000 and $5 million, repayment terms of up to 25 years, and potential annual percentage rates in the single digits, this marketplace can be a great place for well-qualified and established restaurant owners to start their funding search.
Restaurant Loan Alternatives
Kabbage vs LendingClub
Kabbage's business lines of credit range between $2,000 and $250,000, with rates starting at 24% and capping out at 99%. LendingClub is a much lower cost business credit provider, with amounts ranging between $5,000 and $300,000, and a maximum rate of 35.11%.
Although LendingClub's borrowers are likely to be approved for a lower rate than with Kabbage, the lender also has much more stringent requirements, with a minimum credit score of 620 to qualify.
Pros & Cons of Loans vs Credit Card
Loans
Pros:
Fixed amount disbursed

Access to lump sum

Fixed monthly or weekly payments

Good for funding one-time expenses
Cons:
Borrowers may take out more funds than they need and have to pay interest on financing that they did not need

Potentially high APRs

More difficult to get approved for a very high amount than with a business line of credit
» MORE: Compare Business Loans
Business Credit Card
Pros:
Only pay interest on what was used

Have access to an amount of money, but there is no requirement to use all of it

Good for funding cyclical expenses
Cons:
May require more frequent repayments than a loan

May have less flexible repayment terms than a long-term business loan

No fixed payments

Minimum spending requirements
How to get approved for a restaurant business loan
It's likely that a lender will want to see financial documents including profit and loss statements, income taxes, a credit report, and more. Be prepared to produce the required paperwork so as not to further delay the process.
If your credit score is low, it's advisable to try and bring it up by paying off debts before applying. You can also have a credit report prepared and check it to see if there are any errors. Eliminating these errors will raise your score.
Most lenders will also want to see that you have been in business for 1 -2 years and have produced a steady income ranging from $50,000 to $250,000 a year. If you can not show these qualifications, you may want to look into other financing options.
Conclusion
Operating a restaurant can be an expensive business, and you likely won't be able to fund everything out of pocket. Before applying for loans, remember to evaluate your exact financial needs to figure out which form of funding is right for you. While emergency repairs might require a large loan from an online lender, cyclical expenses might warrant applying for a business line of credit. Even if you're a first-time owner or you have a low credit score, be sure to compare multiple offers before committing to a product.
Shopping for loans can be time-consuming, but there is a way to simplify the process. The secret to fast and easy business loan shopping is PrimeRates. At PrimeRates you can check offers from trustworthy lenders from the comfort of your home or office or even mobile phone. With just a little bit of information, you can check your rate within minutes. Once you have decided which offer you want to move forward with, you can finish the approval process with the lender. 
Spice up your business. . . apply for a restaurant business loan today!
Americans love food, so it's no wonder that owning your own restaurant (or food truck) is a popular business venture. Restaurant business loans are used by new and old restaurants to fund expansions, startup costs, or simply to alleviate cash flow challenges. Read on as we teach you how to get a business loan for a new restaurant. 
Is it hard to get a loan for a restaurant?
Getting a loan to open a new restaurant, a new restaurant location, or to purchase an existing restaurant is often more difficult than getting a loan for other types of business ventures. The main reason for this is that lenders see the restaurant industry as volatile and unstable. You may be aware of this as well if you take a look around your city. How many restaurants last 10 or more years? You can maybe count a few that have been a family enterprise for generations, but in reality, restaurants fail all the time. Because of this, many lenders are hesitant to provide business loans to entrepreneurs looking to open new restaurants.
That being said, there are still plenty of lending institutions that are willing to take a risk on a restaurant if the business owner can meet or exceed their more stringent criteria for qualification.
One of the most common loans that business owners can obtain to open a restaurant business is an SBA loan. More lenders may be willing to provide loans that are backed by the Small Business Administration to business owners who are looking to get into the restaurant business. 
The main downside of SBA loans is that they are much harder to qualify for compared to term loans or other types of business financing. The main barrier that many businesses face when applying for an SBA loan is the amount of time that their restaurant has been in operation. SBA-approved lenders typically require a business to have at least two years of time of operation to qualify for an SBA loan. 
However, if you are an experienced business owner who has had successful restaurants in the past, they may consider your previous experience when taking your loan application into consideration. 
Aside from having some practical experience in the restaurant industry, the Small Business Administration is going to want to see a minimum credit score of 680, a down payment of anywhere from 10% to 30% of the total project cost, and they may ask you to provide some collateral to secure the loan in the form of business assets or a personal guarantee. 
Aside from SBA loans, business owners may consider term loans. Term loans are conventional business loans offered through banks, credit unions, and online lenders that provide borrowers with one large upfront payment that can be paid back over a period of time. Term loans are paid back with monthly installments that paydown the principal balance plus any interest the lender is charging for the financing. 
Although some lenders may be wary of allowing a new restaurant business to borrow a large sum of money, business owners may try to limit the risk to the lender by providing a large down payment, having an excellent credit score, and offering up some collateral to secure the loan.
To explore business loans, visit PrimeRates and check offers with no credit impact.
What size loan can I get to start a restaurant?
The largest loans available for starting a new restaurant are through the Small Business Administration. If you are trying to purchase a restaurant and the commercial property where you will be operating your restaurant at the same time, you could consider an SBA loan through the SBA 504 loan program.
The SBA 504 loan program allows for larger loans of up to $5,500,000 over 25 years for businesses that are purchasing commercial property.  Alternatively, business loans from traditional sources that are  backed by collateral may come with generous loan amounts as well. The reality is though, it can be risky putting up collateral as you chase a new business venture. Restaurant owners can access loan offers up to $500,000 at PrimeRates, some with no collateral required. 
What can restaurants use business loans for?
Restaurant loans can be used for any restaurant related expense. You can get an equipment loan that specifically covers restaurant equipment, software, delivery vehicles, etc. You can get a commercial real estate loan which helps you purchase business property. Or you can use your business loans for new restaurant for any of the following:
Remodels

Upgrades

Expanding staff

Seasonal fluctuations

Furnishings

Operational cost
.…and the list goes on.
Can I get a restaurant business loan with bad credit?
It's not easy to get restaurant business loans with bad credit, but it's not impossible either. There are lenders who will work with entrepreneurs with credit scores as low as 500. But, they will likely require higher interest rates and fees and stricter repayment terms in return.
For example, they may require you to make daily or weekly payments as opposed to monthly payments. They may request that payments are automatically deducted from your bank account. They may also ask for a down payment, a lien against your business or a personal guarantee to secure the loan.
Our best advice - rebuild your credit score before taking out any kind of loan, but especially a business loan.
How do you choose the best restaurant business loan?
There are several things to consider when choosing the best restaurant loan for your business. Here are some to consider. 
Interest Rates and Fees: Interest rates and fees are a major consideration when choosing a loan. They will affect how much you are paying back on top of the principle. Most entrepreneurs will choose loans that offer the lowest possible rates and fees considering their financial situation. It's to compare offers as long as there's no impact or commitment.

PrimeRates

offers a secure platform that allows business owners to learn about business loans and check offers with no credit impact.
Loan Terms: Loan terms refer to how long it takes to pay off a loan. Some people prefer long term loans because they give them more time to pay the loan back. Others prefer short term loans because they will accrue less interest. The goal should always be to pay as little as possible with interest all the while ensuring monthly payments are affordable. 
Surprise Fees: Most loans come with origination fees, application fees, late fees and return check fees. However, some will also come with surprise fees such as prepayment penalties and credit insurance. These fees aren't exactly a surprise but may be hidden in the fine print of your credit agreement. Be sure to ask the lender if these fees are a part of the loan before you sign on the dotted line.
Qualifications: You must also consider what the lender is requiring in terms of qualifications. For example, if you have a low credit score, it may disqualify you for certain types of loans so you will be limited in the loans you can be approved for.
Loan Type: There are several types of loans business owners  can qualify for. Some to consider include the following. 
Secured loans. Secured loans are backed by collateral, thus reducing the risk for the lender. While you may risk losing your assets if you default, you'll be more likely to be approved for a loan if you can offer collateral in exchange as a promise to repay. 
Unsecured loans: Unsecured loans do not require collateral and can be funded quickly, but they do come at a cost. Unsecured business loans usually have higher interest rates compared to secured loans. 
Fixed installment loans: Fixed installment loans can be secured or unsecured. Regardless, they are favorable since the monthly payment and interest rate will be fixed, thus making them more manageable. 
Line of credit: A revolving line of credit can allow business owners access to cash as needed. Business owners can draw on the line of credit and repay what they draw with interest, as long as they do not exceed the credit limit. 
What questions do you ask before applying for a restaurant business loan?
There are several questions you should ask yourself before applying for a restaurant business loan. Here are some to consider.
What Do I Need the Loan For? This will help you determine how much capital you require, and it will help you find the type of loan that's best suited to your needs.

What is My Credit Score? It's advisable to find out your personal and or business credit score before you start loan shopping, so you know what you qualify for. Reviewing your report may also help you find mistakes that you can have removed from your report to improve your score.

How quickly do I need the money? Different loans have different approval periods. Typically, loans that offer fast approvals also have high interest rates, but this is a consequence you may have to deal with if you need the money right away.
You may also have questions for the lender such as:
What are your interest rates?

What are the minimum qualifications?

Are there prepayment penalties?

Are there spending restrictions?
How do you finance a new restaurant?
Conventional loans such as SBA loans and bank loans are ideal funding options for your restaurant. But. if you are unable to qualify or aren't happy with the terms they offer, you may also consider:
Loans from friends and family: Friends and family may help you get your company off the ground.

Credit cards: If you use credit cards to fund your business, be sure you can repay them.

Investors: Investors may help fund your company for a share of the return.

Crowdfunding: There are several online crowdfunding platforms that allow the public to invest in your company for a cut of the returns or to enjoy perks and rewards.

Home equity loans: These loans use the equity you have in your home as collateral.

Cash advance: A cash advance allows you to withdraw cash against your credit limit using your credit card. They tend to have high fees and APRs so they should be used for emergencies only.

Online business loans

:

Online lenders often have less strict requirements, making it easier for restaurant owners to qualify. Plus, it's easy and convenient to shop offers and explore options. 
Curious what your business qualifies for? Receive personalized loan offers with no credit impact. . .apply now!
More Business Loan Options
Business Loans By Industry