How to Get a Business Loan with Good Credit
Getting a business loan is one of several ways to fund business operations. With a good credit score, it should be easier to qualify for a business loan. However, most lenders will consider more than just your credit score during the approval process for a business loan. Some other things they want to see are how long you have been in business, what your annual income has been, and what your cash flow is like. If you haven't been in business for at least a year or two or are just starting a new business, you may need to get a personal line of credit for business or a business credit card to fund start-up costs. In this scenario, having a good credit rating will help you qualify for any of these products.
What is considered Good Credit?
Your credit score determines good credit. Your credit score is a three-digit number usually referred to as a FICO score. Your FICO score is created from information taken from three credit reporting agencies: Experian, Equifax, and Transunion. It's a complicated formula, but it basically rates a borrower on five things:
If payments are made on time

How much credit a borrower has open

The mix of credit a borrower has

The borrower's credit history

The newness of the accounts
Do business loans require good credit?
Business loans may not always require good credit, but it's helpful to have good credit. Lenders may be willing to extend more competitive offers to business owners with good credit. The lender you deal with will determine what is a good credit score for a business loan. Banks and credit unions may have the most strict credit score requirements. Online lenders may have less strict credit score requirements. Whether you have good credit or not so good credit you should check offers from online lenders. 
What can a business loan be used for?
Business loans can be used for a wide variety of purposes. Generally, the lender wants to know that the business will be using the borrowed funds to improve the business's financial position. That can mean investing in new inventory, supplies, equipment, renovations, or even simply using the loan to manage everyday operations such as payroll.
Types of Business Loans
There are many different types of business loans, just like there are many different kinds of businesses. The type of loan you get will depend on how much you need to borrow, how long you want to pay it off, what you need it for, and what you qualify for. Before taking out a business loan, you should explore the different types of loans available. Some options to consider are:
Equipment loans: Typically offered by the dealer that you purchase equipment from.

Business lines of credit: Business lines of credit can improve cash flow. You can think of them as a revolving line of credit. The borrower can access funds as needed. 

Term loans: A lump sum is advanced and then paid off in installments that are predetermined.

Accounts receivable financing: This is using your invoices by either factoring or financing them to get a loan.

Commercial loans: Enable a borrower to purchase property for business purposes.

Merchant cash advances: Allows a business that does a high volume of credit card transactions to borrow against future sales and pay back the loan daily or weekly.

Franchise loan: Loans that extend borrowers the funds to buy a franchise.
Which loan is best for a small business?
The best business loan for a small business will depend on several things. First, the loan needs to suit the purpose of the company. For example, a term loan might be great for some businesses, but others might benefit more from a line of credit. Second, the loan has to be affordable and ideally has a favorable interest rate. Another feature to consider is how quickly the lender can fund the loan. Most businesses prefer to have the money sooner rather than later, so having a short time between the application and funding can be beneficial.
What minimum credit score is needed to qualify for a business loan?
A lot of people think you need an excellent credit rating to borrow for their business. Do you need good credit for a small business loan? Well, there isn't a clear answer to this question. That's because getting a small business loan will depend on many things such as:
 How long you have been in business

 Which lender you want to deal with

Your credit score

If you are securing the loan with collateral

The cash flow of your business

The annual revenue of your business

How much debt your company already has

Your business plan
Banks and credit unions will typically want a borrower to have a credit score of 680 or more, but some online lenders have no minimum credit score requirements. The first step is to get a copy of your credit report and check your credit score. If there are errors, make sure to correct them, so they don't drag down your score. Once you know your credit score, you can research lenders who provide services to borrowers with credit scores in your range.
Where can I get a business loan with good credit?
If your credit score is 700 or more, you have very good credit. Most lending institutions will consider you for a small business loan with a credit score of 700. Banks and credit unions are sometimes the most reasonable with their rates, so those are great places to start looking for a small business loan. However, online lenders are becoming more and more competitive with what they can offer. Comparing business loan offers online can be a smart use of your time. 
How much do business loans cost?
The total cost of a small business loan will be a combination of the interest rate, term to pay it off, and fees. Different small business loans will have different rates and fees. For example, a short-term loan can have an interest rate ranging from 10%-110%, while a merchant cash advance can have rates that range from 40%-350%. The higher the rate, the more the loan will cost you. Some examples of fees that can be charged to your loan are origination fees, closing fees, and prepayment fees. There are many more, too, depending on your lender and the type of loan you have. Ask your lender for full disclosure of fees and costs over the life of the loan before you accept the offer. This way, you'll know what the loan will cost you. In addition, knowing the costs will help you decide if the expected gains from the loan will help you offset the costs.
How to Get a Business Loan with Good Credit
Borrowers with good credit often have more options than those who have poor credit. You can research various lenders to see who offers the best business loans for good credit. Being prepared for your loan application will make the process a lot easier for you and your lender. Here are some things that will help your application be processed more quickly:
Check your credit score

Have a detailed business plan to provide to your lender

Contact the lender or lenders you want to deal with to see what paperwork they require

Gather the documents your lender needs like your business license, articles of incorporation, financial statements, and tax returns
Apply for a Business Loan
Opportunities to start or grow a business can come at any time. Applying for a small business loan can put you in a position to take advantage of opportunities when they present themselves. Getting approved for a small business loan can take some time, but the application process will be a lot easier if you are prepared. Doing your research will help you find the best business loans for good credit and can help you decide if a loan is right for you. At PrimeRates you can compare business loans from various offers. Comparing offers is a step in the right direction if you are considering a business offer. You will want to ensure that you secure a competitive offer as well as an offer that you can afford to repay. 
Discover competitive business loans for good credit. . . visit PrimeRates today!
PrimeRates provides access to personalized business loan offers through our simple and quick pre-qualification application. Once you're pre-qualified, you can select the best offer for you and finalize the business loan application with the lender.
Apply in minutes

Our simple application takes less than 5-7 minutes to complete.

Select your business loan offer

Choose the offer that best fits your needs by comparing loan amounts and terms.

Receive funds quickly

Finalize your loan offer with the lender you selected to receive your funds.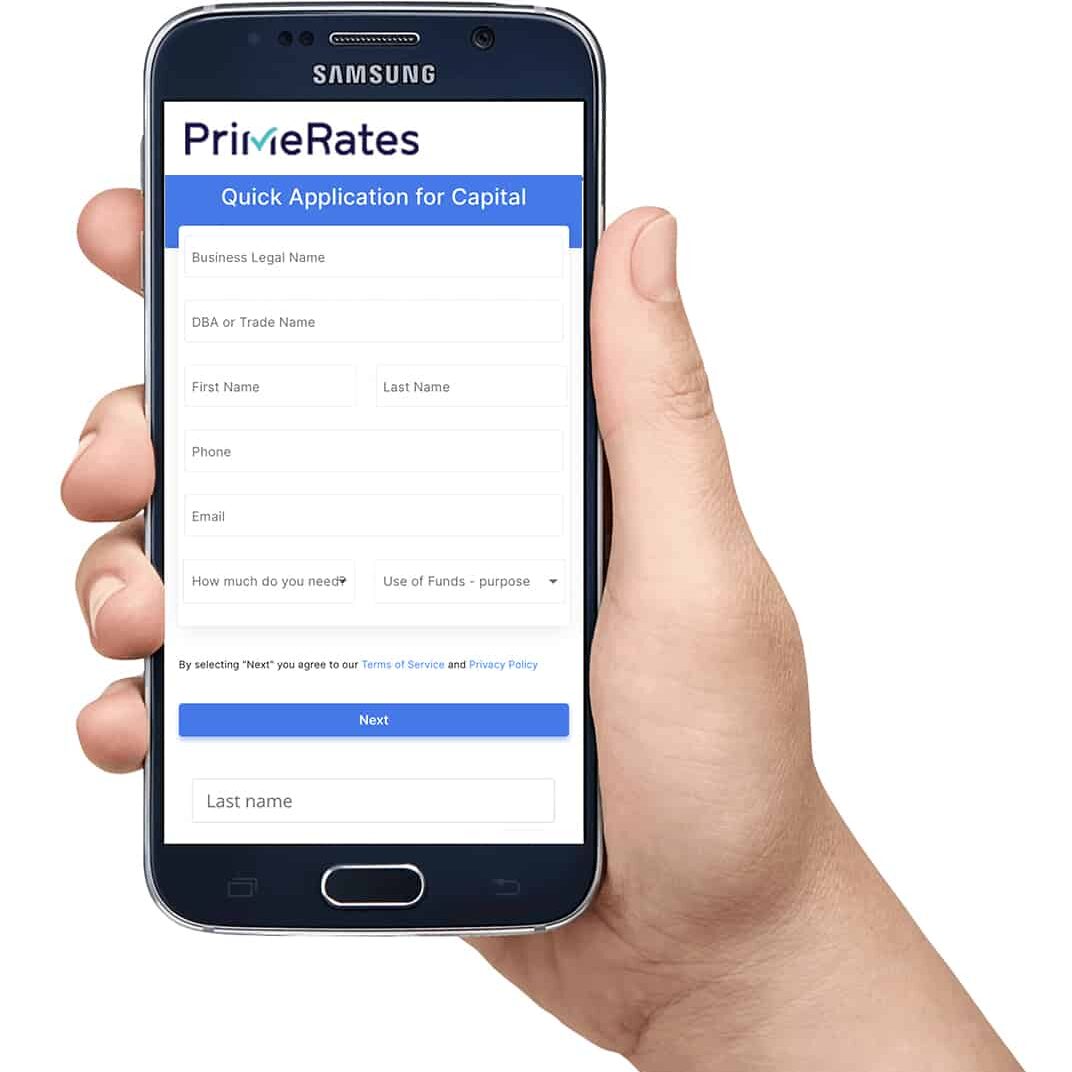 What Type of Business Do You Have?
More Business Loan Options
Business Loans By Industry