PrimeRates Lender Partner Network










PrimeRates provides access to personalized loan offers through our simple and quick pre-qualification application. Once you're pre-qualified, you can select the best offer for you and finalize the loan application with the lender.
Apply in minutes

Simple pre-qual application in less than 1 minute. 

Select your loan offer

Choose the offer that best fits your needs.

Receive funds quickly

Finalize your loan offer, get approved, and receive funds.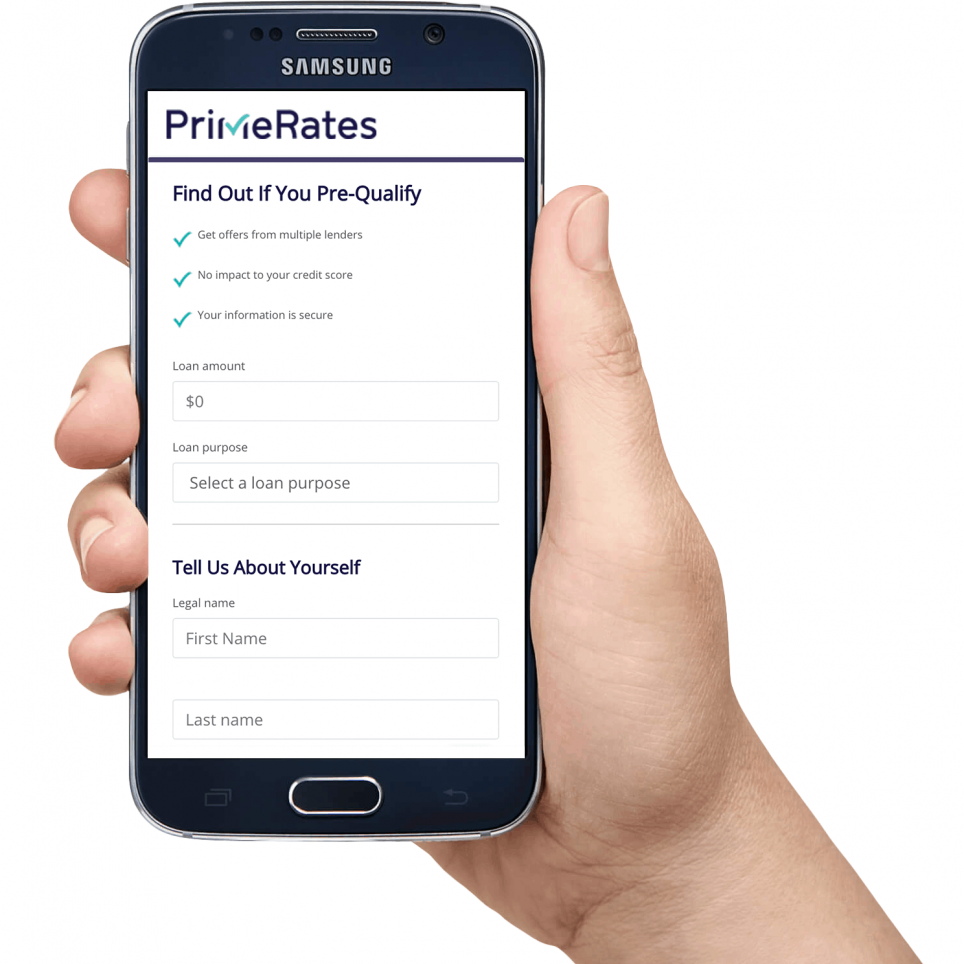 Lenders that Offer Travel Loans and Vacation Loans
We all need an escape from the doldrums of day-to-day life every once in a while, but we might not necessarily have the cash-on-hand to treat ourselves to the vacations we deserve. Or even if we do have the means to go on an extravagant adventure around the world, there are situations where it can make more sense to temporarily borrow funds from another source. That's where vacation loans shine.
Vacation loans are simply personal loans intended for travel purposes. Whether you want to go on an intercontinental trip to witness a one-time event like an eclipse, or if you simply want to get away for a leisurely week at the beach, vacation loans make it possible to see the world — without draining your bank account.
If you're interested in applying for a personal loan for a vacation, here are the pros and cons of these financial arrangements along with a few of your best options when it comes to taking out a travel loan.
Pros and Cons of Vacation Loans
Plenty of people will tell you that you'll never regret spending money on seeing someplace new, but that doesn't mean you shouldn't first consider the benefits and drawbacks of taking out a travel loan. Here's a quick look at the pros and cons.
Pros
It's cheaper than paying with plastic. If you've got good credit, the interest rate that accompanies your loan will likely be significantly less than the APR on a credit card.
Life experiences mean more than money. With travel loans, you can go places you might never see otherwise, opening your eyes to new people, places, and cultures.
You've got time to repay. If you're hesitant to drain your bank account to fund a dream vacation, travel loans let you keep your money and make payments over time.
Can improve your credit. As long as you make your payments on time — or even ahead of schedule — your credit score will rise and your reputation as a borrower will improve.
Cons
You're paying interest. No one likes paying interest — no one — and if you take out a loan with the wrong institution, you could end up paying a lot more of it than you should.
No one wants debt. Knowing that you have a debt hanging over your head isn't very fun, and you likely won't love looking at the balance you owe despite how much fun you had.
There's a substantial risk. If you miss a payment, you'll pay for it — usually in the form of a negative remark that can stay on your credit report for up to seven years.
You could wind up with a lousy lender. There are a growing number of lenders operating in this field, and it can be difficult to distinguish the good ones from the bad.
Lenders that Offer Travel Loans and Vacation Loans
If you're shopping around for a travel loan to finance your next epic adventure, here's a look at four leading lenders and what they each have to offer.
Lender
APR
Loan Limit
Marcus
6.99%-24.99%
$3,500-$40,000
Best Egg
5.99%-29.99%
$2,000-$50,000
OneMain
18.00%-35.99%
$1,500-$20,000
Earnest
Starting at 6.99%
$5,000-$75,000
Click to compare estimated rates on PrimeRates.
Marcus — Marcus offers vacation loans from $3,500 to $40,000 with terms ranging from three to six years. Most loans are funded within five days, and all loans include fixed rates. And with Marcus, there are never any fees of any kind.
Best Egg — Best Egg provides vacation loans from $2,000 to $50,000 with annual percentage rates ranging from 5.99% to 29.99%. Many of Best Egg's approved borrowers also qualify for terms that help them pay down their debt more quickly through more manageable payments.
OneMain Financial —  OneMain Financial issues travel loans from $1,500 to $30,000, but specific terms vary by state. Having served more than 10 million customers, OneMain is known for its exceptional customer support.
Earnest — Earnest offers low-cost, zero-fee travel loans in amounts from $5,000 to $75,000 with fixed rates starting at 6.99%. This lender also offers a greater degree of flexibility with regard to repayment. and they refrain from charging any kind of fees.
How to Get a Travel Loan You Can Trust
The best way to make sure you choose a trustworthy lender is to read the fine print on every page of their website and evaluate the merit of every review you can find about the financial institution in question. This is especially true for people looking for vacation loans with bad credit. The worse an applicant's credit is, the fewer choices they have. And fewer choices can make it easy for unscrupulous lenders to take advantage of borrowers who don't know better.
Travel Loan vs Line of Credit
Are you wondering about the difference between a travel loan and a personal line of credit? While they are similar in several ways, there's is one major factor that distinguishes these financial options from each other. With a travel loan, you get the entirety of the loan amount right away, and from those funds, you pay for your travel expenses upfront. By using a line of credit, however, you're essentially charging your expenses to an account that you'll repay later. Lines of credit might be a better fit for borrowers who are unsure of how much money they'll be spending, because, in this way, they won't over-borrow and pay interest on funds they don't end up using.
How Do You Use a Travel Loan?
How you choose to use a travel loan is entirely up to you. Take a cruise, go on a safari, learn how to scuba dive off the coast of a tropical island. With a vacation loan, there are virtually no restrictions as to where you can go and what you can do. Specific lenders, however, might have certain limitations borrowers must abide by.
How does a Travel & Vacation loan work?
Whether you need a loan for a vacation home to stay in or traveling expenses, PrimeRates can help. Traveling and taking vacations can improve your mood and health while reducing stress. However, vacations and everything they come along with can be pricey. From airfare to hotels or vacation homes and taking time off work, vacations can cost thousands of dollars or more. Many travelers use a personal loan for travel expenses or even to finance a vacation home. PrimeRates has lending partners that can help all credit types secure personal loans up to $100,000. In most cases, there are no spending restrictions for personal loans. This means you can spend the money however you need to. Some individuals prefer to purchase a vacation home and visit it regularly. Regardless of how often you visit, you can use a personal loan to finance a vacation home. For vacation homes under $100,000, personal loans may be a better option than a second mortgage. Getting a mortgage for vacation homes can be difficult. Most lenders have strict requirements such as regulating how often the home can be rented, the home must be for year-round use, the home must belong solely to the buyer, and so on. In addition, lenders typically want a down payment. In most cases, interest rates are higher for vacation home mortgages than traditional mortgages. Purchasing a vacation home can be a good long-term investment. When you are not using the vacation home you may be able to rent it out to cover expenses or generate revenue.
What can a Vacation loan be used for?
Vacation loans allow you to make affordable monthly payments rather than shelling out a lump sum of cash at once. In addition, they are usually cheaper than using a credit card. PrimeRates has lending partners that can provide vacation loans up to $100,000 with interest rates starting at just 4.99%. Most of PrimeRates' lending partners offer unsecured vacation loans meaning there is no collateral required. Their lending partners can help borrowers with good, fair, or bad credit. If you have credit challenges you may want to apply with a cosigner to increase your chances of approval. Most unsecured personal loans do not have spending restrictions, thus allowing borrowers to spend the money on just about anything. In addition, most lenders fund personal loans as a lump sum of cash. When you apply for the loan you will request a certain amount of money. Once you receive the funds, you can allocate the money appropriately. Here are some common uses of a vacation loan. . .
Vacation loans can be used to cover hotel or vacation home rental expenses. With the average nightly hotel costs being around $200, your bill can add up fast. Some hotels or home rentals may have additional fees such as resort fees, cleaning fees,  or taxes. At $200 a night, you can easily spend over $1,300 for one week's stay. 
Vacation loans can be used to pay for airline tickets or other transportation expenses such as rental cars or bus tickets. If you have an airline credit card you may want to book flights using the credit card and pay it off right away using a vacation loan. This can make sense if the credit card offers reward points for booking travel with the card.
Excursions and entertainment
Once you get to your destination, you'll want to get out and explore your surroundings. From food to zip-lining, entertainment and excursions can be financed using a vacation loan. Vacation loans can help fill your vacation with experiences that you'll never forget.
How far in advance should I apply for a vacation loan?
If possible, you should plan ahead and apply for a vacation loan about a week or two prior to the time you need the funds. Keep in mind, you may not have to pay for your vacation reservations until you check in. Some companies may let you hold the reservation with a credit card without charging you until you show up for your reservation.  In most cases, interest starts accruing as soon as your loan is funded. Aligning the time you need the money with the time your loan funds can help you avoid unnecessary interest charges. You may be able to pre-qualify for a personal loan and wait to accept the offer. Most lenders make their pre-qualification offers valid for 14-30 days. Getting pre-qualified can help you learn what type of offers you qualify for which can help you estimate more accurate monthly payments. Online payment calculators are available that can help you determine how much you can borrow and at what interest rate in order to achieve a monthly payment that you can afford. Some lenders can fund loans the same day as approval while other lenders may take a few days to fund a loan. In order to avoid any hold-ups, you should make sure the information you submit on your initial application is accurate. Lenders may ask you to submit proof of income, proof of residency, or other supporting documents before finalizing your approval.
Why choose PrimeRates for Travel / Vacation loans?
The list of reasons to choose PrimeRates for travel and vacation loans is long. PrimeRates provides a safe online platform that allows customers to secure the best vacation loans. You can shop a variety of lenders based on your credit score. In addition, your credit will not be affected by submitting an application. Whether you are just shopping or ready to secure a vacation loan, you should visit PrimeRates. PrimeRates is committed to helping individuals get the best personal loans while saving them time, money, and hassle.
Conclusion
If you have been daydreaming about a vacation, it's time to make it a reality. Let's say you can plan a 7-10 day vacation for $5,000. You could use a vacation loan and have monthly payments of around $152 a month with a 3-year term. This may be more feasible than using all the money in your savings or swiping a double-digit interest rate credit card. To find the best vacation loans you should visit PrimeRates.