SoFi Personal Loans Review
SoFi Loan Rates & Terms
APR range:
5.99% to 18.64% APR (with AutoPay)
Available loan terms:
24-84 months
Loan amounts:
$5,000—$100,000
Time to fund:
Typically 7 days
Origination fee:
None
Credit needed:
680+
Income needed:
$50,000+
Soft Credit Check?
Yes
Best for:
Young professionals and graduates, good credit
Click "Check Rates" to apply to SoFi
Good For: Good Credit
SoFi may be the right lender for you if:
You Need High Loan Amounts – Up to $100,000
You Have A High Credit Score and Want Low Rates – 680+ and APR as low as 5.99%
Your Income Is High – At least $50,000
Founded in 2011 by four former Stanford University college students, SoFi started out by focusing on refinancing student loans. But now it's one of the largest online fintech lenders in the United States.
The San Francisco-based digital financial company originally utilized an alumnus-funded lending model that connected students and recent graduates with alumni and investors. With this model, the investors received financial returns and borrowers obtained rates lower than the federal government offered.
Fast forward to 2018, and SoFi is a powerhouse in several financial sectors, including student loans, personal loans and, more recently, mortgages. The company has even started to offer wealth management and life insurance.
How Does SoFi Work?
Because SoFi is an entirely online, virtual platform, it doesn't have as many underwriting costs as traditional brick-and-mortar lenders. That means the company can offer lower interest rates and faster turnaround times for funding.
It has a different perspective on how applicants qualify for loans. Instead of looking solely at credit score and income, the lender also considers other factors like education and career outlook.
Borrowers can apply for a variety of secured and unsecured loans that can take care of a range of expenses, including:
Student loan refinancing
Medical resident refinancing
Mortgages
Mortgage refinancing
Personal loans
Parent PLUS refinancing
Other expenses
SoFi Personal Loan Review
SoFi is an innovator in the lending world, not only for their total online approach, but also for its products and services.
Those who take out a loan with this lender gain entrance into a club that offers its members special benefits like career support, networking happy hours and unemployment protection.
The company has funded more than $30 billion in loans and has more than 500,000 members across the country
The biggest benefits
One thing that makes it standout from other lenders is its unemployment protection. It allows members to suspend loan payments for up to three months initially and up to 12 months total over the life of the loan. Members must be eligible, apply for unemployment benefits and actively work with the SoFi Career Strategy group during their loan forbearance.
It also holds industry-specific networking events and happy hours so that members and alumni can connect both professionally and personally. According to their website, a typical social event — like a dinner or happy hour — is led by a member of the community team, lasts two to three hours and includes hosted food and drinks, with swag included.
Here's a photo from a SoFi community event in Denver: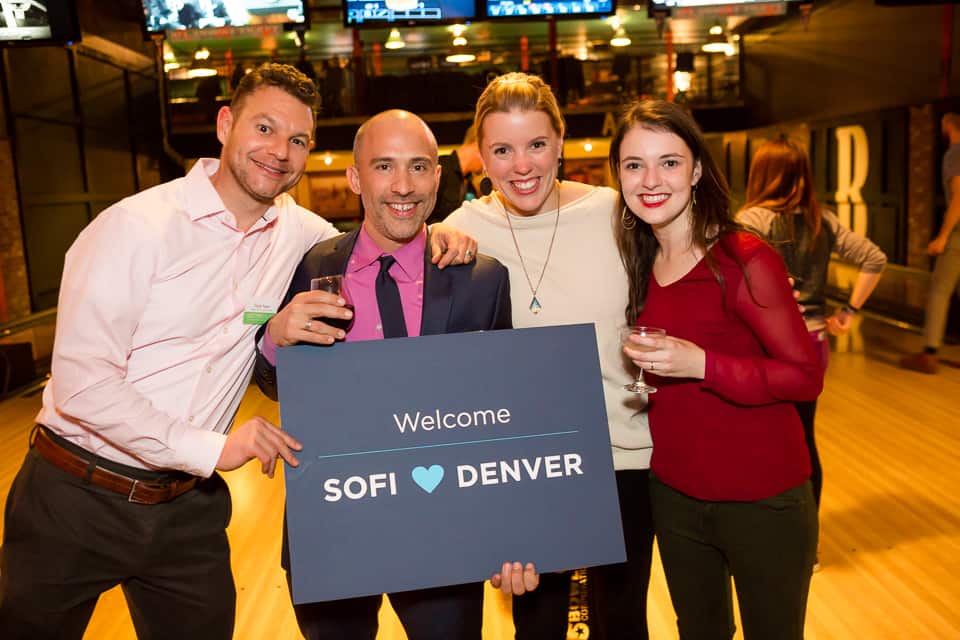 But in addition to its perks, it also offers a different model of evaluating borrowers. Instead of solely relying on credit score to determine borrower eligibility, it takes a look at three main areas:
The drawbacks
This lender tends to target a specific type of borrower ­— those with excellent credit scores, high salaries and an education or career path that suggests financial stability.
Individuals who don't meet that criteria may not qualify for a loan.
How it works
Different types of personal loans can be used for a variety of reasons from this lender. That includes consolidating expensive credit card debt, doing remodels or home improvement projects, paying for a wedding or other special event, taking a vacation or paying medical bills.
Fast facts about SoFi personal loans
Here are some facts about SoFi personal loans that can make them a great choice for borrowers:
1. Lower interest rates
SoFi personal loans offer low, fixed interest rates that can make monthly payments more affordable. If you have loans or credit cards that charge more
than 10%, it may make sense to pay them off using a lower-rate loan to save money. Plus, paying down credit card debt can help increase your credit score.
2. High loan amounts
SoFi offers personal loans from $5,000 to $100,000 that you can use for any personal reason or expense. You choose between 2-7 year repayment term that fits your financial needs.
3. No collateral is required
SoFi personal loans are unsecured, which means that you do not need to provide collateral to qualify for a loan.
4. No fees or penalties
When you apply for a personal loan, watch out for fees and penalties. Some lenders charge an upfront origination fee to process your loan, more fees at closing and a prepayment penalty if you decide to pay off a loan early. But SoFi doesn't charge any of these fees, making their personal loans more affordable for borrowers.
5. Pre-qualifying doesn't affect your credit
You can get pre-qualified instantly for a SoFi personal loan with no fee or obligation. There's just a soft inquiry on your credit, which never shows up in your credit history or affects your credit scores in any way.
6. Borrowers get member benefits
SoFi personal loan borrowers are called members, and they get access to unique benefits. In addition to customer support, seven days a week, SoFi offers members career counseling and financial advising. Members can also attend exclusive social events and dinners throughout the country. Plus, members receive unemployment protection that allows you to temporarily stop making loan payments if you lose your job.
How SoFi Compares
SoFi beats its competitors in a variety of areas. Along with extremely competitive interest rates, it offers membership perks that many other lenders simply don't. But loans from this lender are less accessible to those with lower incomes or poor credit.
» MORE: Side-by-Side Comparison of LendingClub Vs SoFi
» MORE: Side-by-Side Comparison of SoFi Vs Prosper
How to apply for a SoFi loan
If you can meet the criteria (you have excellent credit and financial stability), and you're looking for perks in addition to a loan, this lender could be a good fit for you.
Applying at SoFi is straightforward and can be done on the lender's website. You'll start out by setting up an account and answering some basic information about your total debt, your education and your employment. The online approval is the first step before you complete a full application.
Here's a breakdown of the process:
Making payments
With SoFi, you repay your personal loan by making fixed monthly payments plus interest. The APR range for SoFi is between 5.99% and 18.64%, very competitive compared to other personal loan offers.
If you make SoFi loan payments electronically via ACH, you save money by getting a 0.25% discount on your interest rate, which is reflected in the rates listed above.
You can also make payments using your bank's online bill pay or send a paper check. And if you have a loan in good standing, you can change your payment date, if needed.
Rate quotes and funding
SoFi offers a quick online process for rate quotes. If you're approved, you choose the loan option that works best and complete your application with an electronic signature.
After that, your funds are wired into your account — the entire process can take less than a week.
Getting Approved for SoFi Personal Loans
Jim Prosser, VP of Communication and Policy for SoFi, says, "On average, SoFi personal loan borrowers earn more than $100,000 in income and have a credit score over 700, but SoFi looks beyond just the headline numbers."
Posser says that cash flow, which is income minus debts and living expenses, is one variable SoFi uses to evaluate potential borrowers. They want to know that you have enough disposable income to keep up with monthly personal loan payments.
Loan eligibility also depends on other factors, such as a responsible financial history and your professional experience. You must be a U.S. citizen or permanent resident who is age 18 or older and live in one of SoFi's eligible states. Personal loans from SoFi currently aren't available to residents of Mississippi or Nevada.
All rates, figures, estimates, terms, state availability, and savings calculations are current at the time this article was written. All of the above may update in the future.
Disclaimer
Fixed rates from 5.99% APR to 16.19% APR (with AutoPay). SoFi rate ranges are current as of July 10, 2020 and are subject to change without notice. Not all rates and amounts available in all states. See
Personal Loan eligibility details
. Not all applicants qualify for the lowest rate. If approved for a loan, to qualify for the lowest rate, you must have a responsible financial history and meet other conditions. Your actual rate will be within the range of rates listed above and will depend on a variety of factors, including evaluation of your credit worthiness, income, and other factors. See
APR examples and terms
. The SoFi 0.25% AutoPay interest rate reduction requires you to agree to make monthly principal and interest payments by an automatic monthly deduction from a savings or checking account. The benefit will discontinue and be lost for periods in which you do not pay by automatic deduction from a savings or checking account.
Must Reads