PrimeRates provides access to personalized loan offers through our simple and quick pre-qualification application. Once you're pre-qualified, you can select the best offer for you and finalize the loan application with the lender.
Apply in minutes

Simple pre-qual application in less than 1 minute. 

Select your loan offer

Choose the offer that best fits your needs.

Receive funds quickly

Finalize your loan offer, get approved, and receive funds.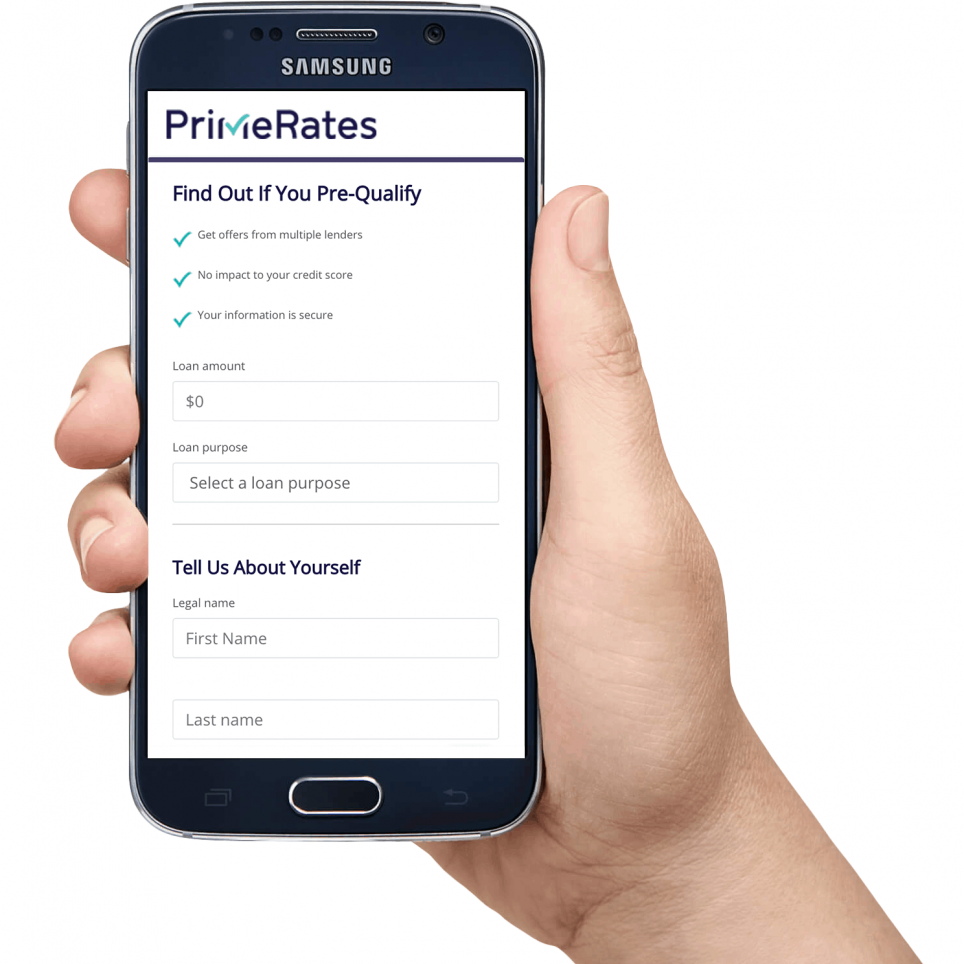 Best Personal Loans For Debt Consolidation
Take Control of Your Finances with a Debt Consolidation Loan
For many Americans these days, credit card debt is a fact of life. It's not a matter of if you have debt or not, but how much. And while carrying credit card debt in itself isn't necessarily a bad thing — in fact, having and paying off debt is the best way to build a strong credit history — it can be easy for your debt to spiral out of control if you're not careful.
The truth is that many of us aren't taught the fine art of personal finance during our formative years, and by the time we're old enough to qualify for a credit card, we're more concerned with making large purchases than we are with developing reputations as reliable borrowers. But then, when reality sets in during adulthood, it's easy to find yourself looking at a stack of credit card bills without much to show for it. And with rising interest rates, it can seem almost impossible to climb out of the hole you've dug for yourself.

Fortunately, individuals in this position can now consolidate their bills and take out a personal loan to pay off debt. Many of today's top lenders have plans exclusively for people trying off previous purchases. But with so many institutions offering so many different deals, how are you to know which lenders offer the best personal loans for debt consolidation?

Debt Consolidation Loans For Fair & Good Credit
It's no secret that lenders like to make money. And one of the ways they like to do so is by charging borrowers origination fees. What's an origination fee? Essentially, it's the cost of doing business. It's what lenders charge borrowers to cover all of legwork and expenses associated with underwriting a loan. Origination fees aren't mandatory, however, and many lenders distinguish themselves from the competition by foregoing these charges altogether.
Here's a glimpse of three of our favorite lenders that have chosen not to charge customers origination fees.
» MORE: Read our side-by-side Comparison of Marcus vs PNC Bank
Marcus — Loans to pay off debt from Marcus come with interest rates ranging from 6.99% to 24.99% with terms from three to six years. Only the most qualified applicants will receive the lowest rates, but for all borrowers, terms will never change during the life of their loan.
LightStream — LightStream's Rate Beat program promises to give the most creditworthy borrowers better rates than competing lenders. Their unsecured loans don't require appraisals or down payments, and LightStream doesn't charge fees for pre-payment or origination. They can fund loans from $5,000 to $100,000 on the same day their approved.
SoFi — SoFi never charges origination fees, late fees, or annual fees, so you won't see any surprises when your bill arrives. With fixed interest rates ranging from 6.99% to 15.115%, SoFi provides loans from $5,000 to $100,000 with terms for three to seven years.
Lenders for Financial Discipline — Payoff
Among the lenders most popular with Millennials, Payoff positions itself as a financial wellness company that has its borrowers best interests at heart. They apply science, psychology, and technology to change the way today's twentysomethings and thirtysomethings think about money. Their unique Payoff Loan is designed to boost borrowers credit scores and eliminates late-payment fees.

APR range: 8.00%-25.00%
Available loan terms: 24 - 60 months
Loan amounts: up to $35,000
Time to fund: N/A
Origination fee: 2% to 5%
Credit needed: 640+
Click to apply with Payoff
Lenders that Allow Cosigners — FreedomPlus
Not all borrowers have strong enough credit to get approved on their own for a decent loan, but fortunately, some lenders let cosigners help a friend or family member with lackluster credit strengthen their score. FreedomPlus is among the best lenders out there when it comes to working with cosigners, so if you're struggling to get individual approval, find someone willing to help you rebuild your credit and apply for a loan with FreedomPlus today.

What Are the Requirements for Debt Consolidation?
There aren't too many hoops people need to jump through in order to qualify for personal loans for debt consolidation. As long as your credit history isn't atrocious, odds are that several lenders will approve your application. And, perhaps it goes without saying, but the better credit score you have, the more favorable debt consolidation loan rates you'll receive. If you have bad credit, on the other hand, other options include secured or co-sign personal loans.
A Loan Versus a Credit Card to Consolidate Debt
Many credit card companies attempt to lure in debt-laden individuals with attractive 0% APR offers that last anywhere from nine months to a year and a half before skyrocketing up to an insane interest rate. You've probably received some of these blank checks in the mail that include transaction fees ranging from 1% to 5% of the transferred amount. Taking this route can seem far more appealing than paying an APR of 18% or more on a personal loan, until, that is, the promotional rate on the credit card account expires, and you're paying close to 30% in addition to the initial transaction fee.
Why Not to Choose a Personal Loan To Pay Off Debt (Instead of a Credit Card)
Depending on how much debt you're considering consolidating and how quickly you realistically plan to pay it off, opting to transfer your balance to a credit card could actually make more sense for your specific situation. Say you're trying to pay down $3,000 of debt over the course of one year. Even the best debt consolidation loans have APRs at least close to double digits, meaning that a rate of 10% would equate to about $165 in interest over the course of one year. With a credit card, however, and a 3% transaction rate, you'll only pay $90 more than the initial amount during that same year.

Conclusion
If you're interested in consolidating your credit card debt, you're not alone. Depending on your specific set of needs, at least one of these lenders should be able to provide you with the funds you need.
Other Personal Loan Types
Top Personal Loan Articles