PrimeRates provides access to personalized loan offers through our simple and quick pre-qualification application. Once you're pre-qualified, you can select the best offer for you and finalize the loan application with the lender.
Apply in minutes

Simple pre-qual application in less than 1 minute. 

Select your loan offer

Choose the offer that best fits your needs.

Receive funds quickly

Finalize your loan offer, get approved, and receive funds.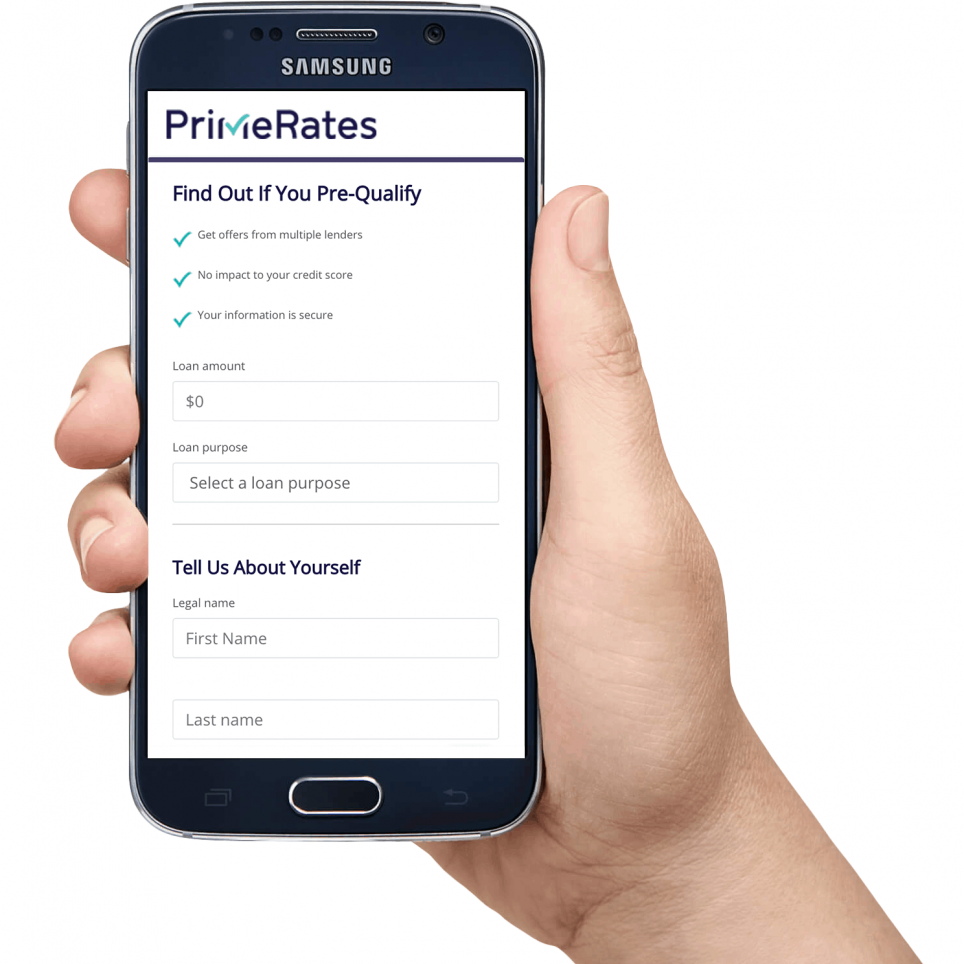 Siding Financing Options for Home Improvement
Siding financing can be used for just about any kind of siding including vinyl, wood, metal, stucco, and more. The type of siding you choose and the size of your project can impact the cost. On average, new siding costs between $9,000 to $26,000. While new siding can be expensive it can be a rewarding investment. The siding you choose can have a lasting impact on your home's functionality, aesthetics, and market value when it comes time to sell. There are lenders dedicated to offering siding financing or some contractors may even offer siding financing. If you are considering siding financing but not sure how to find the best deal, keep reading.
What is siding financing?
Siding financing offers homeowners a way to make affordable monthly payments for new siding rather than shelling out a lump sum of cash. Siding financing can be used for new siding or siding repairs or improvements. If you are looking for an easy siding financing option with little risk you should consider a personal loan. Personal loans can provide homeowners with a lump sum of cash for new siding that they can repay over an agreed upon term. When it comes to securing a personal loan you should find a lender that offers you an unsecured and fixed personal loan. Unsecured personal loans do not require collateral or down payment meaning there is little to no risk for the borrower. Fixed personal loans have a consistent monthly payment and interest rate that should not change during the loan term. While there are other siding financing options many of them require collateral making them more risky for the borrower. Good and bad credit borrowers can qualify for personal loans. A little later on we'll go over some of the requirements to qualify for a personal loan. PrimeRates can connect you with reliable lenders that offer siding financing up to $100,000 with terms up to 12 years and interest rates starting at 4.99%.
How does siding financing work?
Most siding financing starts with an application and approval process. Once your loan is approved, you should receive the funds as a lump sum. If you use a line of credit you'll have access to an approved amount of cash but you'll need to pull out the amount you want to use. No matter what kind of financing you use, you should pay close attention to the terms and make sure you understand them. If you use a personal loan you will most likely repay the loan monthly with interest. If your loan does not have an early payoff penalty you can pay the loan off early and save money on interest. Paying as little as 10% extra each month can save you hundreds of dollars in interest. If you are using an unsecured and fixed personal loan, the monthly payment and interest rate should not change during the loan term. For example, if you borrow $10,000 at 4.99% with a 5 year term your monthly payment should be about $189. 
Siding Financing Options
Homeowners should explore siding financing options before committing to one. It's important to make educated financial decisions. We recommend consulting a professional or calculating an accurate project estimate. In addition, you should determine what kind of monthly payment you can afford. You'll want to choose a siding financing option that matches up with your needs. Let's take a look at some siding financing options. . .
#1. Personal Loan
Personal loans offer high loan amounts and flexible terms that all credit types can qualify for. In addition, personal loans minimize risk for the borrower. In most cases, personal loans can be used for just about anything you would like. You can secure a personal loan through a bank, credit union, or online lender. Online lenders usually have fast application processes and fast funding. Online lenders may also be easier to qualify for.  If you use financing offered through a contractor, you will most likely be using a personal loan.Keep reading to learn more about how to qualify and apply for a personal loan. 
#2. Credit Card
Credit cards may be a good siding financing option for smaller projects. We recommend finding a home improvement credit card with a 0% introductory interest rate. In most cases, introductory periods are only offered for the first 6 to 18 months. If you can pay the balance off during the introductory period, a home improvement credit card may be a smart financing option. However, most credit cards have high interest rates after the introductory period. Most likely, you'll need substantial income and an excellent credit score to qualify for a high credit card loan amount with a promotional period.
#3. Home Equity Line of Credit (HELOC)
A home equity line of credit can provide a revolving line of credit that can be used for siding financing. In order to qualify for a HELOC loan you'll need to have enough equity in your home. When you use a HELOC loan you borrow against the available equity in your home while using your house as collateral. Most lenders allow homeowners to borrow up to 85% of the value of your home minus the amount you owe. Home equity loans can provide high loan amounts and low interest but are much more risky for the homeowner.
What types of siding are available for financing?
The type of siding you select can impact the cost. In most cases, you can use siding financing for any type of siding as long as you qualify for a high enough loan amount. You can hire a professional to provide an estimate or you can try to estimate yourself.  If you are going to estimate the cost of new siding on your own you should break down your exterior walls into rectangles and triangles. Next, you should measure these walls. If you use rectangles you can estimate the amount of siding you'll need by multiplying H x W. If you use triangles you can use one half of H x W. Once you determine how many square feet of siding you need and what type of siding you want to use, you can put together an estimate. Keep in mind, you may have additional expenses such as dumpster rental, modifying framing, purchasing tools, getting permits, and more. In addition, if you are paying a contractor you'll want to add that to your estimate. Below we have listed some popular types of siding and what it costs.
Vinyl siding
Vinyl siding is a popular choice that offers variety and affordability. However, it may not be the most durable option. Statistics show that homes with vinyl siding hold decent resale value, making it a good investment. Homeowner's can estimate vinyl siding at $2 to $7 per square foot.
Metal siding
Metal siding is a low maintenance and environmentally friendly choice. However, if you live in a wet or coastal climate it may not be the best option. Metal siding can rust or be prone to dents. If you live in a high risk fire area, you may want to use metal siding because it's usually fire-resistant. Homeowner's can estimate metal siding at $3 to $6 per square foot.
Stucco
Stucco is an attractive, low maintenance, and fire-resistant option that many homeowners are drawn to. If stucco is applied properly it can last up to 50 years before needing repair. Homeowners can choose from a wide variety of stucco options making it a versatile option that works with almost any exterior. However, stucco may be more expensive than other options. On average, stucco costs between $7 to $9 per square foot.
Wood
Wood is a more expensive siding option that requires more maintenance. However, wood is easy to repair and change the appearance of. In addition, it's pretty eco-friendly. Despite the cost and maintenance many homeowners still prefer the texture and curb appeal wood provides. Manufactured wood siding may be cheaper than natural wood. On average wood siding ranges between $3 to $10 per square foot.
What are the requirements to qualify for siding financing?
Qualifying for siding financing may be easier than you think. PrimeRates partners with lenders that can help all credit types. Whether you are confident that you qualify or not, you can apply through PrimeRates without affecting your credit score. To increase your chance of approval you can add a co-signer to your application. Ideally, the co-signer should have good credit and consistent income. Some of the minimum requirements for siding financing offered through PrimeRates includes. . .
Credit score of 620 or higher

Consistent income

Reasonable debt-to-income ratio
How to Find Best Siding Financing Deals
Finding the best siding financing deals is easy with PrimeRates. PrimeRates offers a completely free, safe, and time-saving platform that can help you find the best siding financing deals. PrimeRates can connect you to lenders based on your credit score and borrowing needs. 
How to apply for siding financing loans
One of the most efficient ways to apply for siding financing is to submit an application through PrimeRates. PrimeRates offers a secure platform that is designed to help homeowners secure the best siding financing. You can compare multiple siding financing offers within minutes through PrimeRates. Homeowners can take advantage of generous loan amounts to finance new siding or other home improvements. Here are 3 easy steps to apply for siding financing loans through PrimeRates. . .
#1. Submit easy online application
#2. Select the best siding financing loan offer
#3. Receive funds quickly
Conclusion
In conclusion, no matter where you are located or how big or small your siding project is, financing may be available. Applying through PrimeRates is a safe and easy way to find out what you qualify for. Whether you are a homeowner or contractor, PrimeRates services are always free for you. If you have been hesitating to apply for siding financing, we strongly encourage you to apply through PrimeRates. Whether you qualify or do not qualify, your credit score will not be affected. 
Get pre-qualified for siding financing today!
Top Personal Loan Articles
Home Improvement Financing Articles